Dear friends, careful selection of a good set of speakers for PC in an affordable package is must as "poor sound effect" is always an annoying situation.
Users may find a huge variety of best computer speakers under $200 with certain quality & rates but choosing right one which always produce quality audio is a big challenge.
In this article, we will give you information about best computer speakers that offer powerful audio performance.
To help you selecting the best one, we've created a list of the 7 best desktop speakers easily available keeping certain parameters like performance, value & design in mind. So, let us explore it…
Here we will help you to search & find the best computer speakers under $200 which fits best for your PC or Desktop.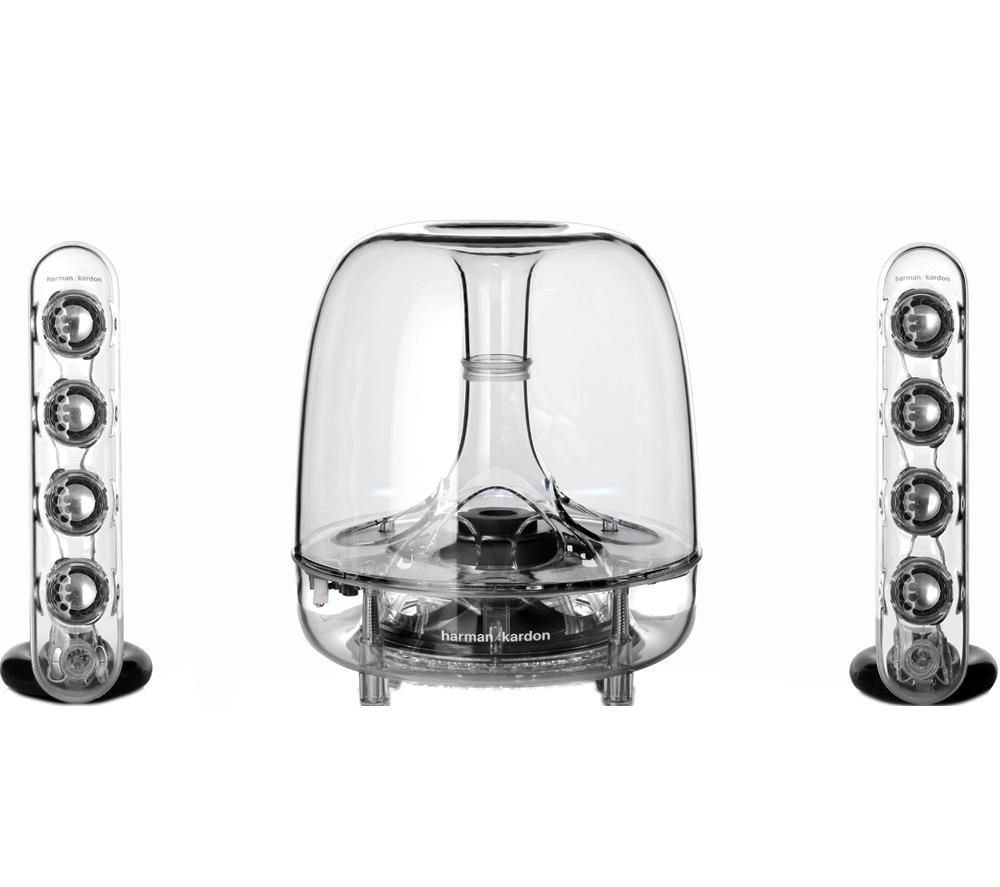 In this article we talk about "Harmon kardon soundsticks III 2.1 speaker set. Multimedia computer speaker with subwoofer".
One of the reasons for this is its extra-ordinary design (translucent made of plastic material) making it different from other set of desktop speakers. The sound is very crisp & clear with a deep full adjustable bass.
The speakers are non wireless coming along with a subwoofer which is 10 3/16″ tall by 9 3/16″ wide.
Please note that Soundsticks III system is highly compatible with many devices with a stereo mini-jack output and also minimal wiring such as smartphone, tablet, laptop or PC  etc to enjoy a fine playback sound.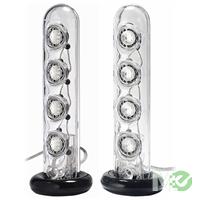 Believe me, buy it and I assure you that you it will prove to be a real value for money deal.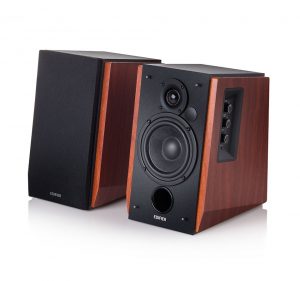 With the user rating of 4.7 out of 5 stars, Edifier R1700BT Bluetooth Bookshelf Speakers is  really well designed stylish set of 2.0 bookshelf speakers. Anyone can admire these best desktop speakers under the range of $200.
Want to know how they actually sound? The answer is genuinely, they are smart looking compact set of bluetooth speakers filling your entire room with smooth, clear and heart touching sound.
Coming to its 3D dimensions each speaker cabinet of Edifier R1700BT is 10 inches high, 6.1 inches wide, and 8.3 inches deep and weighs at around 6.6 pounds.
The R1700BT speakers is a complete set of "wooden-cased" multi functional speakers meeting your everyday needs.
You can pair your smartphone to the chic bookshelf wireless computer speakers bluetooth as it offers an excellent feature of bluetooth pairing, R1700BT has built in Digital Signal Processing (DSP) and Dynamic Range Control (DRC) to prevent distortion and giving a clear sound.
Don't think much…..Really its a nice set of speakers, just go for it !!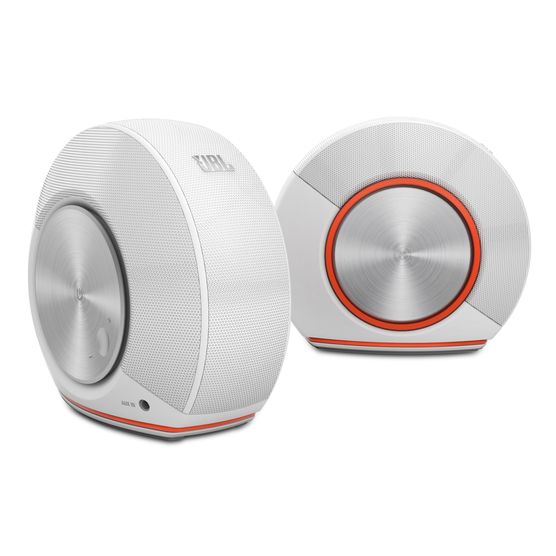 The best thing about New JBL Pebbles Plug and Play 2.0 audio system is its compact design which leads to natural & soothing sound effect with good clarity and deep bass performance.
Engineered by Harman, JBL speakers weight approx. 1.4 pounds and come in stylish looks.You can connect your computer with JBL Pebbles plug-and-play speakers in the most quickest and convenient way via USB Port.
Design wise they are very neat, versatile & compact in size mainly available in three striking colours i.e, black, white and orange.
Guys, its amazing "Curvy Looks" is just like the work of art, Isn't it ??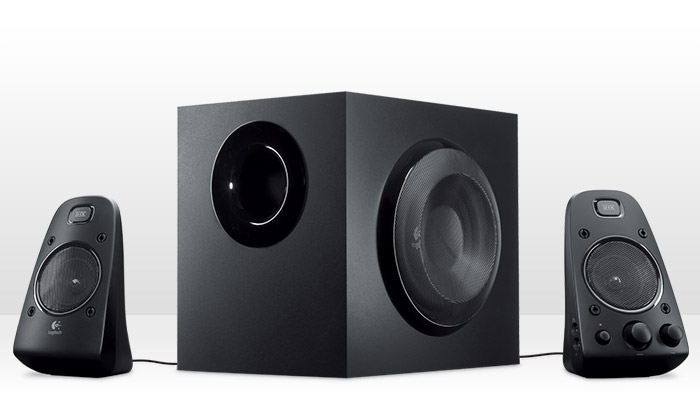 Logitech Z623 speaker are the best 2.1 computer speakers comes under THX-Certified multimedia speaker system.
You can purchase Z623 set of speakers in a very decent price range of $150-200, assure you that once you buy this best computer speakers logitech then you'll fall in love with their quality.
It consists of two THX-certified satellite speakers and one 130 -watt subwoofer , with a high quality sound to enjoy the music beats upto the best.
Its plug-and-play connectivity allows you to connect to various audio sources like DVD Player, Xbox, Wii, Playstation 2 & 3 , PC etc.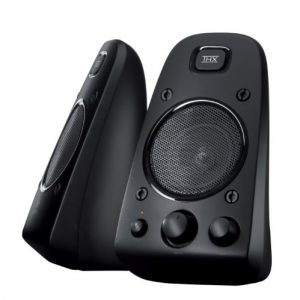 For the price and music quality it fits superb, trust me…. it's a favourable example so, just bring them home within no time.

5.

Logitech Speaker System Z553 with 40 Watts RMS Power and 3 Device Inputs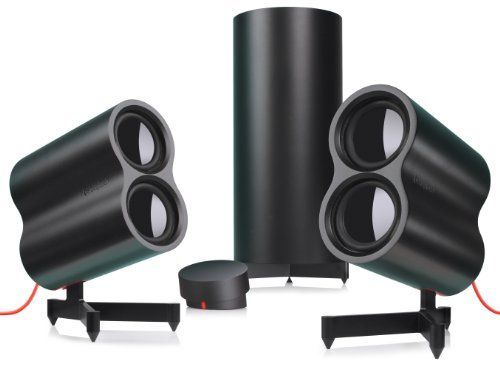 Logitech speaker Z553 comes with two beautifully designed compact satellite speakers with 40 watts RMS Power & 3 Device inputs specially designed to get you into full-on-entertainment like music, games or movies.
Logitech Speakers having high quality sound system and you will get best computer speakers for gaming or playing music., It's excellent feature of multiple connectivity allows you to connect up to 3 devices—PC, game console, DVD player, smartphone, etc via the 2x 3.5 mm jack and RCA inputs.
Logitech speakers is designed in such a way that it can be used with the computer or even with your set of Television box via an RCA connector. Accordingly you can sit the set of satellite speakers on the (versatile desk) metal stand that can tilt up or down or also can mount them to the wall itself, which is really a good thing to look at so far.
It is having a front facing subwoofer system which is highly powerful and provides distortion-free crystal clear sound that will take you deeper into your thoughts.
Overall, this is good PC speaker system…..look wise and on the basis of performance also.  No, need to look anywhere else, its a good investment comes in best computer speakers under $200. So Guys, Logitech Z553 speaker system is highly recommended for your computer.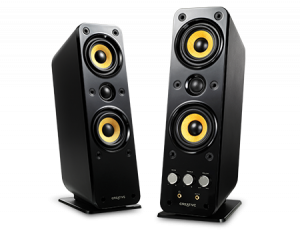 Here comes another beautifully designed best desktop Creative Gigaworks T40 Series II multimedia speakers in a shiny round black looks between an affordable price of money having height of 12.3 inches & depth of 5.6 inches respectively.
Its works with the frequency range of 50 Hz to 20 KHz having dimensions (WxLXH)  of 8.8cm x 14.3cm x 31.3cm respectively.
You'll see that on top of each speaker there is a bass-enhancing "BasXPort". The Gigaworks T40 Series II sets itself comes with a one year warranty in the market. Thankfully, this version of speakers provides clear & crisp sound quality and comes along with a power supply adaptor.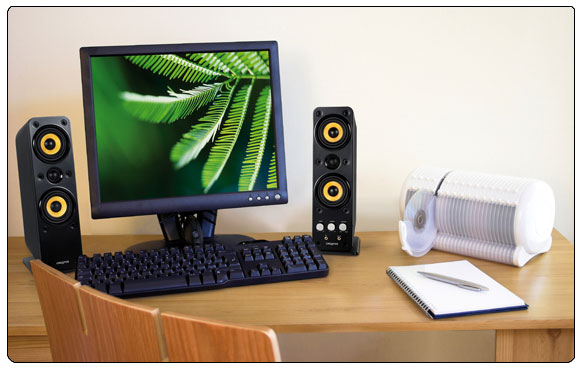 So, for all music lovers its a perfect choice…..& I would personally suggest it as a best speaker available at a price


Have a look at Logitech AudioHub Speakers…..It is an absolute plug-&-play set of speakers especially for all notebook users that's why better known as "Notebook Speakers".
On an interesting node,  they are very compact in size as the weight is just similar to Macbook. AudioHub announced in september with attractive look and best 2.1 speaker system with an integrated USB hub. Surprisingly AudioHub set of speakers gives a distortion free sound.
You can easily connect or disconnect Logitech 2.1 Audio Hub PC Speaker and accessories (like printer or digital camera) from the notebook with use of a single cable. Just invest once on these notebook speakers, yeah they are good computer speakers under 200 dollars.

CONCLUSION:
So, these are the computer speakers at best buy under the price of $200. Don't think too much and save your precious time.
Friends, if you really want to invest for the coolest ever best computer speakers under $200 then just go for it once……You'll find it an interesting option amongst one of the bestselling modern looking PC speakers.
And if you're having any questions regarding any of the above speakers, just you have to do is to leave a suggestion or message in the comment section. You'll be reverted back with cool feedback in next 24 hours.
I hope you liked reading this article, then do consider to share it on social networking sites like Twitter, Facebook or Google+ and also let your dear ones know about all this interesting stuff, Who wonders they might be looking for PC speakers under dollar 200.
Hope enjoyed reading it !!