The top 3 Crypto scanners in the market right now are – TradingView, TrendSpider, and Trade-ideas.
For the past few years, Crypto trading has become a very common theme internationally. With the rapid growth of Bitcoin, the world is very interested in the market as it offers very high returns.
But with high returns comes high risks, and that's why traders need Scanners to analyze the market before they make a call so that the risk is calculated and the traders make as much profits as possible.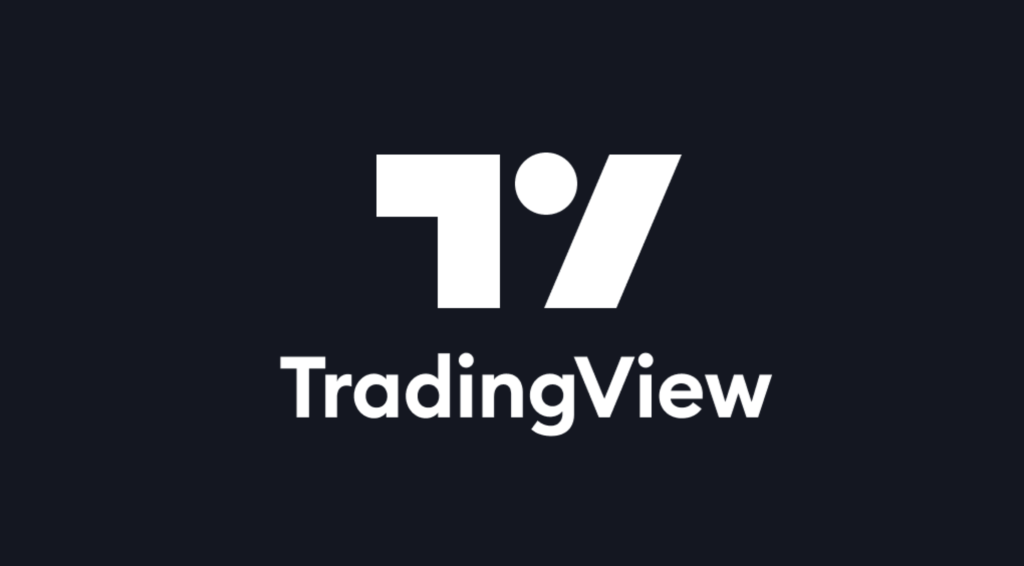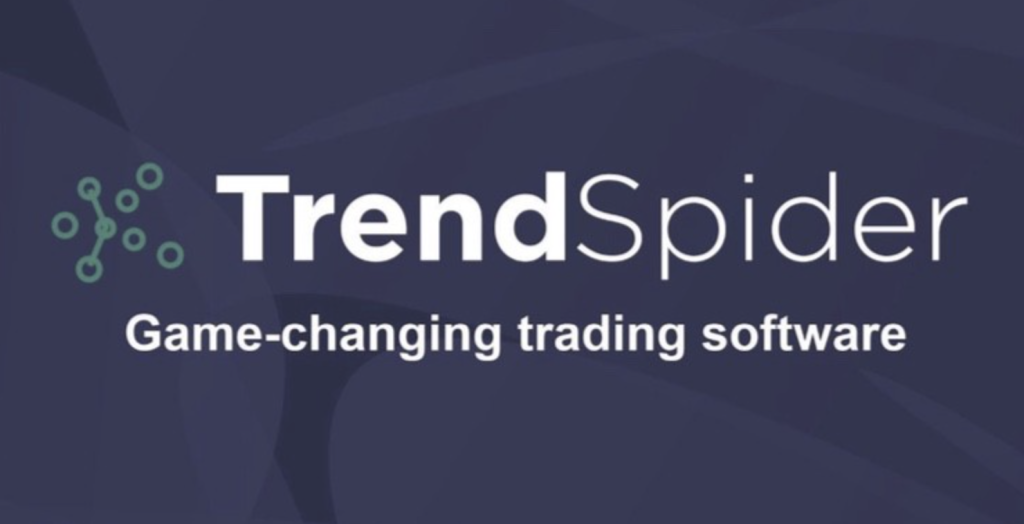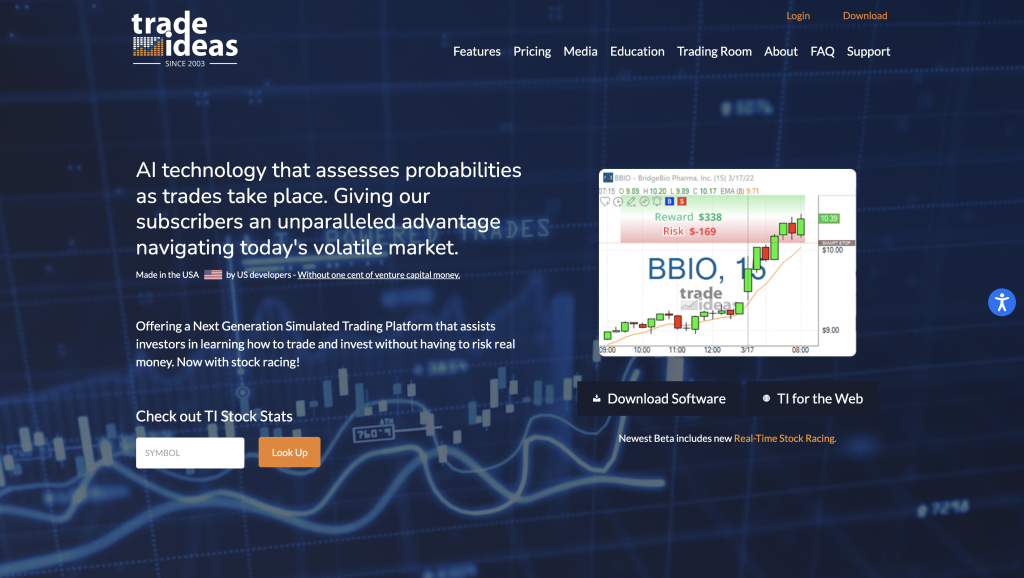 TradingView, TrendSpider, and Trade-ideas are 3 different market scanners that have been built with three different purposes and have their own advantages and disadvantages. While TradingView is mostly manual, TrendSpider and Trade-ideas are AI-backed software that does the technical analysis for you.
When it comes to the user interface, TradingView and TrendSpider have a very modern-looking and customizable interface, while Trade-ideas has an old-school Windows XP-style interface. TrendSpider will automatically do the technical analysis for you, TradingView is completely manual but has a lot more tools and indicators to use for the analysis, and Trade-ideas' AI will directly give you the entry and exit calls.
Let's get to know the scanners in detail:
TradingView: Best For Manual Extensive Technical Analysis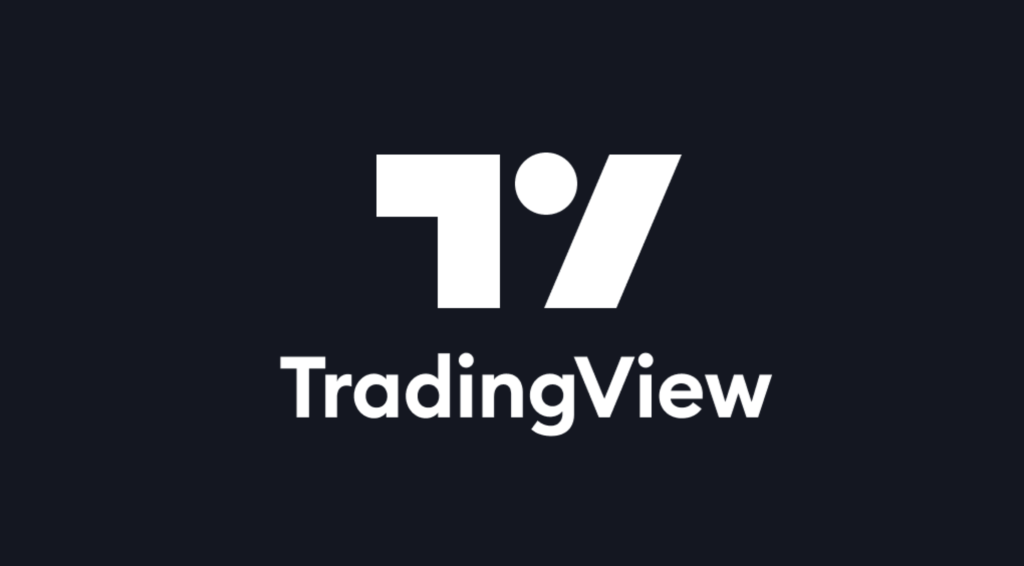 TradingView is a free platform that has all features from charting to indicators and scanning cryptocurrencies. It offers a lot of financial tools for its users including technical analyses, drawing tools, strategies, coding indicators, wishlists, etc.
Its greatest advantage is its user interface which is very simple and smooth and can be easily used by all beginners and professionals alike. Its major advantage comes in its userbase which spans all countries.
It is very easy to find tutorials on the internet and there are thousands of videos explaining it on YouTube. The tools, indicators, and charts can be highly customized as per the user's wants and it is all for free. It also offers a premium subscription for multitasking and professionals.
Its popularity is evident from the fact that it is the most used charting, scanning, and technical analysis platform in the world.
Tradingview is the best platform made for traders and investors because it caters to every need of all kinds of traders – Beginner to Advanced. One of its major strengths is the community that it has created. It is a strong trader community that comprises of experts and professionals in trading. They provide valuable insights and ideas on stocks to the new traders. They also share their own strategies or custom-made indicators that any trader can use.
TradingView also has the largest market coverage among all other indicators as it covers all crypto coins, including the major ones like Bitcoin, Ethereum, etc, to most of the Altcoins like Shiba Inu, and Litecoin, etc. It is a versatile platform which is evident from the fact that it is the most visited trading-related website in the world.
TradingView is undoubtedly the best charting platform in the market with the smoothest interface and the most customizable tools and indicators. Everything on a TradingView chart can be customized from the size of candlesticks to the type of candlestick graph. Tradingview offers charts of different types for different traders and their requirements. They include Henkin Ashi, Renko, Point and Figure, Hollow Candlesticks, Baseline, etc. The timeframes of the graphs can be changed too, from 1 second to 1 year.
It has a great interface that lets you zoom in, zoom out, or adjust any parameter very smoothly even on its website, even though it is filled with very heavy technical tools. TradingView has the most drawing tools on its chart so that traders can use any tool freely for technical analysis. From simple lines and pencil drawings to Fibonacci retracement lines and Cypher patterns or tools that calculate your Risk management in just a click, TradingView has a load of those and it would take months to study the function of each and every tool and indicator on TradingView.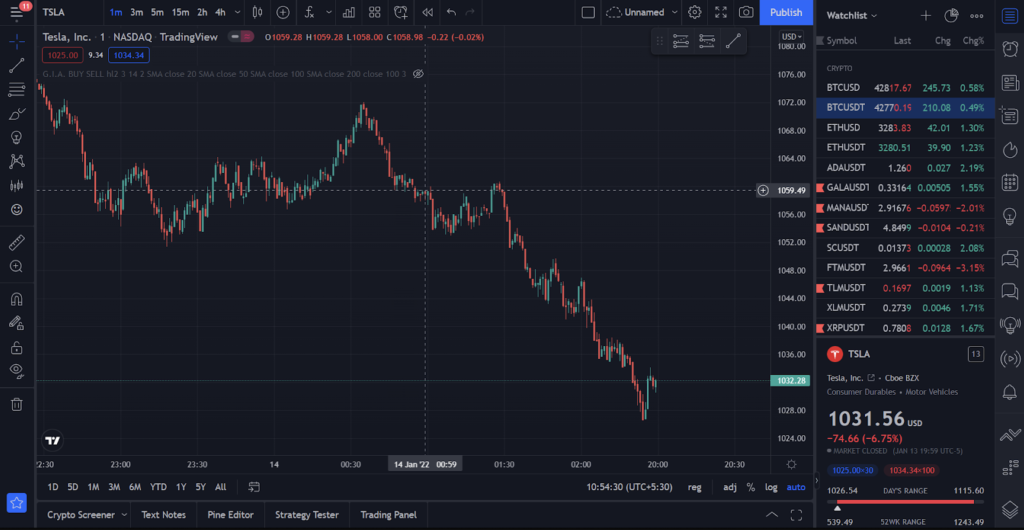 The Tradingview charts offer more than 100 in-built indicators and 5000 indicators that are contributed by the TradingView community. This is where TradingView excels in manual technical analysis. With so many indicators and strategies, all of which are completely customizable, TradingView becomes the perfect tool for both beginners who are still learning technicalities of trading, and also the experts that can use multiple indicators at once to identify buy and sell signals within minutes.
The other great feature on the Tradingview platform is the Technicals section where all the technical aspects of a stock or currency are given so that one can decide whether to invest or not. Long-term investors that don't prefer chart-based trading or don't have time to study the price movements, can use Technicals as it uses AI to summarise the price movements, indicators, and various mathematical pivots in order to give buy or sell signals to the traders.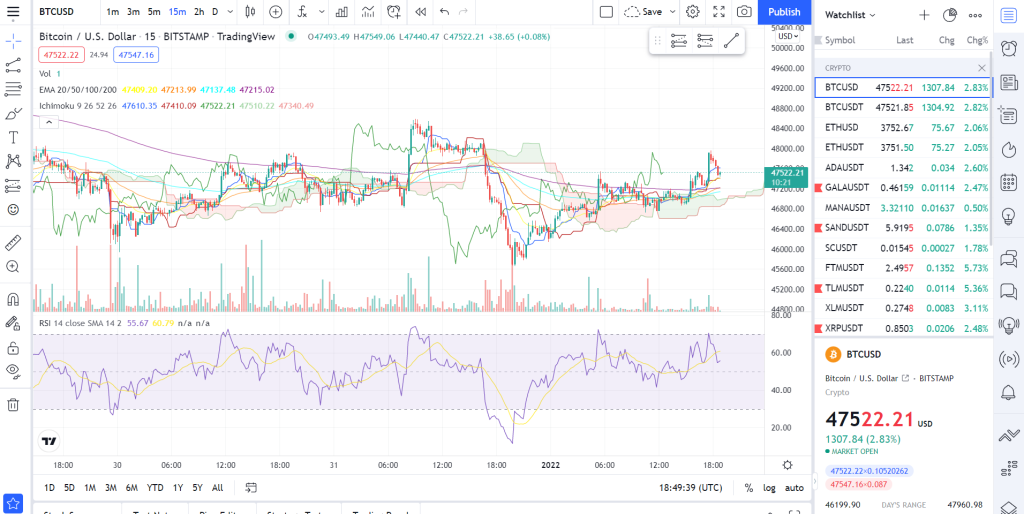 TradingView is not a platform for a particular type of trader, instead, it is built with the requirements of every kind of trader in mind. It has a smooth interface with a modern look that is filled with all the technical tools. It is sure to attract all kinds of traders from beginners to experienced professionals. Another major advantage TradingView enjoys over other platforms is its huge market data. It has data for the last 20 years from various markets around the world. There is hardly any popular cryptocurrency on any major trading platform that is not covered by TradingView. And still, its biggest advantage is that it is completely FREE. TradingView has a premium subscription but it is still a free platform where it offers all its features.
TrendSpider: Best AI-based Technical Analysis Platform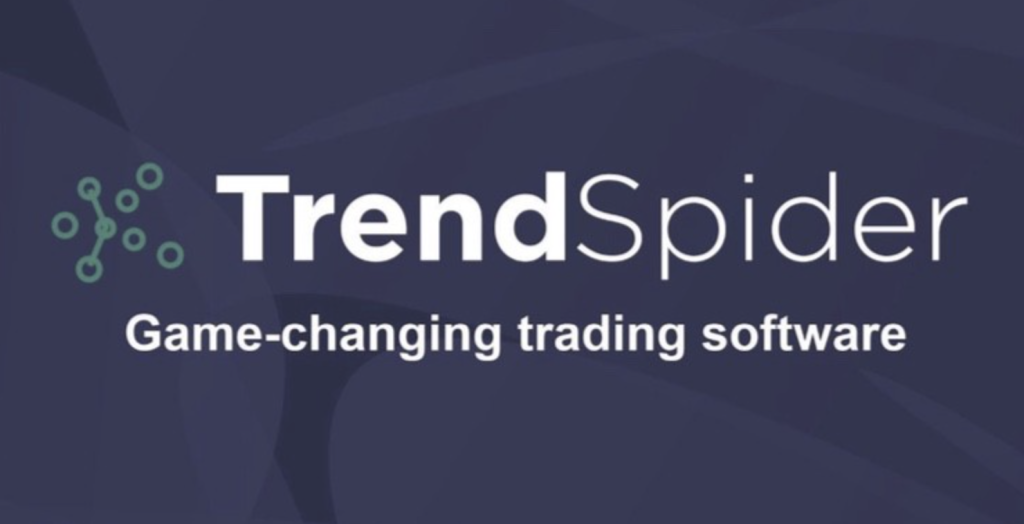 TrendSpider is an innovative charting platform that was meticulously designed with traders in mind. Its sole purpose is to help traders in making better trading plans. It aims at increasing the productivity of traders by lowering the chances of mistakes in technical analysis with the help of AI and technology that help in identifying trends and automating the lengthy process of technical analysis. With so many features, customizations, and personalized alerts, TrendSpider is a paid platform that can be expensive for some traders depending on the package they choose.
While there are many similar charting platforms on the Internet and many offer a lot of services for free, TrendSpider is best for Automated Technical Analysis and Dynamic Price Alerts.
TrendSpider is very different from any other trading platform in the market. The sole purpose of the platform is to make technical analysis faster, smoother, and more efficient.
It is a platform created by traders, for traders.
TrendSpider has a bunch of features that use AI to their advantage, for example – automatically identifying trendlines, Fibonacci, and Candlestick patterns, excellent backtesting, and multi-time-frame analysis. This makes it a favorite among technical traders. TrendSpider's automatic trendline and pattern recognition, analyzing multiple indicators and timeframes save day traders a lot of time.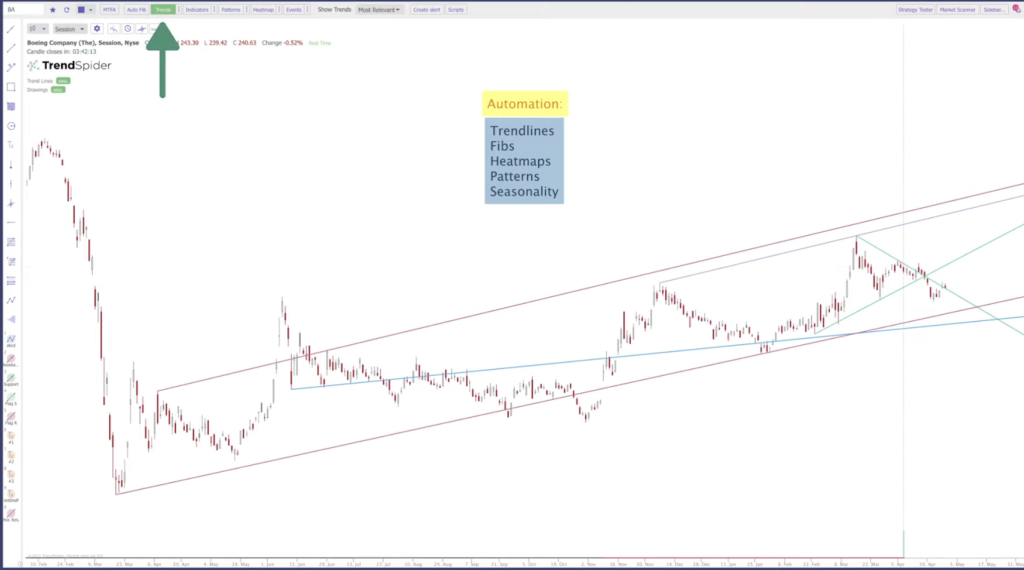 It also offers an excellent Market Scanning software where you can search for crypto stocks using indicators. You can look for investable cryptocurrencies through pre-market and post-market hours data, or apply any indicator or a combination of indicators to identify stocks satisfying the technical specifications. TrendSpider is the absolute best for traders who want an automated technical analysis of all cryptocurrencies.
TrendSpider also has something called the Smart Charts. TrendSpider claims that these charts save traders' precious time by automating most of the manual work and letting the AI do the complex job. These Smart Charts are efficient, incredibly effective, and have a very smooth user interface. They have also developed their own chart that they call the RainDrop charts.
They use highs, lows, left VWAP, and right VWAP to create a new kind of charting system that they claim to be more efficient in technical analysis and give better entry and exit signals as compared to the conventional candlestick charts.
TrendSpider's biggest strength is its Automated Technical Analysis. It is their forte and no other trading platform even comes close to it.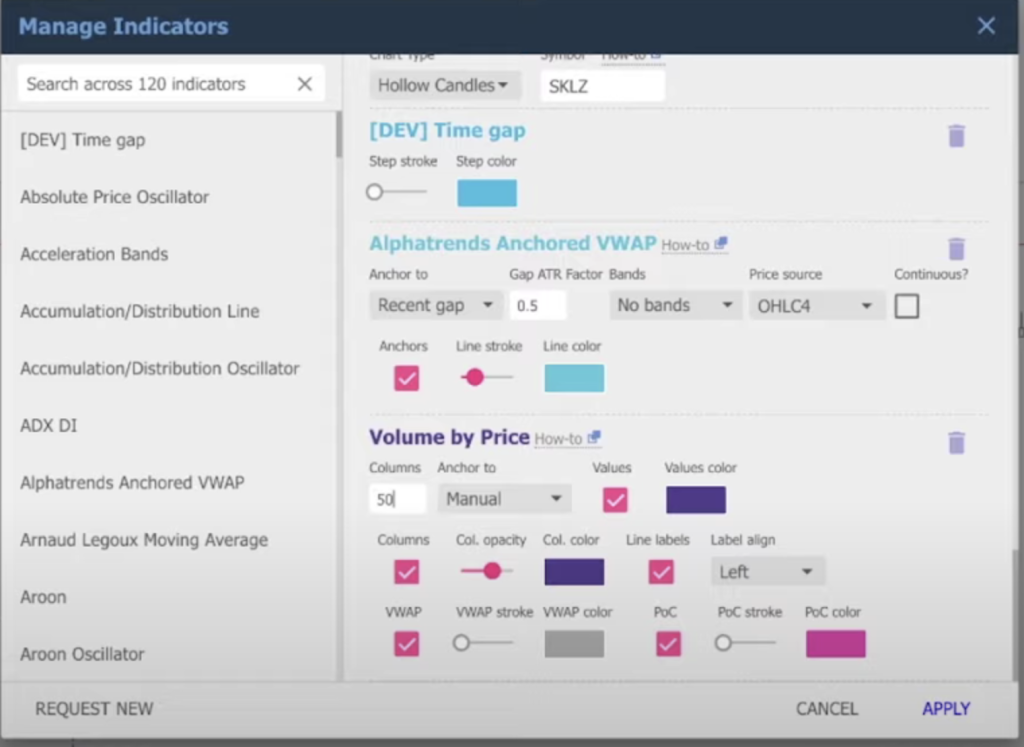 The major features that it provides through its platform are:
Automatic Trendline detection
Automatic Fibonacci Retracements
Automatic Candlestick pattern recognition
Dynamic Price Alerts
Multi-timeframe Analysis
TrendSpider is one of the most powerful and unique platforms in the market.
It is a completely paid service with a 7-day free trial. It has 3 subscription plans:
Master – for professional and full-time traders – $131 per month or $1,310 per year.
Elite – for more experienced and frequent traders – $87 per month or $870 per year.
Premium – for active traders – $44 per month or $440 per year.
Trade-ideas: Best platform for Day Traders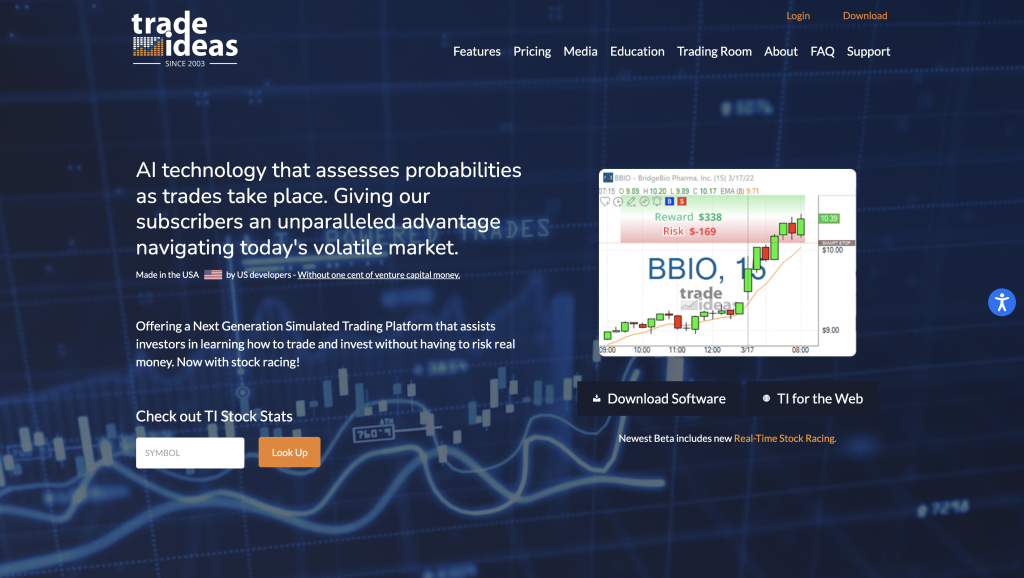 Trade-Ideas is one of the most powerful trading platforms that uses AI to generate trading ideas and give entry and exit signals to traders. It is undoubtedly one of the best scanners as it integrates the power of AI technology to make profitable entry calls. It is one of the most powerful scanners in the market. It comes with 40 different built-in scanners, that can be categorized into three different categories – Bearish, Bullish, and Neutral. But you can also customize them or create your own scans. These strategies can be applied according to the price movement in the market. Learn more in about Tade-ideas in our in-depth Trade-ideas review.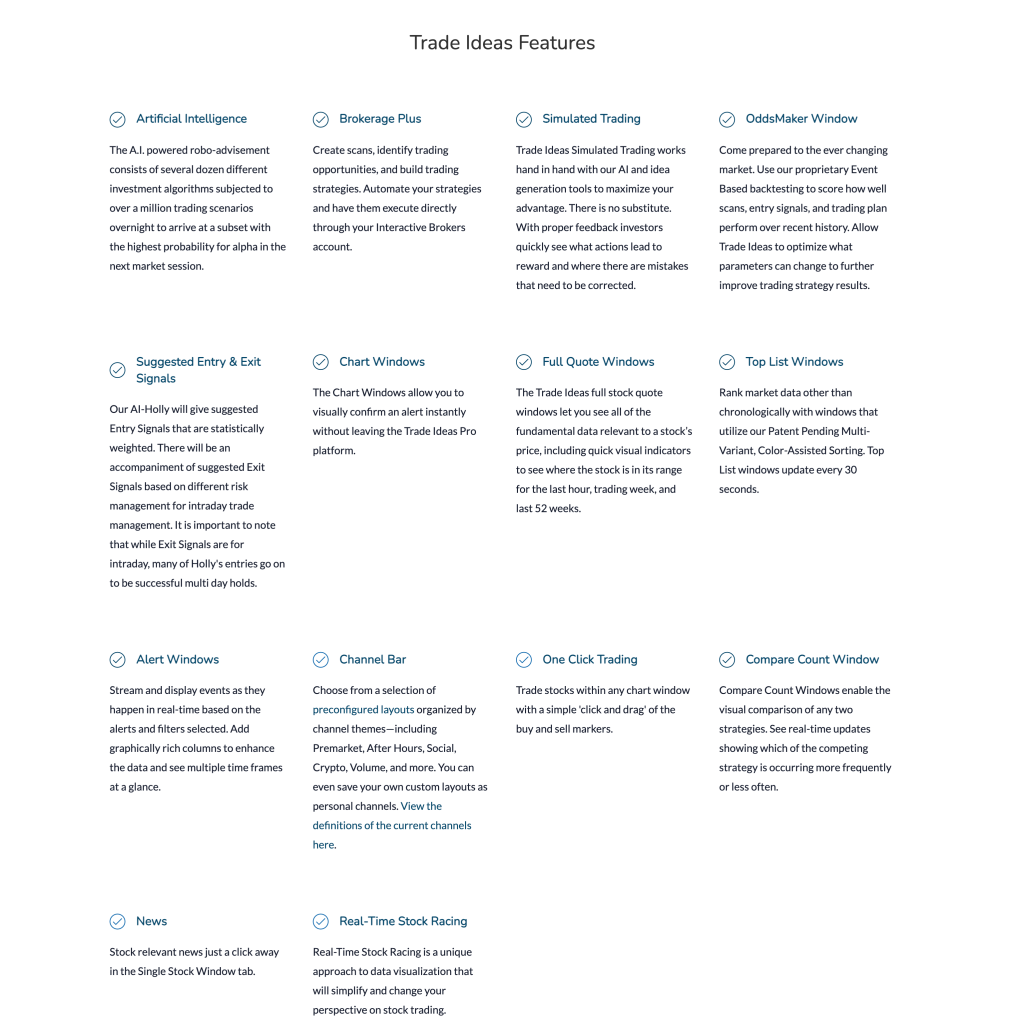 It is made to give entry and exit calls to the day traders and they do a great job at it. It is the perfect scanning software for day traders. And this is what makes it one of the most trusted scanners in the market.
Trade-ideas also has its own AI system that it calls Holly. Holly helps in a lot of things including finding buy and sell signals, applying strategies, backtesting, and also placing trades. The best thing about Holly AI is that it makes probable and successful entry calls every day so that you, the trader, do not have to worry about scouting through the market to find the best entries. The biggest advantage of using AI is that it learns from its previous mistakes that's why it studies the results of its calls and identifies mistakes to make better calls the next day.
Trade-Ideas subscription is offered in the 2 plans – Standard & Premium.
| | | |
| --- | --- | --- |
| | Monthly | Yearly |
| Standard | $118 | $1068 |
| Premium | $228 | $2268 |
Conclusion
All three platforms are good in their respective fields and have their own weaknesses.
TradingView is the best for beginners who are learning technical analysis and experts who use a lot of metrics to do their own technical analysis. But it is still a charting platform and is mostly used to look at price movements and volume changes.
TrendSpider is for people who spend a lot of time in technical analysis. Its AI technology makes it easier and more efficient for traders to identify trend lines and set dynamic alerts.
Trade-ideas is the pure Scanning platform. It uses AI Holly to give buy and sell signals every day. Its only drawback is its old-school interface.