Are you looking for the best Liquidity providers in the world?
Well, you have landed the best article about it. In this article, we have explained everything about the top 5 liquidity providers so that you don't have to waste time and effort on some random liquidity providers.
We have also covered all the basics about what is forex liquidity, what is liquidity providers on why you should use a liquidity provider.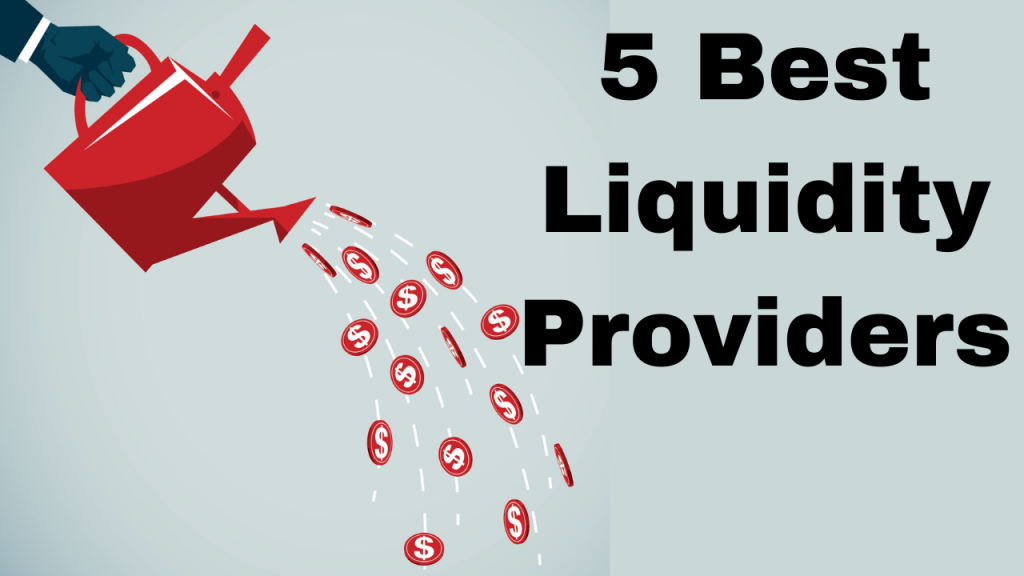 Let's first understand the first word in the term "Liquidity provider" – Liquidity.
What is Liquidity?
Liquidity refers to how easily can a stock, currency, or commodity be sold in a market. The term liquidity comes from the word Liquid and just as we know, liquid flows very fast. Similarly, a stock that flows between buyers and sellers very quickly, is said to have high liquidity. It is the ease by which a stockholder can sell a stock on the market and how much time it takes to be sold without affecting the market price of the stock.
For example, fiat currency or cash is the most liquid item as it can be exchanged for almost anything without any time loss, but things like real estate, paintings, collectibles, etc, take a very long time to be sold, therefore are less liquid.
What is Liquidity Provider?
A Liquidity Provider is someone who facilitates trading by providing a pool of shares to the market and thus providing liquidity to the market.
In simple words, when a trader places a buy order for a bunch of shares of a certain stock, it might take a long time to find a seller that agrees to sell the same number of stocks at the same price.
This is where the Liquidity Provider comes in. He already has a bunch of shares of the same stock and he gives his own shares to the buyer at the requested price and later buys it back at a similar price from a seller. This way the orders for both the seller and the buyer get executed instantly and therefore the liquidity of the stock is maintained.
A liquidity provider is also called a Market Maker.
Let us now look at the Top 5 best Forex Liquidity Providers: –
The Fx trading IG Markets is a subsidiary of the IG Group organization. While today's retail forex market allows virtually anyone with nominal investment and an Internet connection to trade foreign exchange, prior to the advent of the Internet and online trading, forex liquidity providers were mainly large commercial banks and institutions.
Its shares are traded on the London Stock Exchange and are part of the FTSE 250 index. IG Markets is a UK-registered corporation founded in 1974, although it has had representative offices in other European countries since then. A retail range of brokerage services has been available since 2014.
Features
The broker's international division is registered in Bermuda and licenced by the Bermuda Currency Board. The broker's main business is to provide services for trading financial derivatives (CFDs).
In terms of Forex liquidity providers, these companies link brokerage platforms with banking institutions and hedge funds (Barclays, BNP Paribas, Goldman Sachs and other big players). The company opens an account with one or more banks and provides brokerage firms with access to these liquidity pools. The brokerage firm's order book is linked to such liquidity pools and orders placed by traders are instantly filled by market makers.
Pros and Cons
Pros
Relatively good spreads ranging from 0.6 to 1 pip depending on the instrument
Customer service is available around the clock.
A high entrance barrier that inhibits private inexperienced traders.
Cons
Verification is a time-consuming and unpleasant process. There have been reports of account refusals because to unsubstantiated or low income.
According to traders' reports, there are technical issues with order execution.
There are no passive investing products available, and no bonus scheme is available.
A restricted set of alternatives for depositing and withdrawing funds, which is not available
FXCM or Forex Capital Markets is an international forex broker and CFDs broker based out of London, UK. Founded in 1999, it has been an internationally trusted brokerage service for more than two decades. It is known for providing services like forex trading, spread betting, CFD trading, etc.
It is the first choice for traders mainly because of its highly advanced trading platform, stock screening and tools, proprietary data, and its educational content. 
FXCM has two service plans – FXCM Pro and FXCM Prime. FXCM Pro is mainly for smaller players like retail brokers, small hedge funds, and emerging market banks who get wholesale execution and liquidity through FXCM's services. FSCM Prime is mainly for medium and high-frequency funds.
FXCM is a forex and Contracts for difference (CFD) broker where you can trade in more than 250 different assets. FXCM allows forex trading in 39 major currency pairs while through CFDs you can trade in the 8 major stock indices, popular stocks from the U.S., U.K., Australian, European, and Hong Kong stock markets, cryptocurrencies and even trading baskets on certain assets.
FXCM Pro is undoubtedly the best for liquidity trading as it has liquidity providers for every kind of trader. It also has a great support team and a management team that helps CFD traders in every way possible.
Leverate is a forex and CFD broker that was established in 2008 in Cyprus, a middle-eastern country. Its liquidity-providing service LXCapital offers liquidity for every type of brokerage and liquidity spreads starting as low as 0.2 pips.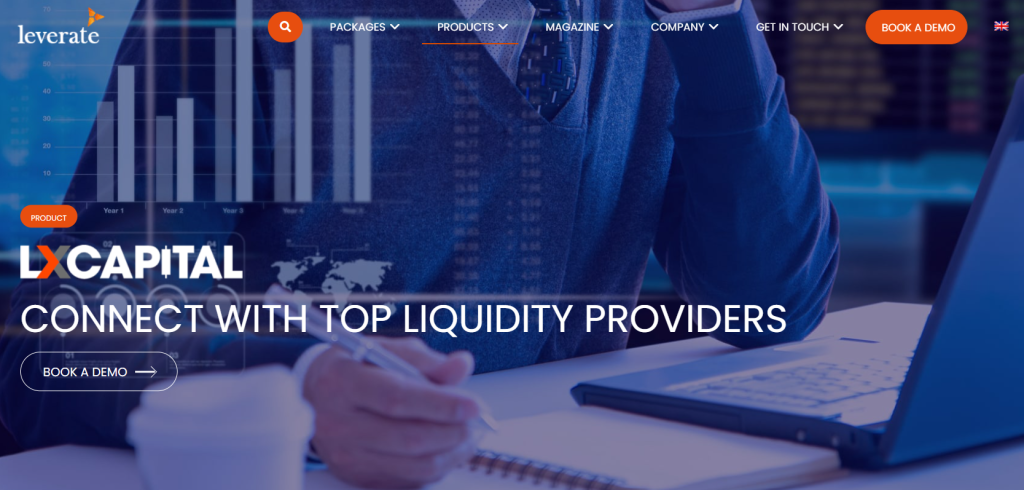 Its biggest advantage over other brokers is that along with ultra-low latency execution of orders, it also provides a very advanced platform and tools for trading. Leverate also has another platform called LXSuite designed specifically for universal business solutions.
Leverate uses STP technology to help traders choose the best hedging strategy along with excellent risk management systems. It also offers social trading for traders where they can trade on the platform together while being in contact with each other.
This helps the new and inexperienced traders a lot in gaining confidence in their trades. It has a very comfortable trading platform and a great user interface that encourages traders to spend more time on the platform and thus make more trades. 
Just like all other CFD trading brokers, Leverate also provides trading options in metals, indices, stocks and cryptocurrencies. Due to its ultra-low latency, it is able to match the ask prices to the best bid prices in a fraction of a second. Therefore, it is also another preferred liquidity provider that is used by many professional traders.
IX Prime is the liquidity-providing service of the forex broker Infinox. Infinox is another London-based forex and CFD broker established in 2009 that caters to all kinds of traders that trade in cryptocurrencies, metals, stocks, indices and futures.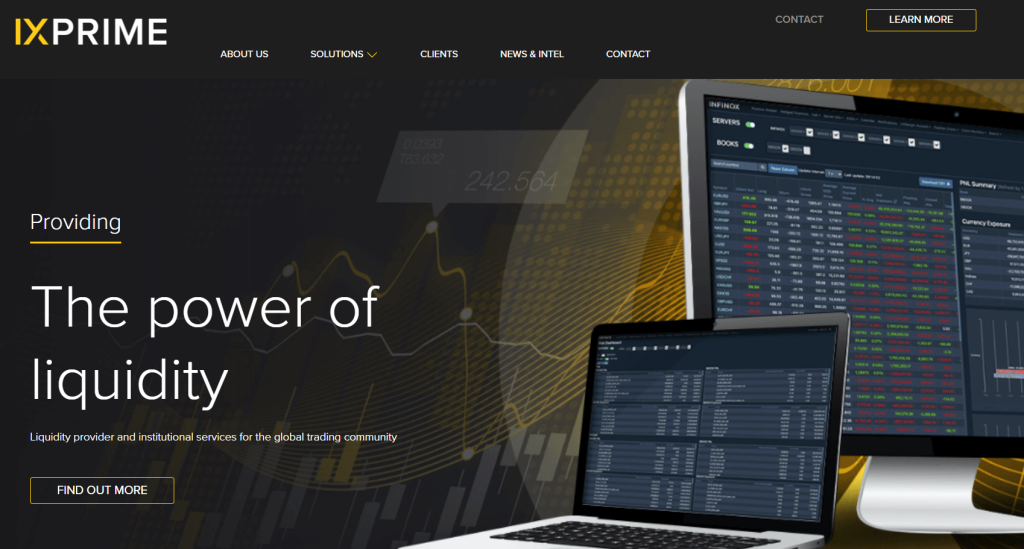 IX Prime has a wide range of clients including Brokers, Money managers, Professional clients, Prop desks, and Fintech companies.
IX Prime is one of the best Liquidity providers with more than 300 trading instruments, a global trading infrastructure with offices in 3 countries and a multi-asset liquidity solution is equipped with competitive pricing. Spreads on forex pairs start at 0.3 pips for EUR/USD. You can start trading on Infinox with as low deposits as £1 which makes it easier for newer traders to get into the market.
Infinox, as a forex and CFD broker, offers trading opportunities in different types of markets including stocks, indices, metals, commodities, equities CFDs, and futures. You can trade over 50 currency pairs, most popular indices, hard and soft commodities, and futures with real-time direct market access. The major disadvantage with Infinox is that it does not allow cryptocurrency trading. Cryptocurrency trading is in a lot of hype nowadays and traders are shifting to crypto trading due to its extreme volatility.
Infinox also has 24/5 support in 5 languages through email phone and chat support.
Finalto is also a UK-based company that offers forex and CFD trading for global markets. Finalto is the financial division of Playtech, a gambling software development company in the UK. Last year in 2021, finalto won the award for the Best Multi-Asset Trading Platform.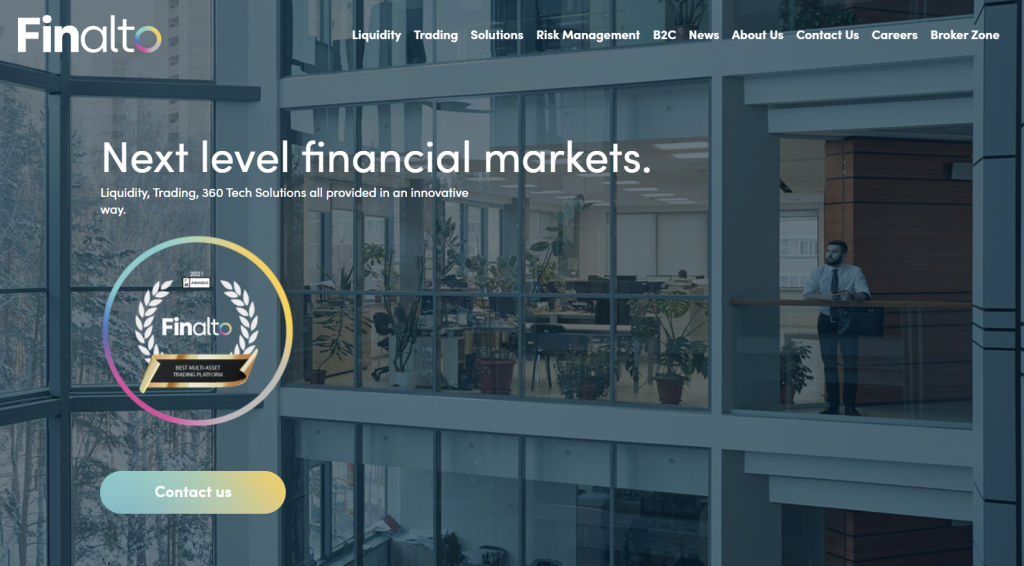 This proves how good the trading software is. Along with its B2C brand Markets.com which provides trading and investment services, Finalto is undoubtedly one of the best liquidity providers and CFD trading platforms in the world.
It offers multiple services to its users including a Proprietary trading platform, CRM software, Back-office, and Business Intelligence Systems, Prime Brokerage Services, Liquidity and trading management tools, and Liquidity Technology Providing Retail Brokers with Multi-Asset Execution.
It provides lets traders trade in more than 60 Forex currency pairs, 40 index CFDs, 2000 stock CFDs, 60 ETF CFDs, 25 hard and soft commodity CFDs, 4 bond CFDs, and 25 Crypto CFDs. Finalto lets users take up to 30x leverage and the spreads start at 0.8 pips.
Finalto is one of the best for Liquidity providing as it provides users with access to tier 1 banks, electronic communication networks (ECNs), and non-bank liquidity pools that help them find the right solutions for their businesses.
What Is The Role of Liquidity Provider?
Popular Brokers and Exchanges use liquidity providers to facilitate faster trading on their platforms so that more and more people sign up on their platforms. Therefore almost all exchanges have liquidity providers.
As mentioned earlier, a liquidity provider or market maker is someone with a lot of shares of a certain stock. In the case of the stock market or cryptocurrency, it can be anyone. But in the case of Forex trading, not anyone or everyone can become a liquidity provider.
As Forex deals in currencies and not in stocks, and not everyone has that amount of currency so that they could use it to increase liquidity, Forex brokers partner up with Banks and hedge Funds like JP Morgan, Barclays, Goldman Sachs, etc. so that they could use their vast storage of cash to provide liquidity in the market. In return, these institutions are rewarded by the brokers and exchanges for their deposits.
It is very important for brokers and exchanges to facilitate high liquidity solutions to encourage more and more users to their platform. Following are the two main reasons for high liquidity:
Zero Spread – Spread means the difference of price between the bid and ask price. The spread must be zero so that there is no loss in shares.
Faster Executions – High Liquidity means that the trades are executed instantly and the traders don't have to wait for long to find a buyer or seller for the stock. Faster execution of trades also attracts more and more users to the platform.
FAQs
Where does liquidity for forex brokers come from?
FOREX broker liquidity providers offer liquidity to FOREX brokers. Market brokers or institutions that function as professional market makers, acting on both sides of currency transactions, are referred to as liquidity providers.
What exactly do liquidity issuers do?
A financial institution that operates as an intermediary in the securities markets is referred to as a core liquidity provider. The providers purchase huge quantities of securities from the corporations that issue them and then distribute them in batches to financial institutions, who subsequently make them available to ordinary investors directly.
Is high liquidity a good thing?
In a nutshell, "good" liquidity is anything greater than one. In general, lenders and investors will seek an operational liquidity ratio of 2 or 3. A good liquidity ratio indicates that your company has a greater margin of safety in terms of its capacity to pay down debt commitments.
What causes a lack of liquidity?
A liquidity crisis is caused by widespread maturity mismatches among banks and other enterprises, resulting in a scarcity of money as well as other cash reserves when they are needed. Huge, bad financial shocks or typical cyclical fluctuations in the economy can both generate liquidity crises.