Trade-Ideas is one of the most powerful trading platforms that uses AI to generate trading ideas and give entry signals to traders. It deals in the US stock market only and is considered as the best scanner for day traders by many.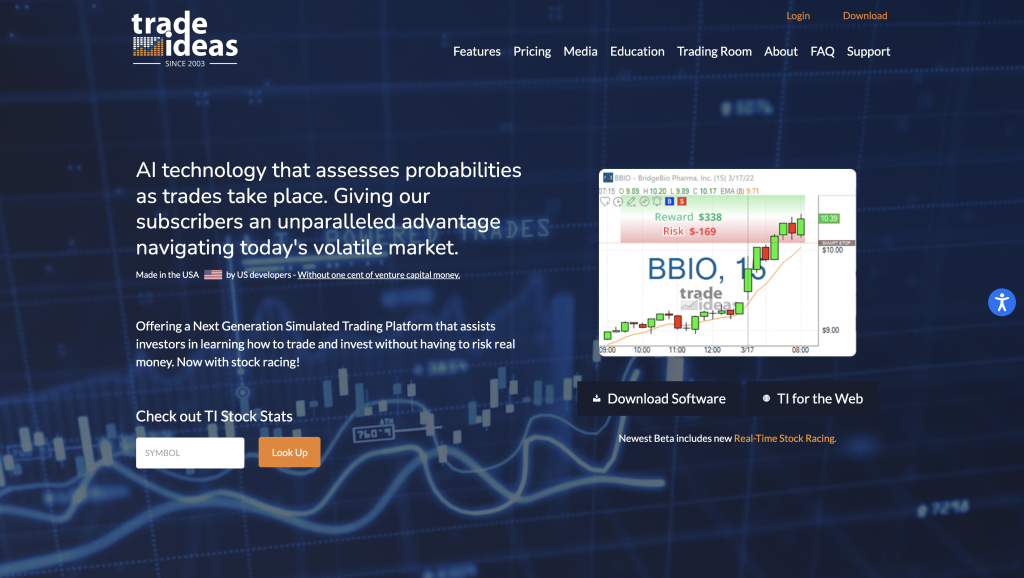 The Trade Ideas software can be downloaded on PC and the web with some limitations. It is undoubtedly one of the best strategy-best scanners as it integrates the power of AI technology to formulate profitable entry calls.
About Trade Ideas
Developed in 2002, it is a 20-year-old scanner that uses the most modern tech capabilities but still on a 20-year-old interface. It is a platform made specifically for day traders. Dan Mirkin, one of its co-founders, is also a day-trader.
Currently, its website gets more than 300K monthly visits and the platform has more than 50,000 subscribers from more than 19 countries that are interested in the US and Canadian equity markets.
With such excellent AI trading algorithms that give 3 – 10 trading signals every day and a fully automated backtesting, Trading Ideas falls short with its old-school interface that looks like you're using Windows XP in 2022. It also does not have software for Mac users, let alone mobile apps.
This might be the reason for its less popularity, but its standalone software is still one of the best trading algorithms in the market for day traders as it uses cloud computing to process all the stock data and find the best calls from over 6000 stocks daily.
Trade Ideas Coupon Code (Get Upto 50% Discount)
Features of Trade Ideas
Let's take a look at the most important features of Trade Ideas that differentiate it from its competitors, and makes it the best platform for day traders.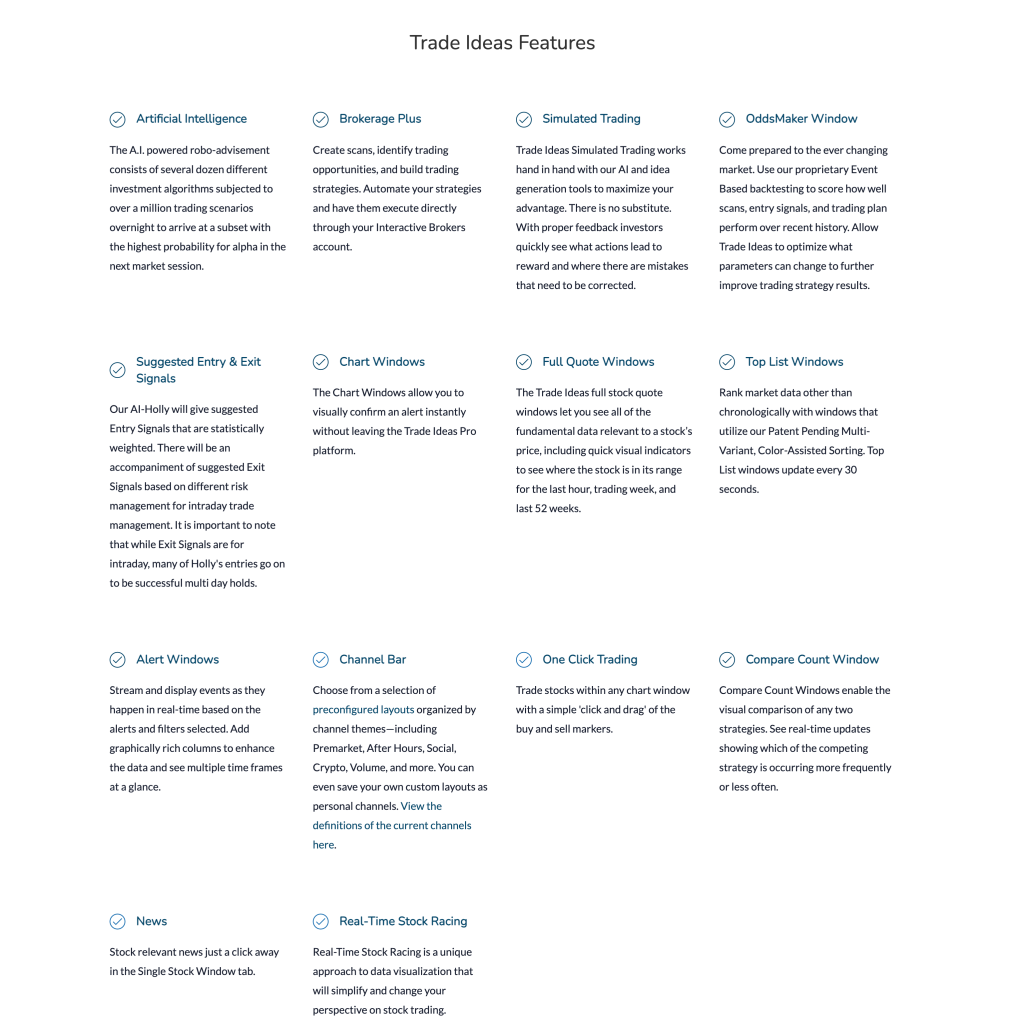 Charts
Charts are the most basic feature for any trading platform and Trade Ideas does nothing new in it. It has a very basic charting platform but you can pull up to 20 chart windows depending on your subscription plan. It has all the basic indicators on a candlestick and bar graph.
But as it is a scanner and not a charting platform, it is not expected to have a great charting system. Many other trading scanners don't even provide charts.
Scanners
Trade-Ideas is a trading scanner platform and this is where it is expected to excel. And undoubtedly, it is one of the most powerful, innovative, and versatile scanners in the market. It comes with a bunch of built-in scanners, but you can also customize them or create your own scans.
The platform has 40 different scans that are categorized in three different categories – Bearish, Bullish, and Neutral. These strategies can be applied in according to the price movement in the market. Traders can set additional parameters to the pre-built scans like minimum/maximum average/relative volume, price range, exchanges, stocks, options, and ETFs.
It is made to give entry calls to the day traders and they do a great job at it as Trade Ideas is one of the most trusted scanners in the market.
Experienced traders can use its customization features to tweak the pre-built scanners to suit their needs. Traders can also create their own scanners on the platform and the best thing is that they don't need to learn programming in order to do so.
It is as easy as arranging a bunch of different metrics like MA, crossover, RSI, Average Volume, highs lows, etc. to create a new strategy.
Backtesting
Trade-Ideas also has a great backtesting feature that is one of the best in the market. It calls its backtesting software Oddsmaker. The Oddsmaker can backtest any strategy and you can also alter it and test it again within minutes.
The best thing is that one doesn't need extensive programming knowledge to do so, unlike many other backtesting platforms. The Oddsmaker backtests any strategy any number of times within minutes and provides traders with all the required statistics like – win/loss, number of trades, commissions, strategy return %, projected annual returns, and profit factor.
It shows everything in a unique interface that uses graphs to show return on investments and changes in wealth. It also uses a calendar where the traders can see on which days the strategy was triggered and then study the market sentiment that led to it.
Artificial Intelligence
The most attractive feature of Trade Ideas is its Artificial Intelligence integrated software. TI calls its AI Holly and it has 3 versions – Holly, Holly 2.0, and Holly Neo.
Holly has a very effective system that employs more than 70 strategies on the most recent data of the last 60 days so that it can study all the recent market changes and can predict the market's next move. It also presents you only with strategies that have more than a 60% success rate and a profit to loss ratio of 2:1.
The best thing about Holly AI is that it comes with 3 – 10 probable and successful entries every morning before the market opens so that you, the trader, do not have to worry about scouting through the market to find the most probable entries in the first hour. The AI does the same on more than 8000 US stocks and presents you the results within minutes of the market opening.
The Holly AI also reviews all its calls at the end of the day to check how successful they were and it learns from its results to make even better calls the next day. The biggest advantage of using AI is that it learns from its previous mistakes and becomes more and more accurate from time to time.
It is pretty evident why Trade Ideas is loved and trusted so much in the market when you see what its AI engine can do. It makes trading much simpler and easier for day traders.
Brokerage Plus
Brokerage Plus is Trade-Ideas' most recent addition in 2019 and it is a part of the platform's ideas to integrate trading with AI to help retail traders get better calls. Old users can get the Brokerage Plus feature at a one-time fee of $1100. But for people just starting off with the Trade-Ideas software can get it as an additional feature in the Premium subscription plan.
The Brokerage Plus feature focuses on automated trading strategies and allows traders to build scans, define strategies, backtest them using Oddsmaker and then automate the trade entries and exits using Brokerage Plus. It will be definitely more precise with entries and exits as there is no scope of human error in the case of AI doing the job.
Obviously, in order to use this feature, you must have a trading account on one of the partner brokers of Trade-Ideas.
Training
Trade-Ideas is a complex software with loads of features and it is very difficult for a beginner to figure it out on their own. That is why it also has a training platform called TI University where it offers a lot of instructional videos and tutorials to the new traders starting off with the platform. It also has a live trading room facility where every user gets a free one-on-one training session and can get a hang of the software. The TI University also hosts live webinars daily where experts talk of the trending stocks and trading tips.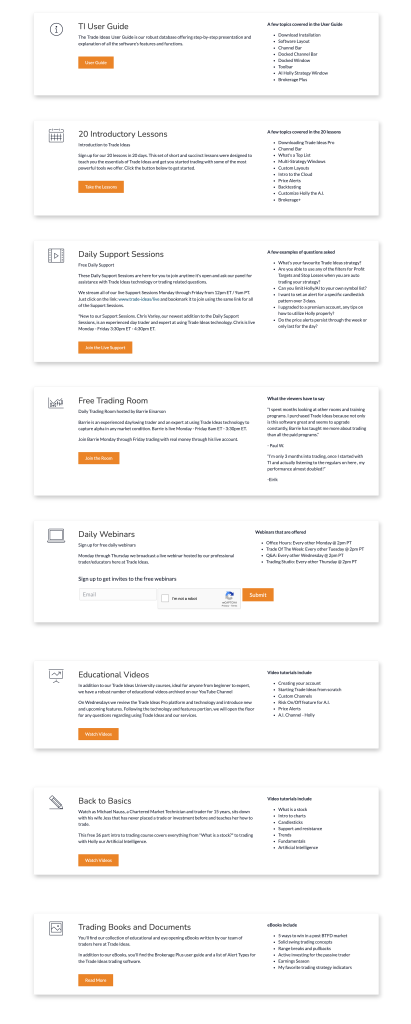 News
Trade-Ideas also has a news feed where it shares all the latest news headlines which can be opened in a separate browser. It does not offer a separate news platform but covers all the top headlines from different news sources and compiles them in the software. It is a good way to stay connected to all that is happening in the market with just one software as you don't have to spend hours scouting for market news.
Compatible Brokers
Trade-Ideas has partnered with many brokers to offer its Brokerage Plus feature so that it can help automate trading for users.
The brokers that offer partnerships with the Trade-Ideas platform are:
Scottrade
E*Trade
eSignal
RealTick
How is Trade Ideas different?
Being one of the most powerful scanners in the market, Trade-Ideas differentiates itself from the competition by integrating AI technology with trading like no other platform ever did. The only competitor that comes close to it is TrendSpider, but even they don't offer an automated trading option where the trades can be placed automatically by the AI software.
Trade-Ideas also has an educational platform called TI University that educates new users on the basics of trading and the features of the software.
It is the perfect engine for an intraday trader who can depend on Trade-Ideas' built-in scanners to get the best entries and exits every day. Its AI Holly gives the most successful calls which is much more accurate than any other manual service.
Pricing Options
The Trade Ideas subscription comes in two plans – Standard and Premium.
The Standard plan stands at $118 monthly and $1068 yearly.
The Premium plan comes at a price of $228 per month and $2268 per year.
With a price difference of about $1100 the Standard plan does not provide most of TI's best features which include – AI Holly, Brokerage Plus, Risk Assessment, Suggested entries and exits, and Oddsmaker backtesting.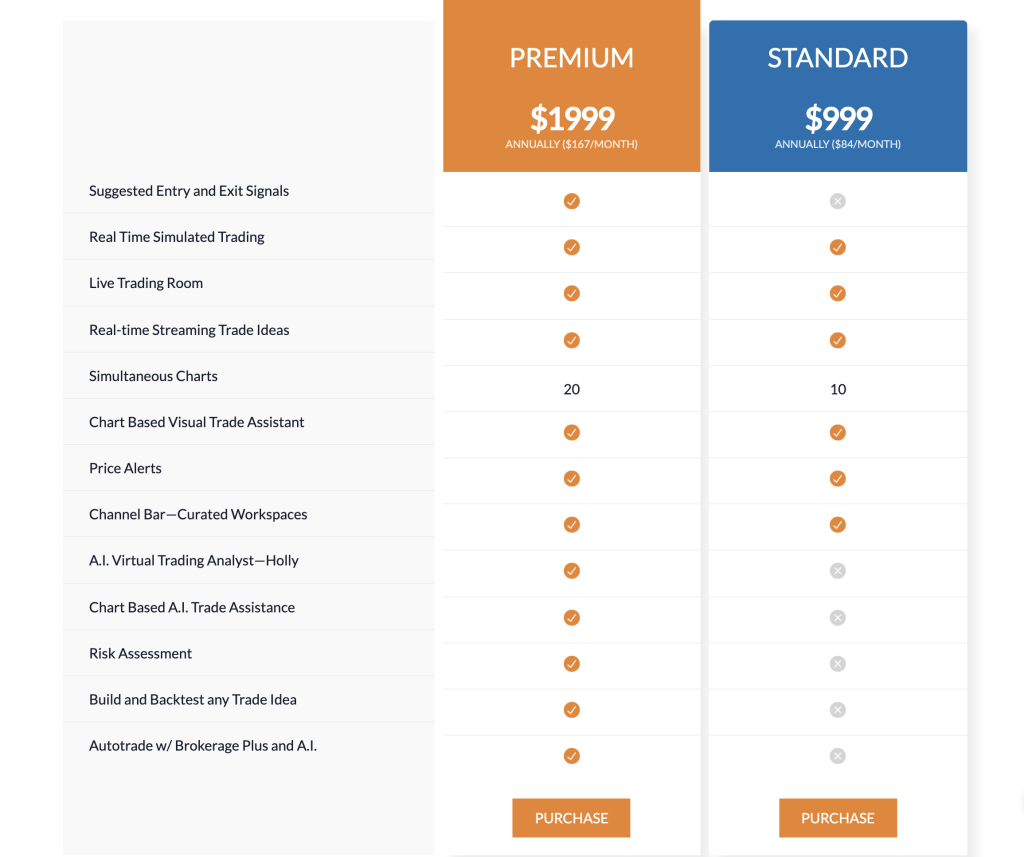 What type of trader is Trade Ideas best for?
As the platform itself claims, Trade Ideas is best for active intra-day trading. It is also a great choice for momentum traders. Swing traders can also use it but they can find lot better options for swing trading in the market.
Trade-Ideas gives a lot of suggested entries throughout the day and one needs to have a quick response time to make successful trades. For momentum and chart-based traders, Trade-Ideas is the perfect platform as it provides you with a lot of Ideas and alerts throughout the day, including before-market and aftermarket ideas too.
Conclusion
Trade-Ideas is a great software for all traders who like to enter and exit a trade all during a day. It is one of the best and innovative AI-driven trading platforms in the industry as it integrates scanning, strategy making, backtesting, and making calls with its home-built AI – Holly.
It also offers an automated trading feature where the AI would place make the entries and exits in the market for you at the precise times and the precise number of trades as the accuracy of timing is very crucial in day trading.
The only downside of the platform is its old-school interface that looks like you're still in 2003. It also does not provide any mobile apps so that traders could track the market or make the right calls on the go. Mac users also face a downside as they can only use the web version and it lacks a lot of features.