Ethereum is currently the second-largest Cryptocurrency by market cap after Bitcoin. Due to this, people's inclination is now increasing to invest in Ethereum.
But before investing in any crypto, investors naturally have to choose a secure & best wallet so that the investor's coins can be safe. We will introduce you to the best Ethereum Wallets to store crypto.
As such, there are many mediums and wallets available on online platforms to secure and sell Ethereum tokens, But to choose which of these wallets is more secure and reliable, it will be necessary to pay attention to some critical conditions, which you must have in your Wallet.
As well as the criteria to be taken into account to choose the Ethereum wallet that best suits your needs.
What is an Ethereum Wallet?
Ethereum Wallet is an application that we can install on our mobile device and safely keep our coins in it, even if you think it is an internet banking app without a bank.
Ethereum Wallet lets you read your balance, make transactions, and connect to applications. A wallet is required to send these funds and manage ETH, and your Wallet is simply a tool for managing your Ethereum account.
That means you can also swap the wallet providers at any time. Multiple wallets let you manage various Ethereum accounts from one application. This is because the Wallet does not have custody of your funds, and they are a tool for managing your real things.
What are the types of Ethereum Wallets?
Choosing an Ethereum Wallet mainly comes down to choosing a type of Ethereum Wallet first. There are several types of ETH wallets, all with different levels of security and ease of use and their pros and cons. Below is a list of all the types of Ethereum wallets available.
Ethereum Online Wallet (Ethereum Hot Wallet)
Online bitcoin and Ethereum wallets, also known as Ethereum hot wallets or web wallets, are wallets that you can access on your internet browser. They usually offer to store their Ethereum directly on the site where ETH purchases occur.
There are also online wallets that are not cryptocurrency buying platforms. Ethereum is stored online, breaking the question of trust and security compared to the chosen platform. However, well-known and well-known platforms have perfect security precautions.
Hence what cannot say that online wallets are not secure, and they do not provide the same level of security as other wallets.
Advantages:
Ease of use
Your ETH tokens are accessible anywhere and anytime via browser or mobile
Possibility to operate from portfolio
No installation is required on exchanges
Often excellent customer service.
Disadvantages:
Ethereum stored on the Internet and potentially vulnerable to hackers
Ethereum Physical Wallet (Ethereum Cold Wallet)
The physical Ethereum wallet is considered the most secure, also known as the hard Wallet. Unlike hot wallets, they are also called cold wallets.
In this case, the physical Wallet is not exposed to the Internet, especially if you plug in a disconnected device to use it. Ethereum is stored in the machine itself and must manually validate any transaction.
Therefore, as long as the device is in your hand, it is improbable that you will lose your ETH token. Although tricky wallets are not free, they provide optimum security for those with significant money to store.
Pros:
High security 
Offline private key storage
Who must manually confirm each transaction on the device 
Device security by PIN code
Cons:
Acquisition cost 
Sometimes it isn't easy to learn 
Entire liability for stored cryptocurrencies



Ethereum Desktop Wallets
The ETH software wallet, also called a desktop wallet, cannot be accessed directly online via a web browser but requires you to download and install the software on your computer and mobile.
Unlike most online platforms, private keys are stored on your device, not online. Therefore, you are fully responsible for their safety. Software Ethereum Wallet is still considered a hot wallet because your computer is connected to the Internet.
Advantages:
Ease of use
Control of private keys
Manual confirmation of transactions
Good level of security
Disadvantages:
Tokens remain unsecured on connected devices
Requires software to be downloaded and installed
Any not quickly accessible from the device
Ethereum Paper Wallet
Paper Ethereum wallets, or paper wallets, are pieces of paper carrying your private keys. These Ethereum wallets are very cheap but extremely risky at the same time. If you lose the piece of paper, you cannot get your ETH tokens back.
In short, it is a simple sheet of paper with your public key and your private key written on it. Therefore it is also complete cold storage, like on a hard wallet. So, if you want to store ETH offline without buying a physical wallet, then the Ethereum paper wallet can still be a good option. Be careful not to lose the piece of paper. They can also be instrumental if you don't want to access your Ethereum for a long time. This allows you to keep your ETH paper wallet in a safe place at a low cost. For example, it is not uncommon for large investors to keep their paper wallets in bank safes.
Advantages:
Take your Ethereum with you wherever you go
Store it safely for a long time
Disadvantages:
Liability for the Wallet to be lost or stolen
Anyone in possession of the paper has access to the keys written on it have direct access
How do ethereum wallets work?
Ethereum Wallet keeps your public and private keys secure and allows you to receive and send ETH tokens using the network blockchain. The Wallet contains a unique identifier that matches the information on the Ethereum blockchain.
Which records the number of ETH tokens you own. Each Ethereum wallet has a private key, which is needed to transfer your tokens out of the Wallet to trade them. Although the wallet address is public, the private keys are kept confidential.
Remember that ETH tokens are not strictly kept in the Ethereum wallet. Every ETH token exists on the blockchain, and you only have access to the public and private keys that correspond to your ETH tokens on the blockchain.
If you wish to spend the ETH tokens stored in your Wallet, you must have the public address of the person with whom you want to do business.
According to Cryptocurrency Experts, Your Ethereum wallet should have these features:
Private Keys – With the help of private keys, you can control your hardware wallet.
Backup & Security – With its help, you will back up and restore coins on your Wallet.
Ease Of Use– Provides an easy UI-based interface for users to use the Wallet.
Compatibility – This feature allows users to support and access wallets for different operating systems.
Development Community – An active development community facilitates updates to the system with new features necessary for security from time to time.
If any of the things mentioned above are not provided in any wallets, then the investor should avoid using that Wallet. Otherwise, their investment may be in jeopardy, which may cause trouble for them.
If you plan to invest in Cryptocurrency, you must first make sure that all the requirements mentioned above are met.
Let's review the reliable and best digital Wallet to store Ethereum, which meets all the standards mentioned above, which you can use.
Pros and Cons of Using an Ethereum Wallet
Pros
Ethereum is the world's first blockchain to offer the creation of smart contracts and decentralized applications;
The Ethereum blockchain is Turing-complete and offers developers virtually endless possibilities;
The platform met with project leaders with great success and gained a considerable edge over its challengers;
The project is based on a vast community and the magnificent figure of Vitalik Buterin;
Cons
Configuring some wallets requires technical expertise and knowledge.
Hardware wallets and paper wallets are often challenging to use.
Best Ethereum Wallets Of This Year
To choose the best cryptocurrency wallet, you need to thoroughly examine all the wallet features, disadvantages, and advantages to help you decide on the right option to store your Ethereum tokens based on several criteria such as security, accessibility, and ease of use. A list has been prepared, which is something like this:-
Ledger Nano X
This is the most modern ETH Hardware Wallet for Ethereum today, which you can buy online. Ledger is the most prominent name in hardware wallets, which support all tokens of the Ethereum chain.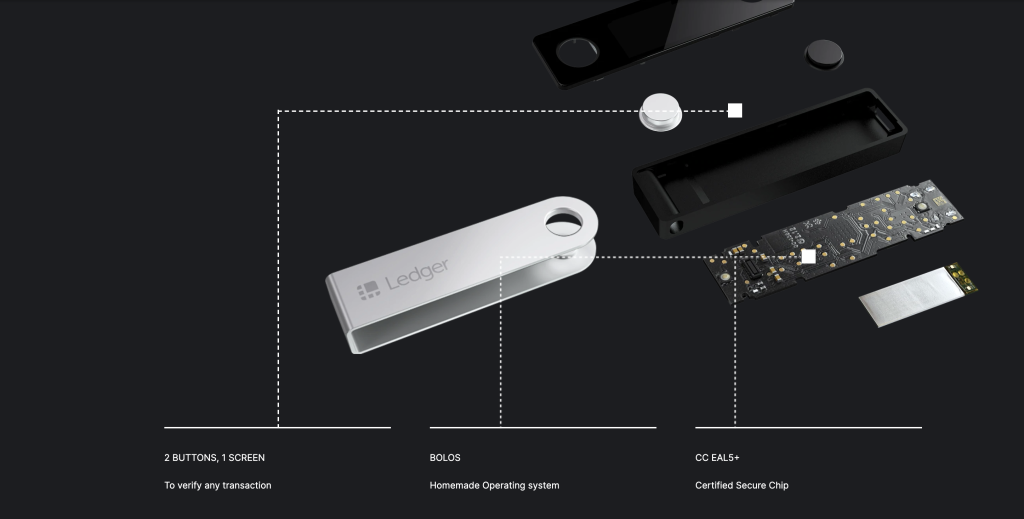 That is, you can keep all the tokens of the Ethereum chain in it securely offline as well.
The Ledger Ethereum Integration feature is currently available through MyEtherwallet, so you can easily manage your Ethereum Coins. Apart from ETH, you can also store many other coins through this Wallet.
It is the latest version of the previously popular Ledger Nano S and comes with a battery and Bluetooth, significantly increasing its connectivity and mobility.
In this, you can manage many coins at the same time. Like the Ledger Nano S, the Ledger Nano X is also very easy to use.
Ledger Nano S
As an Ethereum hardware wallet, the Ledger Nano S is a cheap and decent option available at the lowest price, starting at just $59 which can store Ether on this device offline, and whenever you want to use (spend) the Ether available on this device, it is stored on the Ledger Device using the private keys already stored on it. Signs digitally and authenticates to spend Ether. You can keep both ETH, ETC safe on this hardware device.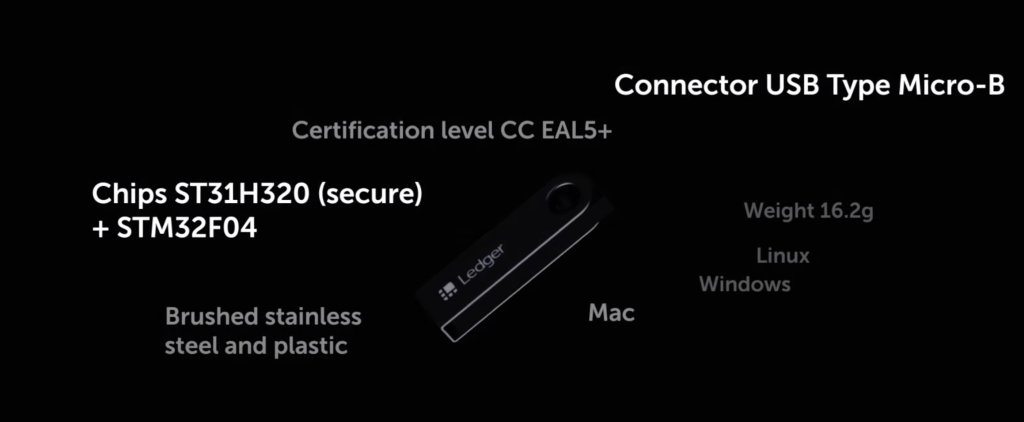 Trezor  
Are you looking for a better place to store and manage your virtual coins? Trezor Hardware Wallet is a great option! It is a reliable solution that includes a hardware wallet to help you manage and trade your crypto instead of online providers that can disappear or get hacked at any time. It secures your assets with seamless security, Including audits and background checks by their expert security researchers. It allows you to manage, control, and transfer funds with ease. You can easily access and recover your assets in minutes with offline backup.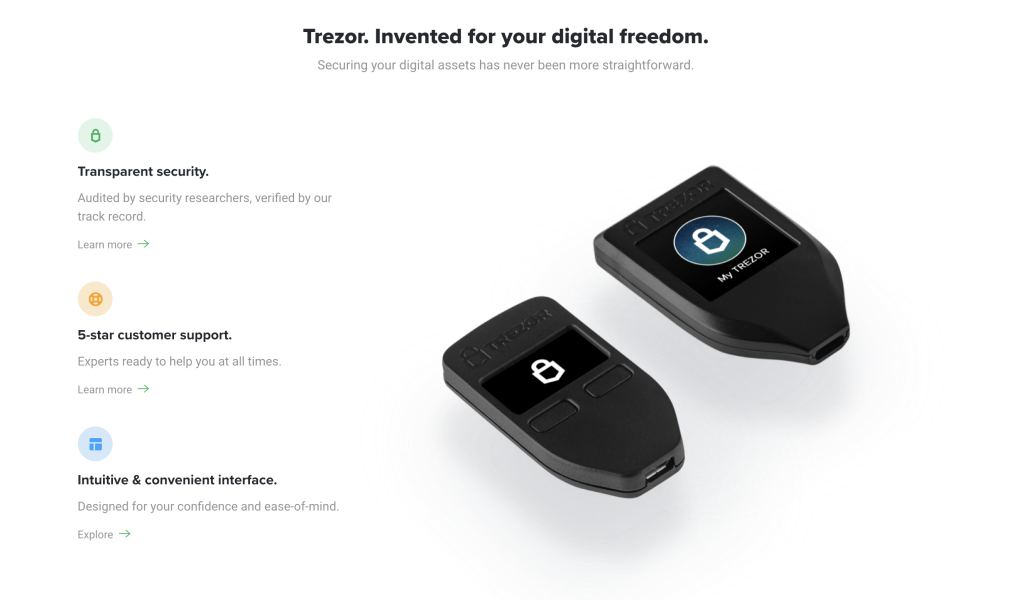 While setup up of your Trezor Wallet, it will generate a seed for you. Everyone wants strong security for their cash, you should not make a digital copy and keep it in a very safe place. You can still access your portfolio using your personal 12-24 word recovery seed. This salvage seed uses the standard they developed at SatoshiLabs and is also compatible with various wallet applications.
Exodus: Used for desktop
Managing your crypto becomes easier with Exodus as it allows you to send, receive and trade them using its easy-to-use Wallet that works on desktop and mobile. The Exodus Hardware Wallet integrates seamlessly with various apps to help you control your funds and earn more interest using those apps easily. Your can do crypto trading & you will get live charts and portfolios, 24/7 support to make it a lot more enjoyable.
It supports over 100 cryptocurrency assets. You can control your virtual assets, and here no matter where you use the iOS and Android mobile apps. With the desktop app, you can sync your data, trade cryptocurrencies with two clicks, and monitor market developments with great ease. You can securely manage your crypto assets in the Exodus wallet using the Trezor hardware wallet with advanced security. Plus, all your purchases are safe offline on Trezor Hardware.
Atomic
Atomic Wallet is the last and best alternative you can use for Ethereum and ERC20 tokens. Atomic Wallet can be easily used on any desktop operating system and works on Android and iOS platforms.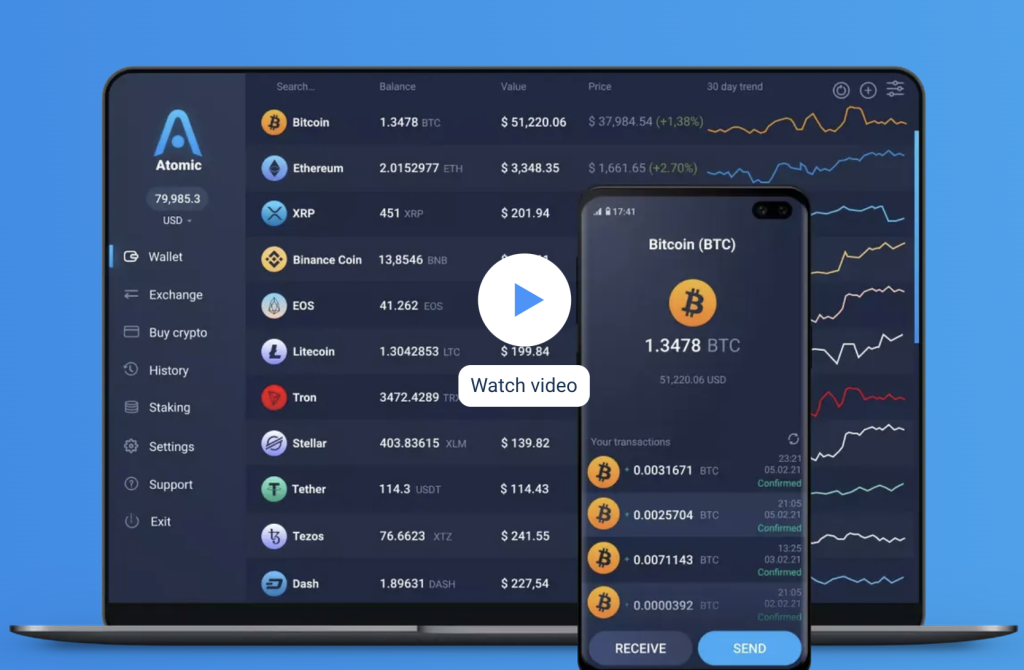 Atomic Wallet supports over 300 cryptocurrencies and provides a secure interface for all available ERC20 tokens. Atomic Wallet allows you to buy quickly, store, and exchange ETH through bank cards.
Atomic Wallet encrypts the secure private keys you set on the device and gives you full access and tight control over your funds.
JAXX
Jaxx is a type of multi-asset wallet created by Canada-based company Decentral. This digital Wallet supports the trading of 13 cryptocurrencies, including ETH, and features an interface with an attractive UI design. Jaxx Wallet works with a robust security system.
The specialty of this Wallet is that it is facilitated by a great development community that controls and updates the latest innovations and maintenance in the system and its products.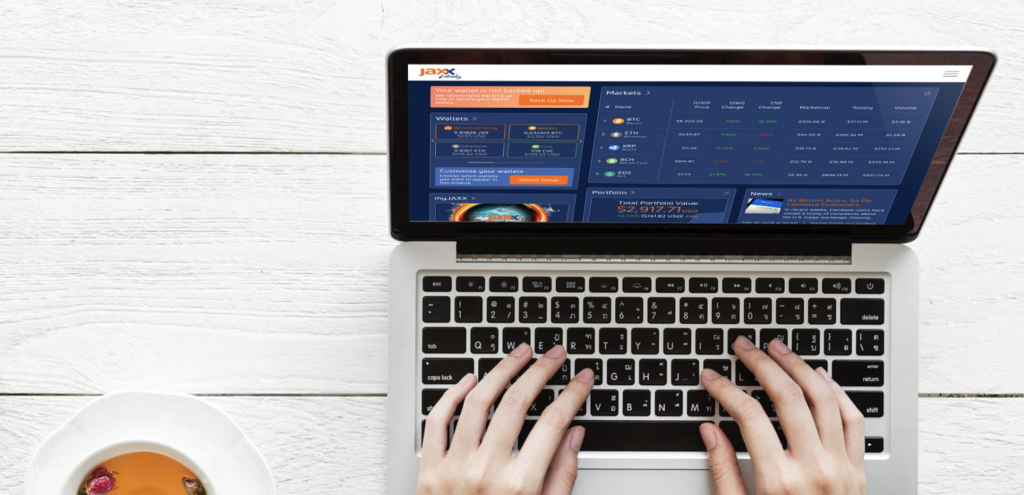 Blockchain Best Online Wallet
Blockchain is the process that allows bitcoin and other currencies to exist. Like Coinbase, it is an online wallet, but you cannot buy or sell directly via the blockchain, which means only storage.
If you can't buy a cold wallet, a blockchain wallet will help. Previously, Blogtien stored BTC ETH and BCH on blockchain wallets and considered them safe and secure by typical standards. It is currently the number one option if you prefer to use the Wallet on the web or mobile.
Currently, the blockchain wallet has Stellar support, and you can get BSV if you store BCH before hard fork time.
Mycelium
Mycelium Bitcoin, Ethereum, is only for mobile devices with Android and iPhone versions. This Wallet is more complicated to use for some other bitcoin wallets. But users must also learn to add experience and knowledge.
There's no web or desktop interface, but many people today use their phones as their primary device, which is probably not why you're afraid to try it. It is very secure, allows anonymity, and keeps your bitcoins in your Wallet or Wallet almost anywhere.
Coinbase
Coinbase is one of the largest known cryptocurrency brokers in the world. Users can easily buy bitcoins with debit cards, bank accounts, SEPA transfers, and many more methods. It also provides an Exchange and Development API. It offers unique instant purchase functionality in select countries, which means that credit and debit card purchases are available to users instantly.
Did you know that Coinbase has a wallet where you can securely store all digital assets in one place? You can download Coinbase Wallet from Google Play and App Store.
MetaMask
People like MetaMask, and it is like a browser to access the Ethereum network. Since the Wallet is built to work with the Ethereum blockchain, it is understood that it supports only Ether and ERC20 tokens. This Wallet is designed to give users complete control over their data and assets and does not store the data and assets of its users. Metamask is a mobile application, but those who require a desktop version can use the Metamask browser extension, and this is also available for Chrome and Firefox browsers.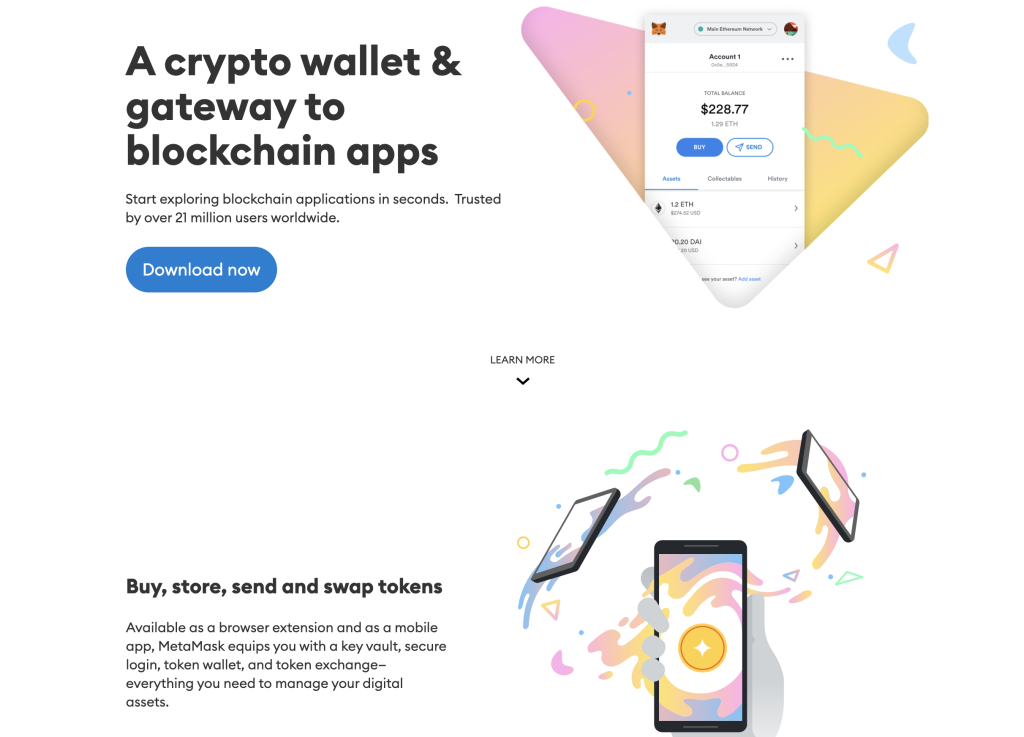 So, according to your choice, you can also select this Wallet.
MyEtherWallet (MEW)
Probably the MEW Wallet was the most famous in Vietnam at the beginning of the period when it supported most of the Ethereum and tokens running on the ERC-20 platform. MyEtherWallet is very different from other traditional web wallets. Why? Because of other web wallets, here, you control the Ethereum wallet private key on your machine. However, this makes it insecure, with their homepage also announcing who should use MetaMask or other cold wallets for added security.
It is an open-source wallet without third-party servers to write and access smart contracts. You can also connect a Trezor or Ledger Nano S to access your money in the MyEther browsing environment.
Conclusion
We just reviewed 10 different wallets that will allow you to store your ETH. As Ethereum is the second most popular crypto-asset after Bitcoin, there are still many other wallets that we have not been able to put in our ranking.
The most reliable storage portfolios are physical media. By storing your ETH on it, the only way to transfer them is to press a button on that device. Unless your device is stolen, it will be impossible for anyone to steal your Ethereum stored on it.
However, all other types of wallets presented to you in this article are legitimate alternatives and secure enough. Storing ETH on an exchange can be a problem, but the ones we recommend you use are a reliable option that shouldn't be a problem.
Suppose your capital invested in Ethereum is significant. In that case, you can spread your tokens across different portfolios to limit the risks in the event of loss of access to some of your accounts.