If you are looking for a supply chain management software that is worthy to use and appropriate for your needs, then these 10 Best Supply Chain Management Software articles can help you.
What Is A Supply Chain Management Software?
Supply Chain Management or commonly referred to as SCM software manages, tracks, and controls the supply chain processes. SCM software application helps you centralize as well as simplify your relationships with suppliers, business processes, and related transactions.
The Top 10 SCM Software Of This Year
The SCM platforms that made it to our list of the 10 best SCM software worth mentioning are as follows.
Anvyl
SAP Supply Chain
Magaya
Logility
ArrowStream
Vizient
Microsoft Dynamics 365 SCM
Fishbowl
Oracle SCM
Infor SCM
1. Anvyl Overview
Starting with the software that made it to the top of our list is Anvyl which was founded in 2017. The company has raised a total of $30.8 million across all the funding rounds. Anvyl is backed by investors such as B Capital Group, Buckley Ventures, Jeffrey Raider, Redpoint, Company Ventures and more.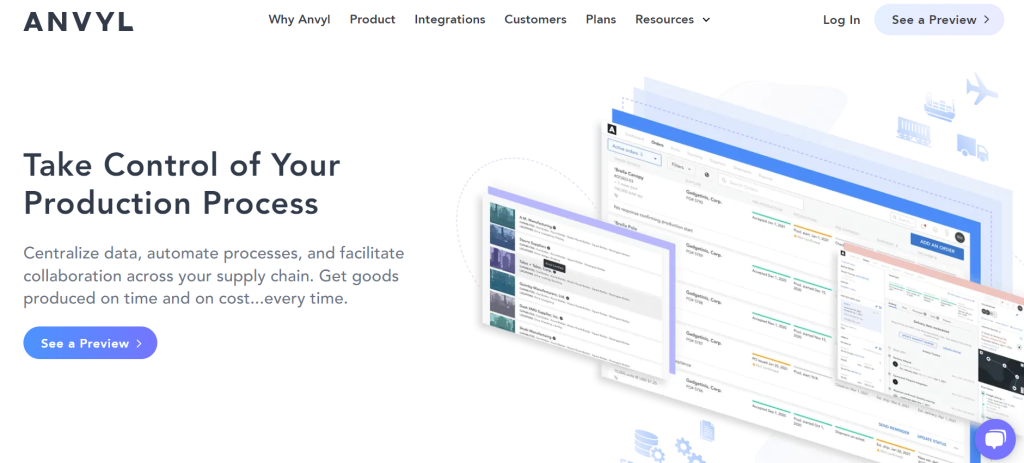 The Anvyl platform uses advanced data analytics tools and has revolutionized supply chain processes in a short period of time, making products and their shipments convenient.
Anvyl Key Features
The platform offers a plethora of abundantly useful features some of which are as follows.
1. Sourcing Services – Anvyl properly audits their suppliers and therefore has a vetted network you can depend on to get your operations done in an orderly manner. You have access to supplier profiles which you can use to find out about their capabilities, MOQs, lead times, policies and certifications even before connecting to them.

2. Supply Chain Visibility – Anvyl is known for providing a clear stance of what is happening and you should be aware of. You have access to your PO updates, can very well track the location of your products, modifications in the production timelines from your supplier's side and so much more.

3. Anvyl IQ – Production management platform extends its capabilities towards artificial intelligence. Lead time estimator takes the production data in account to predict the number of days for your supplier to complete your purchase order. Smart milestones inform you when you need to take an appropriate update or action. You have better visibility in order statuses and can keep your systems updated.

Pros & Cons Of Anvyl
Pros
Anvyl supports tons of third-party integrations such as Katana, SAP, Microsoft Dynamics, Kenandy, QuickBooks Online, Sage, etc.
New project collaboration tools keep your suppliers' information organized, update your product catalog, can configure task automation, and assign tasks with dates to your team and suppliers.
The platform offers tons of advanced features such as Inventory Management, Shipping Management, Cost Tracking, Document Management, and more.
Cons
The pricing plans and detailed cost information is not openly visible to customers.
2. SAP Supply Chain Management Overview
Next in line in our best SCM software list is SAP Supply Chain Management. You can design and develop sustainable products, and connect as well as centralize suppliers, systems and processes. The platform lets you plan and create market-driven plans with more collaborative and intelligent tools to gain better supply chain visibility.
You can streamline the manufacturing of your products with the help of various integrations, deliver products and services efficiently, improve asset performance and operate supply chain processes efficiently.
SAP Key Features
1. Integrated Business Planning – You can plan in real-time so that you can manage your supply chain processes through highly strategic plans, run simulations, make data driven decisions, and monitor accurate performance. It also provides you with robust statistical models, allows you to select time series analysis, refine forecasts, collaborate to design precise demand plans, and more.
2. Product Lifecycle Management – With the help of cloud based product lifecycle management application you can design and develop better quality products and can maximize the profit margins. With Portfolio Management you can submit project proposals and keep track of their progress. The Project management aspect enables you to handle projects related tasks such as timelines, assigning suitable resources, monitoring progress and more.
3. Supply Chain Logistics – You can manage your products and services using various softwares. Warehousing and fulfillment software lets you handle the management of inbound and outbound logistics, storage & operations, etc.
Transport logistics help you with transportation planning & execution, order & strategic freight management. Resource transportation planning includes resource tracking, movement optimisation, forecasting supply and the demand, alerts based on events and more.

Pros & Cons Of SAP
Pros
SAP provides an IoT-driven supply chain process facilitated via SAP S/4HANA Supply Chain. The intelligent tools help in manufacturing planning of goods, preventative maintenance, and more.
You can monitor and analyze enterprise wide analytics using the SAP Extended Warehouse Management software solution.
SAP has extensive, organized, and tons of beginner-friendly support resources.
Cons
The user interface and configuration of some of the standard functionalities may be difficult to get used to as they have quite a learning curve.
The price details of the SAP supply chain management features are not provided unless you contact the sales.

3. Magaya Overview
The next supply chain management software worthy of mention is Magaya. Founded in 2001, it provides a fully cloud hosted supply chain management. Magaya offers a subscription based license and manages all your technical systems be hardware or software related.
Magaya supply chain management software centralizes and speeds up the process of managing your warehouse, logistics business operations, production planning, and more with the help of integrated features all present in a single platform.

Magaya Key Features
1. Shipping & Freight Forwarding – It enables you to take bookings, pickup and manage orders, shipments, maintain warehouse receipts and more. The supported shipments and labels include FedEx, UPS and USPS. You also have access to quick notes along with templates for open notes in a single click.
2. Purchase Order Management – PO Management automatically converts the data from POs into the pickup orders, warehouse bills, invoices and more. It speeds up the collaboration process across the different departments and your business partners.
You have complete visibility over every single item level of a shipment such as transactions and linked items. You can also determine aspects such as payment terms, buyers, sellers, increments, part numbers, etc.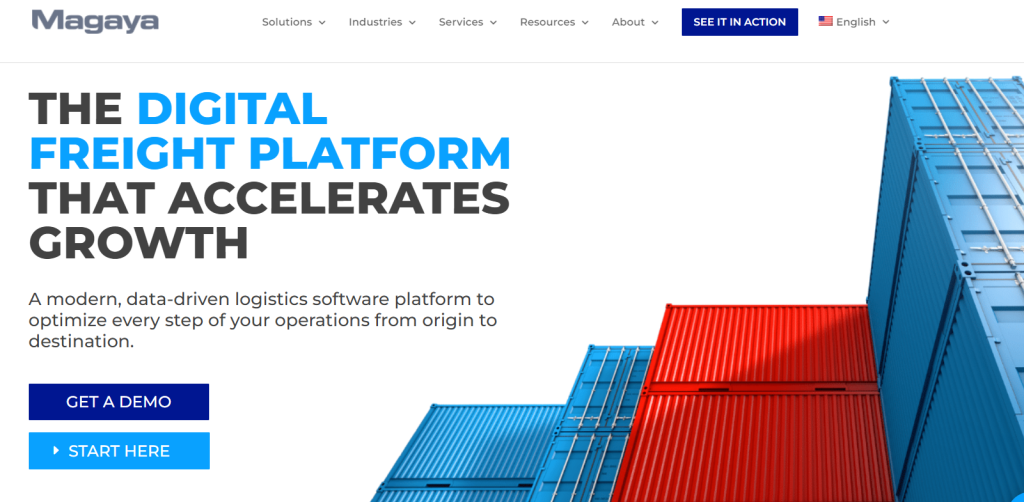 3. Warehouse Management – The platform offers an in-built warehouse management system which lets you seamlessly take care of tasks related to warehousing, shipping and receiving. You can set up replenishment quotes, your customers can submit documentation, booking requests, orders, etc.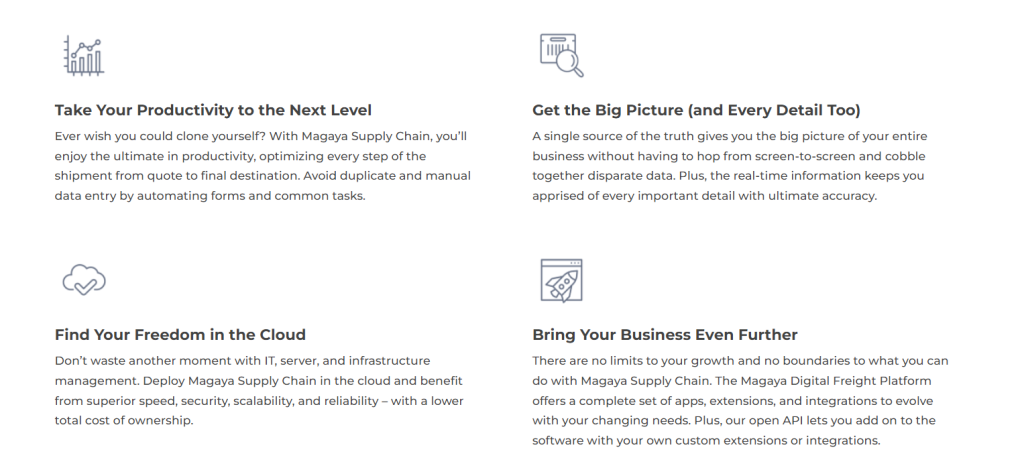 Pros & Cons Of Magaya
Pros
Magaya network helps you grow your supply chain business through its electronic community of agents and forwarders from all over the world.
The platform provides a wide collection of third party applications and extensions along with Magaya's open API.
Magaya enables you to deploy your supply chain business using cloud and leverage the benefit of speed, reliability, security and scalability at affordable prices.
Cons
To be able to use Magaya supply chain management system to its full capabilities you may need to properly train yourself first.
4. Logility Overview
Logility is presently one of the leading supply chain software used by the world's renowned brands. It delivers a digitally sustainable and resilient supply chain system. The platform offers a plethora of useful features and functionalities to help you deal with ever changing global market needs and profitably manage your supply chain processes.
Integrated business planning helps you manage your business related resources such as revenue generation, customer services, and more. You can align your goods, and relevant concepts and drive better sales using appropriate resource allocation strategies.

Logility Key Features
1. Data Management – You have access to tailored supply chain and ERP data integrations which can significantly decrease your efforts while maximizing return on investments. The system only processes the data that is changed with the help of parallel distributed in-memory processing.

2. Inventory Planning and Optimization – You can synchronize your strategic goals with the inventory targets, maximize your customer service levels with minimum investments. You are allowed to use advanced modeling tools in order to evaluate various strategies, inventory segmentation and more.

3. Supply Planning and Optimization – The supply planning solution lets you create cost effective strategies as well as ensure high quality of customer services. You can prioritize your workflows as well as take care of the supply demand balance.

Pros & Cons Of Logility
Pros
You have access to numerous management features such as Merchandise and Assortment Planning, Product Lifecycle Management, Traceability, Demand Sensing, Causal Forecasting​, etc.
You have access to tons of self help resources like Analyst Reports, Blogs, Customer Videos, eBooks, Explainer Videos, Webcasts and more.
Provides solutions for Consumer Packaged Goods, Food and Beverage, Life Sciences, Process Manufacturing, Electronics and High-Tech, etc.
Cons
Data processing is a time consuming process.
5. ArrowStream Overview
Next up in the list of best supply chain software is ArrowStream which provides their expertise for restaurants in the supply chain business. The platform improves the visibility over your expenses and inventory, streamlines your inbound and outbound logistics, lets you easily collaborate with restaurant operators and more.
You have access to over 250 restaurant chains, more than 1,000 distribution centers and 8,500 food suppliers. ArrowStream offers solutions for various aspects such as Contract Price Auditing, Supply Chain Visibility, Strategic Sourcing, Quality Incident Management, Operator Collaboration, Logistics Optimization and more.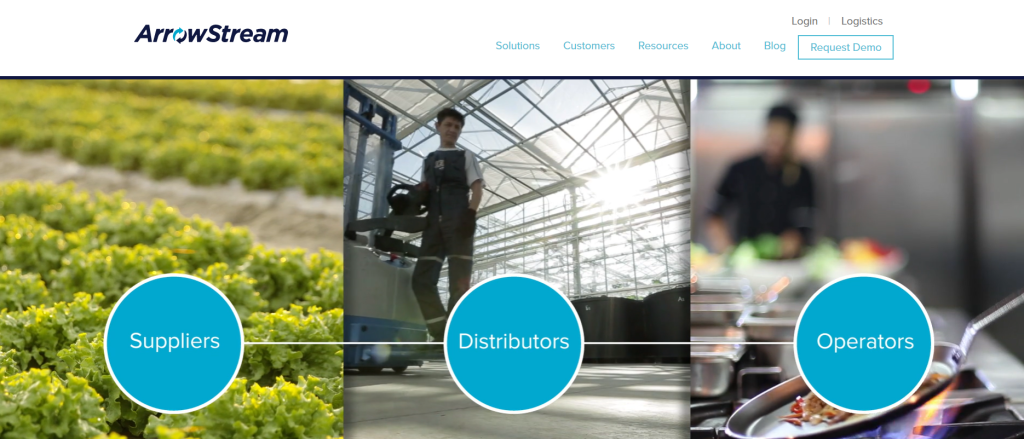 ArrowStream Key Features
1. Supply Chain Audit Software Solution – With a Preemptive audit you can quickly identify the items whose prices are different from your distributor in comparison to your system. The posit audit feature lets you analyze the prices of the items billed wrongly. Contract status provides information on the contracts that are expiring soon, broken by buyers and more.

2. Incident Management Solution – Aging Quality Incidents feature allows you to analyze the incidents that are occuring along with the ongoing trends with any specific supplier with the help of the intuitive and dynamic dashboards. You can instantly capture and communicate the critical information with an easy to use incident capture tool.

3. Strategic Sourcing – The platform seamlessly integrates with multiple capabilities for a sourcing solution and connects to ArrowStream's database using inquiry tools and sourcing workflows. Supplier Discovery features allows you to custom search for particular products and suppliers, obtain detailed information on them, contact the representatives and more. You can use sourcing calendar to maintain your scheduled events, adding new sourcing schedule, view expiring contracts and more.

Pros & Cons Of ArrowStream
Pros
ArrowStream's commodity intelligence provides tools for you to access the comprehensive information, analytical reports from experts, price forecasting and more to make data driven decisions against market changes.
The major features of supply chain visibility software includes non-contract spend, inventory alerts, top item spend and more.
Arrowstream provides extremely professional and speedy customer support services along with elaborated self help resources.
Cons
The platform provides its services mainly for the restaurant industries.
6. Vizient Overview
Founded in 1977, Vizient Inc is one of the largest healthcare performance improvement companies. In 2010, Novation invested $40M to help Vizient improve transparency in healthcare and analytic capabilities using the supply chain.
It provides data driven solutions to streamline and simplify spend management, enhance visibility across business operations and develop supply assurance. Vizient provides its expertise on indirect spend, purchased services, contract labor management, aggregation solutions, procedural analytics and more.

Vizient Key Features
1. Uncover Savings – The platform provides expert analysis reports stating the savings opportunities across 350 and more purchased service categories for hospitals and health systems. Contract labor management workforce solution ensures continuous patient care through the specialized staffing. The vizinet portfolio covers and counsels your organization by including property and casualty.
2. Pharmacy Program – Vizient offers a rich pharmacy portfolio which includes over 12,000 services and products along with detailed analytics stating cost improvement and utilization opportunities. Vizient Savings Actualyzer-Pharmacy serves as an important source of accurate insights and visibility for your organization.

3. Supply chain efficiency and assurance – The platform supports you in balancing supply inadequacy and demand upsurges. Vizient supply chain assurance lets you engage with suppliers and distributors for collaborative work, analyze gathered information, extends inventory access and provides better supply visibility.

Pros & Cons Of Vizient
Pros
The platform optimizes the spend amount through committed programs, aggregated ownership models and various other supply chain programs.
Vizient offers flexible models for PPI or physician preference item purchasing, procedural analytics, integration solutions and more to increase savings and satisfaction.
The Vizient is one of the most reliable supply chain software for the healthcare industry as it offers abundantly useful characteristics.
Cons
The platform has a learning curve at the beginning stages of the usage.
7. Microsoft Dynamics 365 SCM Overview
Microsoft Dynamics 365 provides a supply chain management system based on an agile planning model, real-time visibility and more. You have access to integrated supplier and warehouse management, sophisticated AI driven demand forecasting, planning optimization, and priority based planning.
For business continuity, you are offered in-built warehouse automation, edge manufacturing and more. It costs $180 per user per month for their SCM services.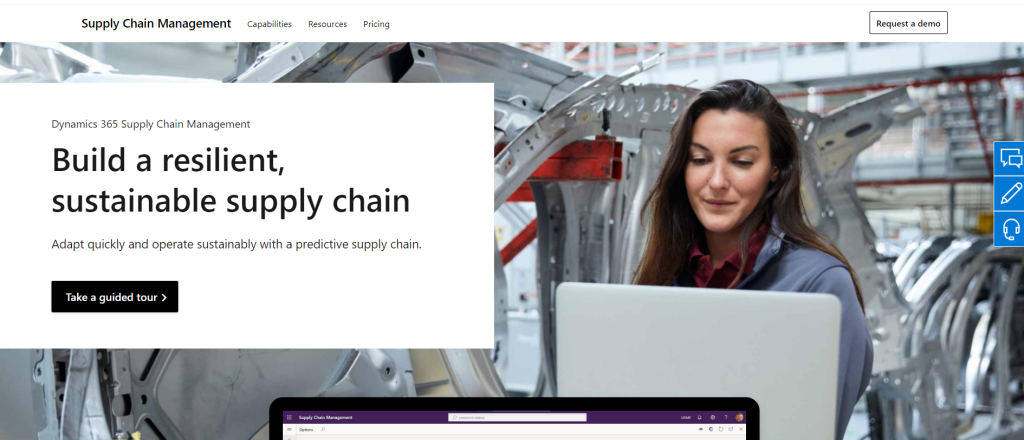 Microsoft Dynamics 365 Key Features
1. Maximum Asset Performance – You can enhance the overall performance, and equipment effectiveness and can significantly reduce downtime.
2. Cost-Efficient Strategies – You can develop procurement strategies to improve cost efficiency with the help of vendor collaboration portals and catalogs.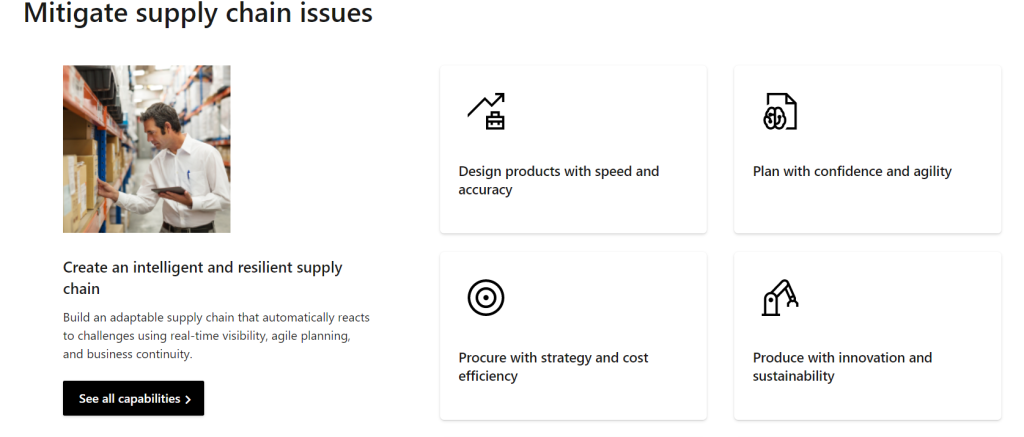 3. Precised Operations – The platform allows you to reduce downtime by engaging in the proper equipment maintenance process using the operated cycle counts which maintains the inventory accuracy as well as operational excellence.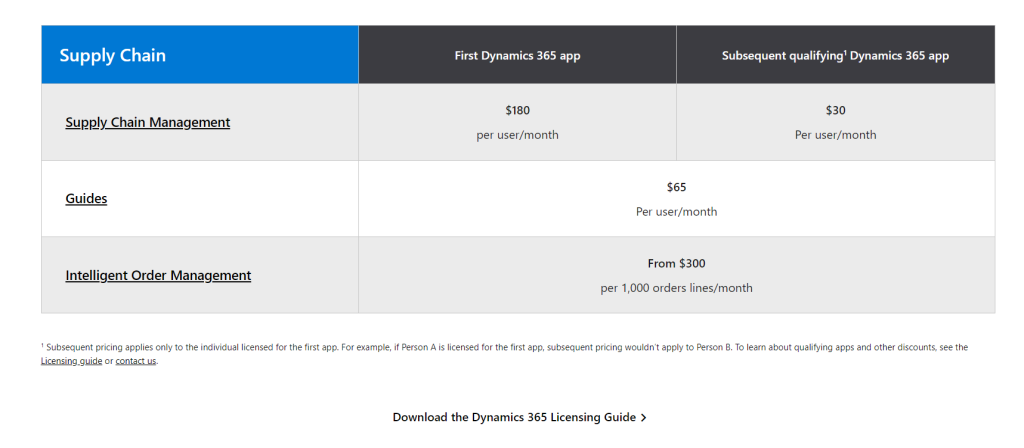 Pros & Cons Of Microsoft Dynamics 365
Pros
Offers exceptionally helpful resources and speedy customer support services.
The functionalities offered like supply chain insights, intelligent order management, etc are top notch.
The platform has a rather clear, precise and affordable pricing plans in comparison to other competitors.
Cons
The platform can include advanced features to oversee the tasks of enterprises.
8. Fishbowl Overview
Founded in 2001, Fishbowl offers its flexible services and scalable solutions across multiple supply chain processes. You have access to production stages, inventory management, business intelligence, order management, labor and job tracking, shipping, multiple integrations and more.
Fishbowl is an AI driven platform that helps you speedily complete your operations and significantly increases your productivity.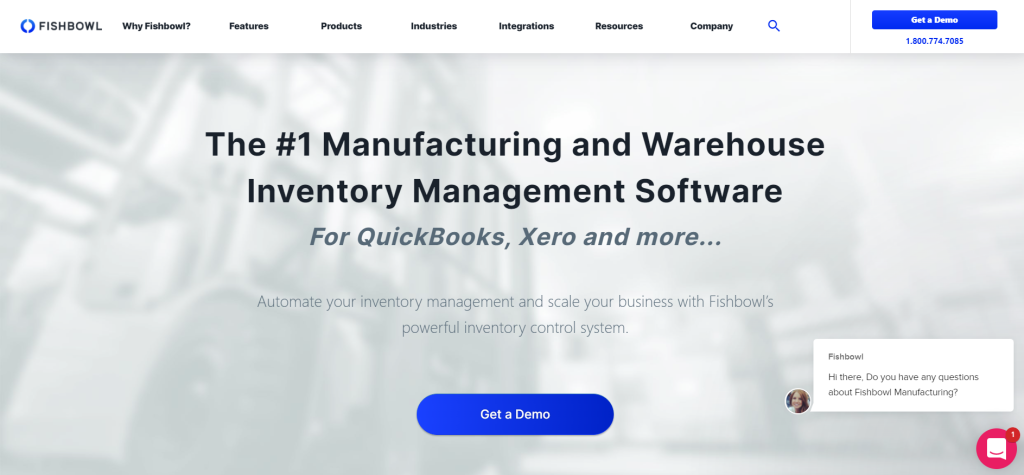 Fishbowl Key Features
1. Inventory Management – It allows you to manage and track multiple warehouses based on various criteria, automate order purchases, create barcodes, use scanners, and more.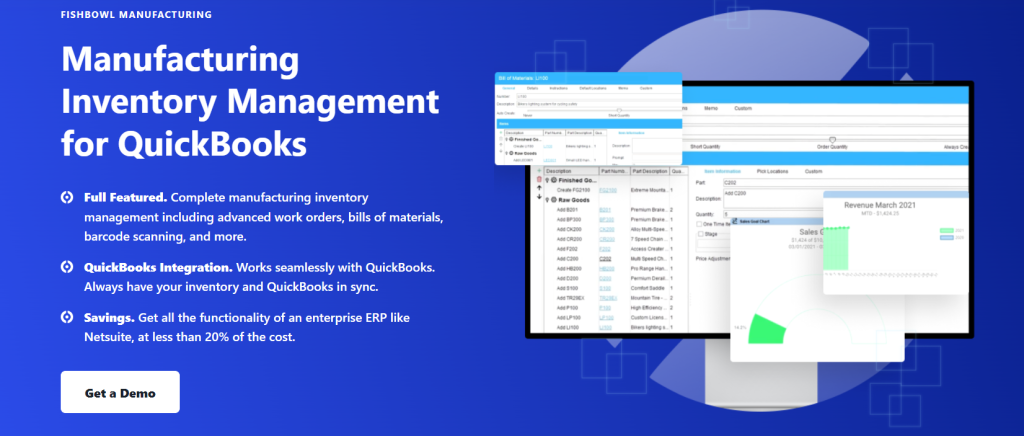 2. 3PL – You can handle your transportation and logistics aspects, organize your warehouse, dropship goods from vendors when they are out of stock and more.
3. Advanced Work Orders – You can automate your work orders, generate step by step instructions, prioritize and schedule them, insert pictures, notes and documents.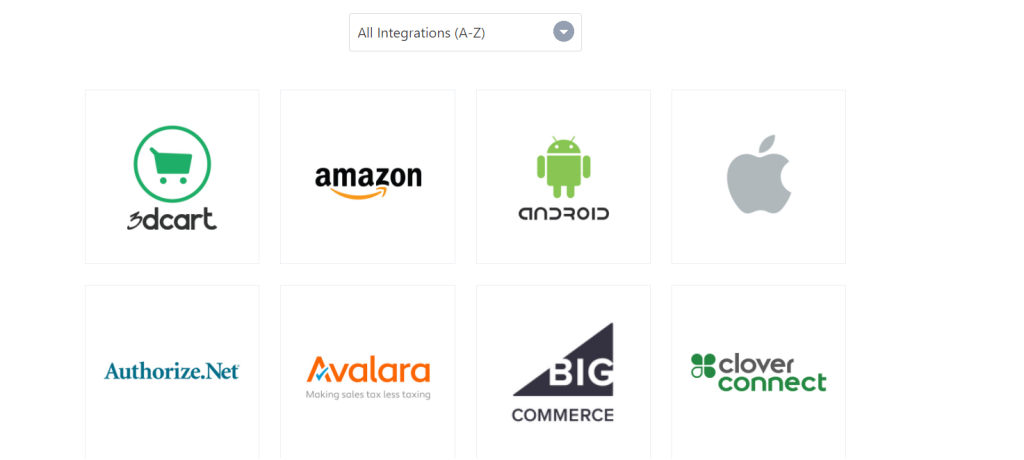 Pros & Cons Of Fishbowl
Pros
Fishbowl provides a satisfaction guarantee and promises to reimburse you the full amount paid for the software.
The platform provides tons of supply chain functionalities some of which includes multilevel bill of materials, landed costs, barcode scanning, labor and job tracking, etc.
You have access to multiple third party integrations and plugins such as amazon, apple, android, ebay, motorola, salesforce, shopify, etc.
Cons
It offers multiple reports options however they are not detailed enough.
9. Oracle SCM Overview
Another one of the most popular and reliable SCM software in the market is Oracle SCM. It empowers organizations despite the quickly changing market demands and allows you to connect your supply chain business with their scalable network. Oracle SCM enables you to plan faster and better, optimize materials, streamline manufacturing, decrease downtime, improve visibility and coordination, etc.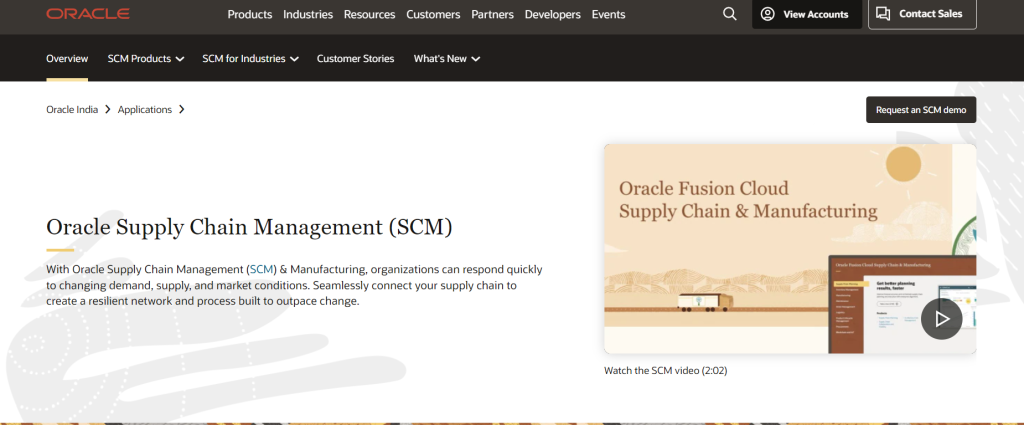 Oracle SCM Key Features
1. Blockchain and IoT – This functionality lets you analyze insightful reports and significantly improves collaborative work. In order to achieve the most accurate and advanced analytical reports, you can connect your machine, customer, product, and operation data across the supply network. You can automate and optimize the tasks depending upon the data driven decisions.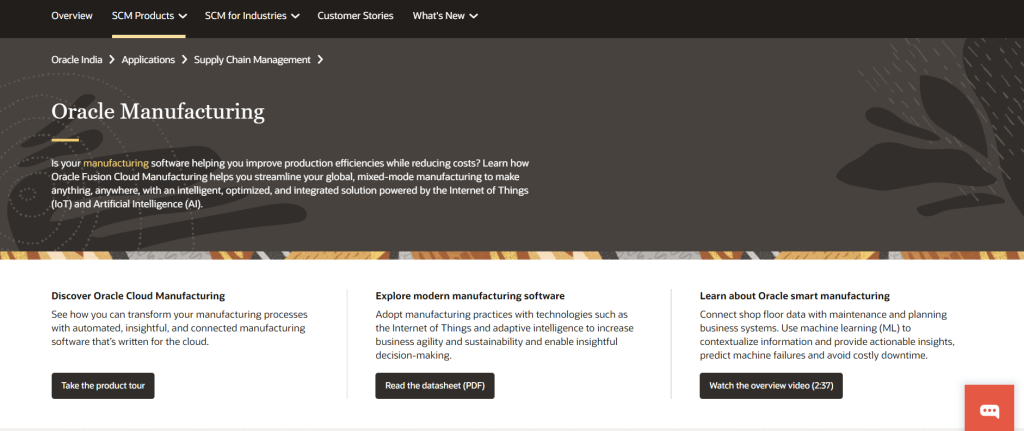 2. Manufacturing Management – This functionality aligns the global mixed-mode manufacturing through a manufacturing execution system (MES). Integrated and driven by IoT and AI, the manufacturing management system provides many capabilities which includes Discrete, Mixed-mode, Process & Contract manufacturing along with Production scheduling, Project-driven supply chain, and a Connected factory.
3. Maintenance – The solution uses intelligent technologies to set up predictive maintenance which increases uptime and reliability while minimizing the charged costs. It extends its capabilities to Assets and Project specific maintenance, Smart machine integration, Maintenance strategies, planning, execution and cost management along with Parts inventory management.

Pros & Cons Of Oracle SCM
Pros
It provides intelligent, advanced and robust features and functionalities in concern with supply chain processes.
Oracle provides extensive and comprehensive help resources.
Cons
The user interface of Oracle SCM software seems a little outdated.
10. Infor SCM Overview
The last one in our list of top 10 supply chain software worth investing in 2022 is Infor SCM which was founded back in 2002. With more than 60,000 customers in around 175 countries around the globe, Infor SCM delivers end-to-end solutions. It provides real-time visibility to organizations by digitizing all the supply chain operations to let you make data-backed decisions and deliver goods to customers on time.
Infor SCM Key Features

1. Global Trade & Finance – You have access to immensely comprehensive tools which provide enhanced cash flow visibility, compliant transactions, reduced charges, better supplier performance, revenue certainty and powerful collaboration with partners and suppliers.

2. Planning & Forecasting – Supply chain planning undertakes many factors into consideration before generating forecasts to allow you to achieve great outcomes. You have access to features such as Cloud scalability, Refined visibility, Streamlined production operations, Process automation and more.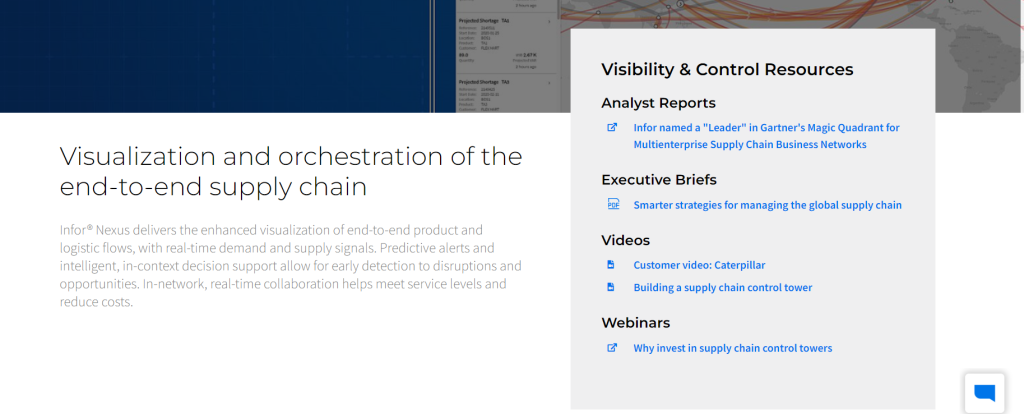 3. Warehousing & Transportation – The Infor warehousing and transportation management system helps you manage your inventory, planning of international delivery, execute optimal delivery and more. It enables you to use Contract third-party logistics, increase employee productivity, Optimize the planning of global shipments, and more.
Pros & Cons Of Infor SCM
Pros
You have access to tremendously insightful and comprehensive analytical reports.
Infor provides their SCM services for various industrial fields including defense, automotive, healthcare, chemicals, food & beverage, etc.
The resources for visibility and control of your supply chain processes includes multi-party network, real time signals, decision support for suitable solutions, collaborative execution and more.
Cons
It lacks in self help documentation and resources which could be worked upon since Infor SCM interface requires training in the initial period.
Final Conclusion
We have mentioned ten of the best and most promising SCM software worth investing in this year. The SCM platform included in this article is accompanied by its overview and key features along with some of its good and the bad. To ensure you pick the right SCM software for your business, this article works effectively for beginners.