It is no news in the crypto community that the value of digital assets fluctuates as often as every single day.
These fluctuations lead to fragmented markets or exchanges which opens the gate of arbitrage trading opportunities for investors.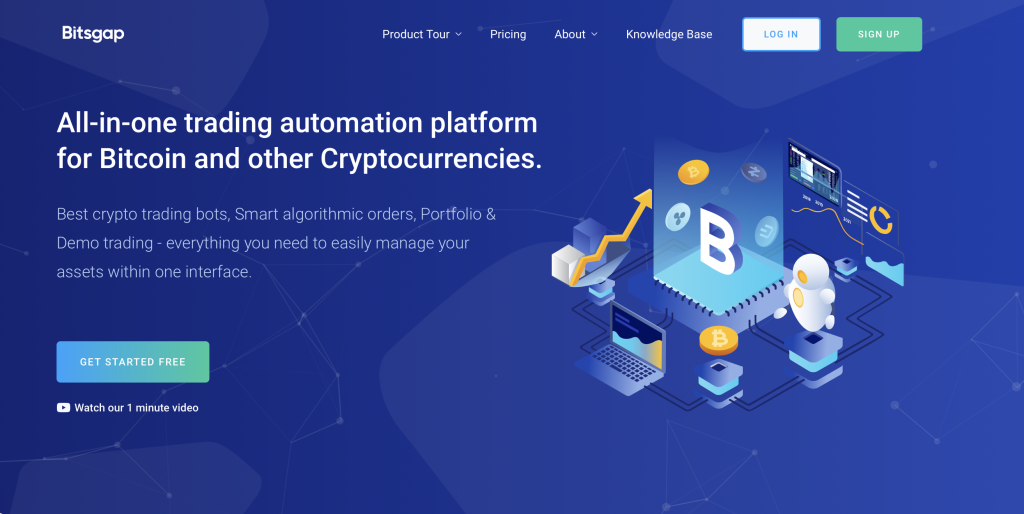 For those of you, who invest in crypto assets on a number of exchanges, keeping up with the constant highs and lows of the market prices can be a bit of a headache, this is where Bitsgap comes in to save the day.
Bitsgap allows investors to manage their assets portfolio and execute their trades on various exchanges using one single interface.
In this Bitsgap review, we will be assessing the all-in-one trading automation platform in various departments like pricing, features, security measures, help centre, customer support, and supported crypto exchanges along with pros and cons. 
How Does Bitsgap Work? 
Bitsgap provides a 7-days free trial and has a three-step process that crypto investors need to complete in order for them to start with their trading activities.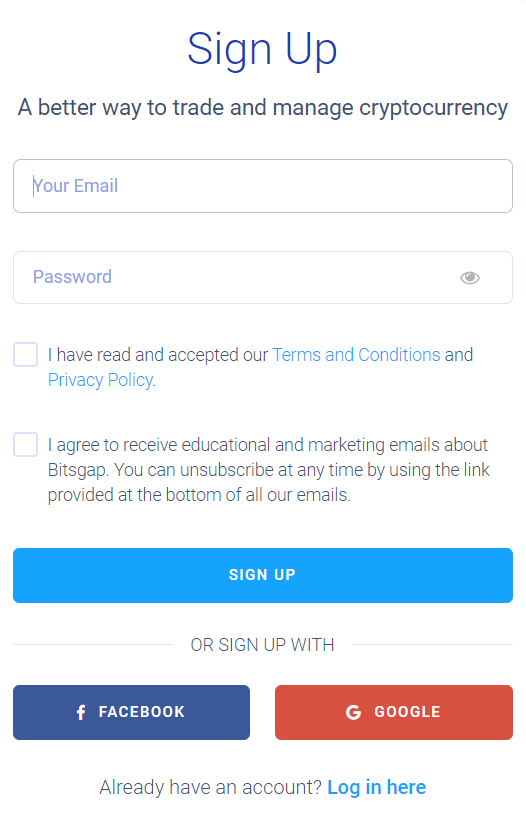 Sign Up: The traders can sign up and create their Bitsgap account for free. It can be done by following either of the options; fill in their email id and password, login with Facebook or Google credentials.
Connect Exchanges: Once the account is verified, traders can connect their Bitsgap account with other exchanges by entering their API and secret keys. The detailed and step by step instructions can be found regarding this on Bitsgap help centre, Knowledge Base.
Start trading crypto assets: Once the Bitsgap account is successfully linked to the exchange platforms, traders can start buying, selling, exchanging and trading their cryptocurrencies.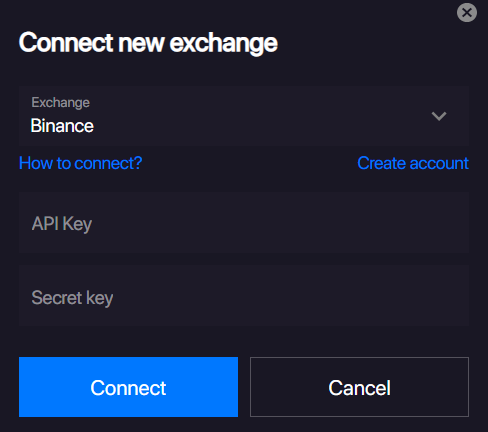 Bitsgap Crypto Exchanges 

Bitsgap platform supports over 20 crypto exchanges and enables users to trade their cryptocurrencies all in one place. Some of the available exchanges are Binance, Kraken, Gemini, BitFinex, Gate.io, etc. 
Bitsgap Features 

Bitsgap trading platform undoubtedly offers features that are more than appreciation worthy. It includes portfolio management, trading interface, demo accounts, Bitsgap automated trading bots, and performing arbitrage trading.
Bitsgap Portfolio Management 
Bitsgap provides extensive portfolio management solutions through which users can seamlessly monitor all the information about their crypto funds from all the linked exchanges at one place.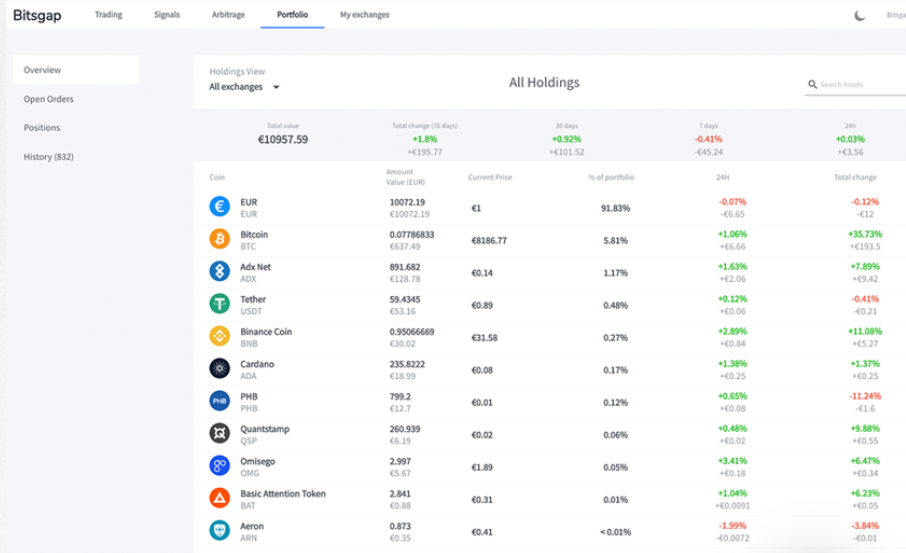 Users can track real-time balances, trades and analyze their assets' performance present on various exchange platforms without having to log in to every single one of them. Bitsgap accurately tracks the records based on an investor's trading history and makes it easy for users to manage their assets by automating their transactions.
Trade portfolios are created every time traders enter their API keys and link the exchanges with their accounts.
Bitsgap Trading Interface
Bitsgap trading interface allows investors to manage and trade all their cryptocurrencies from a single platform. The trading terminal has a sleek user interface and is jam-packed with basic as well as advanced features. Some of the integrated attributes are TradingView charts, over 100 technical indicators, trade visualization, and smart drawing tools along with 12 types of customizable charts. 
It provides top industry tools like shadow orders, smart orders, stop-limit orders, and market & limit orders.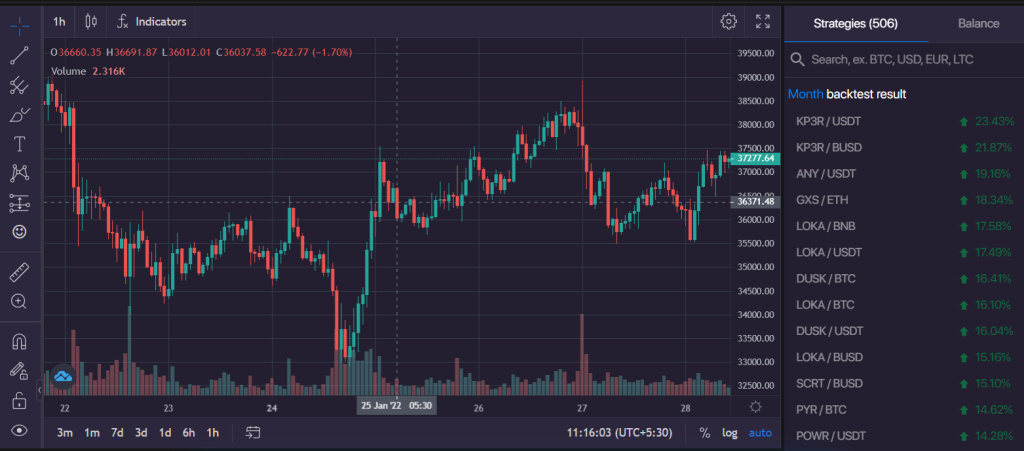 Shadow orders allow users to place orders which are not reflected on the crypto balance until and unless the market price reaches the set limit. Once the price of a crypto asset hits the pre-determined goal, the order is executed.
Smart orders let investors set take profits or stop-loss orders simultaneously. If the market prices drop, the platform will automatically complete the orders to protect your funds.
Stop-limit orders are executed at specified or better rates when the pre-defined limit has been reached. Market and limit orders let investors instantly buy or sell funds at the best available current prices or once the market prices reach the set limit.
Bitsgap Demo Accounts
The Bitsgap demo account feature really puts the platform under the limelight and ahead of its competitors.
It enables both crypto beginners and enthusiasts to gain expertise on the real crypto market data using stimulated digital funds. It allows users to gain experience without risking their precious crypto assets.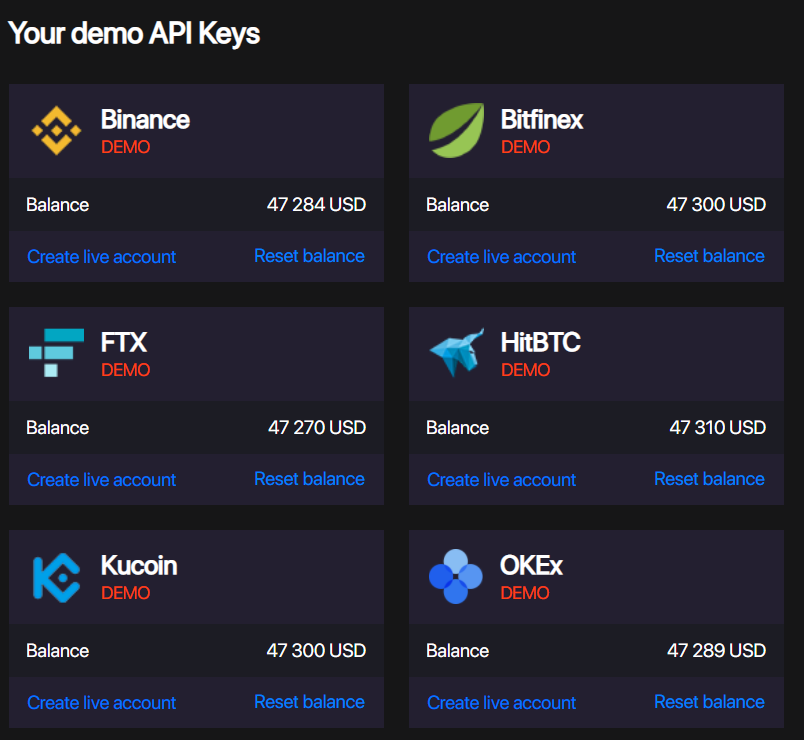 With a Demo account users can:
Practice trading with 1BTC and 10,000 USD virtual funds.
Gain access to 11 popular crypto exchanges.
Gain live market experience and test strategies.
Explore Bitsgap portfolio and trading bots.
One can use the demo account feature by signing up for the Bitsgap account and then switching from live account to demo mode.
Bitsgap Bots
Bitsgap automated bots are operated through various advanced algorithms which let users make the most out of volatile and dispersed crypto markets. The bots automatically adjust users' selling and buying limits whenever the value of assets fluctuates in order to generate maximum profits.
Traders can check the performance of these bots using Backtest. Backtesting optimizes the already configured bots for rising or falling markets in order to generate maximum profits while minimizing the risks involved.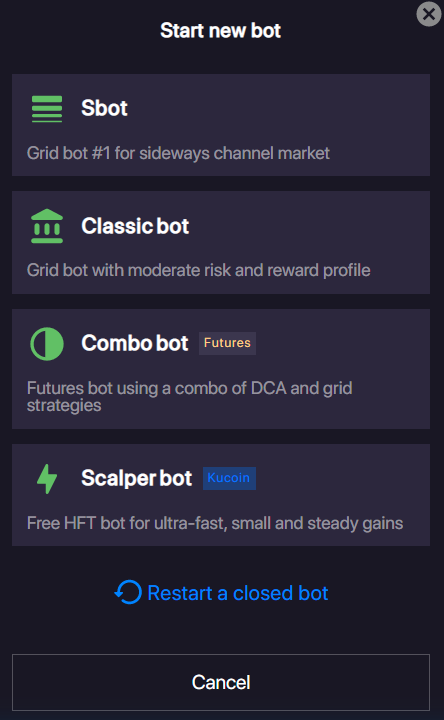 Let's look into some of the bots Bitsgap offers.
1.
Classic Bot
The Classic bot uses algorithms that sell and buy a fixed amount of the "base currency" per order. It maximizes the return from each successfully completed trade transaction as there's a progressive increase in the volumes as the economic value of assets goes up. It is recommended to use this bot when a user expects the markets to have an uptrend.
2.
Bitsgap SBot
SBot has originated from Bitsgap Classic bot and fundamentally differs in its investment logic. It always buys and sells a fixed volume of the "quote currency" per order. It uses the dollar-cost-averaging (DCA) method which can also generate an extra-base currency for users' accounts. This strategy can be used when a user expects a great swing within a horizontal range.
3.
Combo Bot
The Bitsgap combo bot is designed for Binance crypto exchange which generates profit from both falling and rising markets. Grid and DCA methods are used to create the algorithms to operate the trading on Futures.
The combo bot can follow trends in both directions to generate profits while simultaneously using built-in trailing functions to adjust grid and DCA levels.
4.
Scalper Bot
Scalper bot is based on the High-Frequency Trading (HFT) algorithm, a method with a high speed of trade transactions. It is made with the purpose of generating profits from price fluctuations no matter how small.
The Scalper bot is currently offered to the traders for Kucoin exchange only.

Bitsgap Arbitrage
The market inefficiencies create arbitrage trade opportunities. The dispersed markets or exchanges can be exploited by traders and investors by taking the advantage of the mispricing of cryptocurrencies.
Arbitrage trade refers to the simultaneous buying and selling of the same digital assets in order to generate the maximum possible profits. For instance, a user can buy BTC or any cryptocurrency on one exchange where the price is comparatively less and sell the same amount of crypto where the price is higher.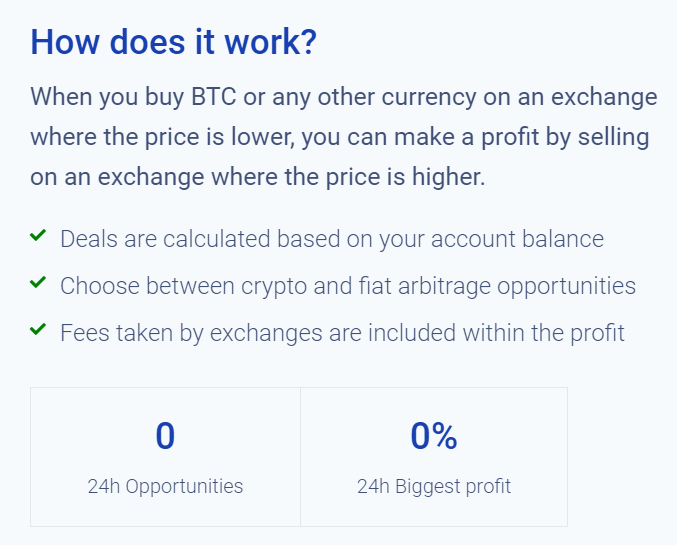 The process of comparing the prices manually can be very tedious, is not very practical, and can result in lost trade chances. The whole task is made easier using Bitsgap which allows traders to search and assign balances to different cryptocurrencies while executing arbitrage trade transactions.
Quick Steps to start with Bitsgap Arbitrage Trading
Create a Bitsgap account.
Upgrade your account to Advanced plan.
Link your account with exchange platforms.
Deposit fiat currency where the price is lower.
Transfer crypto funds where the price is higher & sell it to get fiat currency with high profit.
Go to the Arbitrage page and click on "trade".
Pricing Plans
Bitsgap platform offers three different pricing plans with a seven-day free trial. Users can either opt for monthly subscriptions or six-month plans. The pricing can range from $29 for a basic plan to $149 for a Pro plan per month.
All the plans include features like crypto exchange support, demo practice mode, automated portfolios, trading bot strategies, TradingView indicators, mobile web version, cloud trading, live chat, and email support.
Users can upgrade their current plan any time they wish to as well as cancel their subscription. Bitsgap does not charge any hidden fees on the trades.
It is to be noted that Bitsgap does not give refunds.
Security Measures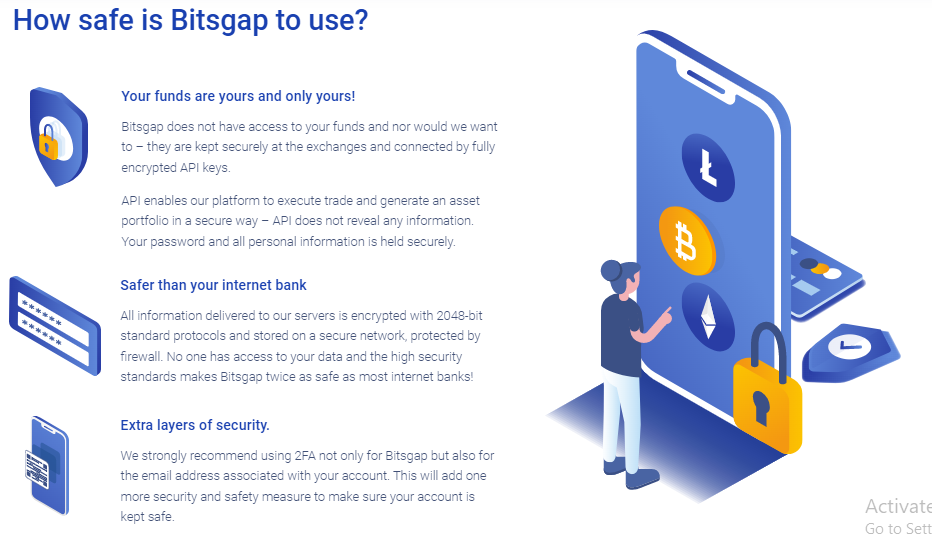 Bitsgap ensures industry-level risk and security measures to keep their clients' crypto funds and personal details safe. Let's address some of the ways used by Bitsgap to maintain the integrity of the platform.
Account Access
All login attempts are secured and would require confirmation mail to sanction the access.
Failed login attempts would result in an account and temporary API lockout. 
Offers two-factor authentication as an added layer of security and encourages users to install 2FA applications on their smartphone.
API Keys
Users' passwords and API keys are always encrypted and no one except users themselves and their exchanges has access to them.
Bitsgap only needs users' trading history, balance and trading information. They have limited access to user's API keys. 
Bitsgap restricts the withdrawal funds option and rejects the API keys if the option is enabled.
System and Servers
Bitsgap platform uses a 2048-bit encryption method and whenever the user enters their API keys, the browser on the client-side performs encryption and securely delivers it to Bitsgap servers.
Restricted From Bitsgap Employees'
Clients' personal data is stored on a secure network and is protected by a firewall to which no one outside the company has access. Employees at Bitsgap are restricted to their area of expertise and do not have access to the entire system.
Pros & Cons
This Bitsgap review would be incomplete if we don't address the pros and cons of the platform, right?
Pros
Bitsgap offers pre-configured trading bots to make trading easy for users.
A 7-day free trial is offered to customers with all the features for trading their cryptocurrencies.
Provide arbitrage trade opportunities to investors so they can generate more profits.
Ensures the integrity and security of the platform by following industry level protocols.
Cons
Bitsgap needs to update the knowledge base since the number of help articles are limited.
The subscription plans can be expensive for some users.
Customer Support
Bitsgap offers a help centre called Knowledge Base which contains articles on a few of the important topics. Users can reach the company by either of the following ways; live chat, E-mail, telegram, or postcard.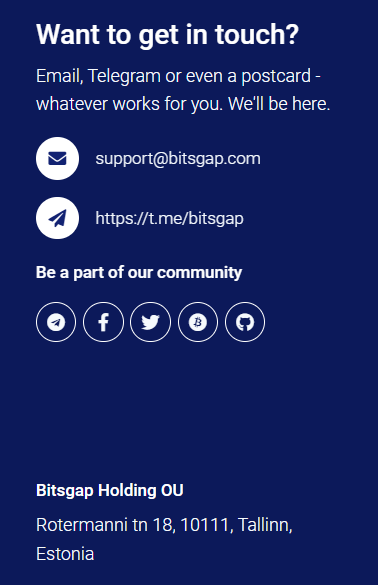 Bitsgap Review: Summary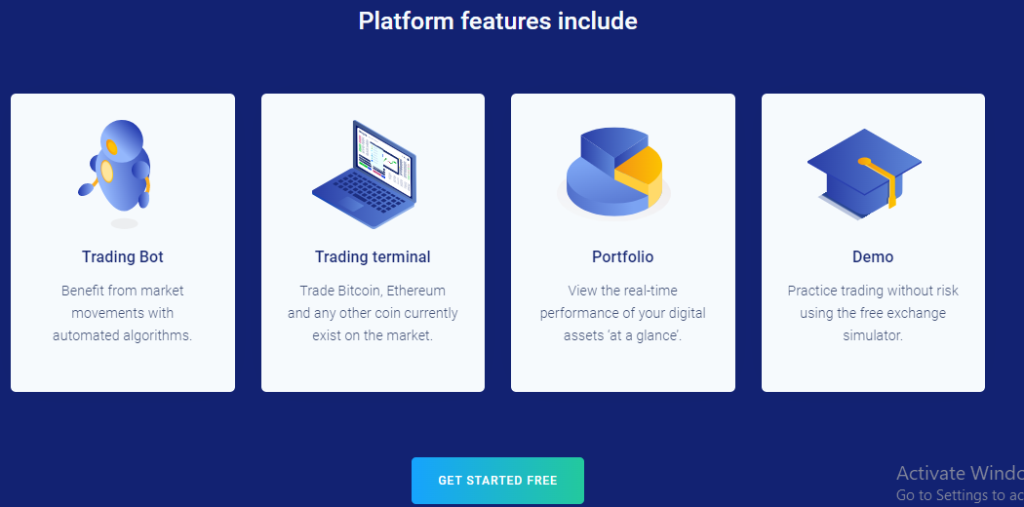 Bitsgap is an all-in-one cryptocurrencies trading platform that offers features like:
Arbitrage: Lets investors take advantage of price differences between exchanges.
Trading bots: Offers pre-configured automated bots that are optimized using machine learning.
Portfolio tracking: Enable traders to keep track of all their funds on various exchanges from one platform.
Demo accounts: Allow users to get familiar with real time crypto markets and provide them with stimulated digital assets.
Trading Interface: Let users trade on various exchanges using one single interface.
Tight security: Follows security protocols like 2048-bit encryption, 2FA, account and API lockout, etc.
FAQs
Q1. Does Bitsgap work with Binance? 
Yes, Bitsgap fully supports the Binance crypto exchange along with a few more. 
Q2. Where is Bitsgap based?
Bitsgap has its headquarters in Rotermanni 18, 10111 Tallinn, Estonia. 
Q3. What payment methods do Bitsgap support? 
Bitsgap accepts payments via Visa, Mastercard, PayPal, and cryptocurrencies.