Nowadays we are habituated to carrying our smartphones wherever we go, but we don't always carry cash everywhere. Also, the cash you can carry at a time is limited. The other popular form of payment is a credit or debit card. But you cannot pay with credit cards everywhere or send money directly to your friends.
That is where payment services like PayPal, Cash App, Venmo, and Google Pay have come into play. The world is going online and so are payments. The world is moving from using cash to online payments. Cash App is one of the leaders in this market and it is transforming the payments scene by not only adding payment services but also stock and crypto trading options.
In this review article, we will be going through all the services offered by Cash App and discussing all the perks of using the app.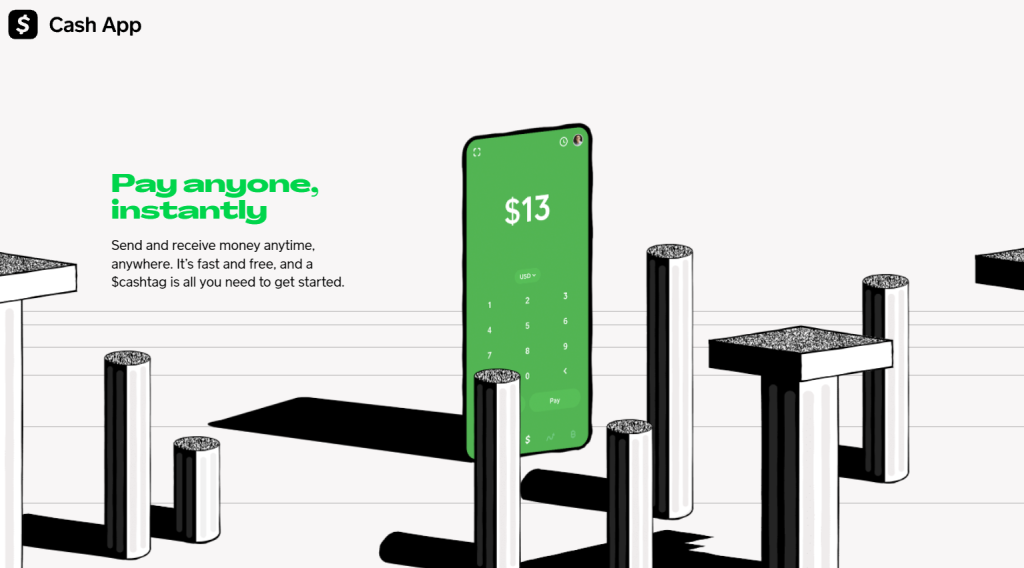 What is Cash App?
Cash App is primarily a peer-to-peer payment service designed to easily transfer money between friends. It offers an in-app wallet where you can add money by linking your bank account using your debit card to the app. You can use this wallet to send money to your friends, pay at shops and even invest in stocks and cryptocurrencies.
Cash App was created by Square Inc. in 2013. Square Inc. is known for its services in facilitating online and offline payments including online payment gateways and offline PoS machines. With its experience as the market leader in payment gateway services, Square launched the Cash App in 2013 that was targeted at the paying customers at these shops rather than the merchants.
The Cash App is a payment app that can be used to pay at shops and merchants. It can also be used to pay other Cash App users by either using their unique usernames or scanning their QR codes. Users can also use Cash App to invest in the major stocks and Bitcoin. Cash App is an all-in-one money management app where you can do all from paying money to vendors to paying friends and even investing. Digital payments are the next big step in the all-digital world and Cash App is one of the biggest leaders in the revolution.
Why use Cash App?
Cash App is one of the most feature-led platforms. It has a very smooth user interface and a   signature green color that makes it unique from other apps. Cash App has over 70 million users in the US alone and is rated 4.6+ on the Apple App Store and the Google Play store.
This shows that the users are loving the app. But why are so many users in love with the Cash App and why is it constantly trending on app stores as the top finance app when there are so many other options in the market like PayPal, Venmo, etc? 
Let us get an answer to this question by discussing some of the perks of the app.
Simple User Interface
Cash App has one of the simplest and the most fluid UIs among the other apps. It has a very attractive green-themed interface with large buttons and smooth movement between pages. All the features of the app are separated into 5 different sections so that users can easily switch to any other feature easily. Also, you don't need a lot of clicks to do anything on the app.
It has been designed for the users' convenience and therefore every service requires as few clicks as possible. For example, you can pay your friend any amount of money in just four clicks when you open the app. Everything is shown and written in bold fonts so that users don't have any problem navigating through the app even while using the phone in bright daylight.

No Commissions on investing
Nowadays almost every service-providing software or app asks for a little commission in every transaction or has a paid subscription plan. This is the basic way for any software as a service company to earn revenue. Cash App is no different as it also asks for little commissions on different types of payment methods.
But along with a payments app, Cash App is also a brokerage app as it offers stock and Bitcoin trading options. While almost all other stock brokerage services and crypto exchanges charge commissions, Cash App does it all for free. It has no charges for trading on its app or buying bitcoin through it.
Fractional shares of costlier stocks
Some of the top stocks on the NASDAQ are extremely pricey and it might be difficult for an average person to afford the share value. For example, the share price of Berkshire Hathaway is more than $450,000.
Even stocks like Amazon and Google are priced at around $3,000. Most beginners in the stock market start with this amount of money and it is nearly impossible for a common man to buy a Berkshire Hathaway share at a price tag of about half a million dollars.
That is why Fractional share investing is important. It lets users buy a fraction of a share at any desirable cost. Cash App is an app designed specifically for college students as they are the biggest users of digital services. This category of users is mostly unable to afford costly stocks. 
Personalized Visa Debit Card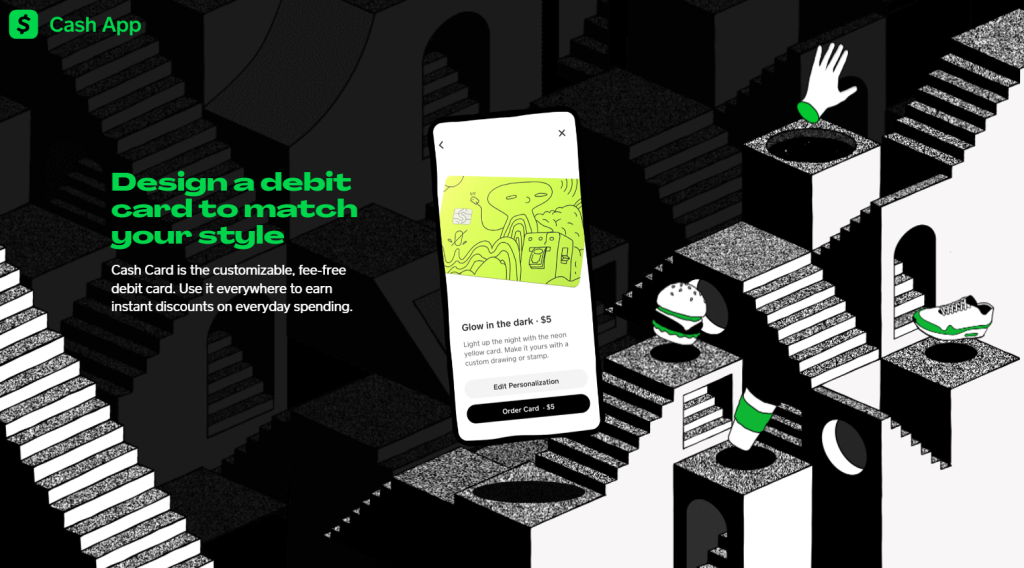 Cash App also offers its users a personalized card. You can either opt for a free card or get a 'glow in the dark' card at $5. You can also get a metal card for $50. Using the Cash Card you can withdraw your money in the Cash App wallet at any ATM.
How to Sign Up for Cash App
It is very easy to create an account on the Cash App. All you need is an email id or your phone number and a debit card.
Step 1 – Download the App
The Cash App is available at both Google Play Store and the Apple App Store for free. It is a complete mobile-based platform and to use the platform, you need to download the app.
Step 2 – Enter your Phone or Email Id
In order to register for the Cash App, it is absolutely necessary to either use your phone number or your email id. After entering the contact detail, you will be asked for a one-time password that you will either receive as an SMS or an email. This is done to verify if the details you entered are correct or not.
Step 3 – Enter your name
After your contact detail is verified, the app will ask for your name. This name will be displayed when making payments.
Step 4 – Create a Cash App username
Your Cash App Account is created using a unique username just like your Instagram username or Twitch ID. This can also be used to transfer money to others. For example, instead of sharing your phone number to receive payment from a person, you can share your Cash App username and the person can transfer money to your account effortlessly.
Step 5 – Enter your Debit Card details
In order to use the Cash App, you need to link your bank account with the app and you can do this by adding your Debit Card details on the app.
Once you are done with the above steps, you are done and you are eligible to send and receive payments from any other Cash App user. All you need to do is add money to your Cash App wallet.
Services Review Offered by Cash App
Cash App offers multiple services on its platform including digital payments, stock market trading, and bitcoin trading. Let's go through each and every service offered by the app one at a time.
Pay anyone instantly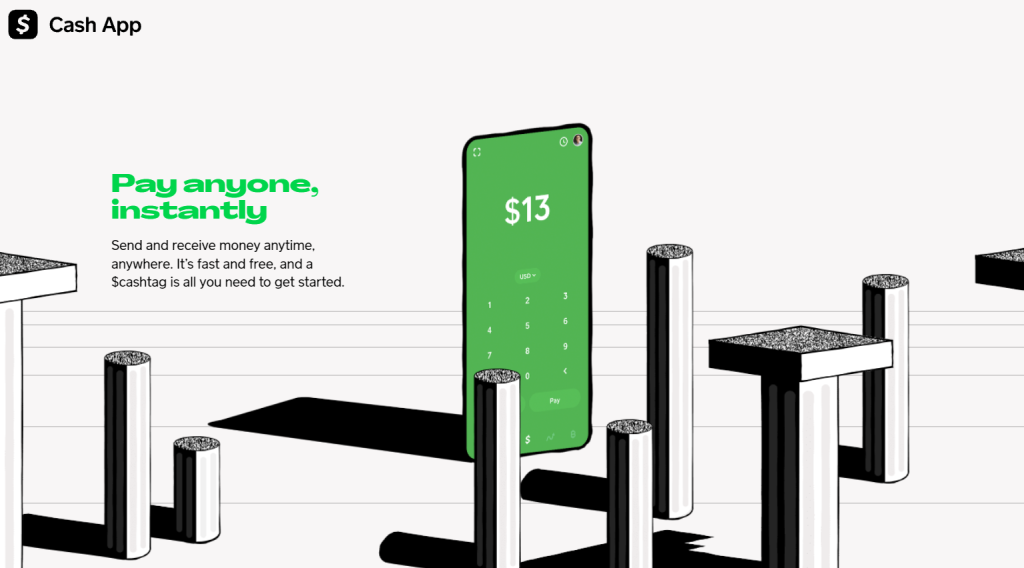 The main purpose of the Cash App is to enable easy online payments and this is done by using P2P service. The main page of the Cash App opens with a green page from where you can pay to any other Cash App user directly either by just scanning their Cash App QR code or entering their Cash App username. You can also send money to someone from your contacts or enter their phone number to send them money. Cash App uses your debit and credit cards to send money to the recipients.
Fast and Easy Tax Filing
After acquiring Credit Karma at $50 Million, Square Inc. renamed it as Cash App Taxes and it enables users to easily file for taxes in the app. It is completely free and is the most recent addition to the app when it comes to features. Before unlocking the tax section, you need to complete the filing process through your PC.
Invest for as little as $1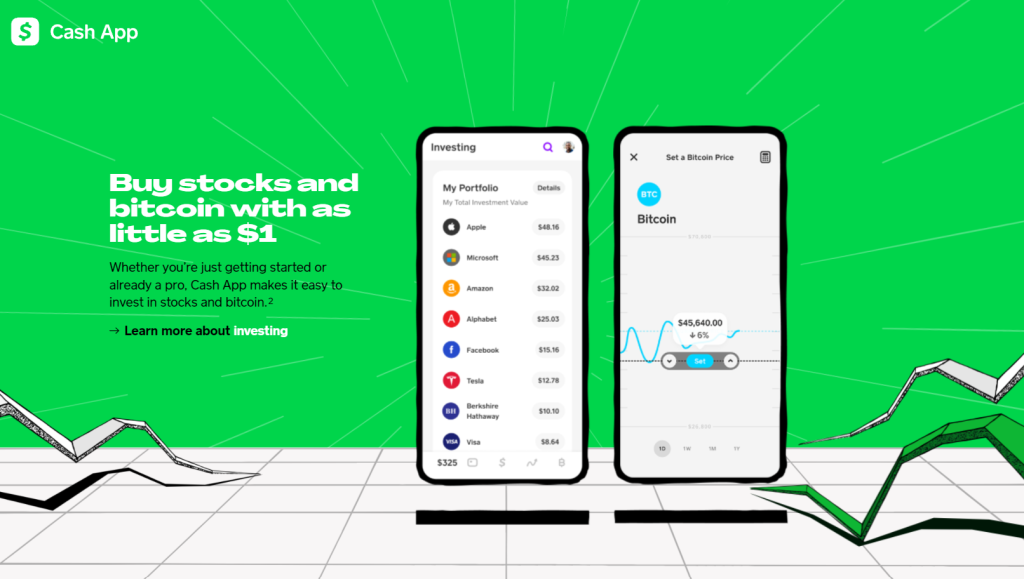 Cash App has very limited stock investing options, but it is very convenient for beginners as it has a very interactive and attractive interface for trading. It only features about 1600 stocks and ETFs as of now but all trading on the platform is commission-free. Also with fractional shares, you can invest with as little as $1.
Buy and Sell Bitcoin
You can easily trade crypto on the platform for as little as $1. Currently, it offers only Bitcoin trading. Even though stock trading is commission-free, Bitcoin trading charges a commission from 2.2% to 3%.
Is Cash App Safe?
Cash App is not a banking platform. It is just a peer-to-peer money transfer platform that also has its own wallet. But as it does not come under a banking platform and has no FDIC insurance, it is advised not to store large amounts of money on the Cash App wallet.
Although when it comes to digital payments, they are completely encrypted and secure. But this also does not mean that it is 100% safe. There are chances of Fraud but it would happen mostly on the user's end and not on the app's fault. The app also recommends using security PIn or passcode for access to the app and not to share it with anyone.
Being a popular app used by 70 million people, it is a trustworthy app and you can use it for simple online transactions or paying with it at shops. Beginner investors can also use the app for trading as it has a great interface for simple trading.