TrendSpider is one of the most popular trading platforms for automated technical analysis in the market built specifically for day traders and swing traders.
It uses artificial intelligence to draw trendlines, patterns, heatmaps, or even set alerts. TrendSpider is a completely automated platform and its main goal is to assist traders in time-consuming technical analysis by automating most of the manual tasks and replacing them with mathematical calculations.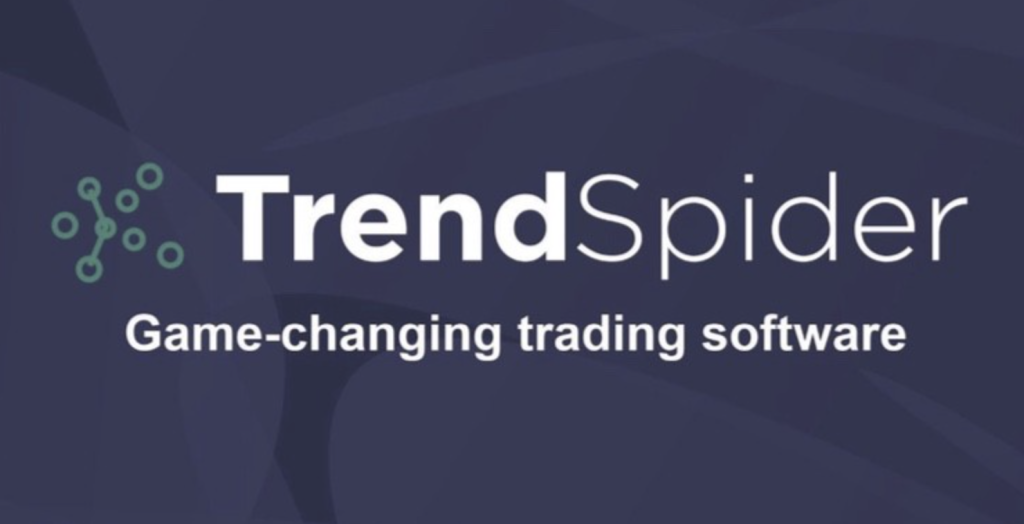 Technical analysis is a very important part of trading as it helps in predicting future price movements by looking at past data. This involves a lot of guessing work as traders look at various indicators and chart patterns and try to understand the sentiment of the market. This gives them an idea of where the price is expected to move. But not all traders are experts at it. Technical analysis is a very complex process and as humans, we often make mistakes.
Therefore, TrendSpider offers the service of Artificial Intelligence that can do thousands of calculations within seconds and ease the process of technical analysis.
Even though TrendSpider does not have a very complex interface, it is a relatively new platform and could be tough for new users to get a hang of it.
TrendSpider can be used to identify trendlines, draw patterns and heatmaps, set dynamic alerts, use technical indicators, multi-timeframe analysis, backtesting, etc. So basically, you can use TrendSpider for scanning for stocks in the market, analyzing its price chart, and finding a possible entry. Then you can place your buy or sell calls on an exchange platform.
How to Setup An Account And Use TrendSpider
TrendSpider is a paid subscription-based service and in order to use it, one should have a registered account on TrendSpider. If you don't have an account with TrendSpider, it is very easy to create an account.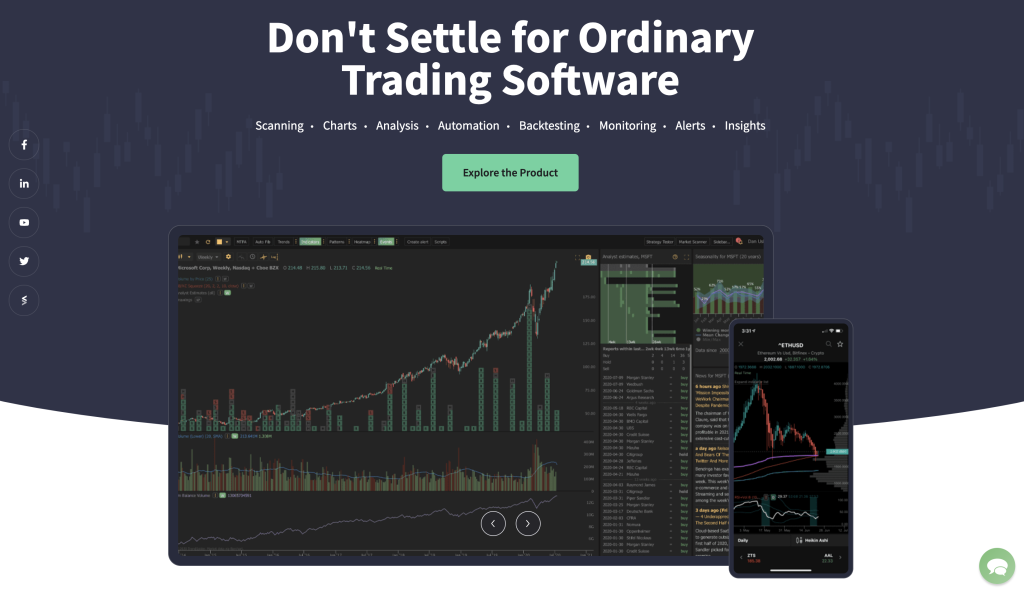 First, you will have to choose the subscription plan you are going for. TrendSpider offers three plans – Premium, Elite and Advanced. You should go through each plan carefully before choosing, as it limits the features you can avail. After you've chosen the plan, all you have to do is to enter your card details and you have your new TrendSpider account.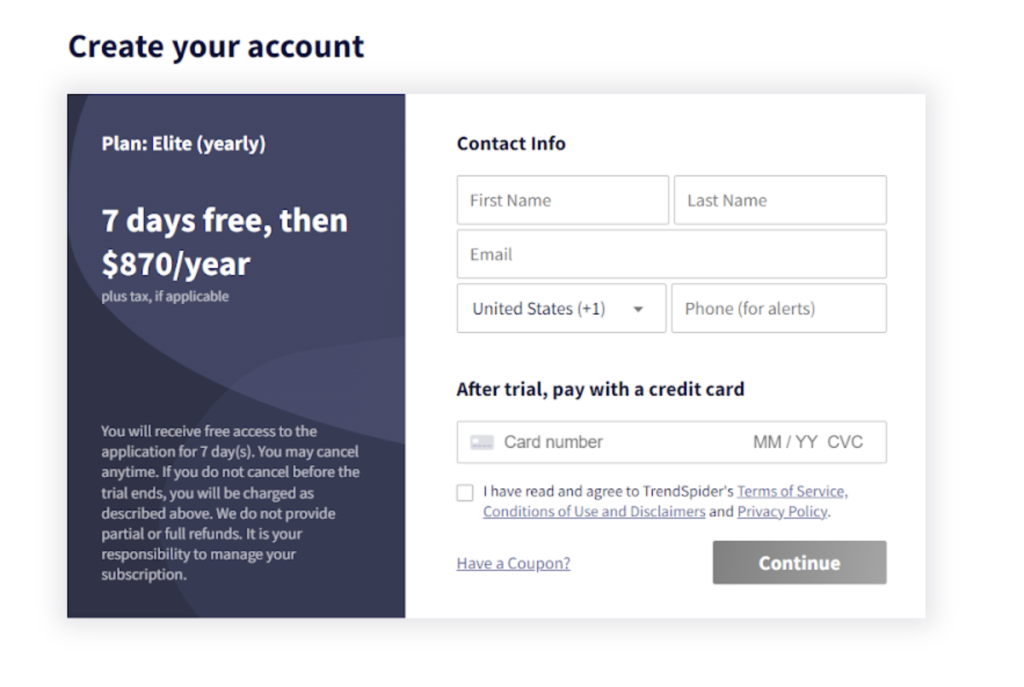 TrendSpider is an automated technical analysis and charting tool and it features a lot of tools that offer different values to the trader. These tools are mostly customizable and are supported by Artificial Intelligence for more efficient trading.
Charts
Charts are like the paper for technical analysis and all the other tools are the pen. A chart is the first interface that you get when you log in to your account. TrendSpider offers 6 types of charts on its platform:
Line Charts
Japanese Candlesticks
Hollow Candlesticks
Traditional Price Bars
Heiken Ashi
Raindrop Charts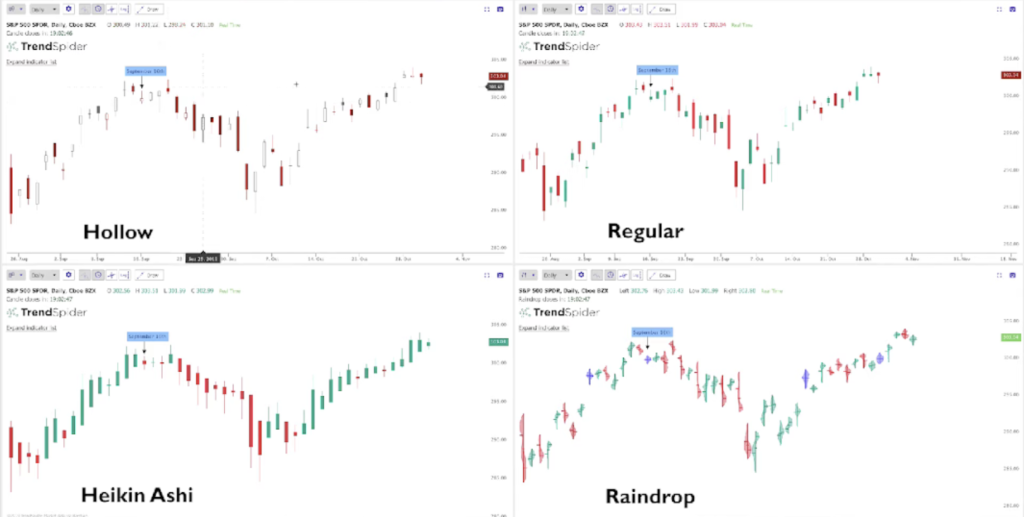 Anyone who has any experience in trading or technical analysis knows how to read a candlestick chart. Raindrop charts are its own trademark charting system, which TrendSpider claims to be better than traditional candlesticks. It can be a bit difficult for traders experienced in candlesticks to switch to Raindrop, so they can continue using candlesticks and still avail themselves of all the features, or they can go through TrendSpiders study materials to know more about them.
Looking for a Stock, Crypto, Futures, Forex, & Etc.
It is very easy to find any stock or cryptocurrency on TrendSpider. On the top-left corner, there's a search bar. You can click on it and type in the name of any stock or cryptocurrency you want to search for.
Trendlines
On the top of the interface, just above the chart, there are a few buttons that have different uses. One of them reads as 'Trends'.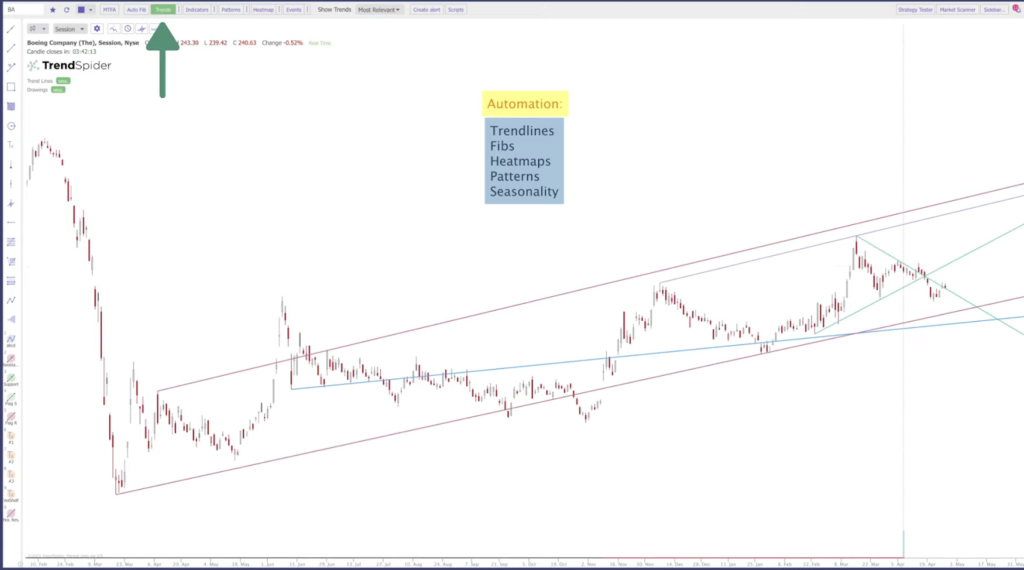 When you click on it, TrendSpider's automated system will identify and draw all the trendlines on the chart within seconds.
Trendlines are a very important part of technical analysis. Generally, trendlines are detected only by looking at the candlestick graph and drawing imaginary lines. It's a lot of guessing work, and professionals just get good at making accurate guesses.
But TrendSpider makes all of this easier and more accurate by using backend computer programming to detect the trendlines.
Indicators
Indicators are the basic tools of technical analysis. You can enable indicators by clicking on the 'Indicators' button on the top, and a list of various indicators would show up on the chart.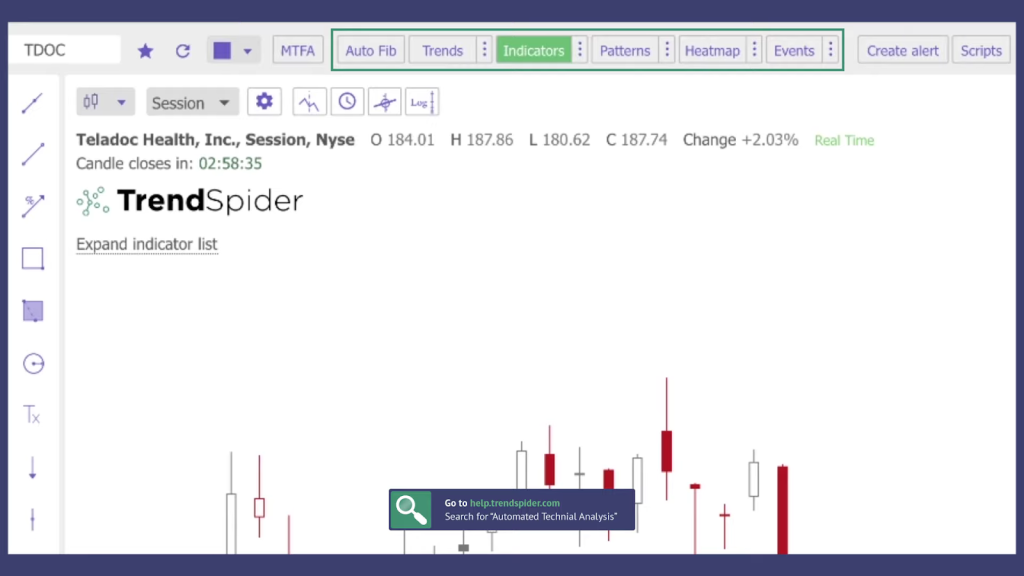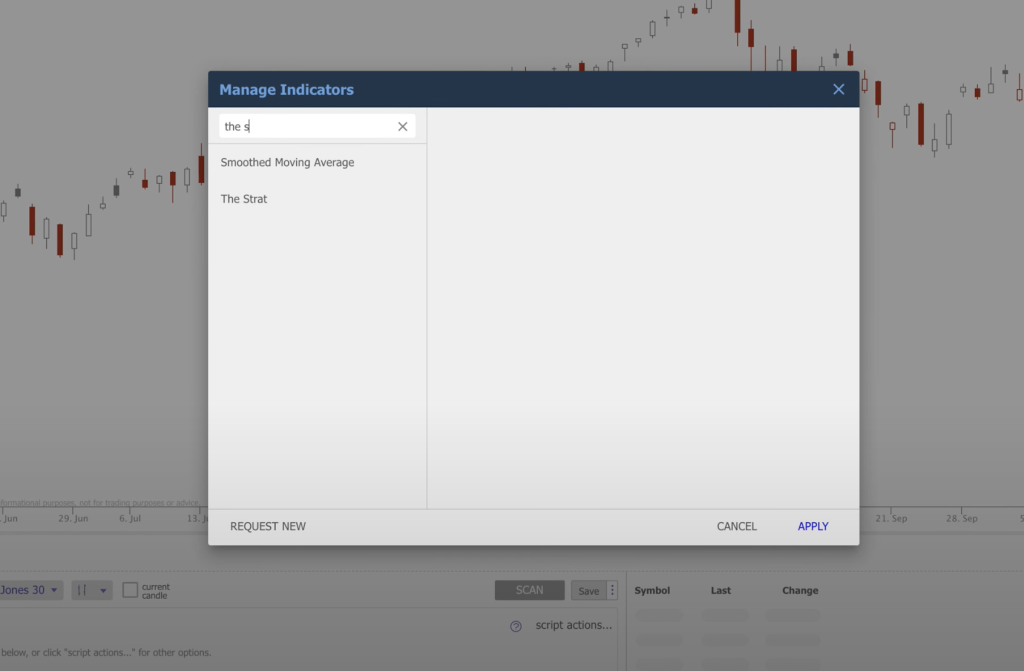 You can then click each indicator and apply them to the chart. All indicators are customizable. You can click on the three dots beside the 'Indicators' to open the menu and then you can manage and customize all indicators.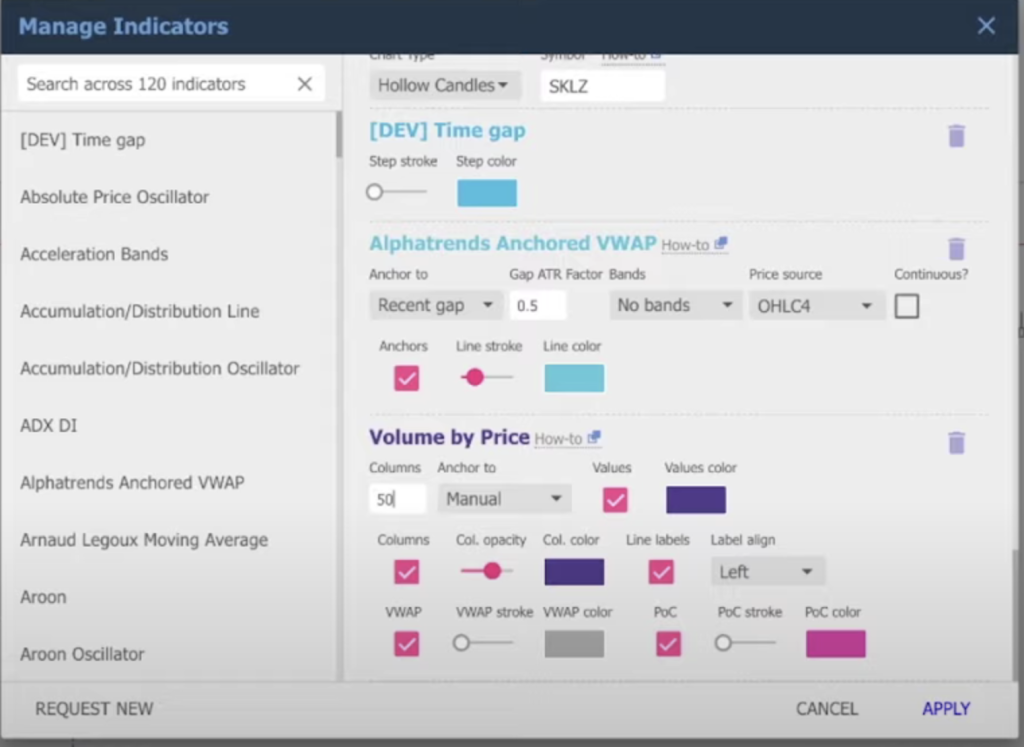 TrendSpider has all the major indicators like:
MACD
Relative Strength Index
Moving Averages
Ichimoku cloud
Average Volume Index
Bollinger Bands, etc.
Traders can use these indicators to predict breakouts and can find easy entry and exit signals.
Alerts
In the same toolbar with 'Trends' and 'Indicators', you'll find another option – 'Create Alert'. Once you click on it, there will be two options – Indicator or Trendline alert, and Multi-factor alert.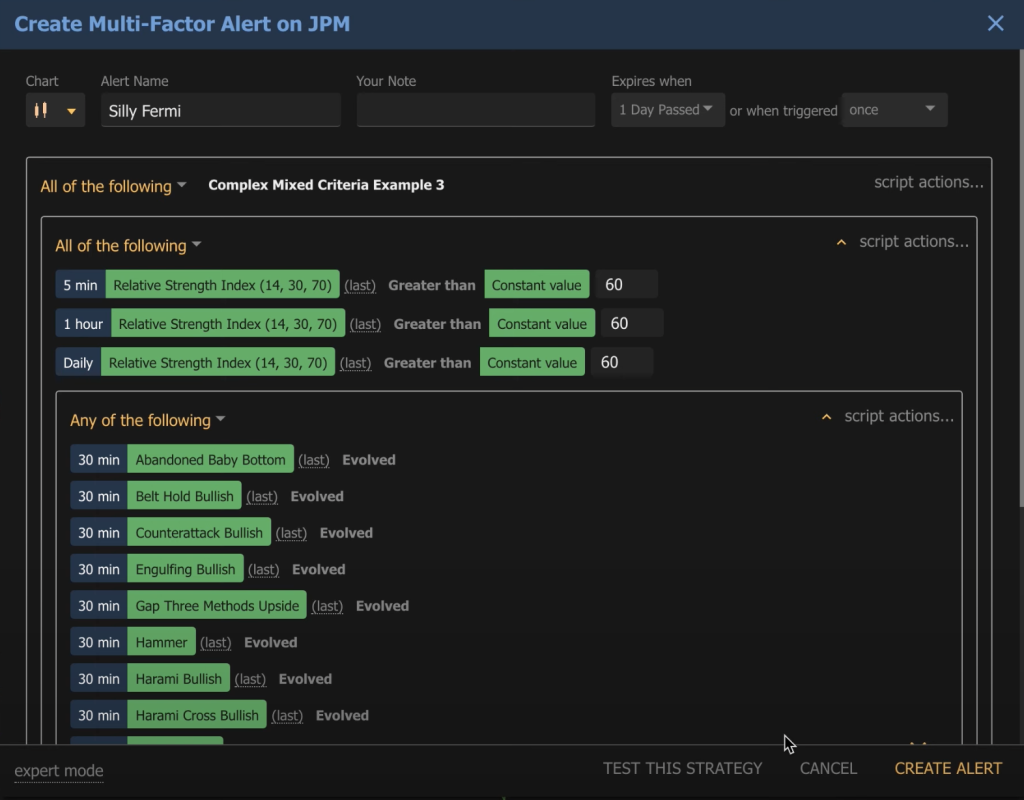 TrendSpider lets you set dynamic alerts on indicators and trendlines, i.e. you can set alerts for when the price crosses a trendline or an indicator shows movement. These alerts can also be customized in various ways as to when or for how long they should react.
You can also create multi-factor alerts where you can enter a set of conditions for the alert to go off.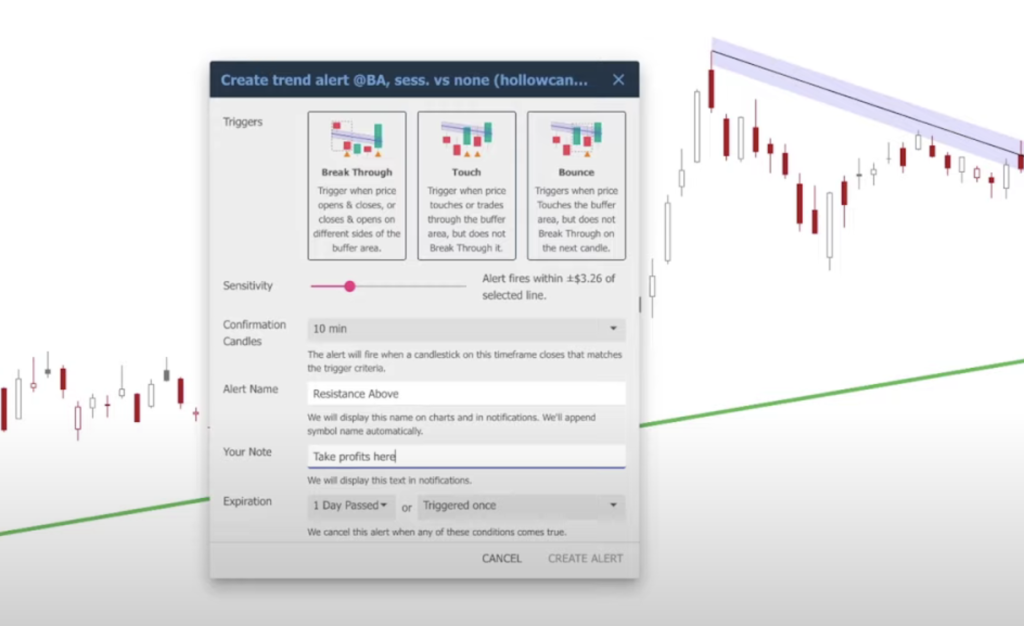 These are some of the most basic tools you'd be using on TrendSpider. There are more such tools that are very well explained on TrendSpider's own website from where you can learn about each and every tool in detail. If you still face any problems, TrendSpider has responsive customer support that would help you out individually through call, message, or email.