Do you know? Kraken supports over 50 different coins to buy, sell, and trade with competitive exchange fees cryptocurrency.
Kraken is the safest, most reliable place for people to buy and sell Bitcoins.
They provide the best experience possible for users when trading Bitcoin and other cryptocurrencies.
Let's begin the Kraken review in detail.
As you know, Nowadays investing in cryptocurrency has become an attractive investment, creating multiple platforms dedicated to this activity and making it accessible to all. Are you looking to invest in cryptocurrency and don't know the best cryptocurrency platform for you? In this complete guide, we tell you everything about the Kraken platform: benefits, virtual currencies available, offers, our review on Kraken, and more.
What is Kraken? 
Kraken Company was founded by Jesse Powell in the United States in 2011 in San Francisco. It is, first and foremost, a crypto exchange, and its primary function is to allow users to exchange common currencies (USD, Canadian Dollar, Pound, and Euro) into cryptocurrencies.
Kraken is also used as a value broker, and users can use it to buy and sell stocks in virtual currencies or other securities. It allows essentially the same options as traditional brokers, i.e. direct buying of shares and CFD trading (x5).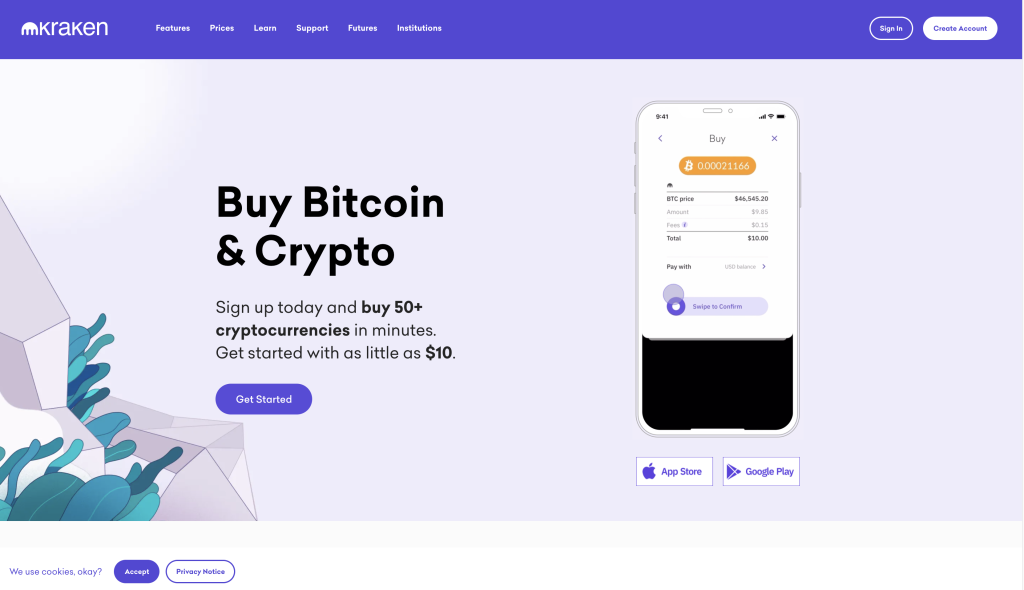 Let us tell you that Kraken was one of the first cryptocurrency exchanges in the country. The Kraken bitcoin trading platform was officially launched in 2013 and is currently. It has over 4 million users in the U.S. Only the five most significant cryptocurrency exchanges are the ones with Messaging.
Key Benefits of Kraken 
Lots of cryptocurrencies are available
Trading quotes possible 
backup on laser key
Lots of liquidity
Acceptable fee (between 0.15% and 0.25%)
Supportable 24 7/7
Leverage Effect 5 
Flawless security 
Buy shares of a company in tokens
What is the cost of the Kraken Platform? 
Like all cryptocurrency trading platforms, Kraken charges fees on the transactions through it. So keep in mind the fees Kraken charges when registering and starting trading.
Opening an account with Kraken is free of charge, without any inactivity or fund storage fees. Prices per transaction range from 0.16% to 0.26%, which places the platform on the lower end of the market cap scale.
What services does Kraken provide?
The Kraken platform offers services to allow its users to exchange crypto-currencies under the best conditions.
Kraken offers a range of offers from simple trading to advanced trading depending on your desire, your level.
Here are the offers from the Kraken platform:
Instant Purchase is designed to buy, sell, and convert cryptocurrencies immediately.
Kraken Pro allows you to place a sliding scale price list according to its trading activity.
Futures contracts also offer a sliding scale pricing according to trading activity on the futures markets.
The Kraken cryptocurrency platform offers several products for trading cryptocurrencies according to its objectives and profile:
A cryptocurrency exchange that tracks prices and sends alerts.
OTC Office provides products implemented by Kraken for high liquidity and private services for investing in cryptocurrencies.
Kraken Futures allows crypto-currencies to be traded by pre-set date and price in the futures markets.
Trading with a margin allows you to maximize your profits by using leverage to open significant positions.
Index feature, which gives the prices of cryptocurrencies in real-time.
What are the currencies of the Kraken platform?
While Kraken has been criticized in the past for offering its users only a limited number of assets of choice, the list of the cryptocurrencies provided on the platform continues to grow. Kraken offers about 40 currencies, the main ones being:
Bitcoin
Ethereum
Ripple
Litecoin.
How to buy on the Kraken platform?
Selling and buying cryptocurrencies is the primary function of the Kraken platform functionality. So you probably want to know how to buy crypto on the Kraken platform.
To buy from the Kraken platform, you need to register first, which is very fast. To register and login to Kraken, you need to enter:
Your Name
Your First Name
Not a valid e-mail address
A password
A valid phone number
Your date of birth, a mailing address, A photocopy of an ID paper.
Trade on the Kraken exchange platform:-
Select currency pair
Choose a currency pair. First, you need to see which assets you would prefer to trade, such as buying bitcoin with your USD or selling Ethereum for EUR.
After you have decided which pairs you want to change, you can select them from the ticker bar near the top left corner in the "Trade" tab.
Complete the order form
Simply review & select your trading pair & then go to the "New Order" page on Kraken and select the "Simple" form.
On that page, you will see 3 text boxes with the option to use a market/limit order. Before entering values ​​in these text boxes, it is best to know how a market or limit order works. Market orders will always incur a slightly higher fee, called a taker charge. 
You can only indicate the quantity you want to buy or sell with market orders, not the price.
Who will execute limit orders at a price set by you or better when the market reaches your limit price. They may be subject to manufacturer or taker fees depending on execution time.
If the respective order already exists and is executed immediately, the taker charge will apply.
Send an order
Once you have decided what market order you are looking for, you can select the one you like using the buttons to the "Total" field's left.
If you are satisfied with the information entered in your order, click the Buy/Sell button, and an order confirmation screen will appear, allowing you to view your order for the last time.
Note: The order confirmation page will shortlist the amount of cryptocurrency to be used based on price accuracy. Any additional volume not listed is always included in the order.
Wait for the execution of the command
If a market order is selected, who will execute the trade immediately, and your balance will change. Funds can be withdrawn or used to trade directly. You can see completed market orders on the "Orders" tab.
What about the customer area of ​​the Kraken platform?
The platform has 24/7 customer support via chat. Like most competing platforms, the Help Center is entirely in English, and the site is preferred for the smartphone version.
Kraken supports them by offering users a clean and practical platform with enhanced security while maintaining competitive costs. We recommend that this dean of cryptocurrency platforms be entirely intuitive, known, and recognized. 
Is the Kraken platform reliable?
Various financial authorities control Kraken's activities in the site's areas. The highly secure platform requires two-factor authentication and stores your funds in an offline wallet. Moreover, it is one of the few that has never faced piracy or hacking.
Pros & Cons of Kraken
Pros and Cons of Kraken Below, we list some of the pros and cons of Kraken to help you make your decision.
✅ Pros
Their trading cost is reasonable.
Fiat Trading An Effective Security System
Low Fees on Cryptocurrency Exchanges Offering a Diverse of National Currencies and Digital Currencies (More Crypto-currencies than Coinbase)
Kraken has never been hacked.
❌ Cons
Questionable credibility
The complexity of access for new traders 
The very long registration process
Conclusion
Kraken is one of the oldest platforms in the crypto sphere and remains popular with users worldwide. We appreciated the high degree of customization possible according to each person's profile and the ease of use that it allows.
It is ideal both for beginners who do not want to be burdened with an overload of information (classic platform) and for experts looking for a sophisticated platform.
The fees are acceptable and remain in the average of those charged elsewhere, except the expenses of purchases by credit card in the high bracket. Investors looking for the latest tokens to hit the market will be disappointed, as the platform is quite limited in the number of crypto pairs available. So if you liked our article Review of Kraken, then do share it.