Who has not thought about investing in crypto mining when almost everything these days is about these digital currencies.
NiceHash is a crypto marketplace that supports both mining and trading.

Crypto mining is a technique where people put the computation processing power of any device to use in order to generate profits from digital currencies.
In this NiceHash mining review we will be analyzing the platform in detail on the basis of features, services, incurred fees, security, customer support along with its pros and cons.
What is NiceHash?
Founded in 2014, NiceHash is headquartered in the British Virgin Islands. As of present it is among the world's leading broker crypto platforms, has over a million daily active workers and over 650K daily active miners.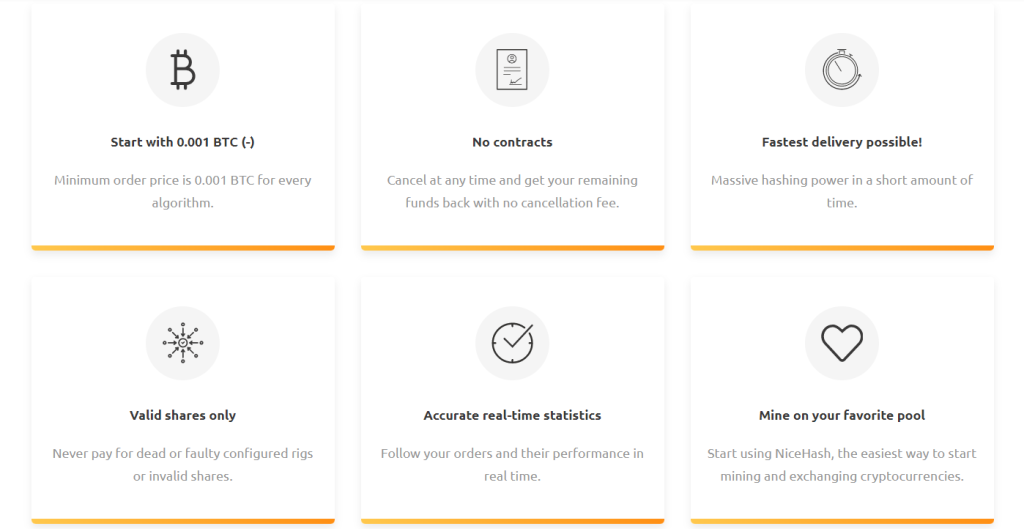 NiceHash is revolutionizing the way crypto assets are dealt with by creating various algorithms and tools to keep the funds safe while improvising the user experience.
NiceHash Features
The platform offers a plethora of useful features and functionalities some of which are as follows:
Stratum servers
For every algorithm two stratum servers are available. The servers are categorized into four different regions and that includes EU-north, EU-west, USA-west and USA-east.
Cloud mining
NiceHash does not own the mining hardware and therefore cannot control the hashing speed prices. Few of the key benefits of using NiceHash over regular cloud mining are as follows:
There are no limit restrictions and therefore traders can buy and spend a massive amount of hash power whenever they want.
Price and pool flexibility: Traders can change the price, amount and limit of the order without having to cancel their transaction. Any of the available pools can be selected whilst the conditions are being met.
Profitability Calculator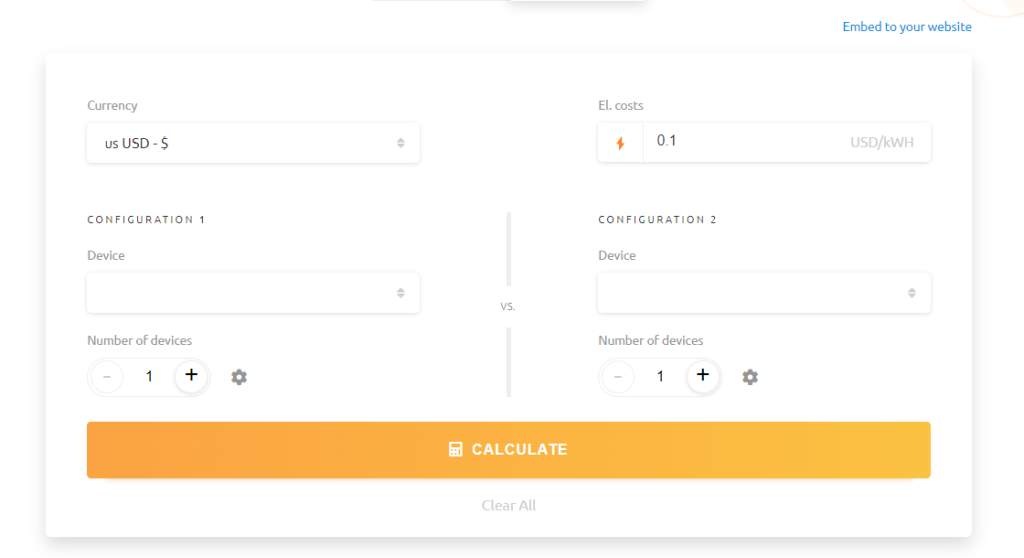 The platform integrates a GPU, CPU and ASIC mining calculators which can be set to auto detection or manual selection. The NiceHash Mining profitability calculator can check and compare the estimated earnings of an investor's hardware.
Tryout Tool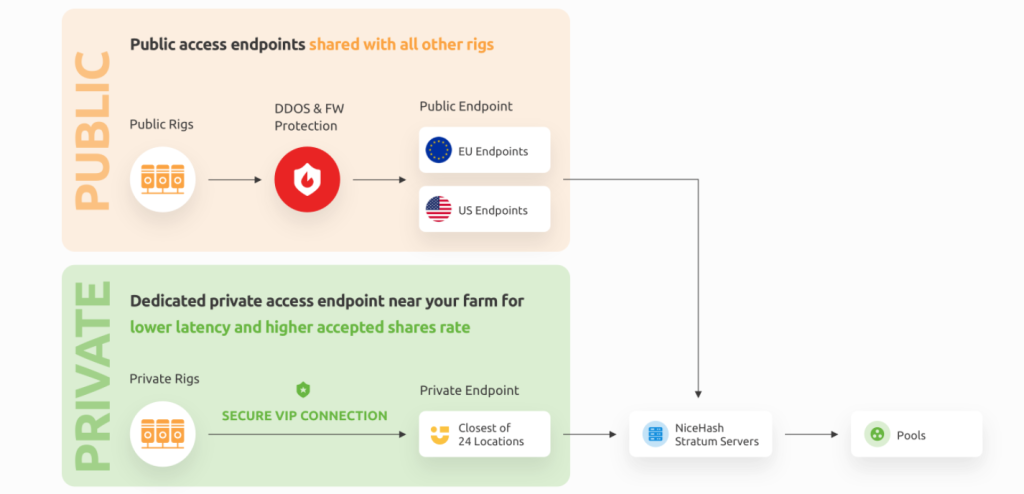 NiceHash offers a demo account called QuickMiner. The tool can be used without registering at the platform and allows investors to get familiar with mining the crypto assets first hand.
Private Endpoint
It is the network interface solution that securely connects trader's device to the stratum servers. It can be used for medium-sized and large mining farms that want to optimize their connection by avoiding the latency caused by DDOS protection and generate profits by better performance.
The cost of a private endpoint starts from 200 EUR plus VAT per month but actually depends upon the investor's needs. The platform offers private mining proxy servers at 24 locations globally (Asia, Europe, N. America, S. America and Australia).
Also Read: MinerGate vs NiceHash: Which Mining Platform Is Best?
Supported Cryptocurrencies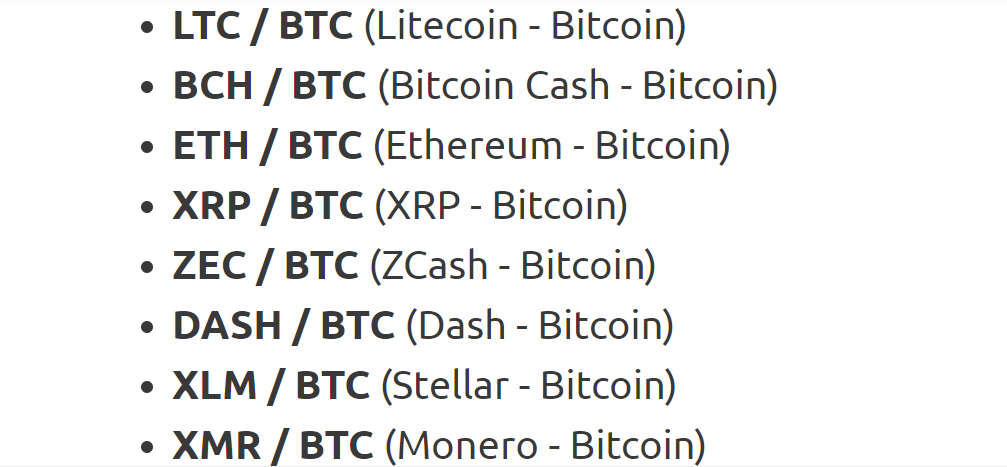 NiceHash currently supports over 90 crypto trading pairs. Some of the compatible digital currencies are Bitcoin, XRP, Litecoin, Ethereum, Zcash, Dash, Polymath, Stellar, Monero, Tether, USDC, Shiba Inu, Cardano, etc.
NiceHash Services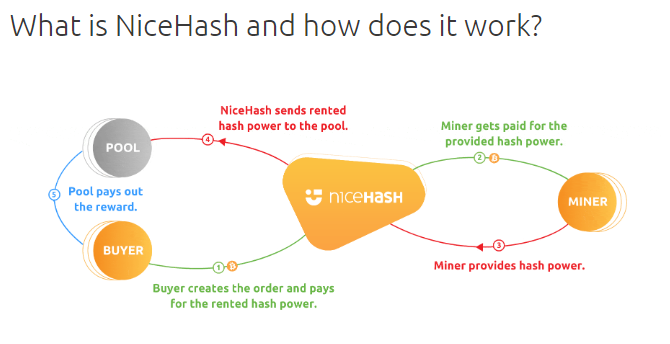 Hashing power buyers – No complex and expensive setup is required; one can start mining with their regular work computers. Buyers get to choose the crypto asset they want to mine in along with the pool options, the price amount and order placement.
Hashing power sellers – Sellers can either run the NiceHash software or connect their hardware devices to the Nicehash servers and to buyer's orders. These servers use stratum, a de-facto communication protocol. Whenever a valid share is submitted miners get paid automatically in Bitcoins and the price is determined by the current weighted average.
Referral program – The referral program is available for both buyers and sellers. Hash power buyers get paid commission of 5% on the revenue share along with extra mBTC whenever the order is placed by the referred customer. Miners can apply to the affiliate program to generate a passive income.
Hash Power Price
This much must be obvious that fee charges are applied, let's see how much it actually costs.
Buying hash power
A non-refundable fee of 0.00001 BTC on every new order.
A 3% charge on the total amount spent on orders for buying hash power.
Selling hash power
A 2% charge on all the payouts to NiceHash wallet.
To be noted – The minimum balance required is 0.00001000 BTC and payouts are executed every 4 hours.
Depositing fees
The fee charged while depositing funds to the NiceHash wallet depends on the amount that is being deposited. The only fiat currency that is accepted by the platform is Euro. If the traders establish a direct connection to the NiceHash Lightning Network node, then no fees have to be paid for BTC transactions.
Deposits are subject to the following fees:
Euro – deposits of more than or equal to 1 euro does not incur any fee.
Bitcoin – deposits over 0.0005 BTC charges no fee amount, between 0.00001 and 0.0005 BTC incurs a fee of 0.00001 and less than or equal to 0.00001 BTC charges the whole deposited amount.
Ethereum – deposits less than or equal to 0.0009 ETH charges a fee of 0.0003 ETH and no fees if above 0.0009 ETH.
Withdrawal fees
While withdrawing from the NiceHash wallet, a fee is charged depending upon the withdrawn amount and the option. The Withdrawal options include over 60 crypto related assets.
Euro – The minimum limit is 10 euros and can be transferred free of cost to any bank account.
Bitcoin – Through Lightning network no fees are incurred if the amount is over 0.00002 BTC, a minimum amount of 0.0005 BTC to any BTC wallets charges 0.000005 BTC or more based on Blockchain conditions.
Ethereum – to any LTC wallet a fee of 0.00001 LTC is charged with the minimum amount of 0.01 LTC.
Exchange fees

The fee structure is based on maker and taker charges. Some of the following prices are as follows:
Trade level of up to 1000 EUR incurs a maker and taker fee of 5%.
Travel level of up to 10 million EUR incurs a maker and taker fee of 1%.
Mining Softwares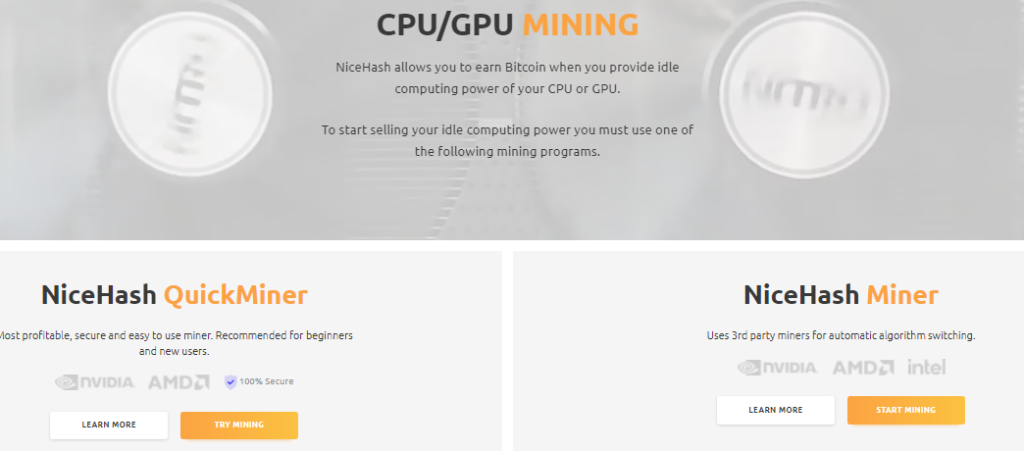 NiceHash makes mining of cryptocurrencies super easy for users with or without any technical knowledge. Let's look into all the available options.
QuickMiner
NiceHash QuickMiner is in-house software which currently is in experimental phase. It needs 3rd party plugins and miners to work up to its full capacity. Since you can never be too sure of the underlying programs, NiceHash has created its own miner called as Excavator. The benefits of using it are as follows:
One can start mining instantly as no benchmarks are required.
Automatic updates.
OCtune enables users to overclock easily.
In case issues occur or the drive crashes, the hardware restarts to continue mining.
No developer fees are charged.
NiceHash Miner
This particular mining software allows users to rent out their computing power to the hash power marketplace and in return getting paid in bitcoins. It uses third party miners and runs benchmarks on the first run. Some of the features which are incorporated in this are as follows:
Supports NVIDIA and AMD graphics cards.
Provides remote control rig manager, in build overclocking, auto overclocking, TDP downclocking, remote start & stop, etc.
NHM supports three benchmark types which includes quick (short but no accuracy guarantee), precise (long but better accuracy) and standard (in between quick and precise).
How to set up a NiceHash Miner?
Load the website, head to the "Mining tab" and click on the "Download miner or add ASIC" button.
Select "NiceHash Miner", click on "Download" and the page will be redirected to GitHub.
Users can either download the NHM installer or the zipped version.
Open NHM and head to the "Notifications".
Look for a notification prompt to "Add Windows Defender Exception" and click on the "Add exception".
To be noted – third party developers charge 2% to 3% fee.
NiceHash OS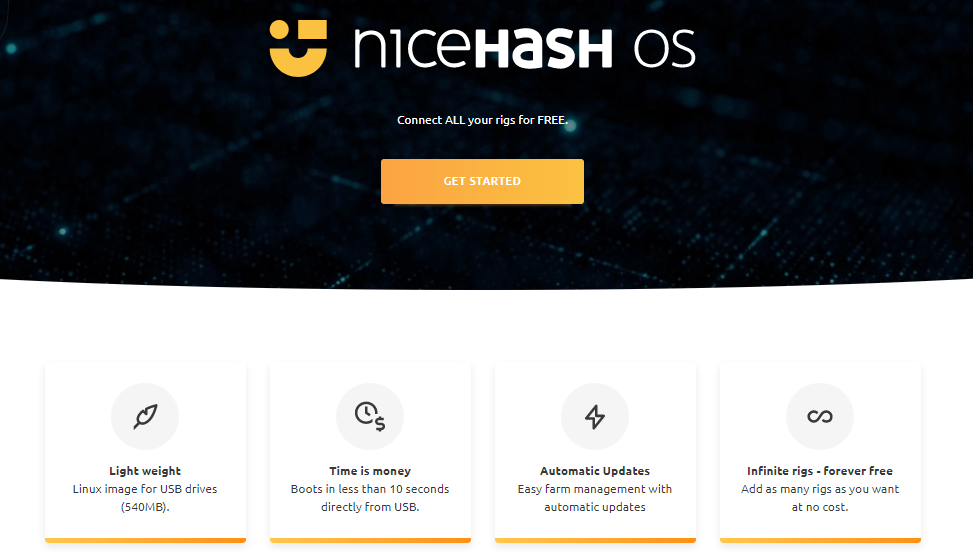 As the name suggests it is an operating system that is loaded from a USB flash drive and is run from computer memory. It is free of cost and miners can connect any number of mining rigs they want, no limits whatsoever. Some of the features include:
Remote control rig manager.
In-built overclocking and watchdog functionality for automatic restarts in case of device failure.
Algorithm switching, benchmarking, third party miners, etc.
It is to be noted that third party developers charge around 2% to 3% fee.
Security Measures
NiceHash follows robust security measures and protocols in order to keep their platform safe and secure from malicious attacks. Some of the ways through which they ensure it are as follows:

Two-factor authentication – Users can enable 2FA to ensure only they can access their funds.
SSL/TLS encrypted connection – Connection between the client-side server and NiceHash website along with their services are always secured via SSL/TLS protocols.
Mandatory KYC verification – Identity verification has to be completed by hash power buyers and fiat currencies users.
Email confirmations – Withdrawals require confirmations and in case of unusual activities the notifications are sent.
Signed software – QuickMiner has open source code and has been signed with an Extended Validation certificate.
Verified third party programs – To ensure safety, NiceHash only integrates with and updates signed softwares.
GDPR compliant – To safeguard user's confidential information all the data is encrypted, monitored 24/7 and the platform is GDPR compliant.
Secure wallets – Wallets, as well as private keys, are secured via AES-256 encryption.
Also Read: MinerGate Review: Is It Legit Mining Platform?
User Experience & Customer Support
The user interface is easy to use and beginner friendly. One doesn't really need to know absolutely everything about technical stuff to start mining. However, to make the most out of the platform users should start learning about it.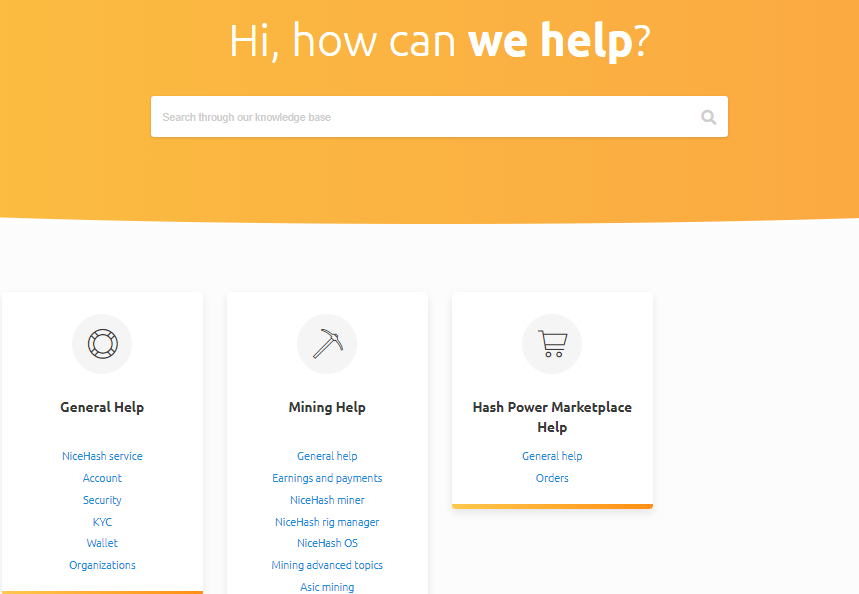 NiceHash provides a knowledge base facility which includes tons of detailed articles ranging from general setup procedures to orders. Users can connect and become a part of NiceHash's virtual communities on Discord, Facebook, Reddit, GitHub, etc.
Pros & Cons
Pros
No limit restrictions when it comes to hash rates.
Provides crypto wallet that can be used to hold, manage and exchange the digital currencies.
Platform offers various algorithms and mining pool selection availability.
Easy to use mining software, demo account, minimum payout limit of 0.001 BTC, autopilot mining option, etc.
Offers mobile applications for both Android and iOS users.
Cons
Suffered from security breach in 2017 though the users were reimbursed for all the damages from theft.
No email or phone call support services.
Nicehash Review – Summary

Wrapping up our NiceHash review by saying that, the platform is the safest bet for anyone who wants to start investing in crypto mining with or without the specialized hardware. They follow robust security measures, offer tons of useful tools, software and algorithms for a profitable mining experience, and have beginner-friendly and intuitive interfaces along with mobile application and crypto wallet availability.
FAQs
Q1. What does mBTC mean on NiceHash? 
MBTC refers to milli bitcoin where 1 BTC equals 1,000 mBTC.