No matter if you are just starting to get to know more about NFTs or have expertise on the subject, information about something you're interested in is never enough. Having said that, it is crucially important that you select the reputable and cost-effective NFT marketplace to experience successful investment. NFTs are revolutionizing the way we deal with crypto-collectibles, assets, investments, artwork, rare collectibles, and global trading.
In this article, we will be reviewing 5 best NFT marketplaces for you of this year and what's about all the hype surrounding these decentralized platforms
What Is A NFT?
NFTs stands for Non-fungible tokens which can be used to represent ownership over unique items like digital artwork, essays, in-game items, etc. NFTs are the latest edition to the crypto assets based on the same principles and blockchain technology.
NFTs are digitally unique and therefore no two NFTs are the same. Creators can preserve ownership rights over their work and claim resale royalties without any intervention. The NFTs have been around for much longer than we realize, with the colored coins to be considered as the first ones to ever exist. However, it's now that they have started gaining attention from the masses due to the popularity of crypto and blockchain networks.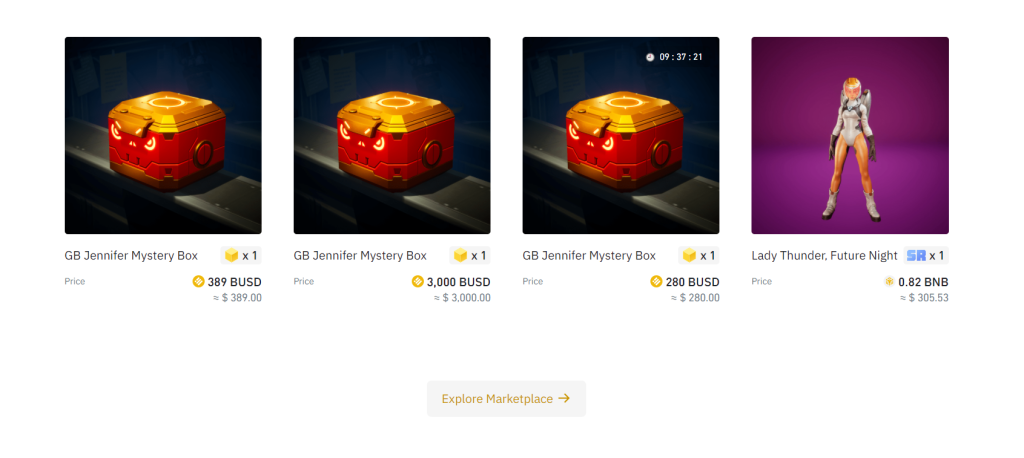 Key Aspects Of NFTs
Unique – Each NFT token consists of code information that can uniquely identify and differentiate them from one another. It holds details regarding NFT ownership, copyright, etc.
Programmability – NFTs are also like traditional digital assets built on smart contract blockchains and are therefore programmable.


Traceable: Just like digital assets, NFTs also have a record of transactions in its blockchain network which contains details like asset owner, the number of times ownership has changed, etc. This ledger proves the authenticity of the NFTs.
Preserve Rights – NFTs use decentralized platforms and so no individual can change the details once it is programmed.
Transferable – NFTs can be purchased or sold on marketplaces through their value depends on their uniqueness.

What Are NFTs Marketplace?
NFT marketplaces are online platforms that allow you to create, store, buy, sell, and trade various NFT tokens. These forums act as a central hub for people like artists and creators who want to showcase their creations or assets and people who want to purchase these collections.
These digital assets can be a file, essay, rare collectible item, music, art, graphic design, etc. Ethereum is currently the largest supporting network of NFTs. While some of these platforms support decentralized apps, others don't.

What Makes A NFT Platform "Right"?
We have shortlisted five NFT platforms from all the overwhelming number of choices present out there. But how did we decide upon that and what really makes a particular marketplace right for you depends on various factors. Let's get to discussing the features and functionalities that set the chosen platforms apart from the others.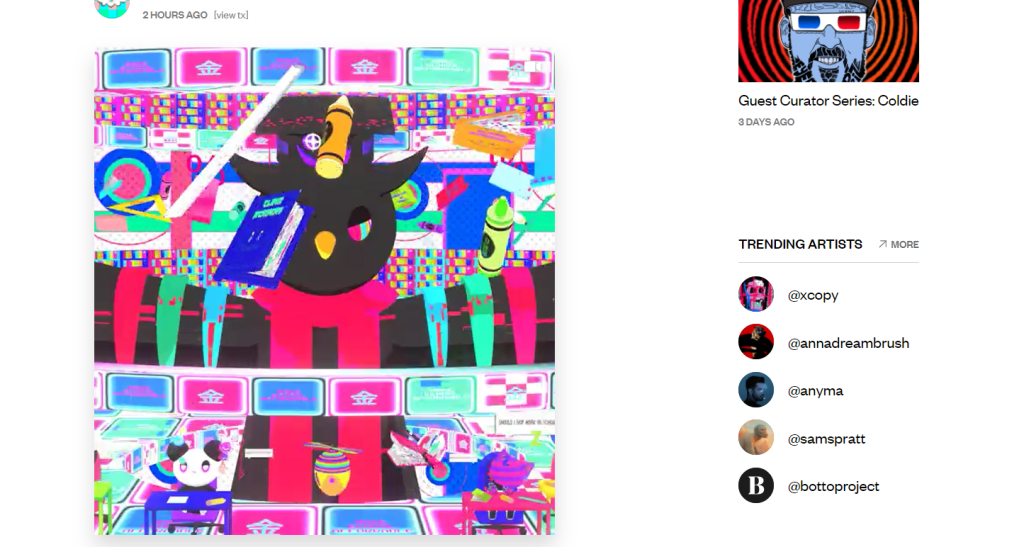 Service Fees
It is kind of obvious that you'll be charged some amount of service fees while dealing with these platforms, but how much you have to pay is the real deal breaker. Lesser the transactional and service fees, the better the chances of selecting that platform. The NFT marketplaces we have decided on can charge you from anywhere between 1% to 20% marketplace fees. The charges vary depending on the platforms and the services they offer.
Wallets & Tokens Support
You should be aware of what all wallets are available and supported by the platform you end up choosing. It is important because when you buy NFT from any of the platforms, you'll be required to transfer the required fees from your encrypted wallet. So make sure you select the marketplace which supports and lets you make a transaction from your wallet and the digital currencies you have in it.
In addition to the wallet support, you should also research compatible tokens. Most of the mentioned NFT marketplaces in this guide support multiple tokens such as ERC-1155, ERC-721, Binance token, etc.
Supported Sales & Artwork
Any kind of digital piece can be an NFT and so different marketplaces cater to different kinds of artworks. In order to find the right marketplace, you'll first have to decide on the art pieces you want to deal with, be it buying or selling. Best bet? Choose the NFT platform which supports a variety of sales collections, from art to music to gaming to auctions.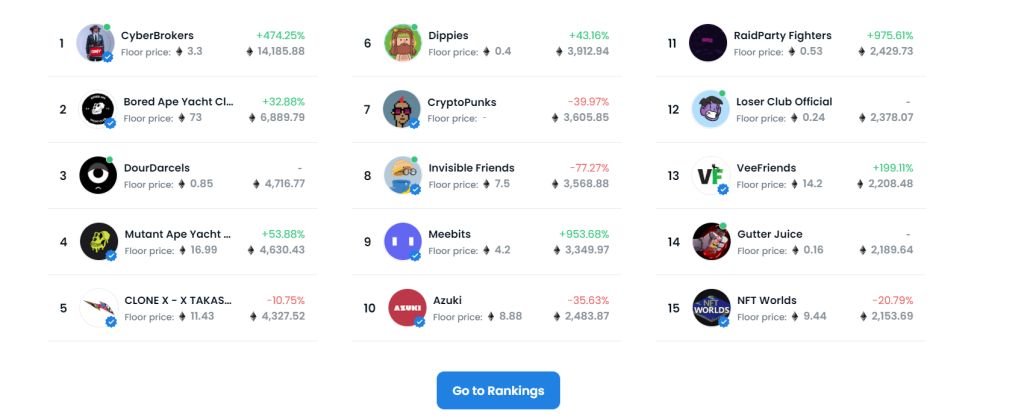 User Experience
All other features are dime a dozen if your preferred NFT forum offers a poor user experience. From trading the NFT to security mechanisms to the smooth exploration, every individual aspect is important. So do give the platform a try before fixating on one.
5 Best NFT Marketplaces
Let us look into the top 5 NFT marketplaces that made it to our list.
Binance
NFTs are a new addition to the Binance platform and were launched recently in 2021. It uses Ethereum as a blockchain network and supports Binance tokens. The platform may charge you transaction fees in case you try to trade, deposit, withdraw or create NFTs on their platform. The incurred fees are governed by factors like market conditions and network status.

Fees on Binance
The platform charges you a service fee of a flat 1% trading fee, sellers need to pay a 1% royalty fee to the creator and for each creation on the Binance Smart Chain, you have to pay a minting fee of 0.000001 BNB. The compatible encrypted wallets include WalletConnect, MetaMask, and Binance Chain Wallet. The supported artwork includes Art, Sports, Gaming, Collectibles, Entertainment, etc.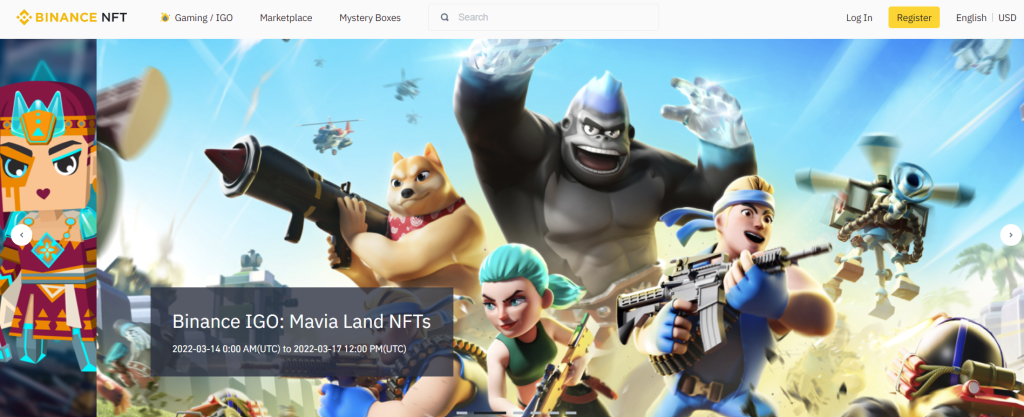 Binance NFT Product Lines
The platform brings artists, creators, and crypto enthusiasts together on a single platform to make the creation and trading of NFTs easier. The product lines are as follows:
Marketplace – Create, sell, purchase or trade NFTs from creators all around the world.
Events: You can buy exclusive NFTs created by global and the most influential creators. This includes digital art from artists, musicians, athletes, celebrities, etc.
Mystery Boxes: There's a surety for every Mystery Box to have one random NFT inside. It can be an (R) Rare, (SR) Super rare,(N) Normal, or (SSR) Super Super Rare NFT.
OpenSea
The second position on the list of best 5 NFT marketplaces is secured by OpenSea and for obvious reasons. The platform was founded in 2017 and has an evaluation of $13.3 billion. It offers cross-blockchain support across Ethereum, Polygon, and Katyn.
The fee structure model is rather easy, it applies around 2.5% on every transaction, but you can create NFTs for free at any given time. You can set a creator earnings amount of up to 10% so whenever your NFT sells on OpenSea you can earn the revenue.
The platform supports tons of wallets including MetaMask, Coinbase Wallet, TrustWallet, Portis, Magic, Venly, Authereum, Bitski, Draper, Torus, WalletConnect, Kaikas, and a few others. You can purchase, sell or trade the following assets; Art, Music, Trading Cards, Collectibles, Utility, Sports, Domain Names, Virtual Worlds, etc.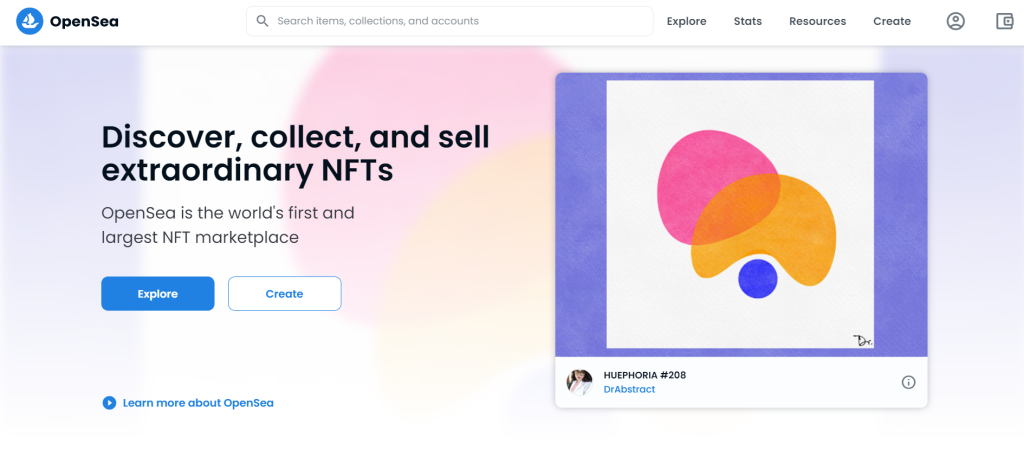 Rarible
Founded in 2020 The NFT marketplace has a trading volume of $274M with over 1.6 million active users and 405K uniquely created NFTs. It supports a Multi-chain NFT marketplace with Ethereum, Flow, and Tezos networks.
The platform charges fees when you do transactions on the Ethereum blockchain plus a 2.5% platform service fee on every NFT transaction. The minting or NFT creation fees can be calculated using the Rarible tools. The NFT marketplace supports the following encrypted wallets; MetaMask, Fortmatic, Rainbow wallet and Coinbase wallet. It offers $RARI – Rarible Protocol which allows buyers or sellers to get a token in order to reward them.
You can trade the following assets as NFTs; Art, Photography, Music, Domains, Defi, Memes, Games, Metaverses, Punks, and NSFW. It supports the following tokens; ERC-721 and ERC-1155.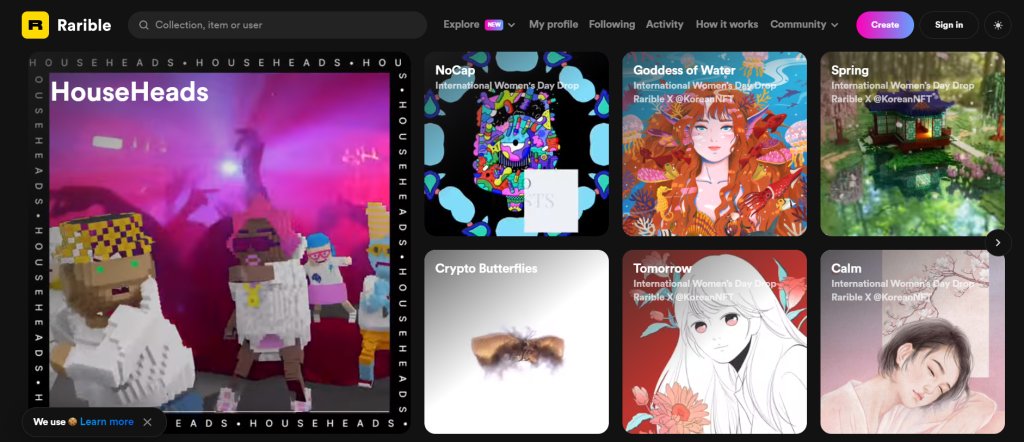 SuperRare
Founded in 2018, SuperRare has a trading volume of $18 million in the last 24 hours. It is a marketplace for people to buy and sell unique and single-edition digital artworks. The supported wallets are as follows; Rainbow Wallet, MetaMask, Trust Wallet, ImToken, and Coinbase. Let us now consider the fee structure model of SuperRare.
On primary sales, the Artist receives 85% of the sale amount, and 15% of the sale amount is submitted to SuperRare DAO Community Treasury.
On secondary sales the seller receives 90% of the sale amount whereas the original creator receives 10% of the sale amount as a royalty.
It is to be noted that on every sale there's a 3% marketplace fee added on top of the selling price which goes to the SuperRare DAO Community Treasury.
In case you want to create an artwork and are a whitelisted artist on the SuperRare, you will be required to pay the gas fees each time you mint an artwork. However, these prices are dependent on the market fluctuations of the Ethereum blockchain network.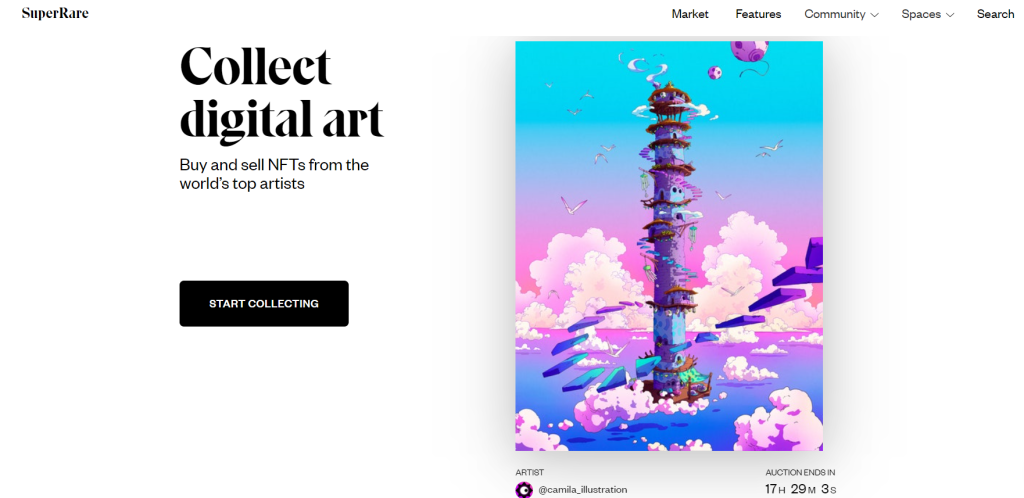 Nifty Gateway
The platform was founded in 2018 and is a marketplace that releases limited collections from top artists using drops. It uses Ethereum blockchain network, Proprietary token and supports digital assets like Crypto art, Music, Photography, Fixed price auctions, etc. The marketplace supports Metamask encrypted wallet and Ethereum. You can also use fiat currency (US Dollars) for creating, buying, selling, and trading the NFTs. Nifty Gateways charges 5% of service fees.


You can receive and withdraw your funds from a number of options and the balance types are as follows; Nifty Balance, Stripe Balance, and Prepaid ETH.
Nifty Balance – You can withdraw your nifty balance to either your Bank Account or to your Gemini account.
Withdrawals, however, will take around 5 business days to be reflected in your bank account.
Stripe Balance – Your payout structures will automatically update to daily payouts in 2-7 business days and on top of that it takes another 2-3 days to reflect it in your bank account.
Prepaid ETH – Your Prepaid ETH balance can be withdrawn to your desired Ethereum wallet address.
FAQs

Q1. What are the Best Marketplaces to Buy and Sell NFTs?
Some of the best NFT marketplaces are Binance, OpenSea, Rarible, Nifty Gateway and SuperRare.
Q2. What is a NFT?
A non-fungible token is a digital certificate of ownership built on blockchain technology which stores the entire history of a digital asset. The activities and the details can be viewed by the public on the blockchain network and are immutable since they cannot be reprogrammed.