Cryptocurrency has taken the world in a gasp, especially in recent years, when multiple billionaires have opted for these digital payment systems and have made investments. Dozens of cryptocurrencies have surfaced on the internet after the revolution, leaving traders and investors in a dilemma.
To choose the right crypto for you, there are a lot of factors to consider. In this article, we review the popular Gate.io exchange platform for you, and you can decide if it is the right platform for you to invest in.
Gate.io – A brief overview
Gate.io is one of the oldest crypto exchange platforms based in China. Their operations have started in 2013. Due to a brief shut down due to security, Gate.io made its way back into the industry in 2017, with stronger security and privacy features.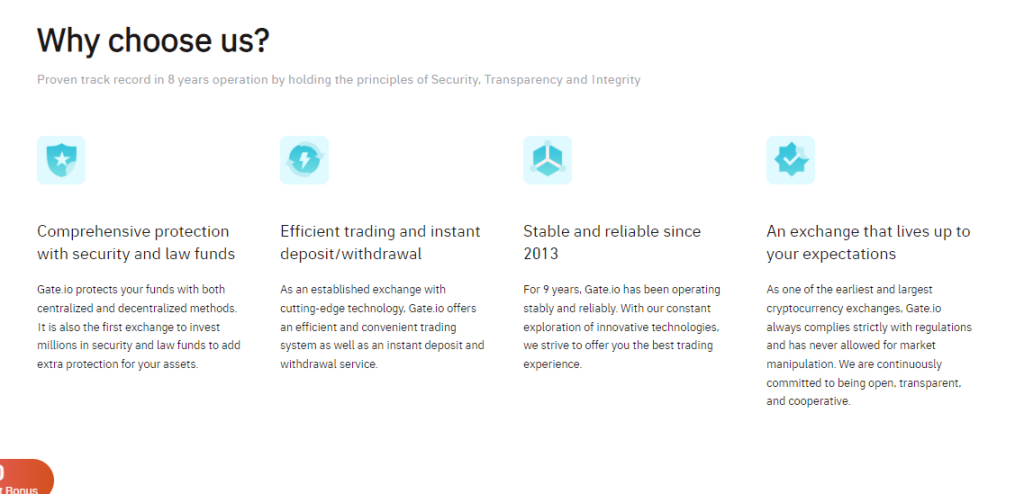 Gate.io offers traders numerous cryptocurrencies to invest in, and margin trading with leverage, and other financial services like margin lending or borrowing. Gate.io can be operated in all the countries on the globe except for Washington, New York, Cuba, Sudan, Syria, Iran, North Korea, Venezuela, Pakistan, and Crimea.
Gate.io does not ask for a deposit fee when you get started on the platform. However, this Cayman Islands headquartered platform does charge a small amount during withdrawal. With the lowest trading fees of 0.2% in the market, Gate.io does not support fiat currencies. Gate.io has a solid customer support system – 24/7 Live Chat options, Email, ticket submissions, and FAQs support.
Fees and charges
Gate.io charges the lowest trading fees in the industry with only 0.2%. The minimum order size on Gate.io is $10. For deposit fees, Gate.io does not impose any fee. A small amount is charged during the time of the withdrawal.

Gate.io offers its most active traders with useful trading fee discounts. The discount also applies to the standard 0.2% trading fee.
Withdrawal
To withdraw, Gate.io currently does not support fiat currencies. However, you can link your crypto wallet to your account for free and withdraw. The withdrawal from the website is seamless.
Just click on the wallet icon on the top right corner of the page and withdraw. Gate.io also has a withdrawal limit for the traders. There must be a KYC verification for withdrawal.
Deposit
Deposits, as mentioned earlier, are free on Gate.io. Just click on the wallet icon on the website and deposit your currency. For pure cryptocurrency exchanges, deposits are processed immediately.
Since Gate.io does not accept fiat currencies, you will have to transfer your cryptocurrency to exchange. However, due to lack of easy deposit methods, beginner traders might find Gate.io hard to use.
Security and Privacy
Gate.io made a comeback in 2017 after briefly shutting down due to its security issues. Now, the users have multiple options to keep their account secure.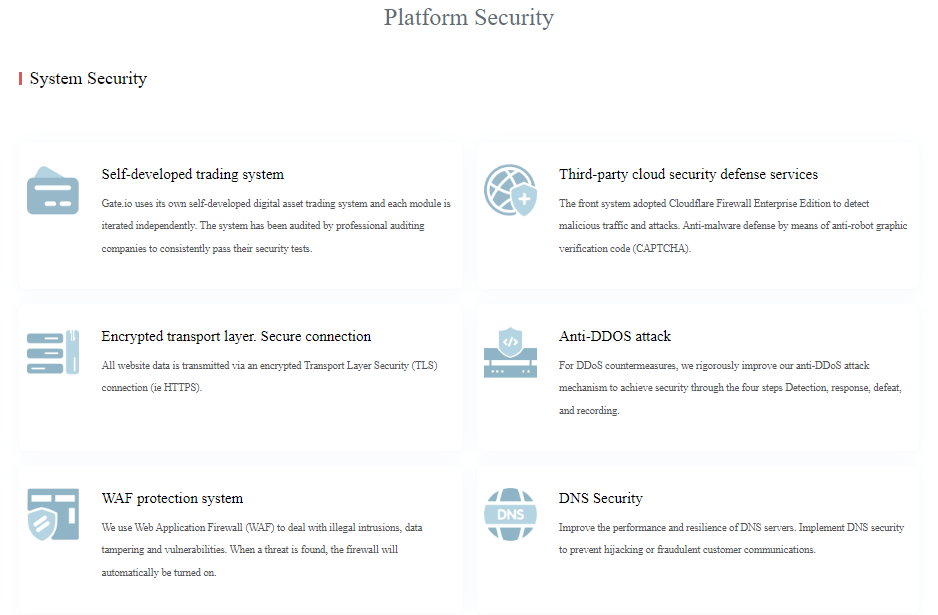 Traders can opt for Two-factor authentication (2FA) with Google Authenticator. While logging in, trades will have to verify each time. This option can be turned off from the backend. You can also secure your account with Additional fund withdrawal passwords, anti-phishing code and blind IP logins.
Gate.io safeguards hot and cold wallets both.
As a trader, you will have to have a verified KYC to start your investments. centralized and decentralized methods. Gate.io is also the first exchange, according to the platform, to invest millions in security and law funds to add extra protection for your assets.
Support
Gate.io offers multiple sections for the customer support.
24/7 Live chat box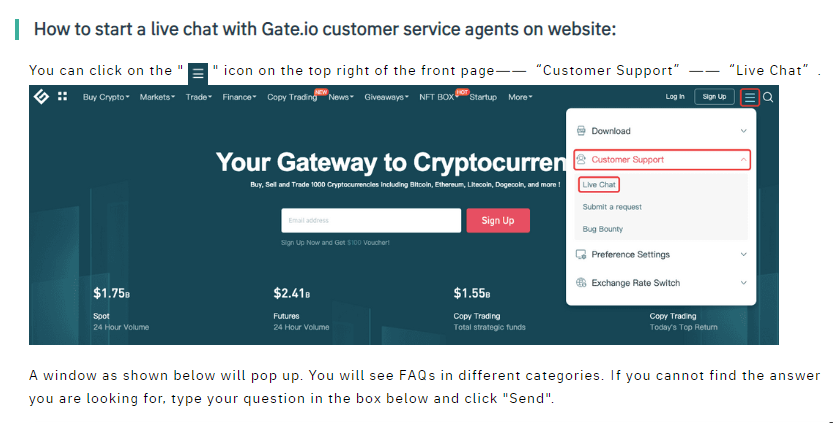 There is a live chat box on the website and the mobile app for the traders to help them easily browse the many features of the website. The auto generated chat box offers answers to basic questions.
Ticket system
Gate.io has a ticket based answering system. If you have a problem with the functionality of the website, you can simply generate a ticket with your chosen problem. You can expect a reply from the staff in less than 24 hours.
Social media
Gate.io is very active on social media. If you have a problem or an issue, dropping a simple direct message on their Twitter accounts, or Instagram can be the right choice. From our research, we understand that this is the more feasible option for the users.
Help centre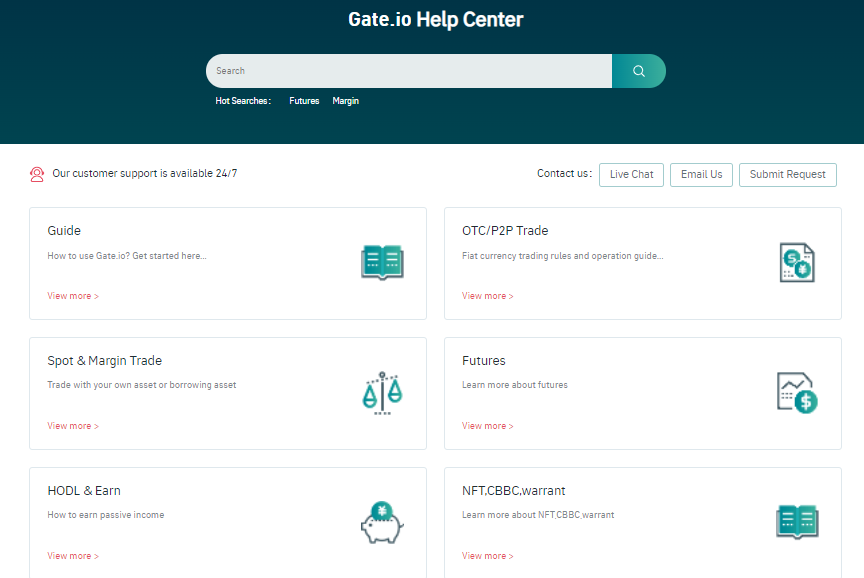 On the website and the app, the traders can find an extensive help centre, which includes a full guide on the features of the platform. Traders can browse here to find what they are looking for

FAQs
Though not their best suit, the frequently asked questions box on the website does answer some of the most asked questions, but not very targeted towards the users. Most questions here are self-explanatory.
Just like many other altcoins platforms, Gate.io does not have the strongest support system (which we think it should), but traders can still get in touch with the company staff themselves to get answers to what they are looking for.
Pros and Cons
Pros

Trading fee: The main advantage of using Gate.io over any other platform is their low trading fees. Gate.io only charges 0.2% trading fee.
Website: Gate.io website is targeted to be extremely user friendly. From margin trading, spot trading to borrowings and lending, there is an option for every transaction. The website has a livestock option for traders to track their investments. There is a live 24/7 chat box option that answers basic questions. And there is a whole section for mining.
IEO: Gate.io offers one of the best initial exchange offerings on its platforms.
Operations: Gate.io can be used in almost every country in the world. Gate.io supports over 800 cryptocurrencies and can be the best option for professionals.
Rewards: Gate.io rewards its users for regularly using its services. for certain tasks, traders can redeem their rewards and cut down on fees.
Fiat deposits: One of the major drawbacks when using Gate.io is that fiat currencies are not accepted. Traders will have to transfer cryptocurrencies to exchange. This makes it almost impossible for beginners to trade on the platform.
FAQs: While we have given points for the security and support system on the platform, Gate.io does lack when it comes to FAQs. Most questions are the ones you might find easily on the platform itself or are self-explanatory. The FAQs are not targeted towards the website or the platform's operations.
# 4 Key Features Of Gate.io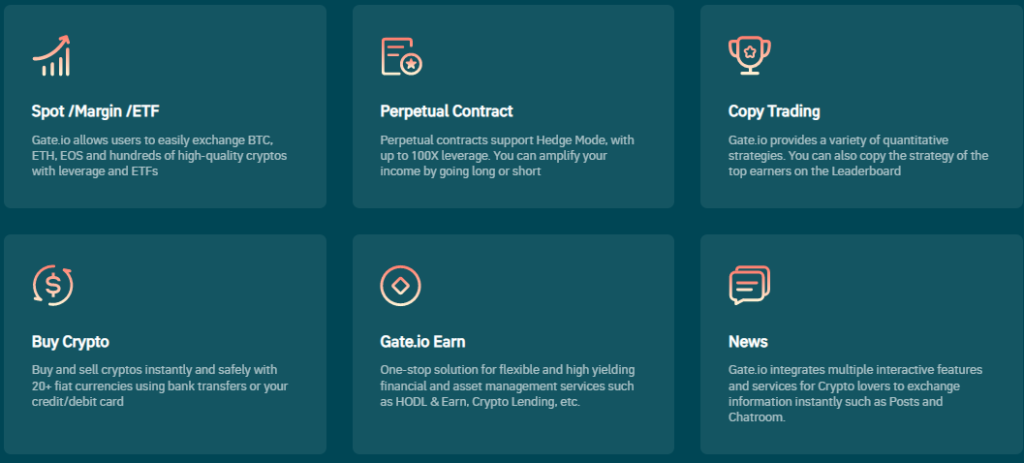 Rewards
Gate.io traders can avail points that can be exchanged to avoid fees. As a trader, you will be required to do specific tasks, which will determine the points that you will be getting. Novice, Experience, Trading Volume, and Growth are the four categories of tasks, and each category has some specified tasks that come along.
Ease of the platform
The Gate.io platform stands as one of the most seamless platforms out there. It has many features for traders – lending, borrowing funds, participating in period investment plans, mining and many more. The website has how-to options for traders to check before getting in.
Cryptocurrencies
Despite not supporting fiat currencies, Gate.io has 400 different cryptocurrency markets and 180 different coins, making it the perfect platform for any trader. However, not for starters who are unwilling to exchange for cryptocurrencies before deposits.
Low fees
Gate.io charges the lowest trading fees in the market with only 0.2%. The minimum order size on Gate.io is $10. For deposit fees, Gate.io does not impose any fee.
Conclusion
If you read our review, you might be able to figure out if Gate.io is the right platform for you. From our review, we suggest that if you are a beginner, then this might not be the right platform for you. If you are a professional, you will find all your options on Gate.io.

The platform is user oriented, and the menu has multiple choices of trading to choose from. The security is on the point and traders can expect 100 per cent privacy when using the platform. Gate.io lures the traders with its lucrative 10x margin trading, perpetual contracts, the best IEO platform and financial services like Margin Lending, Borrowing or Periodic Investment Plans.
Hence, Gate.io is the one stop shop for traders. You can also download its mobile app for the same features. Gate.io's reward system is also tempting and keeps the traders on their toes with its extensive programmes. Traders will have the freedom to use many cryptocurrencies at the same time.
FAQs
How to open an account on Gate.io?
On the website, click on 'Sign up'. You will be asked to fill in multiple fields on the form. Fill in your username, email and password and click on the region you are in. You will receive a confirmation email on your email address to finish the setting up process. You can then login again.
Can I use Gate.io in the U.S?
Gate.io can be operated from all the countries in the world. However, some states in the US cannot access Gate.io. If you are from Washington or New York, you will not be able to use the platform.
Is Gate.io safe?
Gate.io was once shut down due to security reasons. Now, security is their strongest suit. Gate.io's security protocols have top ratings from CER (Crypto Exchange Rates,) and has several security mechanisms and safety precautions.
Is KYC mandatory for transactions?
Gate.io does not require you to have your KYC for the deposit, but it is mandatory for withdrawal.
What is the smallest amount that I can trade?
Gate.io allows the minimum order size to be at least $10 value.
How do i withdraw my money from Gate.io?
To withdraw your earnings, simply go to your cryptocurrency wallet. Then enter your withdrawal amount, and a supported address. The platform will charge a small fee for withdrawal. You can easily withdraw.