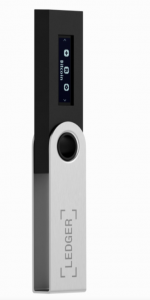 Product Name: Ledger Nano S
Product Description: Ledger Nano S is a hardware wallet (Also Known as Cold Wallet) to store crypto assets with more security. Dimensions and Weight Ledger Nano S Size: 104mm х 58 mm х 5mm (4.1in х 2.3in х 0.2in) Weight: 16.2gm Microcontrollers and connector: Chips ST31H320 (secure) + STM32F042 USB Type Micro-B CC EAL5+ (Certification level)
Brand: Ledger
Offer price: $59
Availability: InStock
Security

Customer Support

Multiple Cryptocurrency Storage

Development and Updates
Ledger Nano S Review Summary
Ledger hardware wallet is one of the most popular and trusted crypto hardware wallets that provides offline storage of digital funds. The risk and security measures followed in order to make the product safe are effective. It is inexpensive as compared to the alternatives and is produced by a reputable company. Ledger Nano S supports tons of cryptocurrencies and has an easy-to-use interface.
Pros
Affordable ledger wallet
Top-tier security measures
Regular development and updates
User friendly
Cryptocurrencies selection availability
Cons
Low resolution and small screen
Limited storage capacity
No open-source firmware
We all are pretty much aware of the fact that crypto wallets are one of the basic necessities when it comes down to crypto investing & trading. You must also be familiar with the fact that different types of crypto wallets exist today, making the whole selection process harder and perplexing for the users.
In this Ledger Nano S review, we will be going over the basics of crypto wallets, how they work and the different types of wallets we have access to. We will be discussing Ledger Nano S in detail, from its technical specifications to the security measures to is it actually worth the hype. I dare say, this ultimate Ledger Nano S review is all you need, to know everything about this hardware wallet.
Crypto wallet: Overview
A crypto wallet acts as an interface that allows users to interact with the blockchain network and the digital assets held in it.
How do crypto wallets work?
Whenever a client creates a crypto wallet, they are assigned multiple public keys and a unique private key. A wallet's public keys represent multiple different public addresses that could be used to receive the cryptocurrencies to the same one. The private key, however, is like a key to a safety box; anyone with the key can access your assets that are present in the wallet.
Blockchain, a public ledger stores the relevant data in something called blocks. These "relevant data" are the records of all the transactions, the owner of the key of those funds, and the asset balances at a given address. Crypto-related assets are present on blockchain and everyone on the network can see those balances at any given time.
To send the crypto funds, one needs the correct wallet address of the person they are sending it to and vice versa.
Types of crypto wallets:
Hot wallets: These are digital wallets that are easily accessible through laptops, desktops and mobile devices. Crypto exchanges, online and software wallets are all examples of hot storage wallets. Some of these wallets are operated by third-parties which means that they control and manage the private keys associated with wallets. Furthermore, these wallets are exposed to the internet making them vulnerable to hacking, phishing and other attacks that could lead to theft of client's assets.
Cold wallets: These wallets operate in an offline environment while still guaranteeing access to your crypto assets at any time and provide more security. They are, however, less convenient and accessible as they have to be inserted/connected to the devices before every use. For example, Hardware wallets.
Ledger Nano S: Overview
I think we have already established the fact that Ledger Nano S is a hardware wallet. Ledger launched Ledger Nano S in 2016, which is a multi-currency hardware device.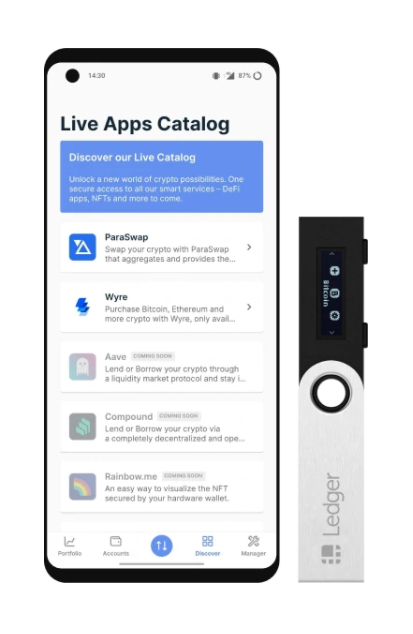 It stores a user's private key in an encrypted, offline environment and allows them to perform all the operations when connected to a phone or computer, without the risk of the private key ending up on the internet.
Ledger Nano S: Cryptocurrencies supported
Ledger Nano S can store over 1000 different types of crypto-related assets. 23 cryptocurrencies are directly supported by Ledger while others can be integrated via third-party applications. Some of the crypto coins that can be stored in Ledger Nano S are:
Bitcoin
Ethereum
Litecoin
Zcash
Hcash
Ripple
Monero
Stellar
Cosmos
Bitcoin Cash
Ethereum Classic
Tether
It is to be noted that, the Ledger Nano S hardware wallet cannot store fiat currencies.
Price
Ledger Nano S costs around $59 USD according to their platform's current price. The company occasionally free ships the product in the US and a few other international countries, if not, the additional fee is charged for shipping.
Security
The main reason for people to buy hardware wallets or Ledger products is the safety and security of the crypto assets.
Ledger provides industry level security for their hardware wallets by using an operating system called BOLOS, which is integrated to a secure chip.
The product has CC EAL5+ certification level and the chips are ST31H320 (secure) + STM32F042 protected.
On the personal level, users have to set a 4-to-8-digit PIN number. After the entire setup, anyone can enter this PIN only three times, if incorrectly filled, Ledger will go into timed lockout.
Users also have access to a 24-word recovery phrase or seed which is unique and acts as an added security layer. It should be written down somewhere safely, if in case the users forget the PIN, it could be used as a passphrase or backup password.
Ledger has multi-signature support. That is, some investors use multiple or at least more than one hardware wallets to sanction the transactions. So, even if the hackers do get access to one of the wallets, they still need to crack others in order to gain access to the funds.
Ledger also provides regular updates against firmware and phishing attacks.
To make sure the device is genuine and not physically tampered, Ledger offers a software solution through a tool, called Root of Trust. When the tool is run on the device it receives a message from Ledger's server and can only be responded to if the device has a specific private key. If, in case, the device cannot respond to the message that means that the product is a knock-off.
Packaging & Technical specifications
The Ledger Nano S hardware wallet packaging consists of one hardware wallet, 1 USB cable, 3 recovery sheets, 1 getting started leaflet, and 1 keychain strap.
The device is made from brushed stainless steel and plastic, is compact and small, with size dimensions as 104mm х 58 mm х 5mm.
Upto three applications can be installed on Ledger Nano S at a time, is compatible with over 50 wallets, independently certified by ANSSI, has 24-word recovery phrase, screen resolution of 128 × 32 pixels, can manage over 5,500 coins and tokens with the Ledger Live app via computer or Android phone, iPhone and much more. 
Compatibility
The device is compatible with the following hardware and 64-bits desktop computer/operating systems:
Windows 8.1+
macOS 10.14+
Linux
Android
iOS (only in consultation mode)
Ledger Nano S Device Setup
You will be required to download Ledger Live app on your mobile or computer as it will help in authenticating your device, manage accounts and apps, create wallets and do trade transactions.
After installing the Ledger live app, insert your hardware wallet into your device's USB port.
"Configure as a new device" must be shown on the device, press the right button for yes.
After that, users will be prompted to create a 4-to-8-digit PIN number which can be done by pressing both the buttons at the same time. Confirm your PIN by entering the password again.
After the PIN has been created, you will be asked to write your 24-word recovery phrase.
Each of the words will be shown separately and after being done with it, the device will ask for some of the words to be re-entered.
Once you are done setting up the 24-word passphrase, your hardware wallet is ready to use.
Pros & Cons
Ledger Nano S: Pros 👍
Affordable ledger wallet: The Ledger Nano S is budget friendly cold storage wallet and costs around $59 excluding any shipping charges.
Top-tier security measures: Ledger goes a few extra miles when it comes to the security of their product. They are audited independently by ANSSI while offering multi signature, 4-to-8-digit PIN number, 24-words recovery passphrase, tools like Root of Trust and many more safety measures.
Regular development and updates: Ledger releases new updates in order to keep the devices up-to-date and ensure it is resistant to malicious attacks while constantly making the product better.
User friendly: The device is easy to understand and use. It just has two buttons which need to be pressed depending upon your choice to sanction something or not.
Cryptocurrencies selection availability: The number of crypto-related assets that are supported by Ledger wallet is over 5500, thus providing a wide range of digital assets for users to select from and trade in.
Ledger Nano S: Cons 👎
Low resolution and small screen: The size dimensions of the device are 4.1in х 2.3in х 0.2in and screen resolution of 128 × 32 pixels, which makes the whole point pretty obvious.
Limited storage capacity: The device can only install upto 3 applications that too depending on the size.
No open-source firmware: Ledger's firmware is not an open source, thus prohibiting the clients from independently auditing the firmware's security.
Ledger Nano S Review Summary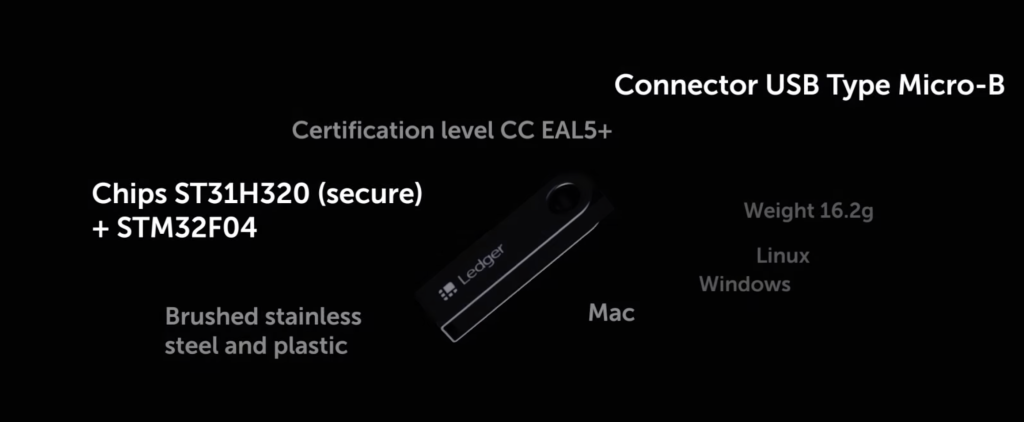 Ledger hardware wallet is one of the most popular and trusted crypto hardware wallets that provides offline storage of digital funds. The risk and security measures followed in order to make the product safe are effective. It is inexpensive as compared to the alternatives and is produced by a reputable company. Ledger Nano S supports tons of cryptocurrencies and has an easy-to-use interface.
Is a Ledger Nano S Worth it?
The specifications, security measures, crypto-assets selection, everything at the cost of $59? Our stance regarding is it worth it? Absolutely, Yes. 
Winding up our Ledger Nano S review with some of the most frequently asked questions.
FAQ's
Q1. Can you store multiple crypto coins with a Ledger hardware wallet or just Bitcoin? 
Investors can store coins in over 1000 cryptocurrencies that are supported by Ledger hardware wallets directly or via third-party applications. 
Q2. Can I put ADA tokens in my Ledger wallet? 
Yes, you can put your ADA tokens in the Ledger wallet and can manage them through third-party applications like YOROI or AdaLite.
Q3. How can I move my Ethereum from Kraken Exchange to Ledger Nano S?
Follow the steps given below to transfer Ethereum from Kraken exchange to Ledger Nano S: 
1. Open the Ledger live and click on the "Receive" button option of the cryptocurrency or token you want to use.
2. Connect your Ledger hardware wallet to a computer or mobile and open the desired app.
3. Verify the address shown on your device and if it corresponds, then click on the "copy address" option.
4. Log in to Kraken exchange using your credentials and click on "Funding" and then the "withdrawal" option.
5. Choose Ethereum as the crypto asset, enter the earlier copied address and the amount you wish to withdraw.
6. Verify the details entered and once satisfied, click on "Confirm withdrawal". 
Q4. How can we verify if the ledger wallet is legit?
Follow the tips given below to ensure you have got the genuine Ledger Nano S wallet: 
1. Purchase your ledger wallet directly from Ledger or through the authorized reseller.
2. Check the contents of the packaging which should include a Ledger Nano S, "Getting Started" leaflet, a "Knowledge is power" card, either one or three blank Recovery sheets (depending on the production date), Additional accessories (keychain and a lanyard) and packaging (unmarked foam/cardboard).
3. The device should have factory settings, that is, it should display the Ledger Logo when switched on and when the buttons are released "Welcome to Ledger Nano X" should be displayed.
4. Ledger never provides a PIN code in any way, shape, or form and so if it asks for one without you setting it up in the first place, chances are the device is compromised.
5. Check authenticity with Ledger Live. The devices come with a unique private key and only genuine Ledger wallets will be able to provide the cryptographic proof required to connect the device with Ledger servers.