Bitsgap and 3Commas, both are reputable companies and are well known in the crypto-community for their automated trading bots.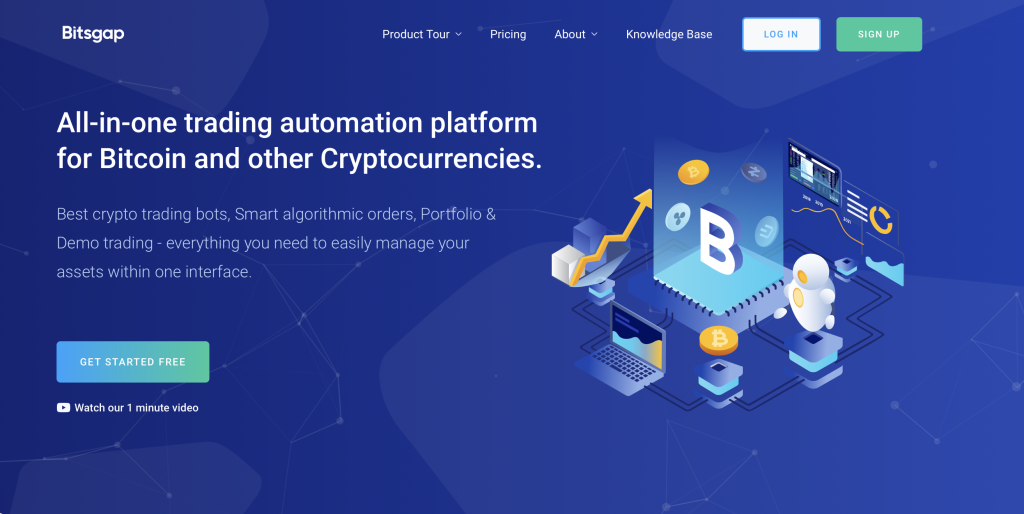 In this Bitsgap vs 3Commas, we will be comparing both the organizations in depth on the basis of pricing plans, trading bots, supported crypto exchanges, security measures, customer support, additional offered features along with pros and cons.
About Bitsgap & 3Commas
Bitsgap is an "all-in-one trading" platform founded in 2017 with their headquarters in Estonia. Bitsgap have massive number of users and has garnished popularity due to the services they offer such as arbitrage trading, automated bots, cloud-based terminal, portfolio management services along with additional features. The company is revolutionizing the way crypto assets are traded using high frequency concept.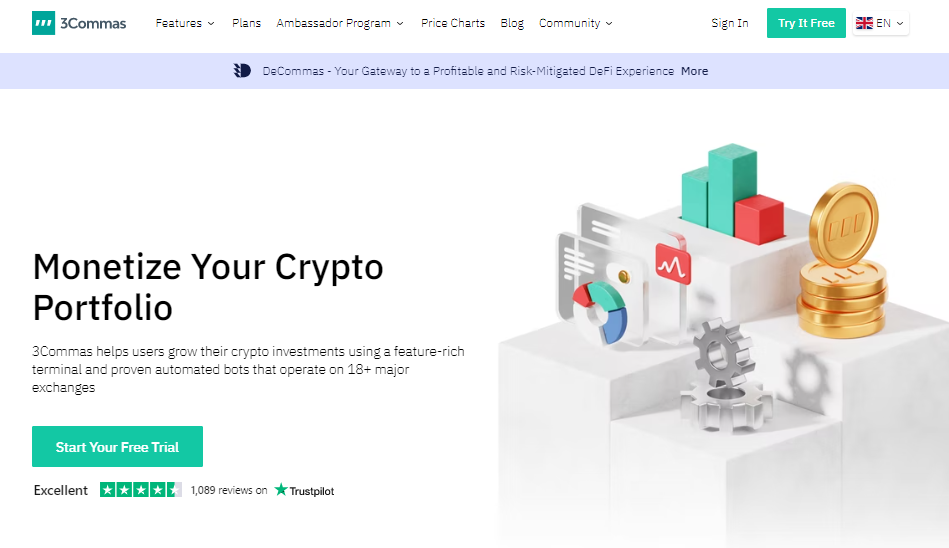 On the other hand, 3Commas was also founded in the same year with their headquarters in Toronto. The company has over 220K registered users worldwide and offers them services like automated bots, smart trade, trading terminal, marketplace signals and many more.
Pricing Plans
In this category of Bitsgap vs 3Commas, the latter is a better option since it offers 20 basic features along with a $0 plan.
It is to be noted that Bitsgap does not provide refunds on cancellation of subscription plans whereas 3Commas users are entitled for partial refund.
Starting with the subscription plans offered by both the companies. They both accept payments via Visa, Mastercard, PayPal and cryptocurrencies.
Bitsgap Paid Plans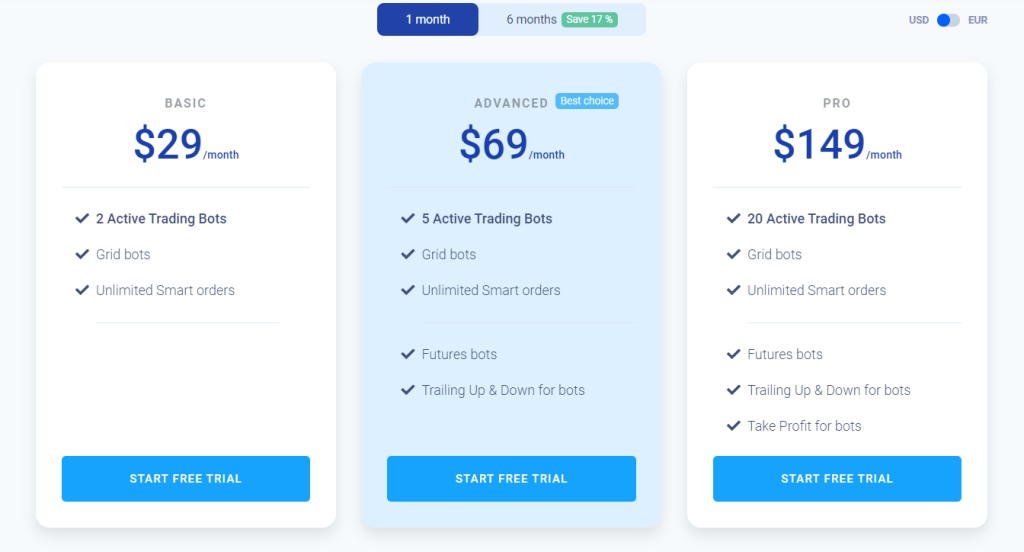 Bitsgap offers three different paid subscription plans, namely, basic, advanced and pro, on a monthly and semi-annually basis. All three plans offer consolidated portfolios, trading bot strategies, TradingView signals, crypto exchange support, demo practice mode, mobile web version, cloud trading, live chat and email support. A 7-day free trial is offered to users for every plan.
The "basic" plan costs $29, "advanced" plan $69 and "pro" plan $149 on a monthly basis.
3Commas Paid Plans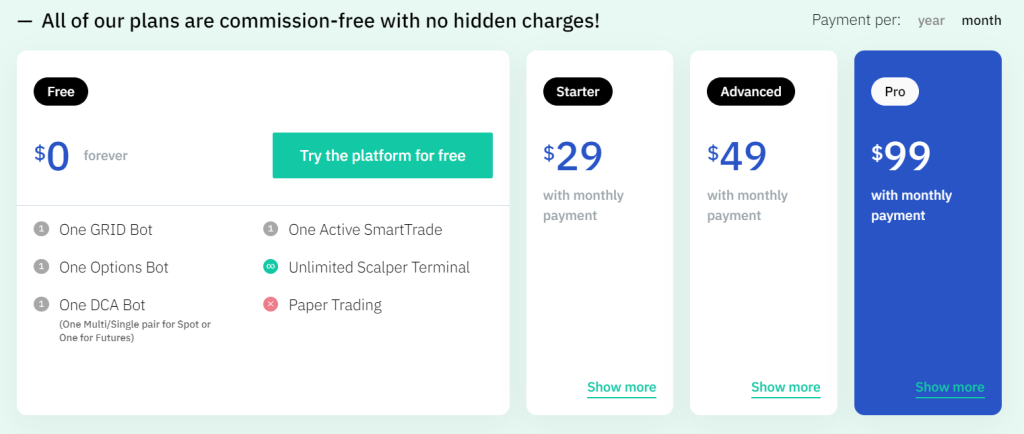 3Commas offers three paid plans on a yearly and monthly subscription basis. It also offers a free plan which allows traders to try a limited number of services without any charges. All the plans offer portfolio management, free mobile application, TradingView integration, trailing, stop-loss, support to exchanges and over 16 additional trading features. A 3-day free trial is available for all the users with pro plan features. 
The "starter" plan costs $29, "advanced" plan $49 and "pro" plan $99 on a monthly basis. Not to mention, a $0 plan with over 20 features.
Features
Bitsgap
3Commas
Supported Crypto
Exchanges
Over 20
Around 18
Pricing plans
Basic – $29
Advanced-$69
Pro-$149
Free-$0
Basic – $29
Advanced-$49
Pro-$99
Free-trial Period
7 days
3 days
Payment Options
Visa, Mastercard, PayPal
and cryptocurrencies.
Visa, Mastercard, PayPal
and cryptocurrencies.
Automated bots
strategies
Grid, DCA, combo
and HFT

Grid, DCA, options
and copy bots strategy
Additional
features
Arbitrage, Automated
portfolio, signals, Trading
terminal, Demo account
EWallet, Marketplace
signals, Portfolio,
Trading terminal, smart trade,
paper trading
Customer Support
Email, Telegram, Blogs,
Knowledge Base, live chat
Email, Telegram, Discord,
Blogs, Knowledge Base
Security
2FA, 2048-bit encryption,
restricts withdrawal of
funds, API lockout
2FA, encryption, disable
withdrawal funds option
Compatibility
Web-based desktop
and mobile version
Mobile website, desktop site
and mobile application
Crypto Exchanges supported
Bitsgap platform supports over 20 crypto exchanges and allows investors to trade cryptocurrencies from a single platform. Some of the available exchanges are Binance, OKEx, Coinbase Pro, Kraken, Gemini, BitFinex, Huobi, Gate.io, etc.

On the contrary, 3commas currently supports around 18 crypto exchange platforms. Some of the popular crypto exchanges available are Binance, Gemini, Bitstamp, FTX, BitFinex, OKEx, Gate.io, Kraken, Bybit, Coinbase Pro, etc.

Both the platforms support the majority of popular cryptocurrency exchanges, however, Bitsgap wins this point, since it does offer more options to users.
Features
Let's look into some of the important and similar features that are offered to traders by Bitsgap and 3Commas.
Automated Trading Bots
Bitsgap
The AI bots are powered through machine learning via a number of algorithmic codes, which automatically adjusts users' buy and sell limits according to the price variations of cryptocurrency. They offer grid (Sbot), Classic bot, combo and scalper bots.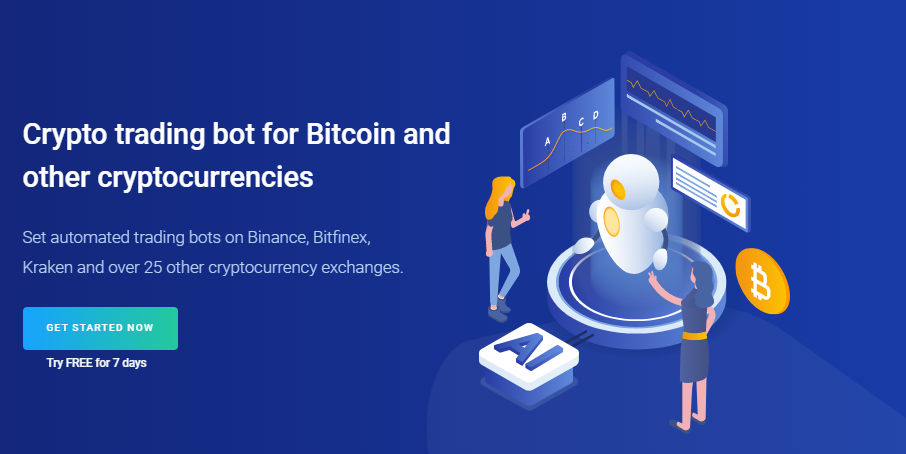 Grid bots work effectively when trading with the cryptocurrencies that are without trend and move horizontally in the range.
Classic bots work effectively when trading with the cryptocurrencies with uptrend.
Combo is a futures bot that uses grid and dollar-cost averaging (DCA) algorithms and generates profit from both uptrend and downtrend of the market.
Scalper bot is based on High-Frequency Trading (HFT) algorithm which generates profits from tiny price fluctuations.
3Commas
3Commas offers bots based on three different strategies, which are Grid, Dollar-cost averaging (DCA) and Options Bots.
DCA bots offered are "Gordon" and "Advanced" bot. It generates a better average price for the user's position by dividing the initial fund and investing them at set intervals.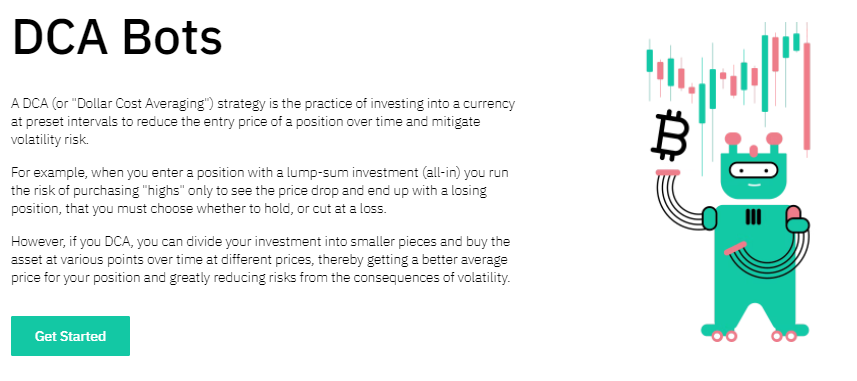 Options bots work on the contract between seller and buyer. It gives the option buyer the choices to either purchase the underlying assets at a set price or sell them.
3Commas enables users to create their own bots while also offering them the choice of viewing and copying the bots of crypto experts.
Paper Trading
This feature is great for people who want to gain experience of the real crypto market and test strategies without facing the risk of losing their funds. Both the company offers Demo account or paper trading and provides the following:
Bitsgap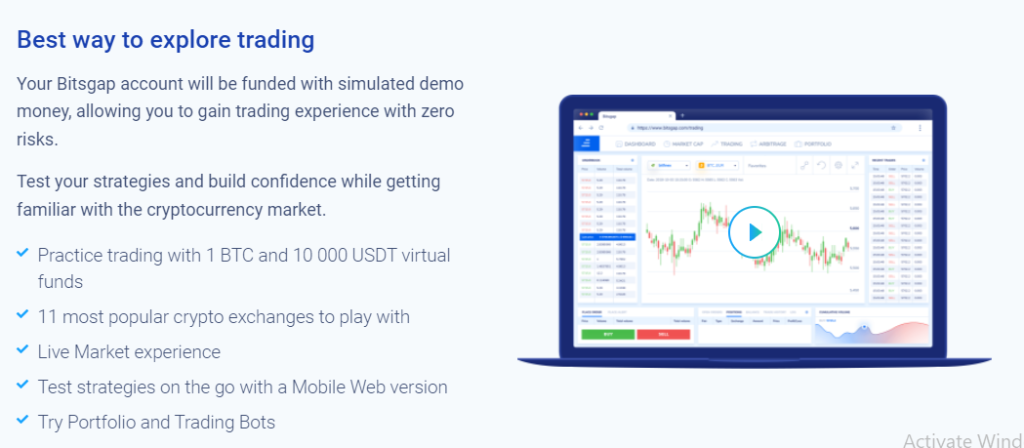 Demo accounts provide stimulated virtual funds of 1BTC and 10,000 USD to users, grant access to 11 popular crypto exchanges, automated portfolio and trading bots.
3Commas

The paper trading account provides stimulated digital assets of 10, 000 USDT, 300 BNB, 50 ETH and 1 BTC as account balance. The platform grants only 100 trade orders by a user and charges 0.1% per order.
Additional features
Bitsgap
Trading Terminal
The trading interface is user-friendly and enables investors to manage and trade their digital assets present in different exchanges from a single platform. The users are offered day and night modes along with both desktop and mobile web versions of the terminal.
Some of the integrated attributes and investment tools provided are shadow orders, smart orders, TradingView charts, over 100 technical indicators, stop-limit orders and market & limit orders, trade visualization and smart drawing tools along with 12 types of customizable charts.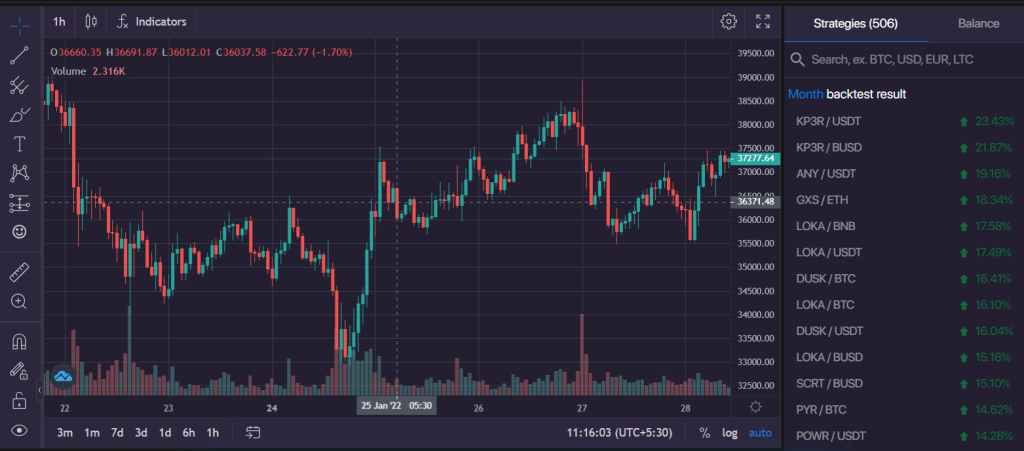 Arbitrage:
The tools are offered so that users can exploit potential arbitrage trade opportunities and benefit from the fragmented market place and the price differences.
Bitsgap provides automated bots that allow investors to trade arbitrage, as keeping an eye on the markets manually all the time to generate profits is quite impractical.
Portfolio Management:
Portfolio management allows traders to link and track their crypto funds from every exchange by consolidating them in a single place.
Users can specifically lookup for a particular exchange to examine their assets' performance, see the real time balances and trades done. It automatically adds coins and transactions, tracks correctly using trade history and is free.
3Commas
Trading Terminal:
3Commas provides a customizable dynamic interface which provides advanced tools through which users can manage multiple exchanges accounts from one interface.
The platform offers attributes such as simultaneous profit take & stop loss, market orders, limit orders, OCO orders, trailing stop loss, trailing take profit, smart cover, manual trading with smart trade, signals, stop loss timeout, smart sell, smart buy, etc.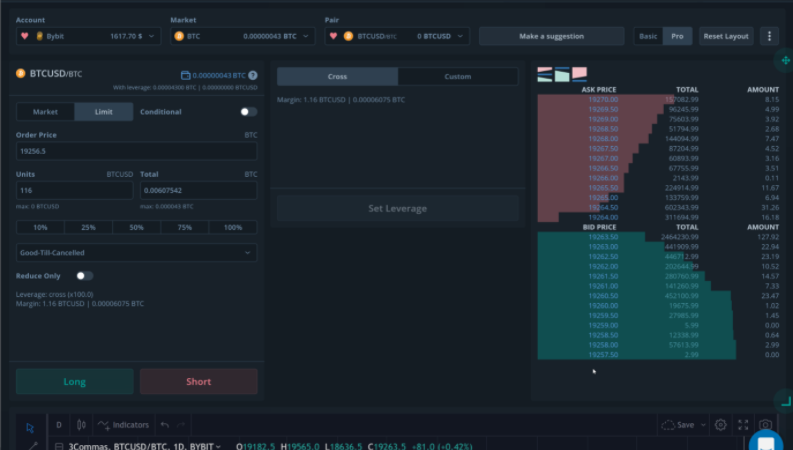 Stop Loss Timeout
It is a unique functionality offered by 3Commas. It delays the closing of trade by the specified amount of time when the prices of crypto assets drop to or below the Stop Loss limit set by traders.
It works effectively when a user experiences an unanticipated fall in the prices of digital assets followed by the sudden rise.
Signal Marketplace:
Signals are triggers that call for an action, be it buying or selling of cryptocurrencies.
These signals are generated by the help of algorithms and strategies created by the signal providers who can offer their services for free or might charge some amount.
EWallet
3Commas wallet lets investors hold, sell, buy, manage and exchange digital funds. It supports over 45 major blockchains with over a thousand different cryptocurrencies. Some of the supported cryptocurrencies are Bitcoin, Ripple, Ethereum, Polkadot, Cardano, Terra, Avalanche, Polygon, Tether, etc.
Security Measures
Bitsgap always prioritizes the risk and security measures and provides in-depth documentation of how they keep their platform's integrity uncompromised. Some of the industry level protocols followed are two-factor authentication(2FA), API lockout on failed attempts to login, restricts withdrawal funds option, uses 2048-bit encryption, does not have access to users' funds and much more.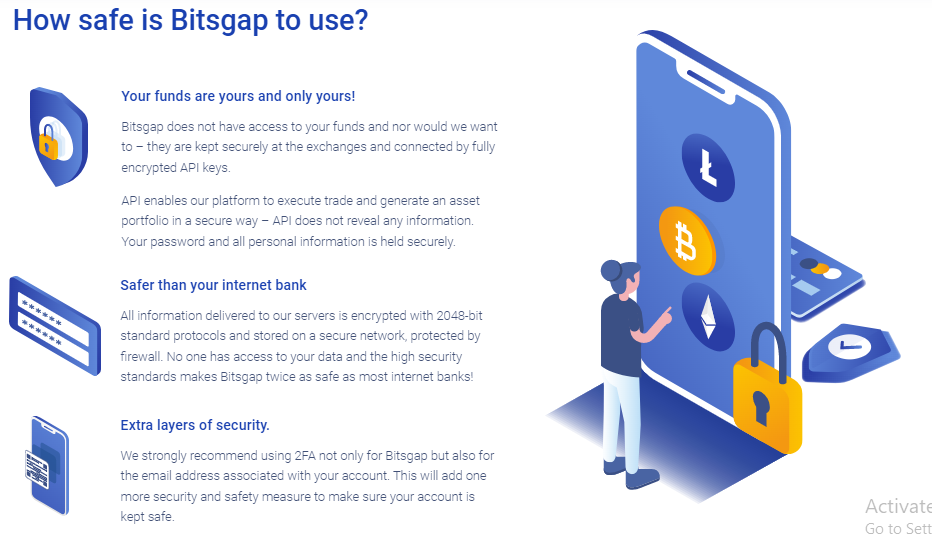 3Commas also uses high security measures but has vague descriptions available about it. They strongly recommend users to use 2FA and turn the withdraw funds option off. They do not have access to user funds either.
Even though both platforms are reliable and ensure security through various measures, Bitsgap is a little ahead of the game because of the transparency.
Contact Support
Bitsgap provides Knowledge Base which contains detailed FAQs along with tips provided via blog posts. Users can reach the representatives by either of the following ways; live chat, E-mail and telegram.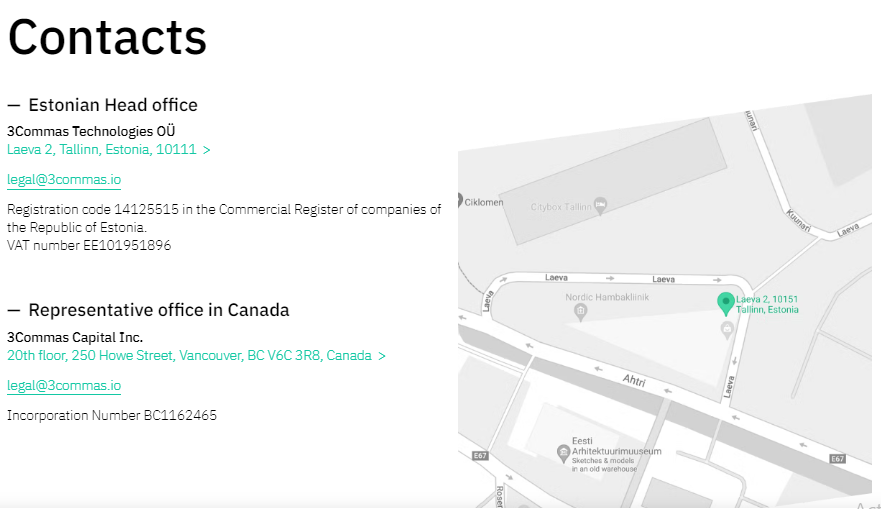 3Commas also provides Knowledge Base which consists of a number of articles regarding their services and offers Academy features for users who want to learn more about the crypto world. One can reach them through E-mail and virtual communities like telegram and discord.
Bitsgap Pros & Cons 
Pros
Supports over 20 major crypto exchanges.
Offers a 7-day free trial to customers for all the plans.
Provide arbitrage trade opportunities to investors.
Cons
Does not offer mobile applications.
Subscription plans are quite expensive in comparison to their competitors.
3Commas Pros & Cons
Pros
Affordable subscription prices along with a free plan.
Is available in website version, desktop version along with mobile application.
It is easier to use and has received positive feedback from traders over the years due to copy bot strategy.
Cons
Lack of information about the security measures they follow.
Short period of free-trial offered.
Bitsgap vs 3Commas: Comparison Summary
Crypto exchange availability: Bitsgap supports more than 20 exchange platforms whereas 3Commas around 18.
Pricing Plans: 3Commas subscription plans are more affordable than those offered by Bitsgap.
Security measures: Privacy and security methods followed by both the companies are reliable. Bitsgap in this regard is more open and transparent than 3Commas.
Features: Bitsgap and 3Commas, both the companies offer some very unique as well as similar kinds of features and which one is better depends upon the trader's needs.
Customer Care Services: Both the platform offers customer support through emails, virtual communities and lack in phone call support.
FAQs
Q1. What exchanges work with 3Commas? 
3Commas supports the following cryptocurrency exchanges: 
Binance, FTX, Huobi, OKEx, Bybit, KuCoin, Gate.io, BitMEX, Kraken, BitFinex, Deribit, Binance US, Bitstamp, Gemini, Bitterex, Coinbase Pro, Poloniex, FTX.US and Binance Futures. 
Q2. What is Bitsgap? 
Bitsgap is an "all-in-one trading" platform where investors can metaphorically, bring their cryptocurrency exchange accounts together and manage them from a single platform.
Q3. Which Automated Trading Platform is Better? 
3Commas and Bitsgap both are reputable and reliable platforms. The security measures and some of the features they offer are similar. Bitsgap is a little more expensive than 3Commas so users might ponder upon that along with what functionalities they require and who provides them. 
Q4. How safe is Bitsgap? 
Bitsgap is safe to use since it follows a number of security and privacy protocols that include 2FA, 2048-bit encryption, API lockout, Email confirmation, restriction on withdrawal funds option, etc.