BlockFi is a start-up cryptocurrency exchange platform founded in August 2017 by Zac Prince and Lori Marquez. Its headquarters is located in Jersey City, New Jersey. BlockFi offers its customers crypto exchange, interest-earning accounts, low-cost USD loans with digital currencies as collateral, and fee-free trading.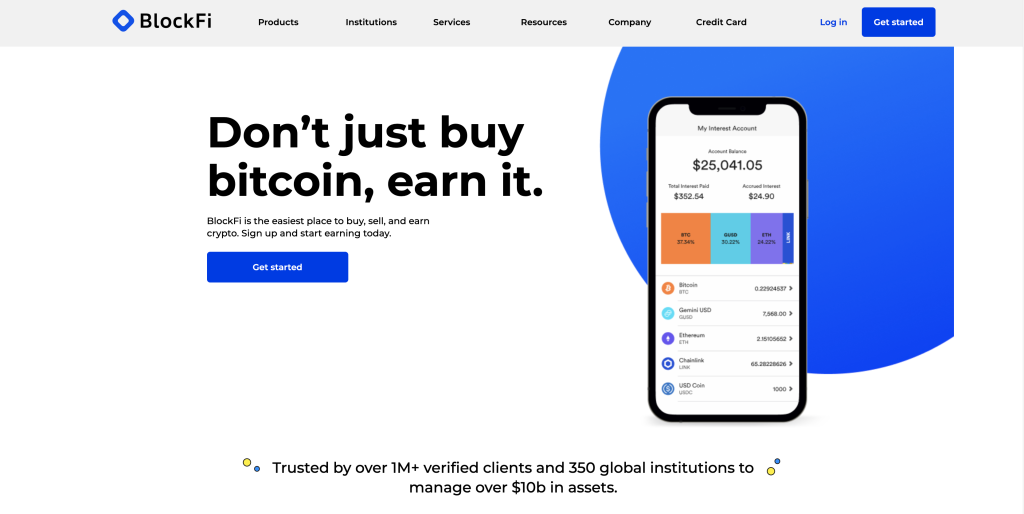 BlockFi is the only lender that is backed by financial institutions that include Valar Ventures, Galaxy digital, Fidelity, Akuna Capital, Coinbase ventures, and SoFi as its leading investors. Gemini Trust Company, LLC, a New York trust company is BlockFi's primary custodian. The company closed on a massive $350 million Series D funding that values it at $3 billion.
How Does BlockFi Make Money?
BlockFi makes money by borrowing the capital at certain rates enabling its clients to earn a yield by lending it to other institutions at higher charges.
It works with counterparties in order to provide them and their business the liquidity they need. Some of these borrowers are:
Over the counter (OTC) market makers are those who connect buyers with sellers who do not wish to transact crypto assets over public exchanges. To meet the demands of their clients instantly they need to keep sufficient funds on hand in the inventory.
Traders and investment funds who see dispersed marketplace and discover arbitrage trading opportunities, where they simultaneously buy and sell crypto assets, in order to take advantage of the differing prices. Therefore, they need to borrow crypto to close in mispricing between fragmented markets or exchanges.
Businesses like crypto ATMs should be able to provide liquidity to their customers so that the funds could be withdrawn anytime, while still keeping the majority of their digital assets in cold storage.
Products Offered By BlockFi 
BlockFi Wallet
Wallet provided by BlockFi is a non-interest-bearing crypto account that allows customers to store, transfer and manage the cryptocurrencies and Stablecoins that are present in their account. BlockFi Rewards Credit Cardholders can store their bitcoin rewards in it.
It has features like allow-listing so that crypto can be withdrawn only to your approved address, two-factor authentication to keep your account personal, and simplified tax reporting which consolidates all the taxable events in one form.
Interest on digital assets can only be earned when they are present in the BlockFi Interest Account and not the BlockFi wallet.
BlockFi Interest Account (BIA)
BlockFi Interest Account is an interest-bearing crypto repository account that allows its users to earn interest paid in the form of digital assets on the eligible cryptocurrency held in one's account.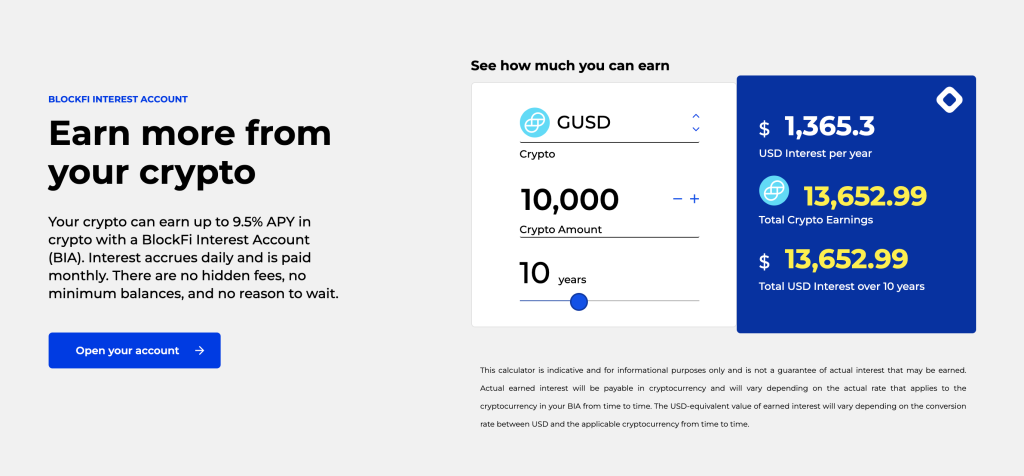 Assets present in BIA do not have Securities Investor Protection Corporation or Federal Deposit Insurance Corp protections. Users are limited to one free crypto and one free Stablecoin withdrawal per month after those charges are applied.
BlockFi Interest Account is available to users worldwide with few exceptions due to regulations imposed by state or nation, like NY for example.
BlockFi pays compound interest on crypto to account holders monthly, increasing Annual Percentage Yield (APY*). BlockFi have a tiered Crypto Interest Structure and current rates are: (Add image)
Tether with an exception of interest rate of 9.5% and 8.5% whereas all other Stablecoins have 9% on deposits under 40,000 and 8% if above respectively.
Crypto-backed Loans
Wanna make major purchases like buying a car, investing in real estate, funding a business, and much more? You can do it all through crypto-backed loans.
BlockFi offers USD loans where crypto assets are used as collateral. To state it simply, users can be given loans in USD, GUSD, and USDC in their bank accounts or wallets while in return they have to pay in cryptocurrency as security down payment.
The amount that can be borrowed and the amount you need to put down as collateral to take out that loan depends on Loan-to-Value (LTV) ratio. Users have to pay interest that can range from 4.5% to 9.75% depending upon LTV and 2% as the origination fee.
Since the volatility of cryptocurrencies is pretty high and so if the value of collateral decreases, a margin call occurs. To make the LTV come back to 50%, more collateral has to be added to your account.
BlockFi Trading
BlockFi trading allows customers to use their funds from BIA and purchase the crypto assets on their exchange platform. You can also deposit the cryptocurrencies that are accepted by BlockFi and exchange it for another.
The recurring trade feature is available to users that enables automatic crypto purchases that could be set on a daily, weekly, or monthly basis.
BlockFi Credit Card
BlockFi Rewards Visa Signature Credit Card lets the user earn an unlimited 1.5% back in Bitcoin or other cryptocurrencies for every purchase made through the card, globally. No annual fee and foreign transaction charges are applied.
The bonus offers currently going on are:
Intro Bonus: Users who will sign up for the card will receive a 3.5% Bitcoin rewards rate for the first 90 days.
Spend Bonus: Cardholders can also earn up to 2% back in Bitcoin on every purchase over $50,000 spent annually.
Trading bonus: 0.25% back in bitcoin on all eligible trades up to a maximum of $500 in Bitcoin each month.
Refer-a-friend bonus: $30 in Bitcoin for every client referral on top of the base Refer-a-Friend program.
BlockFi Fee Structure
BlockFi does not charge any transactional fees for the exchange of crypto assets on its platform. However, you do have to pay the fees when withdrawing the crypto funds and origination charges along with interest rates on the crypto-backed loans.
BlockFi offers one free withdrawal per month on BTC, LTC, and Stablecoins but has stopped this offer for Ethereum blockchain tokens, that is, ETH, LINK, PAXG, UNI, and BAT. 
Digital assets availability
BlockFi currently supports the limited number of cryptocurrencies that include Bitcoin, Ethereum, Litecoin, LINK, Paxos Standard, PAX Gold, Uniswap, DAI, and Basic Attention Token (BAT) along with USD-based Stablecoins like USD coin (USDC), Tether (USDT), Pax dollar (USDP), Gemini dollar (GUSD) and Binance USD (BUSD).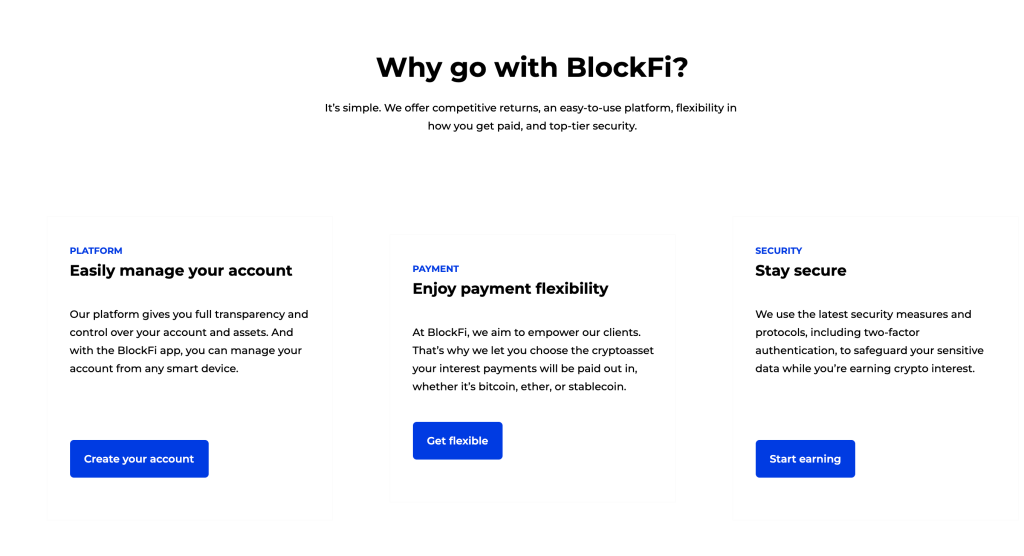 How to Open a trade account on BlockFi?
BlockFi currently offers two types of accounts, namely, personal cryptocurrency interest accounts and business cryptocurrency interest accounts.
For a personal account, one must complete the necessary KYC requirements for it to be approved whereas for a business account additional documents are required during the sign-up process.
To open your account, click on "Get started" present on the top right corner of BlockFi's home page. 
You will be required to fill the form with your legal first and last name along with E-mail address and password. If you have any referral code you can also enter that.
Click on the T&C checkbox and then submit the form.
Enter the verification code sent to your Email address.
Login to your account using the credentials and click on the "deposit" option to verify your identity.
Enter your personal information for the verification process and upload any valid government issued ID card such as Driver's license, passport, etc. That's all that needs to be done from your end (first stage).
If the application approval takes more than 42 hours you can reach out to the BlockFi's customer support.
Few things to remember while opening a business or corporate account:
If you have an individual or personal BlockFi account, use a different email address for a business account.
On the first stage of the onboarding process, enter the personal information and select 'Business' account.
After that you will be required to upload business information along with necessary documents.
Verification of a business account can take upto 5 to 10 business days.
BlockFi Rewards Flex feature
Rewards flex feature lets customers, more specifically, cardholders choose the crypto assets they want to receive as rewards for their purchases done via credit card. Users can be awarded one crypto asset per month.
Presently, BlockFi Rewards Credit Card has enabled an offer for users who sign up for the card to receive 3.5% back in any of the cryptocurrencies or Stablecoins.
User Support Provided by BlockFi
BlockFi offers various tools & tutorials that could be used as guides by beginners as well as crypto experts. Its help center has FAQs with detailed articles explaining the topics. One can find information regarding the company, security, account details, tax center, and much more.
In case of any issues or simply in need of assistance, one can reach out to the company through any of the customer care services that are offered. BlockFi support team can be contacted either by submitting a support ticket through their website or by phone call on number 646-779-9688. The representatives are available Monday to Friday from 9:30 to 5 PM ET.
BlockFi Security Measures
BlockFi is one of the few crypto exchanges that is regulated, licensed, and institutionally backed by various reputable investors.
BlockFi's risk management for client assets is robust. The majority of digital funds are stored in cold storage throughout the network.
It keeps reserves with third parties like Gemini, Fidelity, Coinbase, etc. in order to provide liquidity.
It buys SEC-regulated equities and CFTC-regulated futures which are the investments regulated by the United States government.
BlockFi transfers data using strong encryption which includes techniques like multi-factor authentication, modern ciphers, and supported protocols.
BlockFi has partnered up with Auth0, one of the world's best identity management organizations, to make account authentication and verification processes easier, safer, and more secure.
Pros & Cons of BlockFi
Pros 👍
Even though BlockFi's withdrawal fees aren't necessarily considered as low charges you can limit your withdrawal frequency of crypto assets. But it does offer one free withdrawal of cryptocurrency and Stablecoins per month.
It does not charge any exchange or monthly fees. It doesn't require any minimum deposit amount either.
The company has become known for the financial services they offer. People can use the platform to earn interest off their digital assets or use it for crypto-backed loans.
BlockFi has mobile applications for both iOS and Android users along with a desktop site interface.
The risk and security measures taken into consideration by the organization is top notch. It uses strong encryption tools, allow-listing, multi factor authentication and much more.
Cons👎
BlockFi is not accessible in some regions of residence due to rules and regulations of the state or country.
They offer limited options of cryptoassets to users in which trade and exchange could be done.














FAQ's
Concluding our BlockFi review with some of the most frequently asked questions.
Why do I need to verify my identity? 
BlockFi occasionally asks users to verify their identity to ensure no one but you request to make account-related changes or withdrawals.
Do I still earn crypto interest if I transfer from my BlockFi Interest Account (BIA) to Wallet mid-month? 
Yes, crypto interest accrues on a daily basis, and users are paid interest payments depending on the total number of days the assets were in BIA. 
Do you have a year-end earnings statement for non-US (or all) clients? 
All BlockFi users have access to monthly and annual earnings statements. Currently, these reports are available only when using the desktop website. To access earnings statements, click on the Profile, then select "Reports" in the menu.