One search about the best crypto exchange is all it will take and you will be overwhelmed by the number of crypto exchanges that are out there.
It's true that not being strapped to select from limited platforms is indeed a good thing but, on the downside, it leaves the crypto beginners lost and expert traders wondering about their current choices.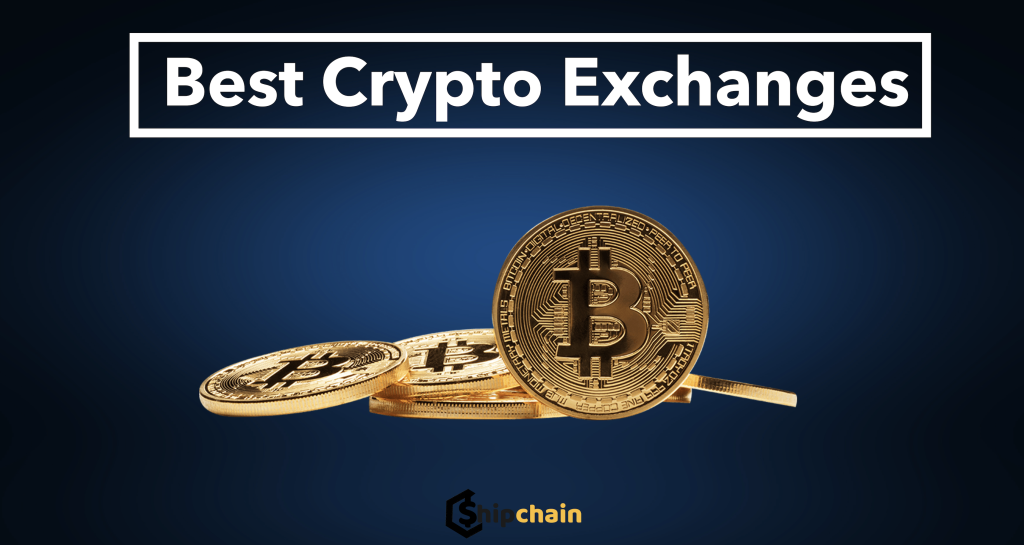 To help you out, let us first look into what Crypto Exchanges are and what to look for before declaring you have found the best crypto exchange platform for yourself.
All about Crypto Exchange:
Cryptocurrency Exchanges are the platforms that allow users to buy or sell digital currencies. These platforms facilitate the trading of cryptocurrencies with other assets, which could be either fiat money or virtual currencies. Acting as an intermediary, they make profits from the commissions and transaction fees.
The transactions of these assets are done through trading pairs. Trading pair could be understood as the market between the assets that are being exchanged, one for the other.
Crypto trading pairs allow users to exchange one type of digital currency for another. For example: Exchanging Bitcoin for Ethereum. Whereas, in fiat pairs, users can exchange the fiat currency for a digital one and vice versa. However, the unregulated centralized exchange takes the custody of our funds to complete the trade and so, we need to be aware of who we give access to our assets.
What makes a Crypto Exchange a Right Choice?
There are a lot of factors that require proper research before we decide which is the best Crypto Exchange platform for us. Some of the aspects that should be considered are listed below.
1. Accessibility:
What use a Crypto Exchange has for you if it's not accessible in the region of your residence. Some exchanges are banned and cannot be used from certain regions due to the regulations imposed by the state or nation.
2. Safety and security:
It's no news that cryptocurrencies are unregulated and the whole crypto sphere is devoid of any central institution like banks in the traditional system.



3. Transaction:
One of the things to look out for is what percentage of your trade you would have to unwillingly give to these platforms as per transaction fee.


4. Asset Reserve:
Make sure the crypto exchange that you choose has more than sufficient asset reserve so that if you plan on buying, selling, or exchanging your crypto you can do it any time.
5. Digital currencies:
There are over 6000 cryptocurrencies that exist as of today but not everyone of them is available for trading on these exchanges.

Popular Cryptocurrency like Bitcoin, Ethereum, and Tether might be available on every exchange. You would require more research and look around if you are thinking of investing in not popular ones, even though many experts advise investing in cryptocurrencies that are widely in use.
5 Best Crypto Exchanges
There are around 380+ Crypto Exchanges available globally and for you to choose from. However, let's go through some of the best crypto platforms that are available and can be the right choice for you. Starting the list with Binance, followed by Coinbase, Kraken, Gemini, and finally Gate.io. Let us discuss each exchange in detail.
1. Binance Exchange
Binance Exchange is the leading cryptocurrency exchange founded in 2017 and is registered in the Cayman Islands. It offers roughly 500+ virtual currencies and tokens for crypto trading pairs.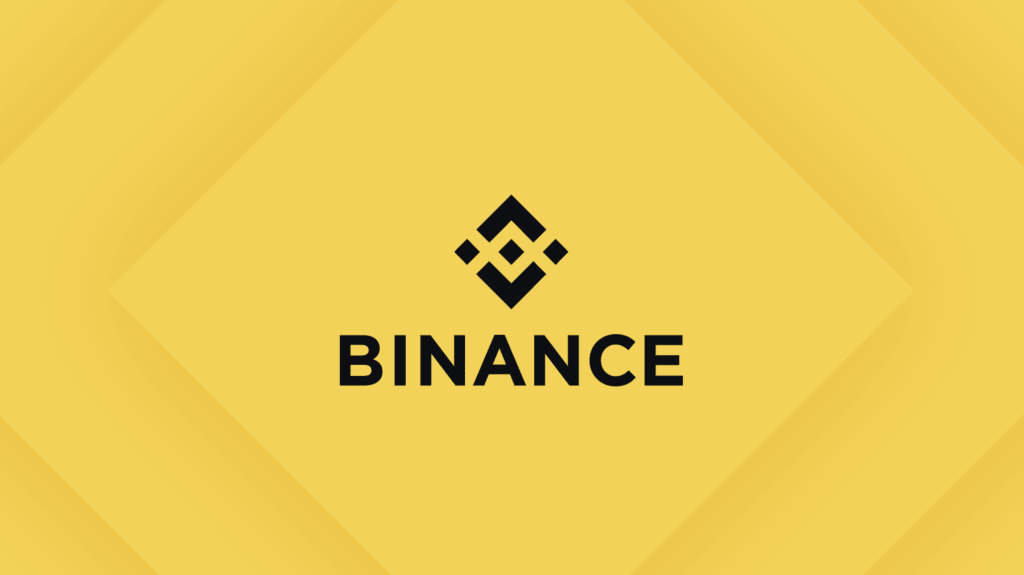 Binance Exchange also strongly supports and focuses on altcoins trading. Alternate coins or Altcoins refer to cryptocurrencies other than Bitcoin. Some of the most popular altcoins on Binance Exchange are BNB, DOGE, XRP, ETH, USDT, ADA, LTC, and LINK.
Binance Exchange has launched two of its own cryptocurrencies so far, namely, Binance Coin (BC) back in 2017 and Binance Smart Chain (BSC) in September 2020.
It has the largest trading volume with over $56.1bn occurring in the last 24 hours.
It offers services related to cryptocurrencies like buying, exchanging, withdrawing, fundraising, listing, and de-listing.
Users need to create an account by completing the necessary KYC requirements before they are eligible for trading. Once the details are verified and the trading account is successfully created, users can go for their crypto transactions.
About $1-30 or 1% fee is charged to the card whenever crypto assets are withdrawn and the charges 0.1% fee for trade transactions. If a user holds BNB coins, fees can be further reduced up to 25% on all trade transactions.
Pros 👍
It has the lowest transaction fees on the cryptocurrency exchange.
It provides a crypto wallet for users to store their funds in.
It has high liquidity and since crypto markets fluctuate in value it is important that customers/traders can exchange their digital assets for fiat currency at any time.
It supports 500+ coins and offers various products to its user base like stablecoins, future on coins, etc.
Cons 👎
Verification of a trade account can sometimes take longer than usual.
Depositing the funds from an electronic wallet is not available.







2. Coinbase
Coinbase is another trading cryptocurrency exchange platform that lets its user-base buy, sell, exchange, and withdraw their crypto assets. The company was founded in 2012 by Briam Armstrong and Fred Ehrsam, operating as a remote-based company.
It offers over 60 crypto to crypto trading pairs and 40 crypto coins that users can select from. Coinbase has approximately 73 million globally verified users, 10,000 institutions, 185,000 ecosystem partners and is accessible in over 100 countries.
Coinbase trading volume comes second to that of Binance and is over $2.6bn occurring in the last 24 hours. Some of the leading virtual currencies on the platform are Cardano, Ethereum, Avalanche, Bitcoin, Solana along with a few more.
It offers its users the flexibility of the platform since Coinbase has two of them, Standard and Coinbase Pro. The original Coinbase platform targets casual investors and beginners who are just trying to buy and sell crypto assets. Advanced and expert investors can use Coinbase Pro to gain access to additional services and discount offers.
It follows industry-level security protocols and according to the organization, they keep 98% of customer funds offline using cold storage while only 2% of them are used actively.
Opening a Coinbase account is relatively simple, all you need to do is fill up the forms regarding your personal information and use any government-issued id card for verification purposes.
Coinbase per-transaction fee charge depends upon the trade size.
Pros 👍
Supports over 100 currencies for trading purposes while adding new ones.
Discounts are available while purchasing assets in large volume on Coinbase Pro.
Provides free self-custody wallet for secure storage of crypto assets and additional security options like two factor authentication.
Through Coinbase Earn users can either earn interests on eligible balances or new currencies in small amounts.
Cons 👎
Coinbase currently offers Email support on their website and the lack of customer support is a major flaw.
High transactional fees in comparison to other exchanges.






3. KRAKEN
Kraken is one of the oldest cryptocurrency trading and investing exchange platforms which was founded in 2011 and is based in California, United States.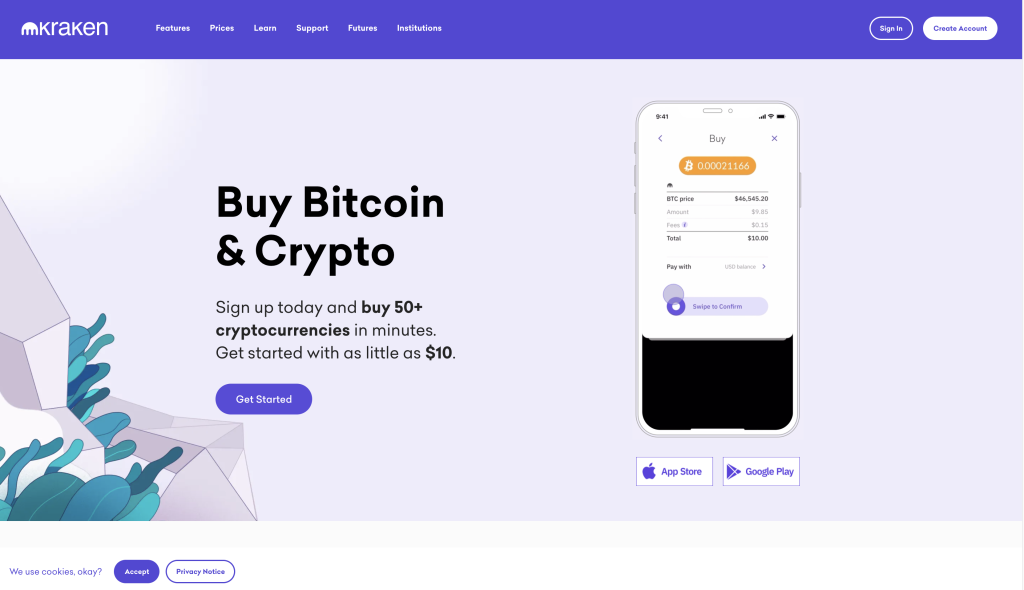 The platform is accessible in 48 US states and 146 countries globally with trade volume of over $990 million in 24 hours.
It lists over 95 different types of cryptocurrencies that are available for trade. In addition to that, the exchange also offers margin accounts, indices and futures trading on its platform with leverage up to 1:5. They also allow users to earn rewards and interests by staking fiat and coins.
It provides a feature called CryptoWatch which makes it easy for users to keep track of 2,000 crypto markets across multiple existing exchange platforms.
Kraken offers two different trading platforms to their users, Kraken and Kraken Pro. The standard Kraken interface can be used by crypto newbies where selling, buying and converting your cryptos is easy whereas for crypto enthusiasts and experts who want detailed features like active charts & more benefits can use Kraken Pro.
The pricing and transactional fees depend upon the platform used as well as the trade transaction investors want to make. Instant buys take up to 0.9% fee on stablecoins and around 1.5% for most cryptocurrencies. In addition to how one chooses to fund the purchase, extra charges are applied.

Kraken Pro offers a low fee charge depending upon your trading volume of the last 30 days.
Pros 👍
Kraken has quick and reliable 24×7 live chat, email and call support. The issues that take days on end are solved quickly due to effective customer care services.
Large trade volume asset reserves ensure the liquidity of investor funds.
It provides large funding options from traditional currencies to digital coins like Bitcoin, Litecoin, Ripple and few more.
Cons 👎
The fee charges applied are higher if Kraken pro is not used.
Fiat currency funding can take a few days to process.






4. GEMINI
Gemini was founded in 2014 by Cameron Winklevoss and Tyler Winklevoss with its headquarters situated in New York, United States. It has a trade volume of over $121 million in 24 hours.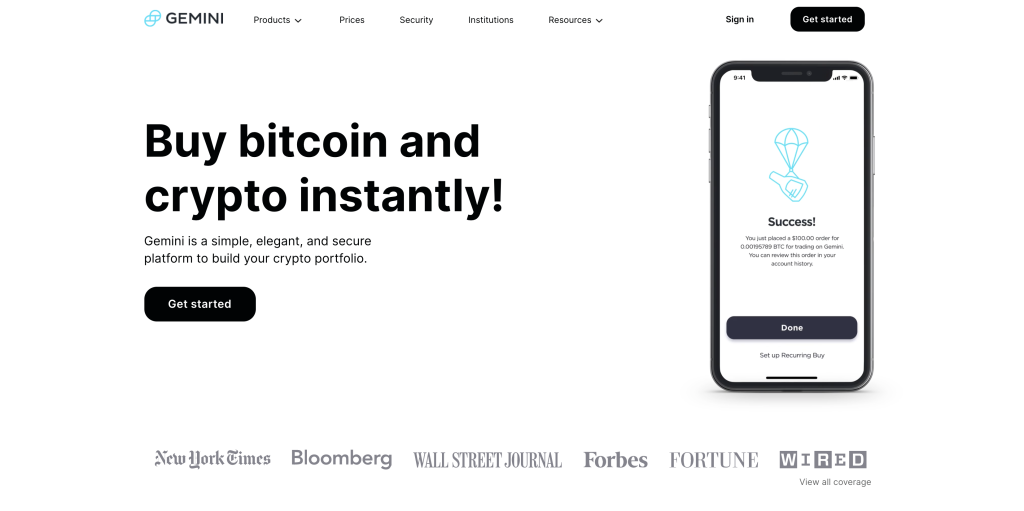 It provides cryptocurrency trading and exchange services along with custodial for digital assets. It provides $200 million insurance coverage for its crypto holders.
Gemini exchange can be used by beginners for crypto trading whereas experts can use Gemini's Active Trader platform that offers unique features like live charting, multiple order types, instant trade, block trade and much more.
Gemini's fee structure varies depending upon product and its usage level. Deposit fee on all cryptocurrencies and bank wire is free but charges up to 3.49% on debit card transfers.
Pros 👍
It lets users buy cryptocurrencies in small amounts. An investor can buy a minimum of 0.00001 of almost every digital currency.
Gemini Earn lets their customers gain interests off their idle digital currency balances.
It has an easy to use web platform along with an excellent mobile app. Gemini wallet comes along with the easy app which lets users to store their assets in.
Cons 👎
Slightly higher fees than alternative exchanges. It charges roughly around 1.49% depending upon the trading platform.
A lot of personal information is required to make the platform compliant.





5. Gate.io
Topping our list of best crypto exchange platforms with Gate.io which was founded in 2013 by Lin Han. Gate.io offers trade investments and digital wallet services for more than 200 digital assets.

The company caters to millions of active users from over 130 countries with a trading volume of higher than $3.3bn occurring over 24 hours.
The platform supports over 180 different altcoins with approximately 400 cryptocurrency markets.
There are no fee charges for deposits, a small withdrawal fee that changes according to the per cryptocurrency being withdrawn, 0.050% on futures markets for takers, and 0.2% in spot markets.
Few things that make gate.io better in comparison is that it does not require any KYC information like other exchanges, has a robust rewards program and mobile applications for ease of use.
Pros 👍
Gate.io was rated as the safest and one of the top exchanges in regards to cybersecurity. It offers more than 10 multiple security solutions.
Gate.io has 24×7 live chat, Email support along with submit tickets. FAQ's and new use guides are published on the platform as an extensive support.
It offers services like crypto exchange, futures and spot markets, margin trade with hefty leverages and so much more.
Cons 👎
Gate.io is an unregulated exchange.
It does not support fiat currency as deposits.








Conclusion
Crypto Exchanges are an important part of the rapidly growing crypto sphere as they provide powerful tools that enable users, us investors, access to liquid markets, and a large number of cryptocurrencies as funds.
These five exchanges discussed above are the best crypto platforms from our perspective but no amount of research is enough when it's our money that's at stake especially when entering the high volatility world of cryptocurrencies.