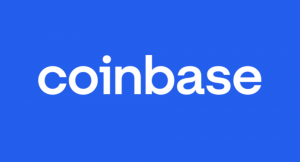 Name: Coinbase
Description: Coinbase is a platform that helps people buy and trade cryptocurrencies, such as Bitcoin and Ethereum. Coinbase is most commonly known for its crypto products, which it launched in 2012, but it also offers other services such as trading in stocks or forex. Coinbase also has a suite of mobile apps that allow you to manage your digital assets on the go easily.
Security

Transaction Fees

Customer Support

Payment Methods

UI & Charts
Summary
If you want to buy, sell, or store crypto on a platform with the widest selection of coins and good security features, Coinbase is one of the best choices. 
It has an intuitive interface, so newbies can jump right in. You can also trade on the go with their mobile app! 
Coinbase is regarded as one of the most secure platforms because it has passed level 1 verification by The New York State Department Of Financial Services (NYSDOFS). This provides some peace of mind for those who worry about safety. Additionally, it has FDIC insurance for your fiat currency stored at Coinbase. 
Coinbase operates in 32 countries across the world, so most traders can trade on the platform. 
It's easy to deposit funds into your Coinbase account with bank transfers or credit cards (Visa, Mastercard), although some US Coinbase users may have to wait before their deposits come through due to strict KYC laws and processes at their banks. 
Coinbase offers a good selection of coins, with over 300+ available. Not all the coins are easy to buy, but you can buy many of the top ones. However, if you want to trade in a specific altcoin you'll need to research and buy it on a separate exchange. 
Pros
– Great interface. 
– One of the safest ways to buy and sell cryptocurrencies. 
– Quick and easy access to cryptocurrency exchange markets. 
– Safe storage of your digital assets. 
– Coinbase Pro
Cons
– 3% extra fee for buying/selling with a credit card, debit card, or bank account. 
– Fees are waived only in certain regions. 
Coinbase is a cryptocurrency exchange that has been operating since 2012. Its primary function is to buy and sell crypto coins, but that's not all! This platform also offers various other services, including a wallet service, a chat service for adding extra security features, and 2-factor authentication. It is also one of the most mainstream and recognizable cryptocurrency companies globally. Let's dig into the Coinbase review to know everything in detail.
As you know, It is a crypto wallet & crypto exchange platform. Thus, this platform allows for easy sending and receiving of crypto but also allows for quick purchases through a credit card.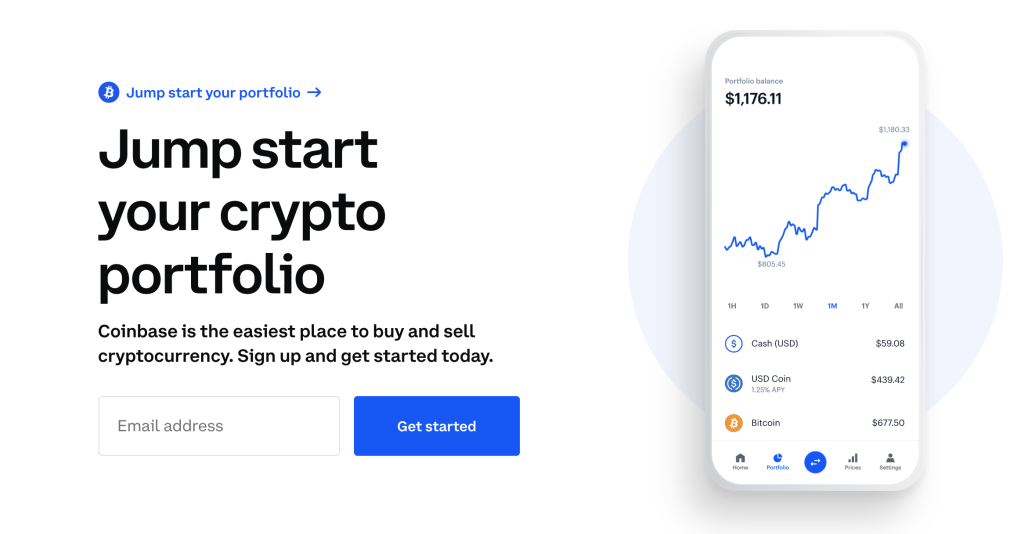 This even accounts as a digital currency wallet where crypto and other altcoins are transferred. Coinbase allows you to store your money in an account protected by a password (you can also set up two-factor authentication). The application is available for Android and iOS devices and on desktop computers.
The process of signing up for the platform is relatively simple – all you need to do is enter your name, email address, and password. You can also create a backup phone number for added security purposes if you want. After signing up, you can buy any cryptocurrency directly from the website with a credit card or via a wire transfer (in certain countries). You can also purchase your Cryptocurrency using PayPal.
Features Review of Coinbase:
Security
Security is the most crucial feature of Coinbase. It's a regulated, US-based company, with insurance and security measures in places such as two-factor authentication and time-based seeds for your wallets. You can also use multi-factor authentication, a must-have for anyone storing large amounts of Cryptocurrency.
Transaction fees
Coinbase charges a 2% of the total transaction! Coinbase charges a flat 2.49% transaction fee on all purchases including ATM withdrawals. You can find out more about costs here. Other payment methods include credit card and bank transfer in the European Union, Bank wire in the rest of Europe, SEPA transfer outside of Europe, iDEAL in the Netherlands, and BIP/SEPA outside of Europe. You can find out more about fees for specific payment methods on Coinbase's fees page.
Supported countries
Coinbase offers four plans for customers based on their location: US, Canada, Europe, and the UK. In addition, Coinbase states its privacy policy clearly for every single country mentioned.
Supported payment methods
Coinbase supports ACH bank transfer, SEPA transfer, credit and debit cards, and wire transfers in the United States, and even sometimes users can get hold of PayPal. Customers in six European countries can also make payments with their iDEAL accounts when purchasing Cryptocurrency with their bank account. The supported currencies on Coinbase are USD, EUR, GBP, CAD, AUD, and NZD in your local currency when you are buying or selling them for US dollars. You can buy up to 10 Bitcoins per day or 20 if you have a verified account.
| | | | | | | |
| --- | --- | --- | --- | --- | --- | --- |
| For US customers | Best for | Buy | Sell | Add Cash | Cash out | Time |
| Bank Account (ACH) | Large & small investments | ✔ | ✔ | ✔ | ✔ | 3-5 business days |
| Instant Cashouts to bank accounts | Small withdrawals | ✘ | ✘ | ✘ | ✔ | Instant |
| Debit Card | Small investments &cashouts | ✔ | ✘ | ✘ | ✔ | Instant |
| Wire Transfer | Large investments | ✘ | ✘ | ✔ | ✔ | 1-3 business days |
| PayPal | Small investments & cashouts | ✔ | ✘ | ✔ | ✔ | Instant |
| Apple Pay | Small investments | ✔ | ✘ | ✘ | ✘ | Instant |
| Google Pay | Small investments | ✔ | ✘ | ✘ | ✘ | Instant |
Supported Cryptocurrencies
Coinbase supports all major cryptocurrencies, including Bitcoin, Ethereum, Ethereum Classic, Litecoin, XRP, and Bitcoin Cash.
Securities services
Coinbase is a top broker for trading in all kinds of cryptocurrency-related stocks, such as those offered by Overstock.com and Amazon.com Inc (NASDAQ: AMZN), although it is not a broker-dealer and hence does not provide trading services directly to clients. Instead, it facilitates trades on other stock exchanges to get you access to this crypto-focused investment fund. There also seems to be a new feature on Coinbase that allows you to trade stocks with Coinbase Pro users.
Coinbase Ventures:
The digital currency exchange announced on January 20 that it acquired a majority stake in Coinbase Wallet (which has been around since 2013), a personal crypto wallet service, and Xapo Bitcoin cold storage vault service. The company announced the investment alongside its first hire: Jeremy Liew, a prominent Silicon Valley VC investor specializing in digital currency and blockchain ventures.
Coinbase Accepts Bitcoin Cash
Coinbase, one of the world's largest cryptocurrency exchanges and wallet services, has announced that it will accept bitcoin cash (BCH) as a payment method. "The Coinbase team continues to look for new and innovative products to offer our customers. Supporting bitcoin cash is yet another way we're trying to increase choice in payments while also providing more flexibility in parts of the world where merchants might prefer accepting BCH rather than BTC.
Available coins in Coinbase:
Bitcoin (BTC)
Ethereum (ETH)
Cardano (ADA)
Solana (SOL)
Polkadot (DOT)
USD Coin (USDC)
Dogecoin (DOGE)
Uniswap (UNI)
Litecoin (LTC)
Shiba Inu (SHIB)
Algorand (ALGO)
Stellar Lumens (XLM)
Polygon (MATIC)
DAI (DAI)
SushiSwap (SUSHI)
Revenue
Coinbase's revenue grew to $20 million in 2017 with over $1 billion in total deposits and withdrawals. The company's revenue was $21.7 million, up from $1.8 million in 2016, mainly driven by trading operations and membership services in the US, Canada, UK, and Europe.
How to open a Coinbase account?
Coinbase is a global digital wallet available to consumers, merchants, and institutions worldwide. They provide an easy way to securely buy and use Cryptocurrency like Bitcoin, Ethereum, and Litecoin.
Steps to open a Coinbase account: Sign up (only takes 10 minutes)
Go to the Coinbase website
Enter your personal information, like first & last name, address, phone number, and date of birth.
Enter a password and email address that you can access from any location. Don't lose track of this email since it will be used to help recover your account if you lose access to it for whatever reason.
Review the terms of service, and provide the exact mailing address, the same as the address listed with your tax records.
Your Coinbase account can be funded via bank wire transfer or ACH transfer. The funds will instantly show up on your account, but it's not "instantly" sent to one of your wallets. To get a wallet, click on your name at the top right corner of the page and choose "accounts" at the bottom of the menu. Then click "add wallet" in that drop-down menu and follow instructions to create a new wallet from their site. (but be sure to keep the email you were provided and keep a record of it for your records, Keep in mind. This is not only a wallet for Cryptocurrency, there you can buy Cryptocurrencies such as Bitcoin and Ethereum.
Add funds to your account from an ACH transfer or wire transfer (instructions below)
Confirm your account is complete (takes 24 hours). You're now ready to purchase Cryptocurrency! However, you may need to wait one business day before being able to make transactions (if you didn't meet the level of $100).
Coinbase Comparision with Others
If you made it all the way through, you are now part of the next-generation financial system.
It is often said that founders are the people who build their companies up from nothing to something successful. Still, Coinbase is a perfect example of a cryptocurrency company in which the founder started as an employee. The team at Coinbase has grown significantly since its founding in 2012, with the current headcount at over 400 employees.
Coinbase vs. Other Exchange:
In contrast to other cryptocurrency companies such as Binance and KuCoin, Coinbase had one vision from the beginning: that anyone could buy and sell digital currencies quickly through an easy-to-use platform. With this goal in mind, everything about this company was built for beginners and for making buying and selling digital currencies easier than ever before.
Coinbase vs. Gemini
Coinbase and Gemini are two of the world's largest cryptocurrency companies. These companies were founded by entrepreneurs who had a vision and worked hard to make that vision a reality. The fact that both Coinbase and Gemini have similar names doesn't help clarify the difference between these two projects. However, understanding the most significant differences between them will help you decide which project you should buy or sell cryptocurrencies.
Beginner Friendliness
One of the most significant selling points of Coinbase is its ease of use for beginners, especially when compared to Gemini. Gemini has a high degree of difficulty for new traders, as the process to create an account is more complex than on Coinbase. This is likely due to the fact that Gemini operates under New York State regulations and Coinbase does not.
Coinbase and Binance are two cryptocurrency exchanges that have similar approaches to their business models, with both companies providing users with many different ways to buy digital currencies. In addition, both companies offer a wide variety of payment methods, including credit cards and debit cards, which makes buying cryptocurrencies more accessible than ever before.
However, these two companies apart are their differing philosophy on regulation and security. At the same time, Coinbase is a registered company in the United States that complies with all.
Understanding the customer support of Coinbase
Even though Coinbase has a user-friendly interface and it's easy to use, many customers still have queries that require more than a few seconds to review & resolve. This is because Coinbase customer support acts as an extension of the company. This part will tell about how the customer is their number one priority and why the team works hard to provide the best solution for any given problem or question.
Coinbase has dedicated 24/7 customer service. They have a team of professionals focused on maintaining high-quality support for their users and promise to treat them as if they're their own family. Coinbase also offers phone and email support, FAQs, and a knowledge base.
The secret of the live chat is that everyone working there acts as if they know what the customer is going through, whether it's in the middle of a sale or a transaction problem. So when you call them, you'll talk to an actual person who'll be attentive to your needs and willing to help you immediately or get back to you within 10 minutes at most.
Coinbase customer service is a real gem, and its team is ready to provide quick and instant support. They have an experienced team of people behind their 24/7 live chat, email, and phone support that care for both complaints and new users. In addition, they guarantee to resolve any problem you can put your mind to.
What do customers say about Coinbase customer service?
The primary purpose of the customer service team is to make the user's experience as pleasant as possible. Of course, there are times when you encounter a problem with the system, but even if it isn't due to Coinbase, they'll review & find a way to solve it for you. If your money is on Coinbase, it's their money, and they care about it more than anything else. They have many different payment options that are all very simple to use, and you will be able to use them as soon as you've completed account verification. Coinbase is a company that has made it easier for people to buy and sell Bitcoin, Ethereum, Litecoin, and other cryptocurrencies.
What kind of problems does Coinbase have to deal with?
The main problem Coinbase has is that the system is complicated for the new user. If a customer has a question about the system, they are more likely to be helped by an experienced user who can explain how it works and whether there's something they're not understanding. A lot of users call in when they don't know what's happening or a process they're going through doesn't seem to be working properly. There are also those who have misplaced their wallet or don't know where it is.
How to get in contact with Coinbase customer service?
If you ever want to learn more about Coinbase, get in touch with the customer service team. They're very knowledgeable and helpful and they'll answer any question you have plus they've got a bunch of interesting facts that can help you. They have several tools such as FAQs, knowledge base, Facebook support, and Twitter that could be very useful for beginners who don't understand too much about cryptocurrencies.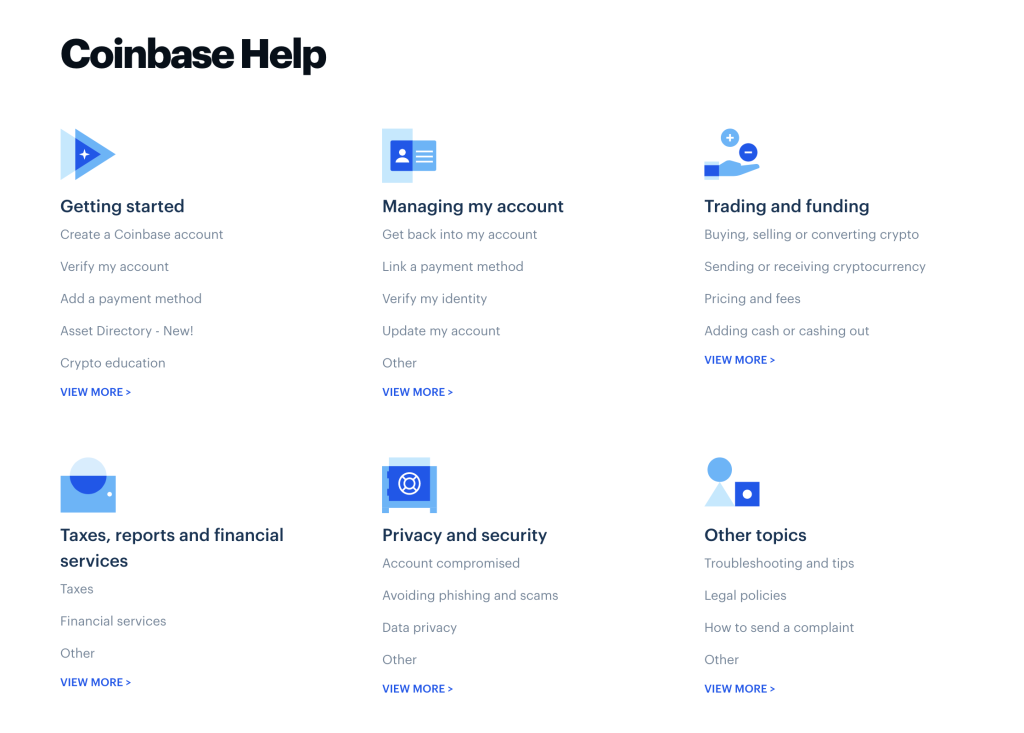 You can also try their phone support, which is available 24 hours a day, 7 days a week. All you need to do is call at +1 888-908-7930.
Conclusion on Coinbase Review
This Coinbase review has discussed, in detail, the pros and cons of the Coinbase crypto exchange & online wallet. The platform is easy to use, with a variety of cryptocurrencies offered to trade with. It's also one of the few major exchanges that doesn't require an ID verification process.
However, Coinbase is not without its faults – it may be too much for newcomers in cryptocurrency trading to handle. One other thing to note would be that part of their business model seems oriented towards attracting retail investors instead of professional traders or people who want more control over their trades.