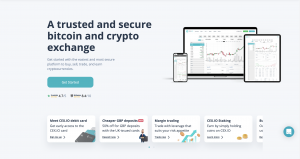 Name: CEX.io Review
Description: CEX.io is a cryptocurrency exchange with a great user interface where you can do spot trading, margin trading, crypto staking, etc. with low trading fees & the highest security features.
Security

Trading Fees

User Interface

Payment Methods

Customer Support
Is CEX.io safe?
Yes, CEX.io is the safest & trustworthy Platform and it is free for all users but it charge transaction/trading fees.
The Better Business Bureau (BBB) which is a private nonprofit organization that ensures a trustworthy marketplace, has rated CEX as NR, which means No Rated. BBB does not have any information on CEX to rate it as of now. But that does not necessarily mean that BBB is not safe. It has not suffered any hacking attacks since 2013, nor has lost any of the customer's funds. It encourages users to use 2FA (2-factor authentication) that makes transactions more secure and encrypted.
To ensure the safety of your funds, CEX stores your cryptocurrencies in two wallets – hot and cold. Most of them are in the cold wallet as it is rarely opened, thus minimizing the risk of internet interference. And some amount that is frequently flowing in the exchange is in the hot wallet. Thus even if something bad happens, CEX would lose only a fraction of its funds.
Being one of the oldest platforms, it is trustworthy as it has the sharpest minds of cryptocurrency behind it.
Pros
Simple interface for beginners
Easy payment options
Interest on staking crypto assets
Instant crypto exchange
Good Affiliate program
A lot of services for businesses
Service in more than 180 countries
Cons
Limited coin options 
Staking rewards, crypto-backed loans, and savings features not available for US traders
Services not available to residents of New York or Virginia
Founded in 2013, CEX.io is one of the earliest crypto exchanges that came out of the UK. It was developed as a Bitcoin mining tool and also facilitated cloud mining services and a platform to trade mining power. Their mining tool was called GHash.io and it became so massive and powerful that it became the only mining pool in history to control more than 50% of the hashworld's Bitcoin hash rate, which is also called the 51% attack on Bitcoin.
Now, after 8+ years of its creation, CEX.io is a popular crypto exchange and trading platform from the UK and it has expanded its presence to 99% of the countries around the world.
What is CEX.io?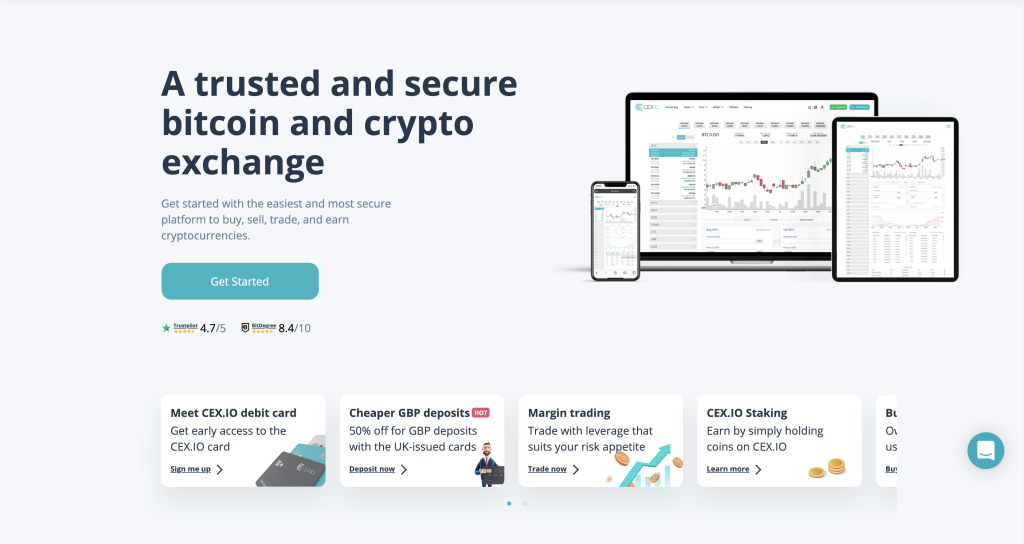 As you know, CEX.io is a cryptocurrency exchange platform based in London, UK. Founded in 2013, it claims it was one of the first platforms to introduce fiat-to-crypto transactions possible. Fiat-to-crypto means that one can get cryptocurrencies in exchange for fiat currencies (like USD, EUR, GBP, CND, etc.) of the same value. CEX.io provides fiat-to-crypto exchanges through debit and credit cards along with other payment services. Currently, you can exchange fiat currencies including USD, GBP, EUR, and RUB, to cryptocurrency assets.
With just 250 member staff, CEX.io has over 4 million users who trade in more than 100 crypto coins.
Their website gets over 400,000 weekly visits and trades in a daily volume of around $40 million. Apart from the trading site, they also have iOS and Android mobile apps WebSocket and REST API through which the traders can trade on multiple different platforms.
CEX.io is now no more just a crypto exchange platform or a Bitcoin mining pool, it has grown into CEX IO Ltd., a company registered as a Money Services Business in the US. It also has 3 platforms now – CEX.io is for crypto exchange and trading,
– CEX.io Broker is a technical analysis platform for professional traders who trade in CFDs,
– CEX Direct is a platform for businesses to enable crypto transactions in their businesses.
CEX.io provides a lot of services on their platform including Spot Trading, Margin Trading, Crypto Wallet, Crypto Loan, Rewards for Holding assets, etc. It also caters to businesses and enables them in facilitating payments in crypto.
Now, let's look at some features of CEX.io.
Features Review of CEX.io
Being one of the oldest crypto exchange platforms, CEX.io has a lot of features packed in it.
Some of the features are: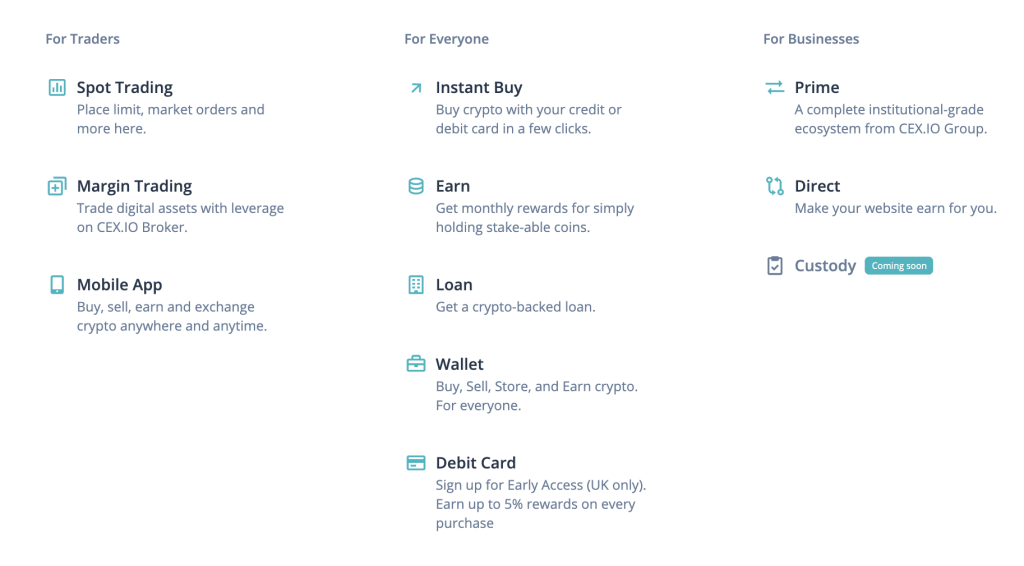 Payment
CEX provides a lot of payment options from Visa and MasterCard debit and credit card options to other payment gateways. The different payment options available are bank transfer, crypto capital, wire transfers, VISA payment card, cryptocurrency, and MasterCard withdrawals.
CEX.io is one of the first platforms to feature fiat-to-crypto transactions and they are still working to make it as easy as possible. Buying crypto for trading or investing on CEX.io is as simple as shopping online. While other platforms make it more and more complex by implementing lots of security features, CEX makes it simpler and easier without compromising on security. This is evident from the fact that they claim they have lost 0% of customer funds in any security breach.
Instant Crypto Exchange
CEX has a special feature called 'Instant Buy' where you can buy more than 50 different crypto coins in just a single click. It provides you with the option of exchanging your fiat currency with any crypto coin of your choice. You can either choose between $200, $500, and $1000 worth of crypto or you can enter any number of your choice. The price of the cryptocurrency against fiat is updated every 120 seconds (2 minutes). You can pay for it with your Visa card or MasterCard in US Dollar, Euro, British Pound, or Ruble. This is one of the most unique features provided by any crypto exchange.
Easy Spot Trading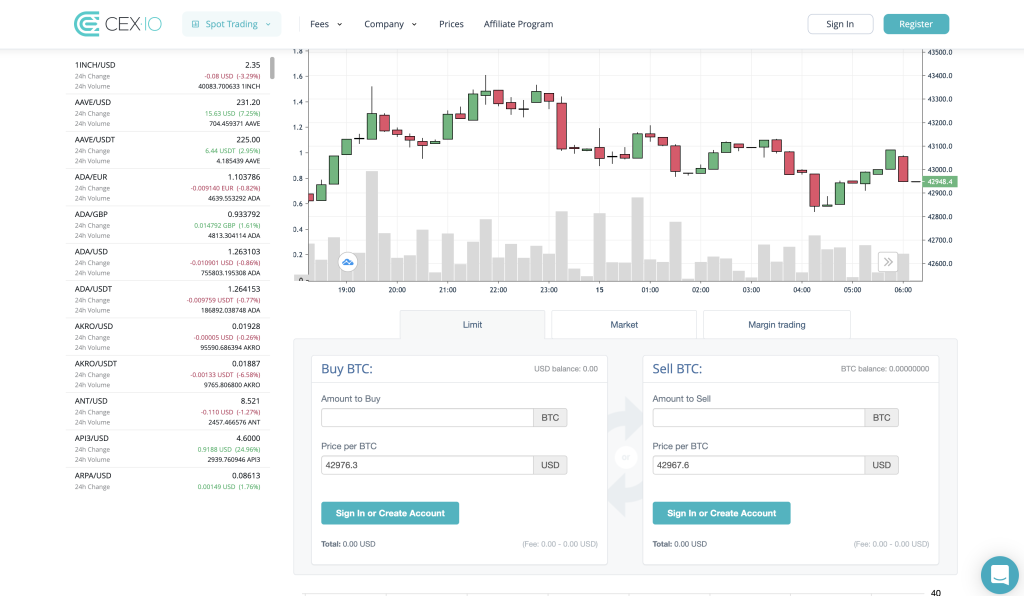 Spot Trading is the most basic trading when it comes to Crypto. Spot trading is just buying a cryptocurrency in exchange for money or another cryptocurrency and selling it when the price goes higher. All crypto exchanges in the world provide this feature and most new crypto traders start with Spot trading. Therefore CEX has made it easier for its users. It has the most simple trading interface ever. When we think of trading we imagine a complex page with a lot of charts and too many numbers that no one understands. But CEX has simplified it, You just have to choose your crypto coin and your fiat currency (USD, GBP, EUR, RUB), and then you can set a Market order or a Limit order in the simplest way possible. It is very hassle-free and the simplest platform for absolute beginners & experts.
Crypto Wallet
CEX also has a digital wallet option for its users. A crypto wallet could be anything that stores your cryptocurrency data securely. A digital wallet is an encrypted safe built on the blockchain that keeps all your cryptocurrencies safe and secure and away from any hacking or virus. As these wallets are built on the blockchain they are impossible to access without a password. And the passwords for these wallets are very safe and complex thus it is nearly impossible to break into a digital wallet in the blockchain.
Earn interest on Crypto
We all know banks give us interest for keeping our money in their safes. But the interest rates are so low that most of the younger generation is not interested in them. Cryptocurrency has a far greater growth rate and therefore many investors come with the intention of staking their money in the form of Cryptocurrencies to get much higher returns. Now imagine if you would get interest for holding your coins. Yes, CEX offers interest in form of crypto for up to 50% for staking your coins in their wallets. It is a system just like banks, but the returns are way higher.
Margin Trading
Most professional crypto-traders around the world prefer Margin Trading to Spot trading. Margin trading is also known as Day trading. This is when you invest in a certain coin with an intention to sell in a short period – a few hours or days. The sole purpose of this type of trading is to maximize profits. And therefore to provide an opportunity to traders to make even more profits, trading platforms like CEX lend them money as leverage so that the traders can invest more than they can afford, and therefore with high risks, the rewards are higher too. If the trade results in a loss, the platform force exits the trade before the leveraged money is lost. Thus, it could result in the trader losing all their money. Therefore, it is a very high-risk game but it attracts a lot of traders due to its high returns.
Therefore, CEX made a completely different platform that it calls CEX.io Broker to facilitate Margin trading and it has all the advanced technical features that are required by a professional trader to make profitable trades. The CEX Broker is still in its Beta version but it has started featuring live trading. New traders can still practice their trading techniques using its paper trading option.
Affiliate Program
To encourage more and more users on its platform, CEX also has an affiliate program. If the user invites their friends and family onto the platform, they earn 30% of the fee on their exchange transactions. This can be also a very good source of passive income for people who have a lot of contacts or some enthusiastic friends who are willing to invest in cryptocurrencies. There are a lot of customization options for the program as well. You can customize a banner for promoting the website on any social media platform. You can also customize the landing page, i.e. on which page they will land when they click on your link.
Payment Gateway for Businesses
CEX also provides a payment gateway for businesses that want to facilitate crypto payments. With cryptocurrency being so popular and many countries are legalizing crypto payments, more and more businesses have now started crypto as a form of payment. CEX is helping such businesses by proving them with software to facilitate such payments.
Why You Should Choose CEX.io?
CEX.io is free for all users, but it does charge a maker-taker fee and the deposit-withdrawal charge.
The maker fee starts from 0% for those who trade for more than $6,000 in a month to up to 0.16% for small traders.
Similarly, the taker fee starts from 0% for big traders to up to 0.25% for trades under $6.
Transaction fees differ from $0 to $4 for different modes of payment and different currencies.
Deposit through direct bank transfer is free, but the withdrawal charge is 0.3%.
For Visa and MasterCard users, both deposit and withdrawal charges are 3%.
According to data from other platforms, the fees are a bit lower compared to its competitors. Most of the major players in this segment have similar transaction fees.
Conclusion
CEX is not just for traders. It is a platform for people who are interested in cryptocurrency and want to be a part of it. With its simple and friendly interface and easy-to-use trading features, it is a great choice for beginners. Also, low fees are a plus point.
With so many investment and trading options, it is evident how CEX has survived in the market for 8 years and is still the preferred option for many users.
CEX also understands the importance of businesses in the crypto ecosystem and also gives them an equal priority.