Trading is the river in which everyone wants to dive to explore the depth of returns.
Daily market openings make and mend the fortunes of people.
But is trading all about guessing and trying your luck?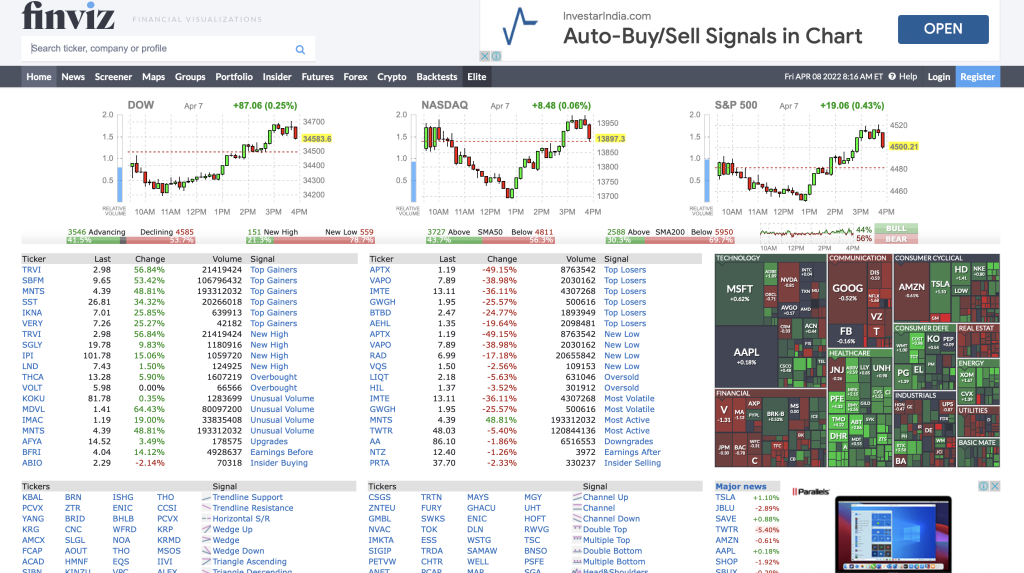 The answer is a big No because trading isn't something that is covered under a blanket of luck as traders should learn yeh process of evaluation based on realistic information as only then they can get the job done.
So how to evaluate? Where to get the data? Many questions but one solution to this is financial data wizard Finviz.
What is Finviz?
Finviz is the core ingredient of the recipe for high returns by trading. It is made to get the trader's best evaluation, news and other trading supporting features to understand the theory of better processing in trading.

Finviz is a platform where a large amount of data is collected to enlighten traders about the past, present and factors leading to the future of a particular asset. The financial information Finviz provides helps the traders in managing their game of trading much better.
What Can We Expect From Finviz?
Finviz is capable of delivering satisfaction to the high expectations of traders. Finviz with its giant database and the well-structured portal can assist in evaluating the financial information and keeping an eye on the market but daily insights.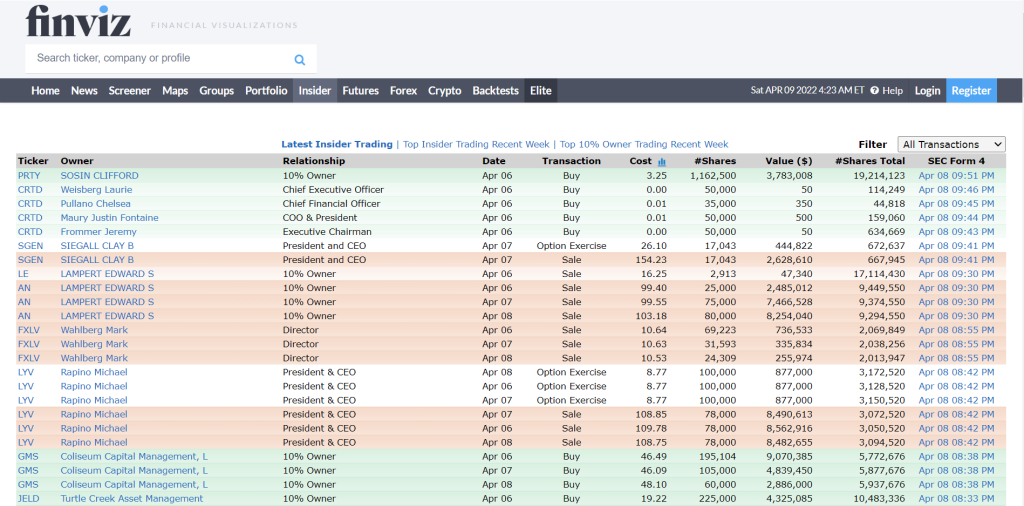 Finviz has numerous features which can assist in understanding the market better and not let luck overtake the quality of calculated moves. It is a major part of lives based on trading as it feels like someone cares about you in the market and doesn't want you to make any wrong move.
What Are The Features Of Finviz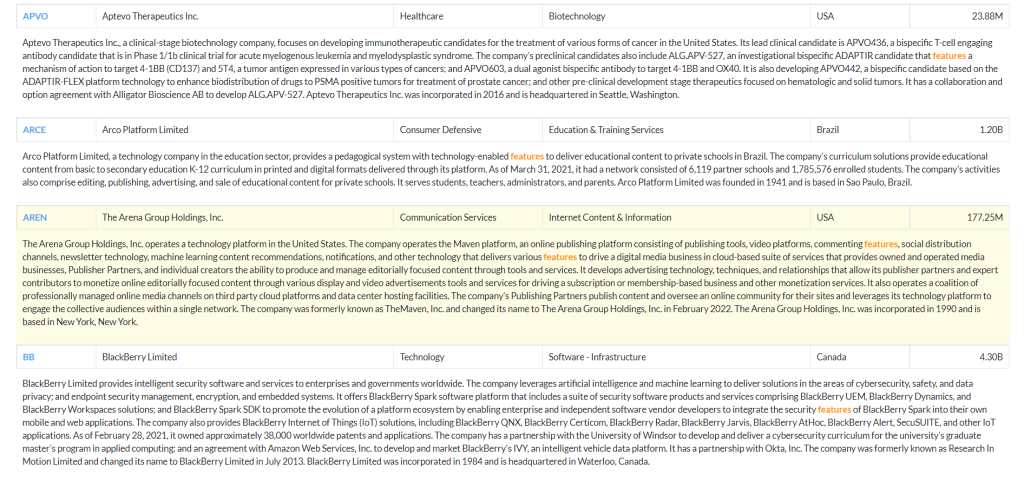 Trading information giant Finviz is in the market for a longer duration now. As we know to stay in the market you have to get the sharpest features as only then do the users stay with the service provider.

Some of these features are listed below –
News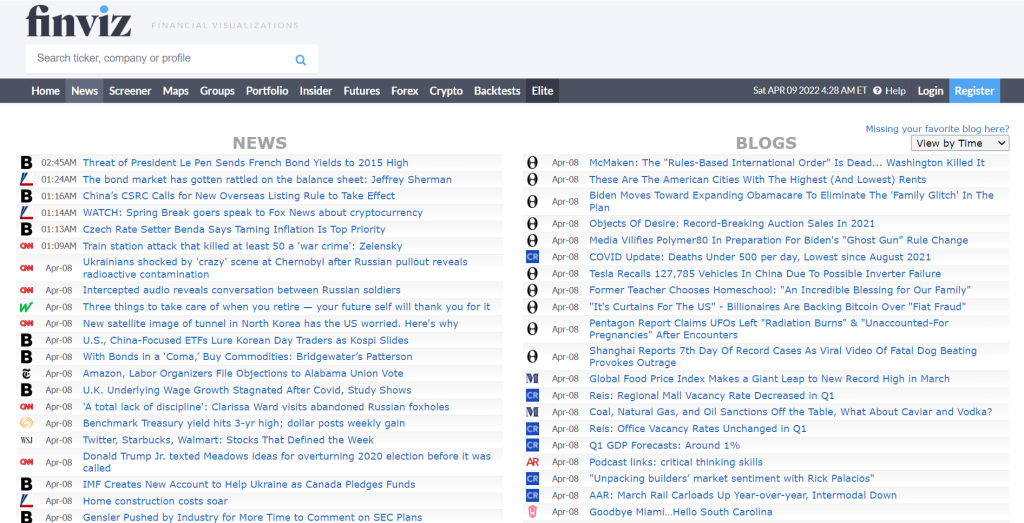 Finviz is like a person who will be looking for you 24×7 as the slightest negligence and cost you big losses or make you miss the train of giant leaps in terms of returns. The news section of Finviz provides insight into the market-related information which decides the flow of the market.
It is important to not ignore this news as they contribute to creating market trends that get followed by the majority of traders. Finviz is in surveillance every second so that the trader doesn't get robbed of high returns.
Save the time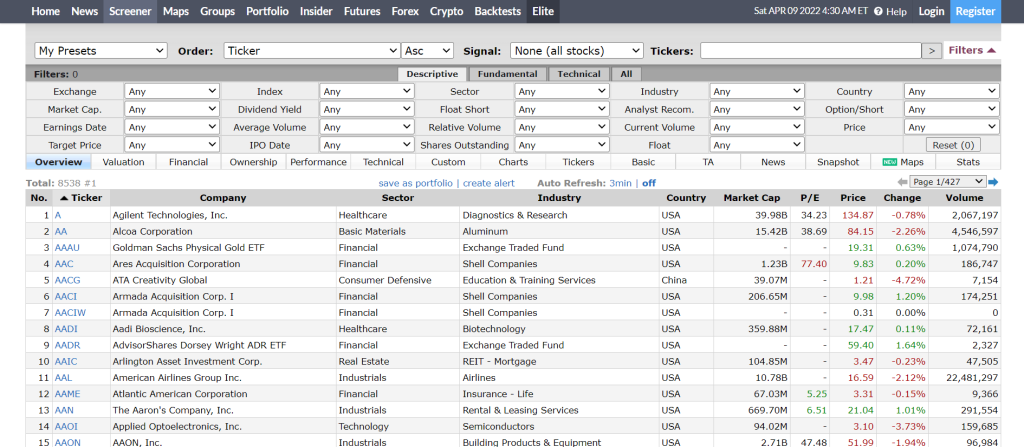 The list of assets available for trading in the market is so long as if one will try to go through every single one of them then it is going to cost them eternity. This is the reason Finviz offers a filtration tool on the screen which helps in getting information related to that particular asset that the trader wants to trade.
This saves a tonne of time and helps in getting the job done much faster. The premium users also get the save the information option which helps in saving the information for later too. This filtration tool helps in handling the pressure in a much better way.
Maps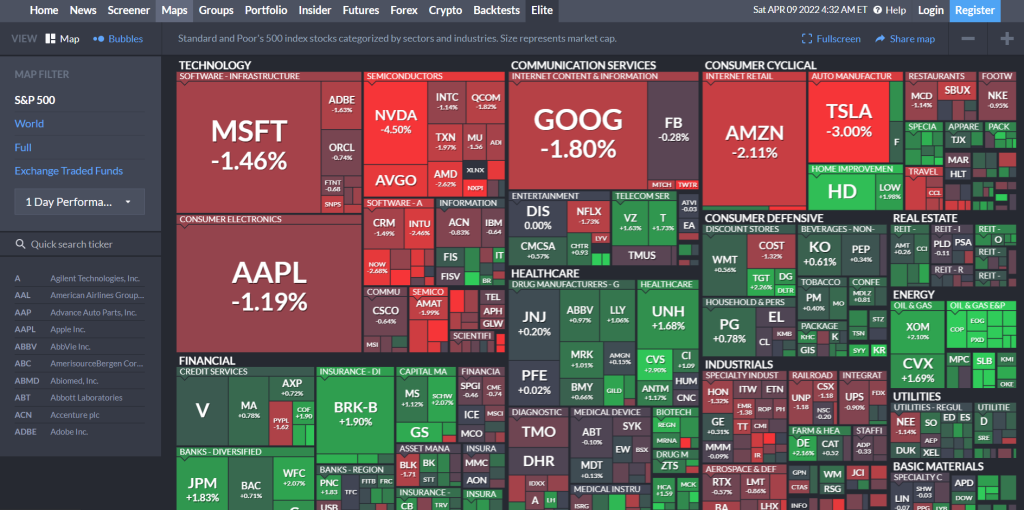 Every trader is different in terms of their ideologies, strategies and point of view. The geographical region is covered with different policies and events which shakes up the market if a country like Russia is being involved in a war then the companies related to Russia may face a boycott and prices may drop in countries not supporting Russia but in some nations, it can drastically go up.
This is why traders have to keep track of the regional trading trends and maps of Finviz help in doing so. The red-green colour code also helps in observing the first paced profit-loss trends.
Gives you an Edge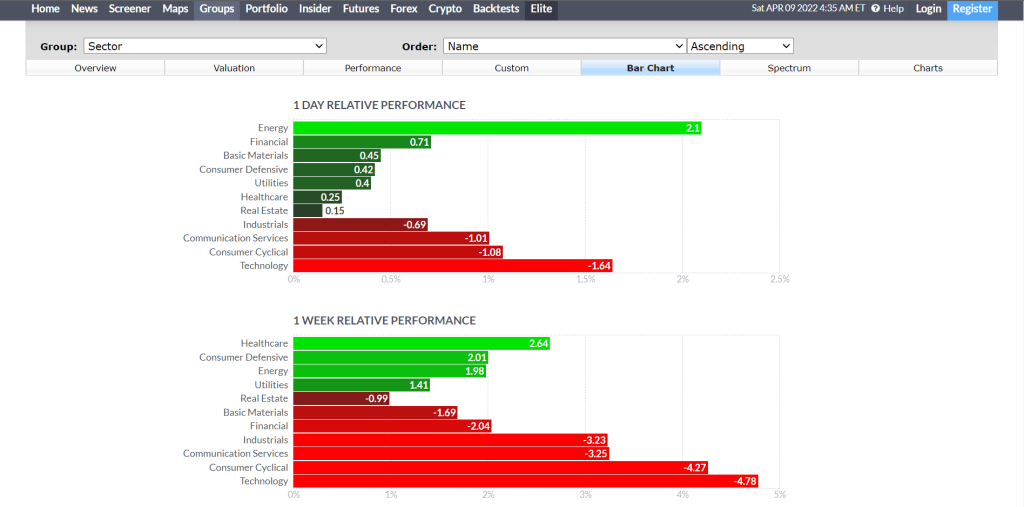 Finviz believes in maintaining equality in the market as every trader is special to them. This can only be done when inside trading is either eradicated completely or tracked fully. Finviz providing special facts about giant traders of the market can help other traders observe what is trying to be done in the market and how well are they ready with their plans to counter these trends.
The market can't be downplayed completely but still if the majority of traders know about almost all of the details then some way balanced trading can be managed.
Section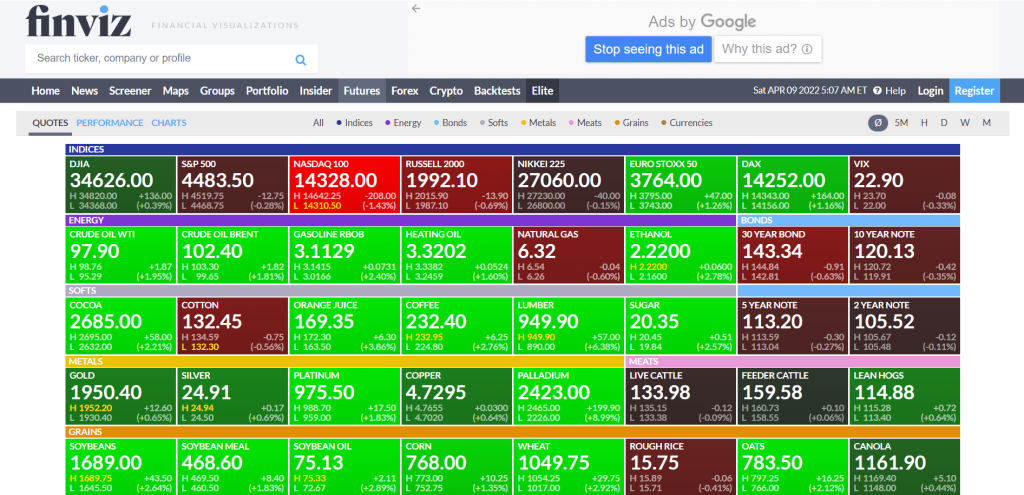 Stocks related to different industries perform and react differently to the trends.
Finviz helps in showcasing the data in categorised form so that traders can easily see how different sections are reacting to a particular event.
As if a sustainable development policy is being implemented then there are huge chances that electric vehicle shares will start sharing so this is the reason it is important to understand assets based on different sections.
Crypto and Futures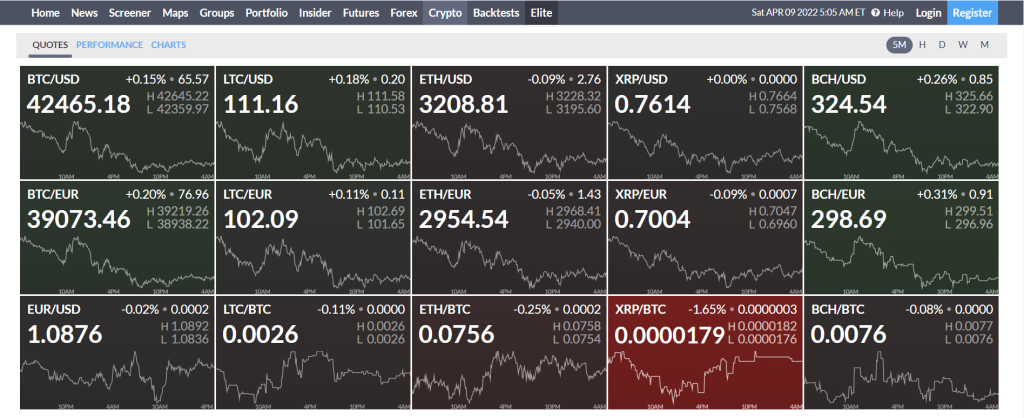 Finviz is also interested in showcasing data related to crypto and futures. As crypto is one of the hottest topics in the town it will be wrong to ignore this market-related information. Finviz will help in tracking down trends of Future too supported with colour code display assisting in better and easy understanding
of the data related to these two.
What is the Pricing Plan For Finviz?
The pricing plan of Finviz tries to be as friendly as it can be to the user. The pricing plan majorly affects the features an individual can avail of by the medium of Finviz. The category to which the user belongs in terms of subscription will tell the boundaries and restrictions of the features to the user.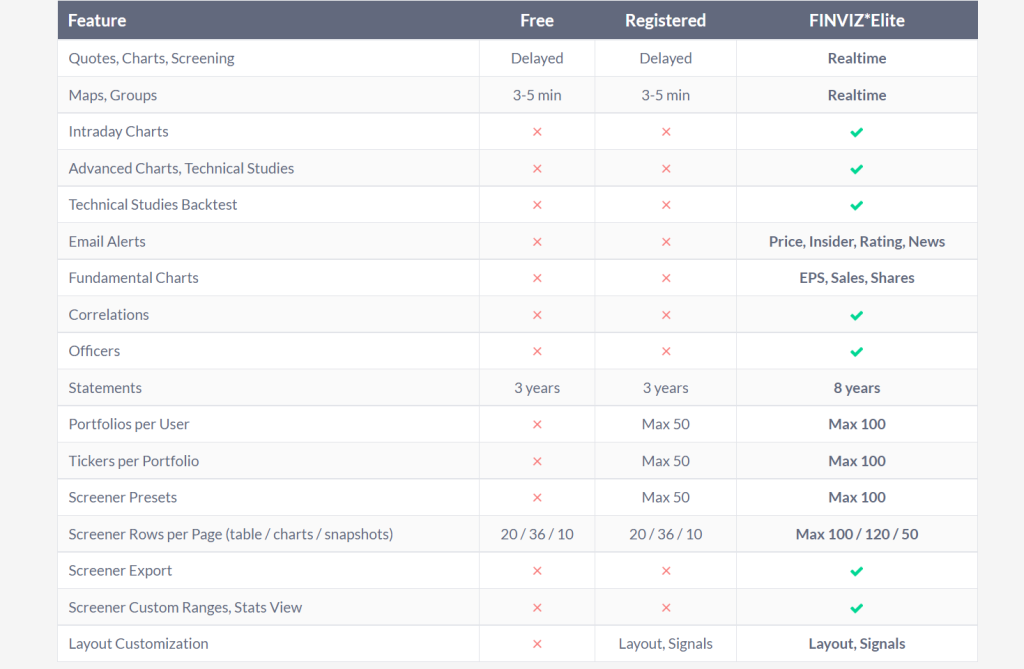 Though a trader can easily register on Finviz for free which makes them able to avail of some limited services. Then the elite membership costs around $39.50 in monthly subscriptions and $299.50 for annually paid subscriptions. Elite membership has its own benefits and is one of the top choices of traders really invested in terms of trading.
What are the 5 benefits of Finviz?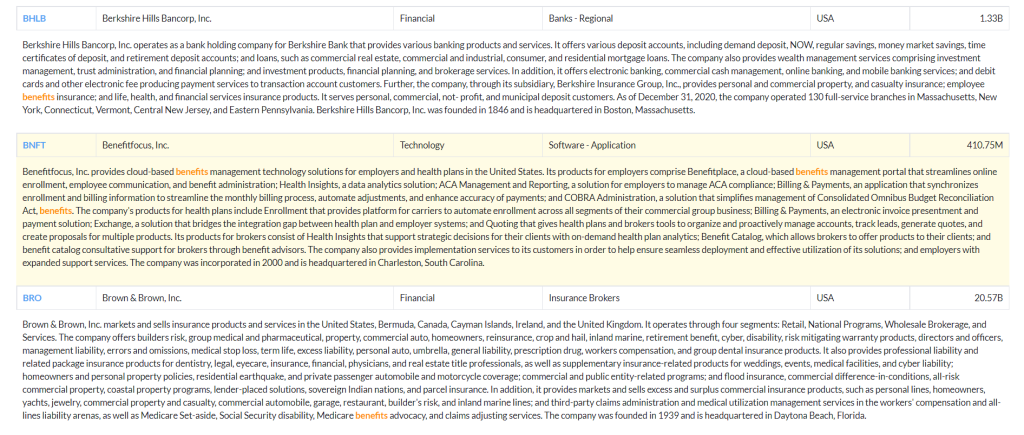 Finviz offers several benefits to the users as its special features help in understanding the mindset of traders better to unlock the bank of returns.
The top 5 benefits of using Finviz are listed below –
Registration
Finviz has kept the process of registration so simple which helps users who are not that tech-savvy to handle the software easily. The traders just have to enrol with the requisite details and pick up the plan based on features to explore what those trading cards hold for their fortune. Using Finviz which is easy to register helps users to save time and energy.
Subscriptions
Finviz has subscription plans like any other platform but it doesn't mean that the traders who aren't willing or able to pay can't use Finviz for betterment in the domain of trading. Finviz provides free registration too which helps in availing the features which are somewhat limited but still work for simplistic evaluation for beginners.
Global Stocks
Traders depending on their trading information over Finviz have not to worry and keep their interests restricted to their geographical area. Finviz helps in keeping the stocks from all over the world in check. This showcases a broader range of Finviz and helps in delivering a better understanding of global trends. Traders should always keep an eye on the global market as it anyhow is going to affect the local markets.
Easy Tech
Finviz is very easy to use as the traders just have to visit a website to observe the information and reach the charts for more realistic developments on the asset. The simple structure of the website assists users in getting the knowledge and trade to their fullest without facing the chaos of technicalities.
Powerful Screener
The screener of Finviz is so powerful in terms of categories and filtration as it saves a tonne of time for users. This is most powerful when users wish to go through some basic developments while the market is functional. The screener of Finviz is special and gives an edge to users depending on Finviz for their financial knowledge.
What Are The Pros Of Finviz
Affordable pricing widens its reach of users and gives it a giant impact.
Free registration to get limited features for users who can't buy subscriptions.
Technical analysis is so accurate and helps in evaluating assets.
Easy to register method helps in getting users on board who aren't that tech-savvy.
The filtration offered by the screener saves time.
Reach to global stocks helps in keeping track of markets all over the world.
Crypto-related information can also be tracked on Finviz expanding its domain.
What Are Four Types Of Traders Who Can Use Finviz?
Finviz is a platform to ace trading skills and increase returns. It helps all types of traders. These types support the ideology and the way one trades in the market. The trading has to be according to your style and your style decides the trading type.
The four basic types of traders are as follows
Day Traders
Swing Traders
Momentum Traders
Technical Traders
Conclusion
Finviz like any other service provider has got different features which develop its advantages and disadvantages. The structure of Finviz is tried to keep as simple as it can be to narrate the idea of financial information in a much better and simple way.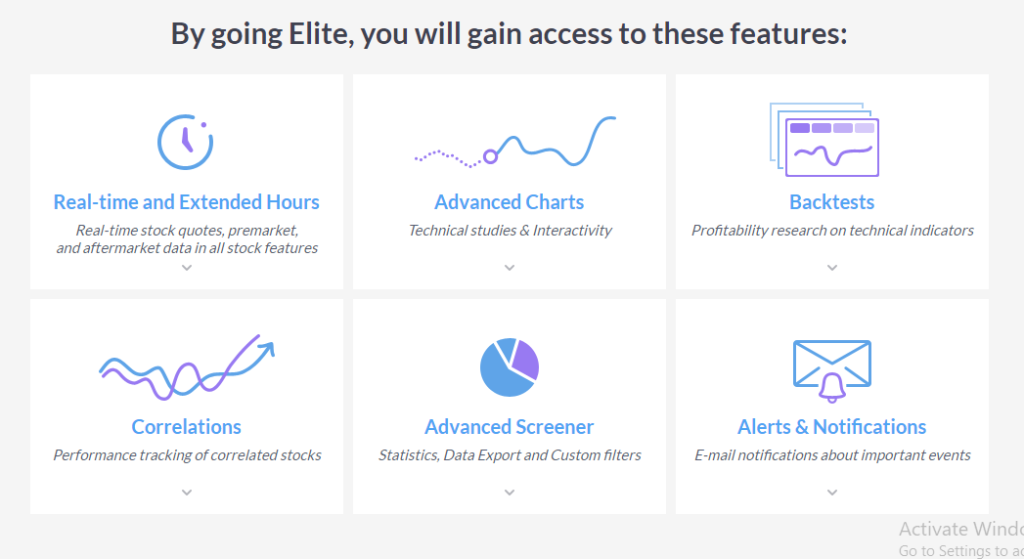 It has got numerous aspects under control to assist traders in trading across different markets. From stocks to crypto nothing has been kept out of the line. Finviz believes in extracting the best out of traders by helping them to evaluate rather than guess the returns. Finviz will assist in developing financial insight in a better way to use it as a weapon to change fortunes in the market.
Also Read: Motley Fool Stock Advisor Review