MinerGate and NiceHash both offer cloud-based mining that enables users to mine in any of the available pools and generate profits.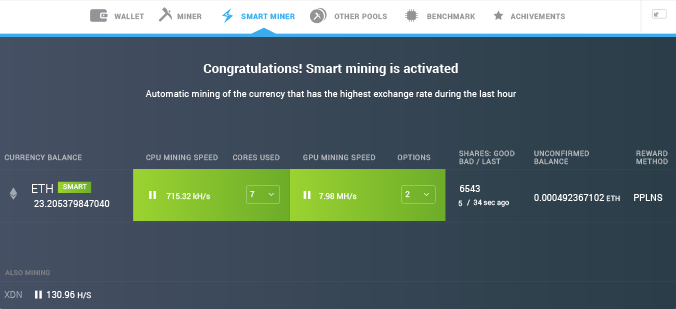 Which of the two platforms is better you ask, let's find out from this MinerGate vs NiceHash review.
We will be comparing both the companies on the basis of features, compatible mining devices, fee structure, dedicated software, security procedures and customer support.
MinerGate Overview
Founded in 2014, MinerGate is a multi-currency mining platform which allows users to mine cryptocurrencies, including bitcoin and a few alt coins. Till date over 3 million miners have used the platform's services and generated $20 million worth profits for users back in 2017.

The platform's payout fees depend upon the crypto coins, PPS or PPLNS rewards method and currently supports a very limited number of cryptocurrencies.
NiceHash Overview
NiceHash was launched in 2014 and is headquartered in the British Virgin Islands. The platform has over 650K daily active miners with a total of more than a million daily active workers. The fee structure for hash power buyers and sellers depends upon the amount of cryptocurrency and the platform supports over 90 trading pairs.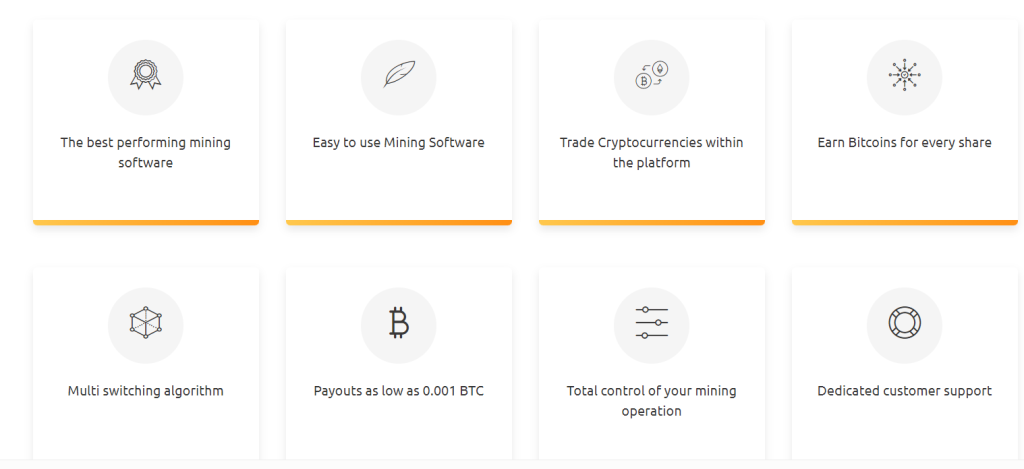 Supported cryptocurrencies
Let's look at the cryptocurrency's selection availability offered by both platforms to the investors.
MinerGate
It currently supports the following digital currencies; Ethereum (ETH), Ethereum Classic (ETC), Monero (XMR), Monero-Classic (XMC), Bitcoin Gold (BTG), Zcash (ZEC), Litecoin (LTC) and Bytecoin (BCN).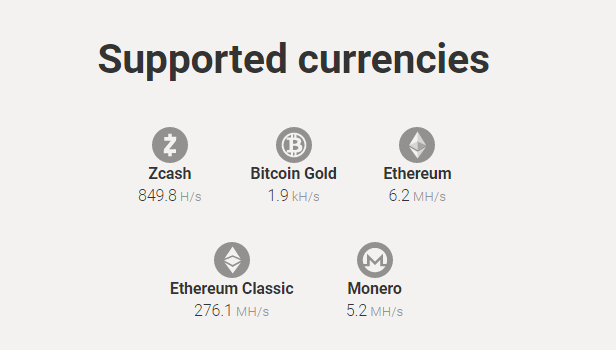 NiceHash
The platform provides more digital currencies to choose from when compared to MinerGate with more than 90 crypto trading pairs. Some of the popular ones are as follows; Bitcoin, XRP, Litecoin, Ethereum, Zcash, Dash, Polymath, Stellar, Monero, Tether, USDC, Shiba Inu, Cardano, etc.
Fee structure
Nobody wants to pay higher fee charges but cannot get away with paying nothing, so the second-best option is to find a platform that charges less. Let us look at the fee applied by both the platforms at hand.
MinerGate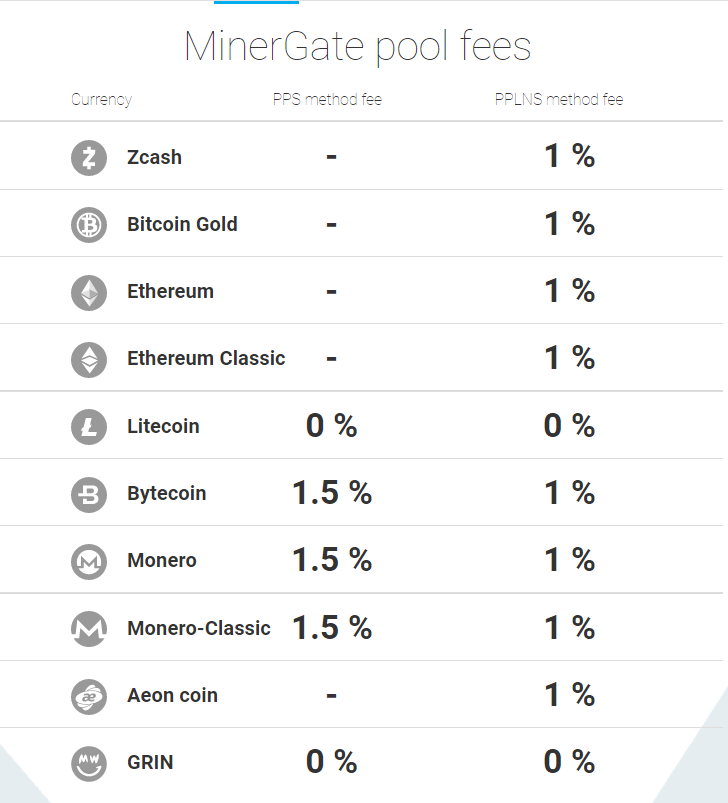 The fees charged depend on the particular cryptocurrency and the chosen reward plan (pay per share or pay per last N shares). Given below are the charges applied:
Litecoin and GRIN are charged a fee of 0% on both PPLNS and PPS.
Bytecoin, Monero and Monero-Classic incurs a fee of 1% on PPLNS and 1.5% for PPS.
Zcash, Bitcoin Gold, Ethereum, Ethereum Classic and Aeon coin are charged 1% for PPLNS method.
NiceHash
The fee is charged depending upon the withdrawn amount and the withdrawal option used. The following are the prices of two of the most popular withdrawal options: 
Euro – The minimum limit is 10 euros and can be transferred without any charges to the bank accounts.
Bitcoin – No fees are incurred if the Lightning network is used and the amount is over 0.00002 BTC, a minimum amount of 0.0005 BTC to any BTC wallets incurs a fee of 0.000005 BTC or more based on blockchain network prerequisites.
Devices for mining
Both the platforms support quite a number of devices through which users can mine crypto assets, let's look at what each of them allows to mine from except for proper mining rigs.
MinerGate – It allows the following hardwares: Normal PC with either of the operating systems; MacOS, Windows or Linux, CPU cloud computing service (preferably Paperspace), USB ASIC 2.4 Gh Bitcoin miner and android smartphones (though it's not very profitable).
NiceHash – Allows GPU, CPU and ASIC hardwares. Though mobile apps are not meant for mining purposes.
Dedicated Softwares
Both the platforms offer useful and exclusive softwares in order to prove to be most profitable for miners.
MinerGate
Smart Mining – It is used for automatic algorithm switching which mines the most profitable coin based on computing power of the investor's device and currency exchange rates.
Benchmarking test tools – The software audits the hardware's performance by acquiring information about earned crypto in a defined period of time and compares it to community average.

NiceHash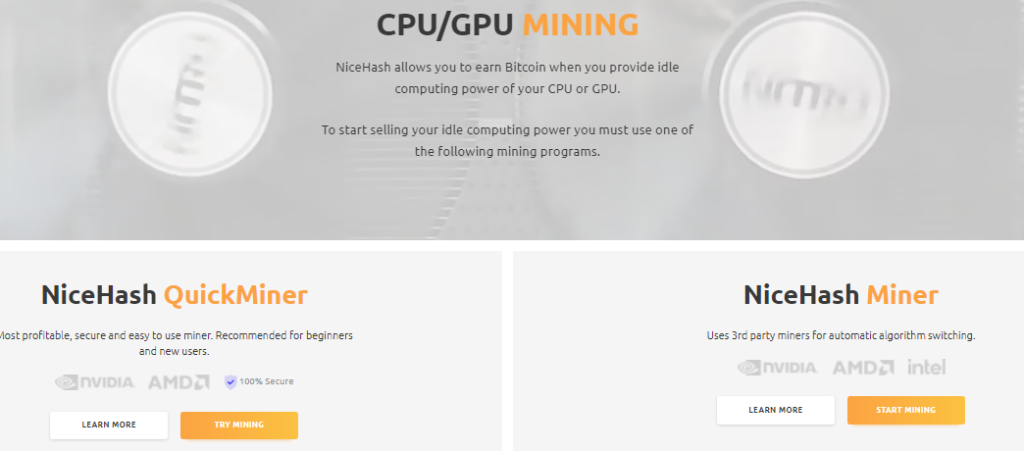 QuickMiner – It is NiceHash's own software, currently in its beta phase. It uses third party applications to take full advantage of the capacity but also offers its own miner called Excavator.
NiceHash Miner – It allows users to rent their computing power to the hash power marketplace and get paid back in bitcoins. It runs benchmarks on the first trial which can be either standard, precise or quick and uses third-party plugins.
NiceHash OS – It is NiceHash's operating system which is loaded from a USB flash drive and runs from computer memory. Users can connect unlimited mining rigs that too with any charges.
Key Features Of MinerGate & Nicehash
NiceHash and MinerGate both offer a considerable number of features, let's cover some key aspects in this review.
MinerGate Features
CryptoNight ASIC pool – It enables users to mine two digital currencies simultaneously based on the same CryptoNote algorithm without the risk of losing the hashrate for the main crypto asset hence generating higher profits. The functionality has been used by over 20K miners till this day. Monero-Classic (XMC) is the most popular mining pool when it comes to merged mining.

Blockchain explorer – It allows miners to find and examine the current status of any transaction in the blockchain network. The details can be found by entering block hash, block height, transaction hash and payment id. The information regarding timestamp (UTC) of the block, size, transactions, block height and block hash can be found.
Service Monitor – Acts as an intermediary between miners and the company as it publishes information to keep everyone up to date with the mining situations.
Pool stats – It shows the details regarding all the blocks of a particular blockchain network for every available digital currency. Information such as pool hashrate, unlock time, world hashrate, reward method, height of the block, status and block hash is displayed.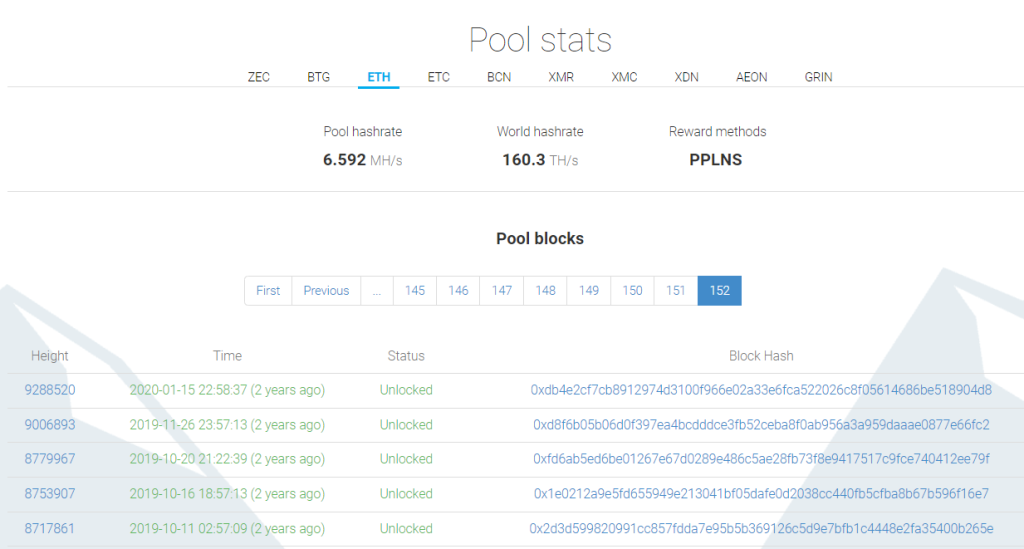 MinerGate token – It is a cryptographic utility token that works on EOS blockchain, provides exclusive benefits where miners can take part in the future procedures and development of MinerGate, become a part of a loyal community and can explore the EOS network.
Affiliate program – MinerGate offers commission to users on the referrals to earn passive income depending upon the levels. The basic status miners get 30% of the company's profit (affiliates <=10), intermediate receive 50% (affiliates between 11 to 30) and profi get up to 65% (affiliates >31).
Profitability calculator – It allows users to determine their estimated mining profits and is applicable for all the available cryptocurrencies. Currently four types of algorithms are offered for the calculators which include Ethereum & Ethereum Classic, Cryptonote & CryptoNight, Scrypt algorithm and Equihash mining.
Lumi wallet – MinerGate has partnered with Lumi wallet which allows miners to perform various tasks with the help of their private keys from their mobile phones (iOS and Android).
NiceHash
Demo account – QuickMiner is a tryout tool offered by the platform which enables miners to experience and get used to the mining process. There is no need to create an account or registration for using this feature, one can just simply download it to start mining.
Live marketplace – The page displays the most popular algorithms in the last 24 hours and connects sellers of hashing power with buyers of hashing power.

Private Endpoint – A secure network method to connect miner's hardware to the NiceHash's stratum servers. It is mainly used to optimize the connection speed by avoiding the delay which occurs because of DDOS protection. Better device performance leads to more profits. Users can choose private mining proxy servers from 24 available locations worldwide.
Profitability Calculators – The platform has integrated GPU, CPU and ASIC mining calculators that help users check and compare their estimated earnings based on the hardware.
Stratum servers – All the algorithms are assigned stratum servers which are available in four regions; EU-north, EU-west, USA-west and USA-east.

Affiliate program – Hash power buyers receive 5% commission on the total generated revenue along with extra milli BTC every time a new order is placed by the referred customer. A KYC form has to be filled in order to get a referral code.
NiceHash wallet – Users get access to multiple cryptocurrency addresses once they register for an account. Some of the supported virtual currencies are BTC, ETH, XRP, BCH, LTC, DASH, XLM, XMR, EOS, USDT, LINK, etc.
Cloud mining – NiceHash does not have their own mining hardware and therefore cannot manipulate the hashing speed prices, do not impose limit restrictions on the buying and selling amount of hash power, provides price independence, pool flexibility and so much more.
Security measures & known breaches
When it comes to trusting the platform with crypto funds, security measures and protocols play an important role.
MinerGate – It is SSL certified, offers two factor authentication, recommends users to create a complex password and provides email confirmation option. Though the company does not really provide details on how they keep their network safe, the platform is quite reliable since no hacking incidents have occurred till now.

NiceHash – Provides two-factor authentication, has SSL/TLS encrypted connection, goes through mandatory KYC verification, allows mail confirmations, uses signed and verified third party software, is GDPR compliant, uses AES-256 encryption, etc.

The platform however suffered the loss of $64 millions in bitcoin because of the security breach in 2017. Furthermore, the miners who lost funds were reimbursed for all the damages from the theft.
Customer Care Services
MinerGate – Provides extensive documentation, blogs, FAQs and an official forum to display new updates. One can reach out to the representatives by submitting a request ticket or by joining their virtual communities on Twitter, Telegram, Reddit, Facebook, Instagram etc.
NiceHash – Offers help center which includes articles, FAQs and blogs. Users can reach out to the support team via virtual communities on Discord, Facebook, Reddit, GitHub, etc.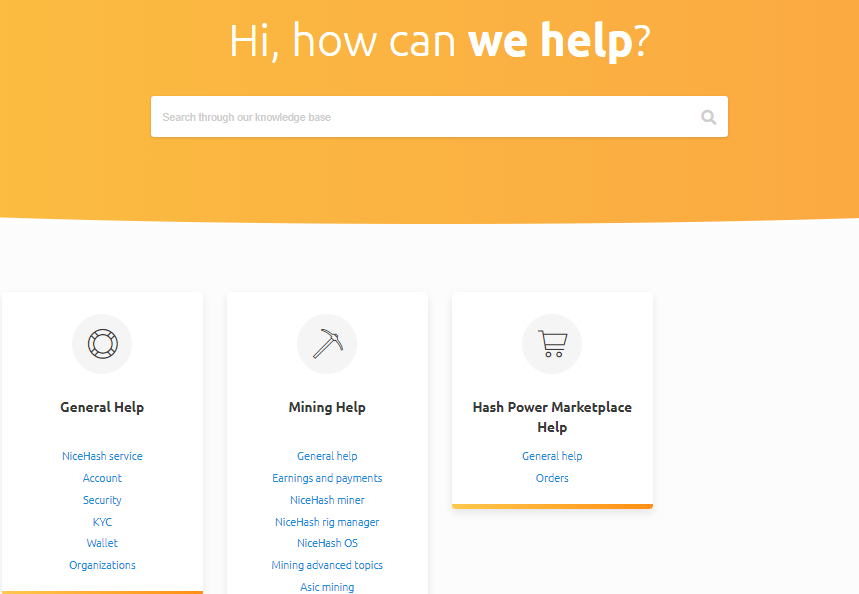 MinerGate vs Nicehash – Who is better?
Cryptocurrencies availability – It is a clear stance in regards to this category that NiceHash is a better option as it supports more crypto assets than MinerGate.
Security – Both the platforms offer robust security measures & protocols and are improvising on the regular basis. MinerGate is still a better and safer choice since the platform has not been compromised ever.
Features and services – MinerGate and NiceHash offer some quite useful features including various algorithms, mining pools, calculators, softwares, wallets, etc. Therefore, which one is a better choice depends on users' needs.
Mobile applications – Both platform offers mobile apps for both Android and iOS users but Google play did however improperly ban MinerGate's app in 2018.
FAQs
Q1. Is MinerGate mobile legit? 
Yes, one can start mining from their smartphones although it does not generate much of a profit. 
Q2. How long is NiceHash payout? 
Payouts are executed once in every four hours.