Are you interested in trading in cryptocurrencies? Well, Trader Cobb offers a very detailed course on trading. In this review article below, we have discussed all the details you need to know before choosing to invest your time and money in it.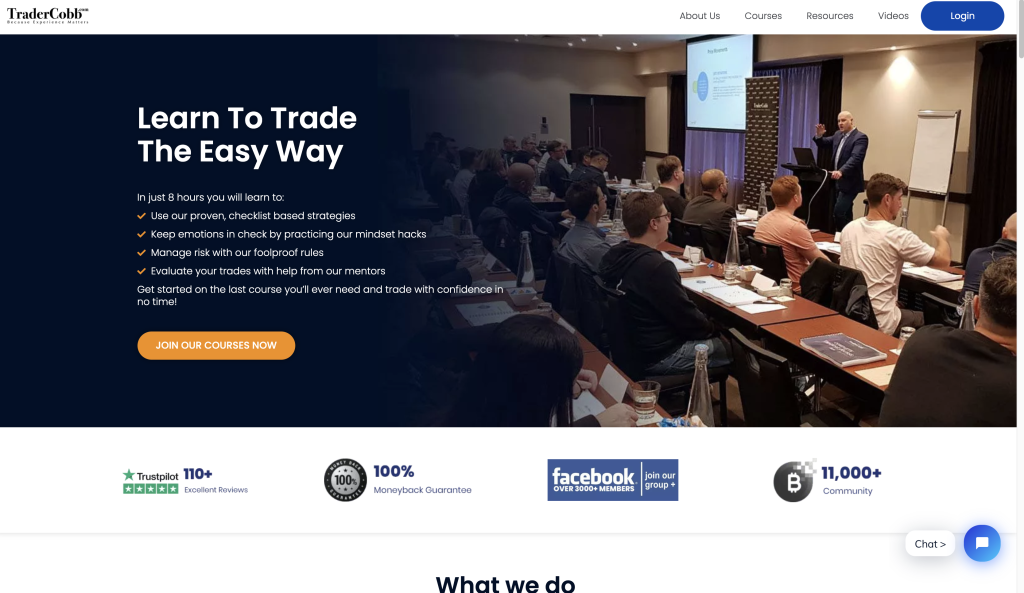 During the last few years, many people have shown interest in trading cryptocurrencies. Many people have started trading only in crypto coins. Cryptocurrencies are being called the currency of the future and Metaverse is being called the social media of the future.
Everything from online meetings to multiplayer games is being done inside the virtual world of the metaverse. Nike and H&M have also started designing products and stores in the metaverse. Facebook even rebranded itself as Meta. The curiosity and excitement to get into the virtual world have gone so high that the sales of Oculus VR headsets have doubled in just a year.
With so many people getting interested in the metaverse, the market is reacting accordingly. When the popularity of a company grows, its stock value also increases. But what about when the popularity of an entire industry grows? In that case, the stock value of all the companies associated with the industry grows. As the metaverse is built upon on crypto framework, growth in the popularity of metaverse means the growth in the stock price of all crypto coins. This growth is very attractive for investors. Multiple billionaires are showing interest in cryptocurrency markets and it is motivating many other people to get into the crypto trading space.
Who is Trader Cobb?
Craig Cobb is a trader and an educator from Sydney Australia. Cobb had started trading early in his life and has been a trader for more than 11 years. He was a full-time trader on the London Exchange for almost 10 years after he moved from Australia to the UK. But only recently he started trading crypto.
In his 11 years of experience as a full-time trader, he faced a lot of ups and downs. He has gone bankrupt multiple times and had almost nothing left on him. But he did not give up on trading and continued until he succeeded in it. On his path to success, Cobb learned a lot from his mistakes but he saw other new traders making the same mistakes that he did. This is what motivated him to become an educator.
Trader Cobb is an educational platform launched by Cobb himself with the goal of educating and training all the new and upcoming traders on all the technicalities of trading along with the positive and negative aspects of trading.
He also has a Udemy course on crypto trading titled 'Beginners Guide to cryptocurrency.' More than 3000 students have enrolled in the course and more than 60 have given it an overall rating of 4.1 stars.
Cobb also has a Spotify podcast called 'The Trader Cobb Crypto Podcast' which he claims to be the #1 crypto podcast on Spotify. He also has his own YouTube channel where he uploads educational videos on crypto does daily live streams on different crypto stocks and shares his idea of the market. He has more than 18 thousand subscribers and 1100 videos on his channel.
Product Overview
Trader Cobb is a well-designed course that has all the elements that an educational course must-have. It is a platform created by Craig Cobb and run by 5 team members, each of whom is the head in their respective fields. The team also has 4 apprentices and 2 mentors that help them design the course material and coach the students.
Courses Offered by Trader Cobb
The Trader Cobb website offers two courses:
Become a Trader – Free
Become a Master – $899
Cobb wishes to educate people on everything about trading from the basics to the complex technicalities. Therefore he offers the basics course for free to all. The paid course is also not very expensive when compared to other similar educational platforms as it contains everything that an amateur trader needs to know in order to become a pro trader, and it is all in one course instead of being divided into multiple courses where you have to pay for each of them separately.
Trader Cobb only changes a one-time fee of $899 and you can access the course for your lifetime without paying any extra charges.
Become a Trader course
This is the most basic course that is going to teach you all the basic stuff you need to know about cryptocurrencies and crypto trading. It has 13 lessons on the fundamentals of crypto trading that will make you chiseled enough to start crypto trading. These lessons contain articles and guidance on what is cryptocurrencies, how they work, how their trading works, how to trade crypto, and how to start trading cryptocurrencies. It also has more than 3.5 hours of video content in the course where Cobb and other educators teach all the details of starting crypto trading.
This beginner course is divided into 3 sections and they have their own sub-sections:
Getting Started

Section Overview
Introduction to Trading
Basics & Lingo
What Type of Trader are You?
Learning the Right Words
RECAP – What Did You Learn?

Mastering Price Action

Section Overview
Trends
Chart Patterns
Using Moving Averages
Candles
Multiple Time Frames
Indicators
RECAP – What Did You Learn?

Setting Up Your Accounts

Section Overview
Trading View – Account Setup
Exchanges – Account Setup
News & Information
Closing Thoughts & What Next
This course focuses on the basics of trading which include Fundamental Analysis, Risk Management, how to read charts, etc. Risk Management is a very important part of Cobb's training as he has faced bankruptcy multiple times when all his stock value dropped to zero just because he could not assess and manage the risks involved in it. From the start of the session to the end, Cobb always highlights the importance of Risk Management in trading. He also shares insights on his way of trading where now, only 3% of his total investment value is risked and he can trade freely without worrying about facing huge losses.
Become a Master Course
The Master's course is much longer and more detailed than the basic course, obviously. It covers all the minute details of trading and helps traders become experts in trading through technical analysis and strategies.
Cobb also shares multiple tips and tricks of identifying entry and exit points through his years of experience in trading. The Master course has over 8.5 hours of rigorous content divided into 5 sections. Cobb claims that these lessons are enough for any trader to become an expert in crypto trading and he/she would never need to subscribe to any other trading educational course.
Apart from the lessons, Trader Cobb offers a video series of one of the apprentices on how they started small and what steps they followed to become more polished traders.
This premium course will also provide you with 3 proven strategies in the market that have been tested multiple times by the experts and would surely work in the crypto market. This would help traders yield maximum profits.
The Master course is divided into 5 sections as follows –
Strategy 1 – The Bitcoin Breakout

Section Overview
The bitcoin Breakout Strategy
Examples
Practicals
RECAP – What Did You Learn?

Strategy 2 – The Crypto Cradle

Section Overview
The Crypto Cradle Strategy
Examples
Practicals
RECAP – What Did You Learn?

Strategy 3 – The Fibonacci Booster

Section Overview
The Fibonacci Booster Strategy
Practicals
Examples
Entry & Stop Placement
RECAP – What Did You Learn

Section 4 – Managing Your Risk

Section Overview
Understanding Risk & Money Management
Trade Risk Reward
Positive Crypto Trading Mindset
Keeping Records
Common Mistakes
RECAP – What Did You Learn?
Final Thoughts & Next Steps…

Section 5 – Toolbox

How to Raise Orders on FTX
How to Short on FTX
Hands-on Guide to Binance Margin
Cobb claims this style of arranging the complete course is very effective and better than just going through topic-based lessons. According to the Trader Cobb website, the Master course helps traders to solve the following hurdles in trading:
How to use 3 simple, proven strategies that work in any market conditions
How to pick trades with a high probability of success
How to manage risk in a controlled way
How to use the checklists to determine what trades are worth taking
How to make a trading plan and abide by it so as not to have emotions interfere with results
How to log and review trades to improve
This course mainly focuses on strategies and technical indicators required to find good trades. Strategies are a very important part of trading as it helps in making a set of self-made guidelines for investing. A strategy depends on multiple indicators and depending on how the indicators react to the price change, the moment of the price in the next few hours can be predicted. Once all the requirements are met, the strategy gives buy/sell signals depending on if the market is going to go up or down. As these strategies have been tested multiple times by experts, they have a very high profitable percentage and an outstanding profit factor on almost all cryptocurrencies in the market.
Why is It Important? (Education is Necessary)
Before starting trading, it is very important to be thorough on all the details of trading including all the major indicators, candlestick patterns, and identifying entries and exits. These are extremely important because the market does not move how you want it to move, it moves with market sentiment and the market sentiment can be predicted only by Technical analysis. Another thing that Trader Cobb focuses on is Risk Management. Even after you do your complete technical analysis, you can still be wrong and start losing money. To do this learning risk management is very important and Cobb emphasizes a lot about it throughout the course.
Who Can Join Trader Cob Course?
Trader Cob is an educational platform for traders that are just getting started in the crypto trading business or are already in trading but are unsatisfied with their performance due to a lack of technical knowledge. Trader Cobb aims at solving this problem by educating the absolute beginners for free and then charging some amount for the advanced training.
Trader Cobb is a perfect choice for any trader who is facing difficulties in making profitable trades or for absolute newbies who are about to enter the crypto market.
Review Conclusion: Is Trader Cobb Worth it?
While most educational platforms only care about making money through subscriptions, they actually don't care about the traders. But Trader Cobb is different, It has very genius pricing. When a trader starts they generally don't want to pay for educational courses. That's why Trader Cobb offers this for free.
Once you master the basic course, you can proceed to pay for the premium version. Also, Trader Cobb has a very unique checklist-type teaching method, and Cobb claims it to be much more effective than other similar platforms.
The biggest plus point is that you can clearly see that Cobb is really keen on teaching and a keen teacher who is excited about teaching something is the best teacher.
So, yes it is definitely worth the money and time.