You may have used TradingView before, it may looks pricey with less features.

Yes, there are many other best TradingView alternatives offering many more features in less pricing. Even if it's a stock trading, cryptocurrency trading, forex, buy/sell signals, profitable entry/exit or a portfolio management below list may blow your mind becuase of it's advaced AI based features are wonderful.

As you know, TradingView is one of the most popular charting and technical analysis platforms in the world. It has the most number of technical indicators for any charting platform and it has the most customizable and versatile interface. It also covers stock data, crypto data from popular markets and exchanges from all over the world. It is definitely one of the most trusted platforms in the trading community. Many other platforms compete with TradingView and excel TradingView in many aspects. Here we are going to talk about 3 such platforms and benefits over TradingView.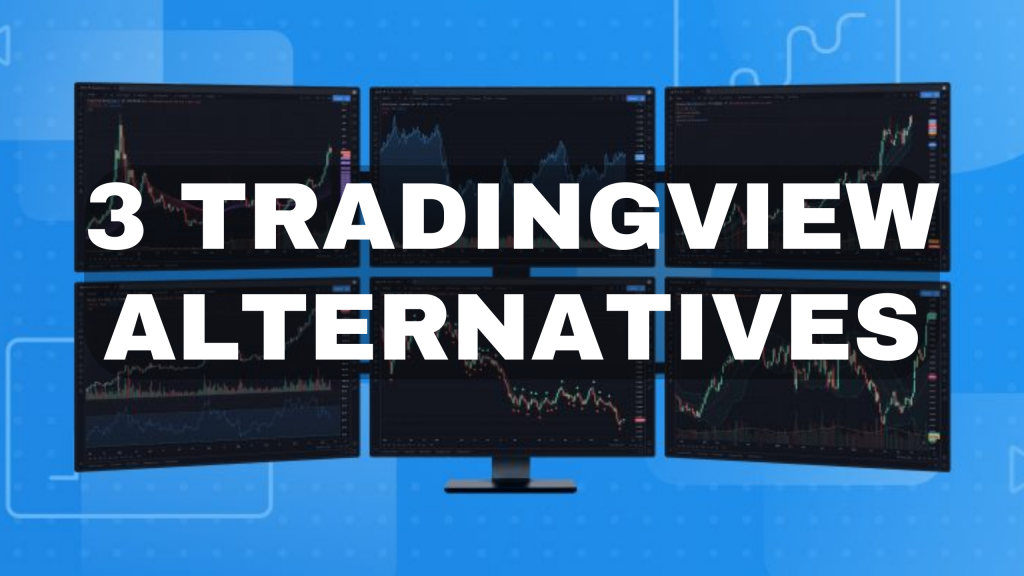 1. TrendSpider
TrendSpider is a relatively new platform that has been gaining immense popularity among the Technical Trader community as it provides a lot of automation features. TrendSpider is the best alternative to TradingView when it comes to automated indicators. Its technical indicators are supported by AI that makes technical analysis much easier and ensures more accurate and profitable calls. It is made to make technical analysis easier and more efficient by automating the manual processes in technical analysis like automatic trendline detection and dynamic price alerts.
Even though it is a hassle to learn a new platform, it becomes much easy when TrendSpider provides free tutorials and study guides along with one-on-one customer service.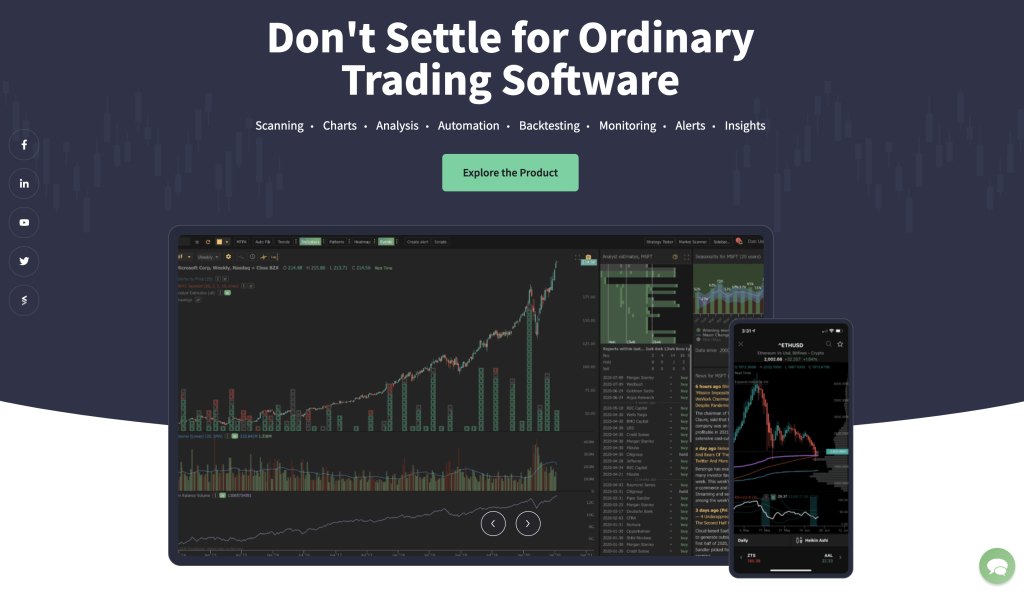 Features of TrendSpider
Automated Technical analysis tools
TrendSpider is known for its expertise in Technical analysis as it offers a lot of AI-based technical analysis tools that help traders. The most important and popular of them is its Automatic Trendline Detection tool that studies any price chart and identifies accurate trendlines. Earlier traders used to manually draw on charts and try to guess the support and resistance, but TrendSpider makes it easy by using AI to do the hefty task. This results in more profitable decisions and reduces the chance of human error from technical analysis.
Apart from trendlines, the other most important tool in technical analysis that helps traders predict trend reversals or breakouts is Candlestick patterns. While candlestick patterns require no guessing or complex maths, it can sometimes be hard to find such patterns or get confused between the hundreds of patterns and it may result in wrong decisions. That's why to solve this issue, TrendSpider has Automatic Candlestick Pattern detection that not only identifies the patterns but also gives all the detailed information about the pattern and what it means for the future price movement.
Other than that there are also Automatic Fibonacci Retracements that study the highs and lows of a candle to give buy or sell signals.
Almost every charting platform on the internet has an alert system. But TrendSpider offers more flexibility with its alerts. While most platforms have alert systems only on prices, on TrendSpider you can set alerts on any indicator or trendline. You can also adjust how far from the trendline, the price reaches to trigger the alert. This way you can easily keep track of all the breakouts.
TrendSpider's Charting system
TrendSpider is a technical analysis and charting platform, thhis means it must have great charting features, and it does. TrendSpider markets its charting platform as Smart Charts. These smart charts are comparable to TradingView's in terms of efficiency, customization, and overall UI. Though it does not have as many types of charts as TradingView, TrendSpider has come up with their own chart type that they call Raindrop charts. These charts use left VWAP, right VWA, highs, and lows to create the wiggly looking candles and TrendSpider claims that these charts are much more efficient in giving buy and sell signals as compared to the traditional candlestick charts.
TrendSpider's Backtesting tool
TrendSpider also has a very smart backtesting tool. But before using that you need to create strategies. Creating indicator strategies is very tough work as you need to first learn its coding language and then you have to code the entire strategy. But on TrendSpider, you can easily create strategies by combining different indicators in a very simple way and then you can backtest your strategies multiple times to check their viability.
TrendSpider Pros & Cons
Pros
Automated technical analysis
Customizable charts
Multiple timeframe analysis
Automated dynamic alerts
Backtesting
Tutorials
Responsive Customer support
Cons
Challenging to use for beginners
No social trading is available.
No copy-trading is available.




2. Trade-Ideas
Trade-Ideas is undoubtedly the other best TradingView alternative charting and technical analysis platform for day traders and momentum traders. It is a 20-year-old software that uses Artificial Intelligence at its fullest to help traders make more efficient and profitable calls. It is not just a technical analysis platform, but an AI-backed software that gives daily buy and sell signals to day traders.
Its cloud-based AI system gives up to 3 – 10 possible entries with a success rate of 60% in a day after analyzing hundreds of opportunities. It has the most extensive tools you need for day trading including automating placing trades and making backtesting more convenient.
If you are a day trader and spend hours each morning just to search for stocks and analyze them, you should definitely switch to Trade-Ideas as it will not only make your trading more profitable but also faster and more efficient.
Features of Trade-Ideas
Trade-Ideas has one of the most innovative and powerful market scanners in the market. It uses its 20-year old experience in the market to build one of the best scanners for trading. The expertise of Trade-Ideas is to give entry and exit call signals to day traders. And in order to find the best stocks, a trader must first go for a more volatile market. This is where the Trade-Ideas scanner comes in as it uses different metrics like moving averages, volume, price range, etc. to determine the nature of the stock or cyptocurrency. These metrics come in 40 in-built scans that are diversified into 3 categories – Bullish, Bearish, and Neutral.
Apart from that, traders can create their own scans using different indicators like SMA, RSI, ABV, etc., and scan the market for their desirable stocks.
Trade-Ideas Oddsmaker tool
An oddsmaker is a backtesting tool developed by Trade-Ideas. It is one of the best backtesting tools, as it also does not need any programming and coding language to create strategies. It is very simple and easy to create strategies and backtest them using the Oddsmaker tool. Oddsmaker is also very descriptive and detailed when it comes to the results of backtesting. You can also tweak any inputs in the strategy easily and can keep on running fast tests until you get desirable results.
Trade-Ideas has its own full-fledged AI that helps traders make more profitable decisions. Holly is an Artificial Intelligence that studies each and every stock at the start of the day and gives 3 – 10 probable entry calls signal to day traders. The AI system has been analyzing stock or cryptocurrency data for years and therefore, it now knows what changes in the market behavior would result in an uptrend or downtrend. At the end of each day, the Holly AI studies its decisions and the results and uses the data to make better decisions in the future. This AI tool is perfectly crafted for day traders and has been a trustworthy choice of traders for years.
Brokerage Plus is an AI-based trading tool in trade-Ideas that can automatically make entries and exits in the market for you, once you connect your Trade-Ideas account to a supported broker & exchange. It is a great tool as it uses automated computer programming to place trades which is much more calculated and precise when compared with manual trades.
For new users, Trade-Ideas can be a bit cumbersome. In order to solve that, Trade-Ideas offers a separate training platform called TI University where you can get everything from study guides to tutorial videos and also one-on-one help sessions.
Trade-Ideas Pros & Cons
Pros
AI integration
Best for day traders
Powerful Scanner
Fast backtesting
Reliable Calls
Complete automated trading experience
Educational content
Cons
Old-school interface
No mobile app
Comparatively expensive subscription plans




3. Coinigy
Coinigy is a very different platform than TradingView. It is not an alternative to TradingView as Coinigy itself uses TradingView for its charts, but it has more data on cryptocurrencies than TradingView. While TradingView has market data from only the major cryptocurrency firms, like Binance, KUCoin, Kraken, Coinbase, etc., Coinigy has market data from over 40 different exchanges around the world that deal in more than 5000 cryptocurrencies. This makes Coinigy a very good alternative for market research. Also, the other big advantage of using Coinigy is that it specializes in managing all your portfolios in different exchanges in one place so that you can keep track of all your investments in different exchanges all from one platform.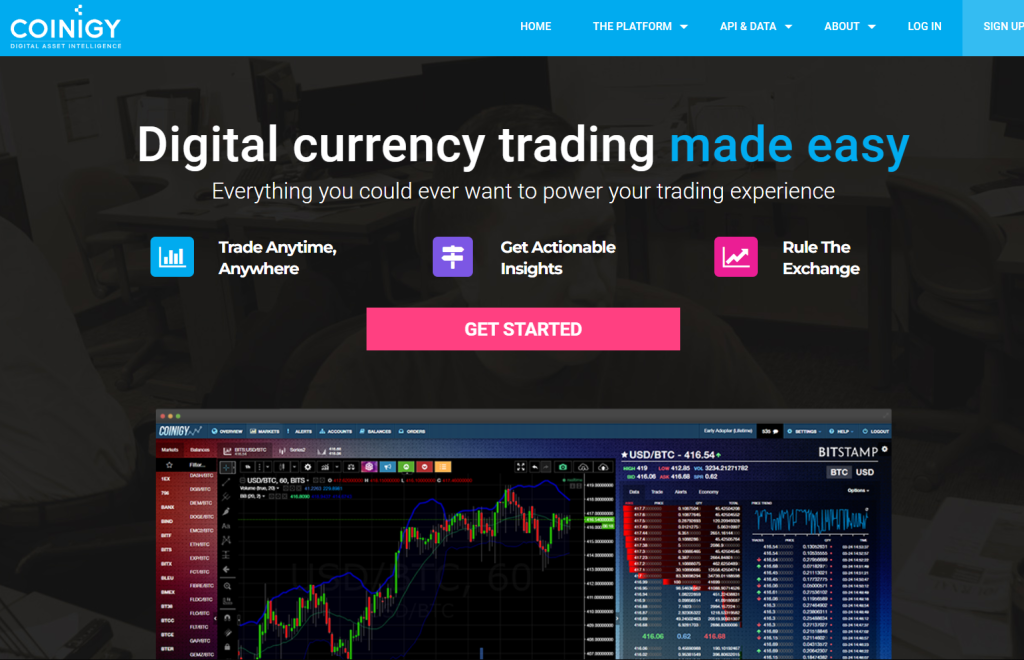 Features of Coinigy
On Coinigy, you can see all your crypto wallets from various trading platforms in one place. You don't need to go to each and every exchange and note down your portfolio to calculate your total portfolio size. Coinigy makes it much simpler and easier for traders that trade on various exchanges.
Coinigy has more than 40 different exchanges integrated with its platform. This means it has the data of more than 5000 crypto coins from multiple exchanges. And you can access all the data by just going on its 'Markets' page choosing any particular crypto exchange and then searching for your desirable Cryptocurrency or stock. It has multiple options and uses TradingView's charting interface to display the charts.
Coinigy has some in-site web apps like MarketWatch, NewsWire, ArbMatrix, CryptoTicker, etc. These apps help Coinigy in covering all aspects of trading that it generally does not mention on its website. These include a crypto news hub that provides the latest updates from all around the crypto community, A market scanner that scans for the best and most profitable Cryptocurrency & stocks in the market to invest in, and arbitrage options for traders who want to cross-trade between exchanges.
Coinigy Pros & Cons
Pros
Extensive market data
Better portfolio management
Arbitrary trading
Good Market Depth view interface
Cons
Very few Technical Analysis and Trading features
Plain interface
No Customizations