Trezor was founded in 2012 by SatoshiLabs with its headquarters in Prague, Czech Republic.
In this Trezor Wallet Review we will be covering Trezor products, supported cryptocurrencies, Trezor security measures, features, price tags, customer support, user interface along with the pros and cons.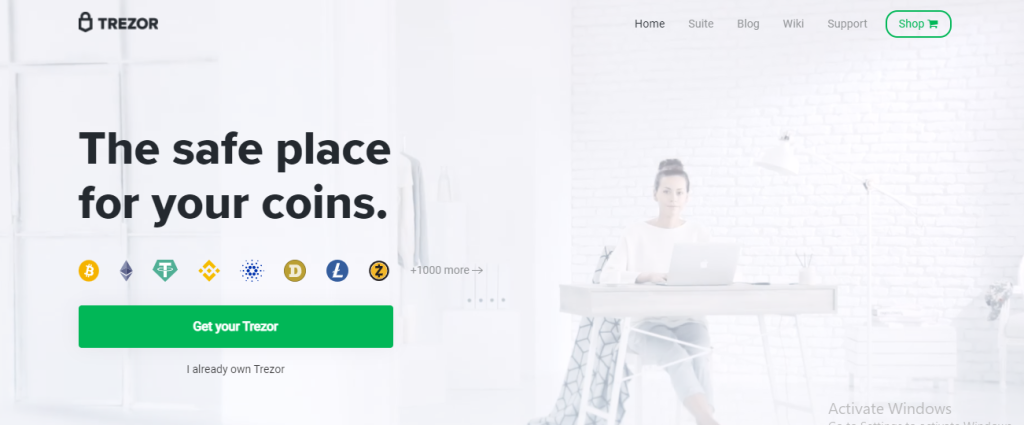 What is Trezor Wallet?
Trezor offers hardware wallets that provide "cold" storage for users' crypto assets. Since cryptocurrencies are susceptible to online hacking attacks, everyone in the crypto community has started investing in these kinds of wallets.
Trezor wallet are one of the best hardware wallets that exist in the crypto sphere, from security to tech specs to user interface all are top tier. The wallets are primarily purchased due to the blockchain security and access control they offer to their clients.
Trezor has sold over a million wallets till date and has users all over the globe. It has been trusted, analyzed and endorsed by companies like Forbes, coindesk, Bitwala, Bitstamp, etc.
Trezor Wallet Features
Trezor has a rather simple to understand and easy to use interface. It is dynamic in nature as it supports a lot of cryptocurrencies. The devices have a high resolution digital screen which helps in initialization and setting up processes.
Trezor follows a number of security measures and protocols for their devices like PIN, recovery seed, passphrase, Trezor password manager, firmware updates, two factor authentication, Shamir backup, etc.

Trezor devices currently support over 1000 crypto-related assets. Some of the cryptocurrencies are directly accessible and manageable whereas others via third party applications. Trezor wallet currently supports in total 10 digital currencies directly, namely, Bitcoin, Bitcoin cash, Bitcoin Gold, Digibyte, Litecoin, Dogecoin, Dash, Namecoin, Zcash and Vertcoin.
Trezor suite is the official wallet app which is currently in the "open beta" phase. Users can manage, send, receive and trade their digital assets using it.
Trezor devices are compatible with various operating systems like Windows 10, macOS 10.11+, Linux and Android OS. The wallets, however, do not support iOS devices yet.
Trezor wallet site has extensive and in-depth step by step documentation on topics regarding device setup, creating wallet accounts and much more. The company provides tons of educational resources for crypto beginners and enthusiasts.
You Must Also Read: Abra Wallet Review
Cryptocurrencies Selection Availability
Trezor hardware wallets currently support 1816 different types of crypto coins and tokens. Among these crypto assets some are directly supported by the Trezor suite while others are not. Some of the supported digital assets are BNB, ETH, XRP, HEX, UNI, WBTC, LINK, XLM, MATIC, ETC, MANA, etc.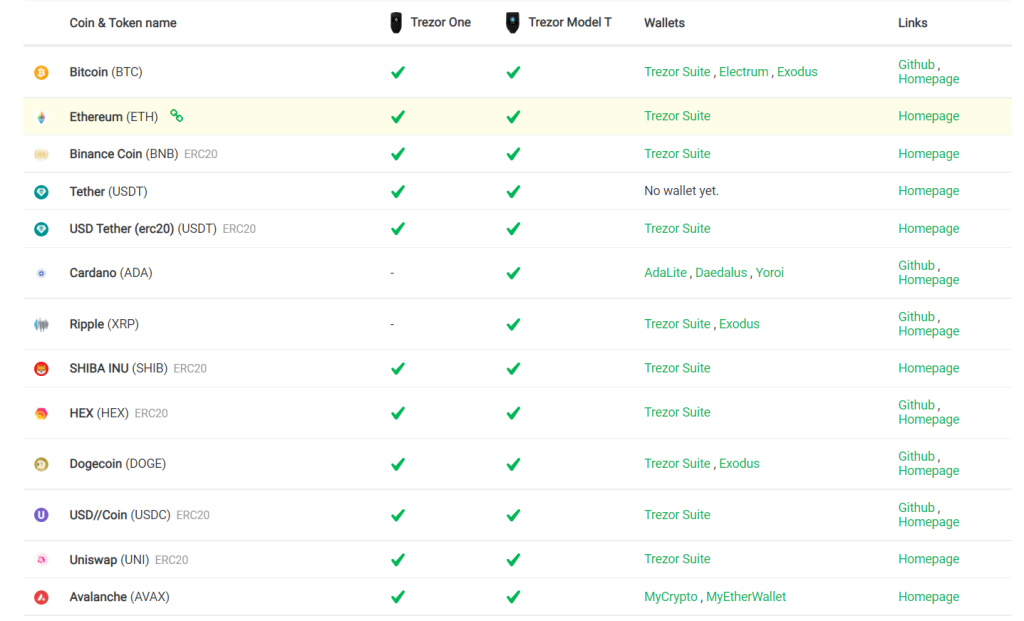 It is to be noted that Trezor T supports and offers more options to users when it comes to trading of digital funds than Trezor One.
Trezor Products
Trezor line of products offers two different hardware wallets and one software application (Trezor Bridge). In this Trezor wallet review, we will be focusing on the hardware wallets that are Trezor Model T and Trezor Model One.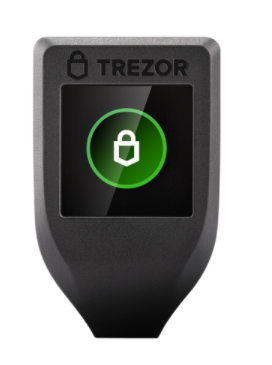 Trezor Model One: Overview
The very first hardware wallet launched by SatoshiLabs was Trezor One which costs around 63 USD. The packaging contains Trezor Model One hardware wallet, micro-USB cable, 2x recovery seed card and trezor stickers.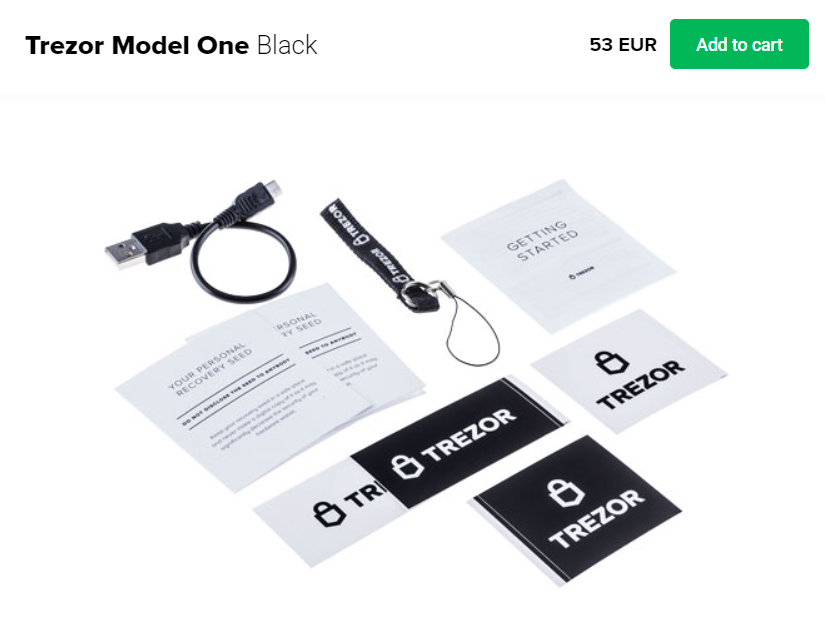 Trezor one is very handy, weighs around 16g and has the size dimensions of 60mm x 30mm x 6mm. The display has screen resolution of 128×64 pixels and can show upto six lines of text at once as claimed by the company. It has two physical buttons that are used to work with the device. A 120 MHz embedded ARM processor runs a customized system on the device.
Computer desktops and smartphones can be connected to the Trezor One using a micro-USB connector to perform various trading transactions.
It is CE and RoHS certified, follows safety measures like two factor authentication, multisig, recovery seed, PIN, reinforces accounts with U2F, etc.
Also Read: Ledger Nano S Review: Is It Secure Cryptocurrency Wallet?
Trezor Model T: Overview
Trezor T is an upgraded and advanced version of the Trezor One wallet with additional features. It costs around 185 USD to 220 USD depending upon whether you are using express or reserving it three months in advance. The packaging comes with Trezor Model T, Model T magnetic dock, USB-C cable, 2x recovery seed card and Trezor stickers.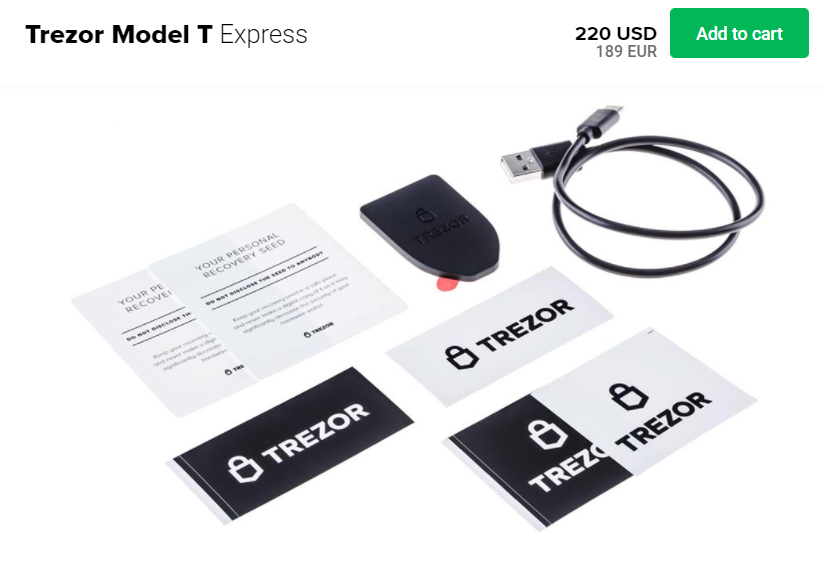 Trezor T has a touch screen with size dimensions 64 mm x 39 mm x 10 mm and screen resolution of 240×240 pixels. 168 MHz embedded ARM processor runs a custom developed system, known as Trezor core on the device.
The device can be connected to computers or smartphones using USB type C cable.
It is also CE and RoHS certified. It uses PIN, provides recovery seed, Shamir backup, locks digital keys using password manager, enforces U2F, has FIDO2 authentication, integrated GPG and much more.
Risk and Security Measures
Let's look into the security measures Trezor takes in order to keep their hardware wallets secure while safeguarding their clients' assets.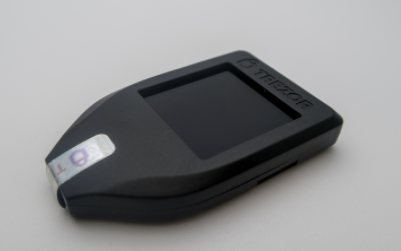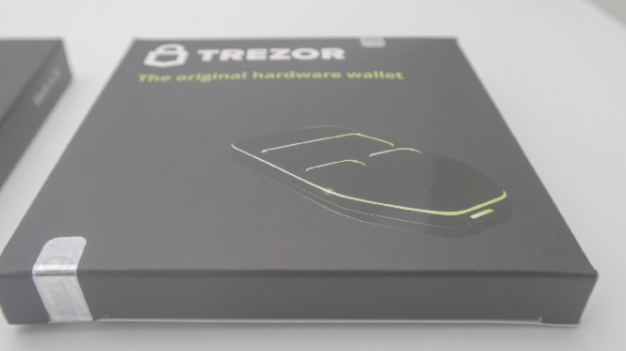 Anti-tampering seal: Trezor T and Trezor One, both the wallets come with tamper evident holograms, on the USB-C port and packaging box respectively. So, if your device has been physically tampered those seals would either be missing or damaged. In this case, contact Trezor customer support to report the incident.
PIN: During the device setup, a personal identification number which is a numeric password has to be created by the users which could be upto 50 digits long. To prevent unauthorized access, after every unsuccessful try, the delay is enforced by Trezor before it lets you enter a new PIN. Trezor one uses blind matrix whereas Trezor T uses its touch screen to enter the PIN. In case the user forgets the PIN, the device has to be wiped and can only be recovered using the recovery seed.
Recovery Seed: A seed consists of lists of words in specific order which contains all the information that is required to recover a wallet. When using Trezor suite, by default Trezor one generates 24-word seed whereas Trezor T generates 12-word seed. Users can also generate seed with different lengths like 12, 18 or 24. This recovery seed has to be kept somewhere safely because if users lose this, there's not much that can be done about it.
Passphrase: It is an optional feature that is provided for the Trezor wallet through which users can create hidden wallets. The concept can be understood as, whenever the device is used, a new crypto wallet can be generated using mnemonic sentence (recovery seed) along with passphrase (additional custom word). If you lose your passphrase, your hidden accounts and funds are lost on the blockchain network for good.
Trezor Password Manager: It is a tool that stores and manages user's various credentials and passwords which are cryptographically protected. The information is encrypted by Trezor and is saved either on Dropbox or Google Drive. The data remains safe and secure as it can only be decrypted using your trezor wallet. It works with Chrome and cross platforms like Windows, Linux and macOS.
Shamir Backup: In this method, the recovery seed is split into multiple unique shares as stated by Trezor. The users can generate substring of upto 20-30 words. The security feature is currently available only for Trezor T.
Firmware updates: The firmware can be updated on the Trezor device using Trezor wallet app via USB and always need physical confirmation by tapping the screen. The company has also released Bitcoin-only firmware which contains code that only enables Bitcoin wallet operations.
Open source: Most of Trezor hardware and software is open sourced, that is, the code is available on GitHub and therefore can be audited by any user.
Additional features: Trezor wallet protect users private keys and accounts using industry level standards for two factor authentication. Trezor T offers FIDO2 authentication and GPG integration which lets users manage passwords, encrypt files and sign emails.
Known Security Breaches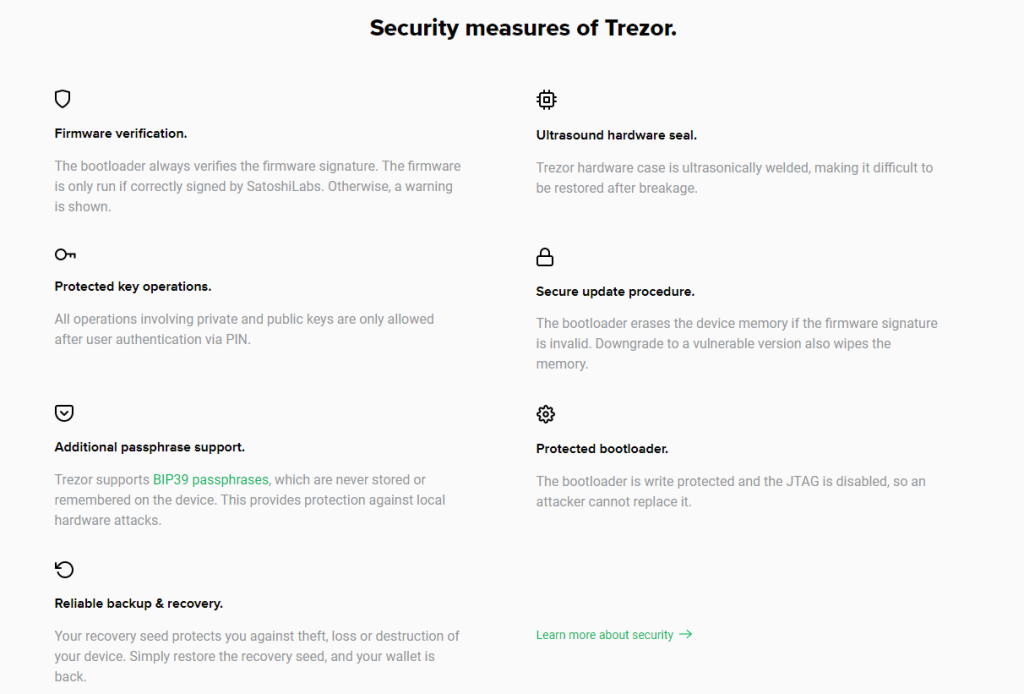 Kraken security labs on January 13, revealed the vulnerabilities in both the Trezor wallet. The hackers could get access to the user's PIN and recovery seed if they got their hands on the physical device. Although the issues have been fixed and Trezor wallet certainly keep the crypto funds safer than they would have been in any hot wallets, loopholes can always be discovered and worked upon.
Trezor Wallet Customer Support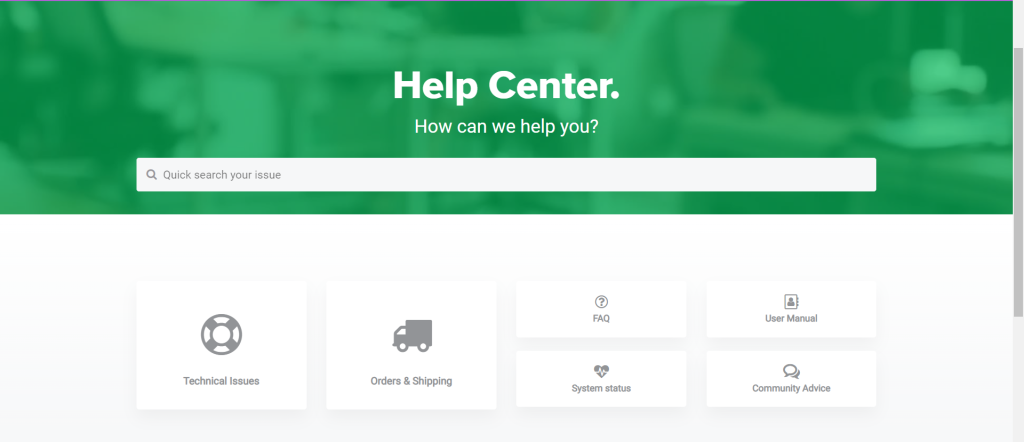 Trezor provides a help center on their site where one can find extensive educational resources along with FAQs regarding security procedures, their products and services.
One can reach the company's representatives via contact form that is available on Trezor's official site under FAQ section. Trezor's Facebook account is also valid and serves as a medium for contact support. One can raise their doubts and queries related to Trezor wallet on public Trezor communities.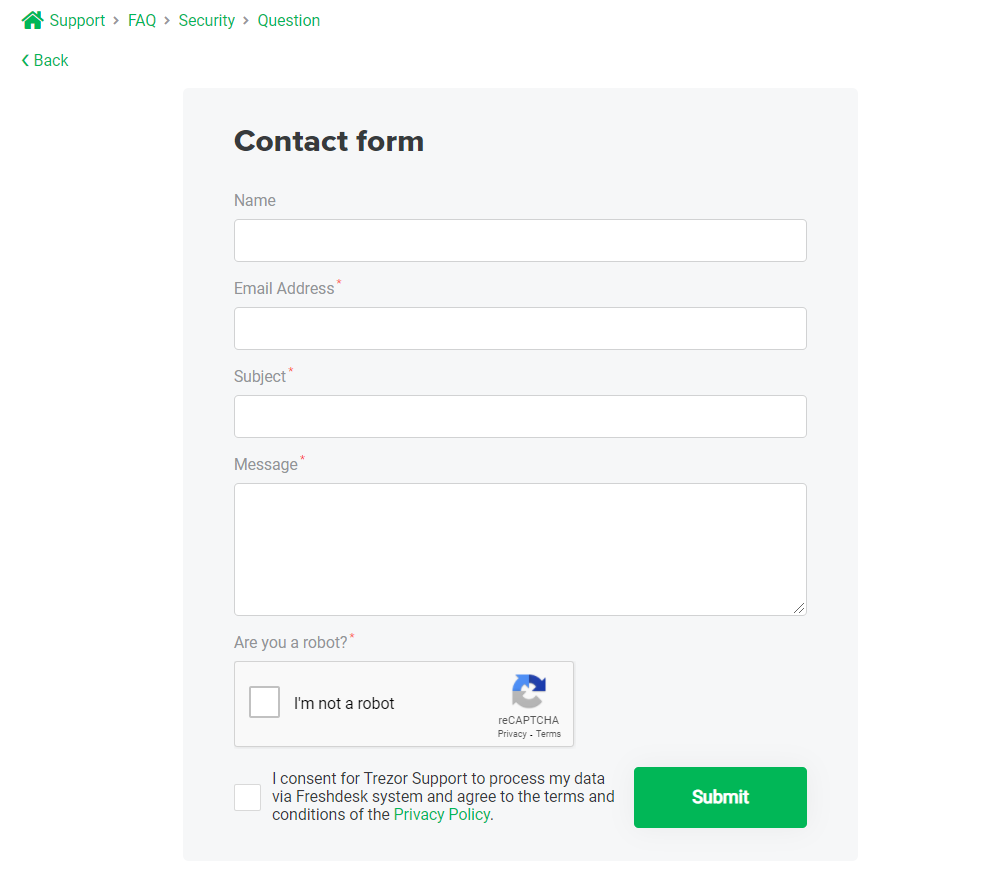 It is to be noted, Trezor does not have any phone call support.
Pros and Cons
Pros
The Trezor wallet provide ultimate security measures to protect the devices along with investors' funds using various techniques like 2FA, seed generation, PIN, passphrase, etc.

Trezor wallet are based on open-source architecture in regards to both the hardware and software, which could be used to customize the wallets according to one's own need.
The Trezor wallet support over 1800 crypto coins and tokens, providing a wide range of options for users to trade in.
The UI of Trezor wallet is easy to use, devices are portable and the display is surprisingly readable.
Cons
Trezor hardware wallets can be a little expensive when compared with the alternatives.
Trezor wallet are not compatible with iOS smartphones.
The company cannot be contacted via phone calls.
Also Read: 10 Best Ethereum Wallets (Online & Hardware)
FAQs
Q1. Where can I buy a Trezor wallet? 
It is recommended to buy your Trezor hardware wallet from the official Trezor site to ensure that the product you get is genuine and has not been physically tampered. However, you can also buy the Trezor wallet from official Amazon stores or authorized resellers. 
Q2. What is the difference between Trezor 1 and Trezor Model T? 
Trezor T is an upgraded version of Trezor One and has additional features like better screen resolution, bigger screen size, touch screen, supports more cryptocurrencies, uses Shamir backup technique and has faster processors. Trezor One on the other hand has two physical buttons and smaller screen size. It is safe to say, Trezor T offers all the features Trezor One does along with extra perks. 
Q3. Which is better trezor T or Trezor One?
Trezor T is definitely a better choice since it provides few additional advanced features that Trezor One does not, however, it is quite costly. So, if all you want is to manage your funds and trade them, you can go with Trezor One whereas crypto experts and enthusiasts can opt for Trezor T. 
Q4. Can a Trezor Wallet Be Hacked?
Kraken security labs found loopholes in both the Trezor wallet through which hackers could get their hands on user's PIN and seed. The issue has been fixed and none of the hacking incidents are reported so far. So even if Trezor wallet are not 100% hack free, they surely keep your precious crypto assets safe and are worth investing your money in.