According to Charles Shwab, 15% of current retail investors started trading during the pandemic as per review (Source), and during this time the TradingView website got more than 550 million unique visitors, which is approximately 7% of the world's population. In the last 18 months, TradingView reported a 237% increase in their site visitors and a 400% jump in their account memberships. This shows how popular the site is among traders and investors and surely it has a lot to offer. (Reference)
Expert Trader's Opinion About TradingView
From the web, we found some expert's opinions about TradingView.
What Matthew J. Slabosz Says?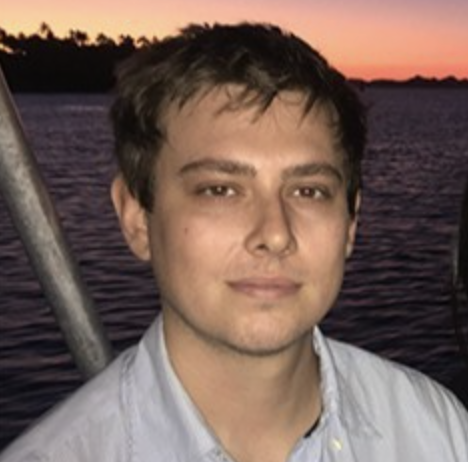 About Matthew Slabosz: He is also known as Matt, A full-time retail trader & TradingView expert from Australia. He is sharing his knowledge on his YouTube channel named Zen & The Art of Trading, where he helps the trader with tools & develops the process of trading which enhances the trading results.
He has also published the podcast "The Art of Trading" on Amazon audible.
Matt specializes in TradingView coding language from which he develops the process of trading with his expertise.
The below interview was taken by the Global prime YouTube channel & the motive to take this interview was to share the right knowledge with the audience at no cost.
Matthew's Opinion About TradingView: He doesn't like MT4 as it is outdated & not responsive. He said that Pinescript is the most powerful tool that TradingView provides because with this anyone can make certain strategies for trading as per their choice. Matthew said, the biggest Advantage (24:16) of TradingView is Easy to use, no need for any software to run on your device, and you can use TradingView in any browser, easy to use, quick & quite simple.
Matthew shared some disadvantages of TradingView (24:50): It is a bit advanced platform as compared to MT4, and the problems popup then only when you are looking for advanced challenges & to do that you have to learn the advanced features of TradingView.
What does Pierce Crosby say?
Pierce Crosby (BA, MA, Investor & Advisor in North America & Europe):
Pierce Crosby is the founder of Merchant Seven did an MA from Columbia University and a BA from the University of California, Santa Cruz. He is an Investor & advisor to early-stage fintech in North America & Europe). Source
On Pierce Crosby's LinkedIn Profile, He Shared that TradingView helps people understand data. Offering a revolutionary new approach to market intelligence, TradingView allows you to quickly connect with millions of people around the globe, gather information, and become a better investor.
What Makes TradingView So Popular?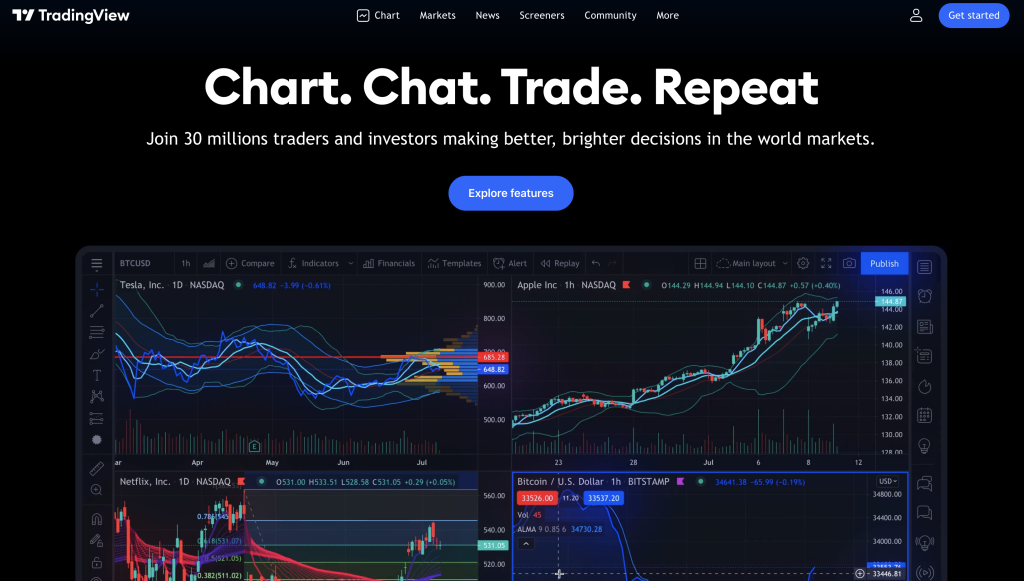 TradingView is the most used charting platform which offers a lot of financial tools to screen, study and plan trades and investments for free and also has premium subscriptions for advanced features. While there are many other charting platforms & TradingView alternatives with similar features, they are way too complex and sophisticated for a newcomer to understand. But TradingView packs all the advanced features in the simplest interface. Also, the interface is very customizable which makes it very convenient for traders to customize in their way.
The popularity of TradingView is evident from the fact that almost all trading platforms use TradingView's charts or give the users the option to switch to TradingView charts in-site. Still, most traders opt to use the entire interface of TradingView in a separate tab rather than using the broker's platform.
TradingView is the best platform made for traders and investors because it caters to every need of all kinds of traders – Beginner to Advanced.
Here's the complete guide on how to use TradingView for beginners and experts.
It is also backed by a strong community that contributes a lot to the platform as experts and professional traders provide their insights and ideas on the market positions, stocks, and ideas for the new traders trying to learn to trade. The platform knows the value of the community and thus gives them a lot of exposure so that it encourages more and more people to join the community.
Market Coverage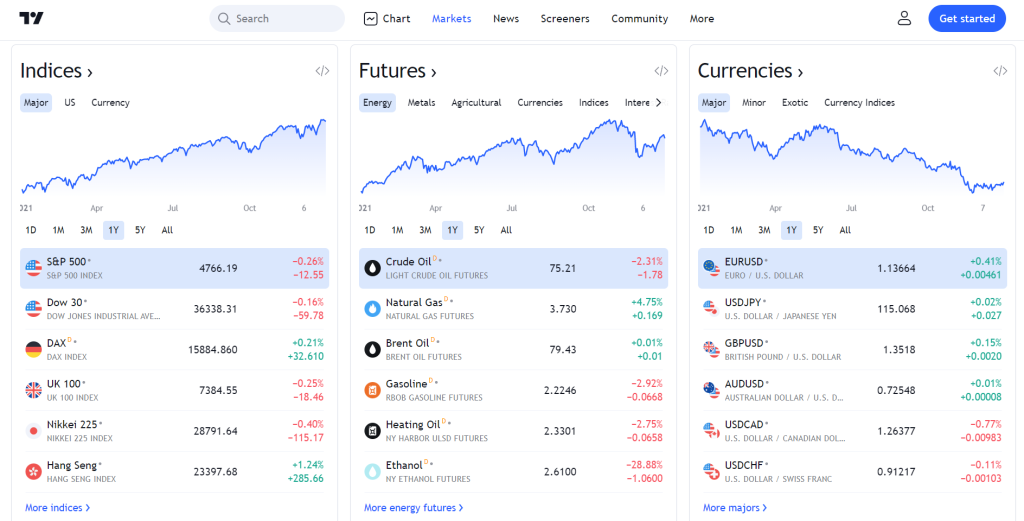 A major reason for TradingView being so popular is because it covers almost all markets from all major Cryptocurrencies to Forex markets and 52 stock exchanges from all over the world. This invites traders and investors from all fields and countries to TradingView's extensive platform as they can avail all features irrespective of the market they are trading in. Whether you are trading on the Bombay Stock Exchange, New York Stock Exchange or you are a Forex or Crypto trader, TradingView is built perfectly to suit all your needs. This versatility is what makes it one of the most trusted sites across the globe. According to Built With Trends, TradingView currently has more than 78 thousand customer websites that use TradingView's chart on their websites.
Features Review of TradingView
From Zerodha Kite to Charles Shwab to IG and Binance, all trading platforms provide their chart screeners. But what separates TradingView from them is the number of features it provides. The platform is extensively used just for the innumerable indicators it provides and how everything can be personalized to the needs of the user. While most of the features are free, getting a paid subscription makes multitasking possible on the platform.
With the free account, you can view only one chart and add only 3 indicators to it at a time. But with an upgraded account, you can use up to 8 charts with 25 indicators on it at a time. There are 4 subscription offers, the lowest one being free, Pro subscription costs $14.95/month, and the Pro+ costs $29.95/month. The costliest one is the Premium subscription priced at $59.95/month.
Apart from Indicators, strategies, technicals, etc. TradingView also focuses a lot on the news from various markets and various stocks and currencies. This helps traders in getting updated on the recent developments and they can act accordingly on the same platform as they don't need to go through various websites to do so.
TradingView Charts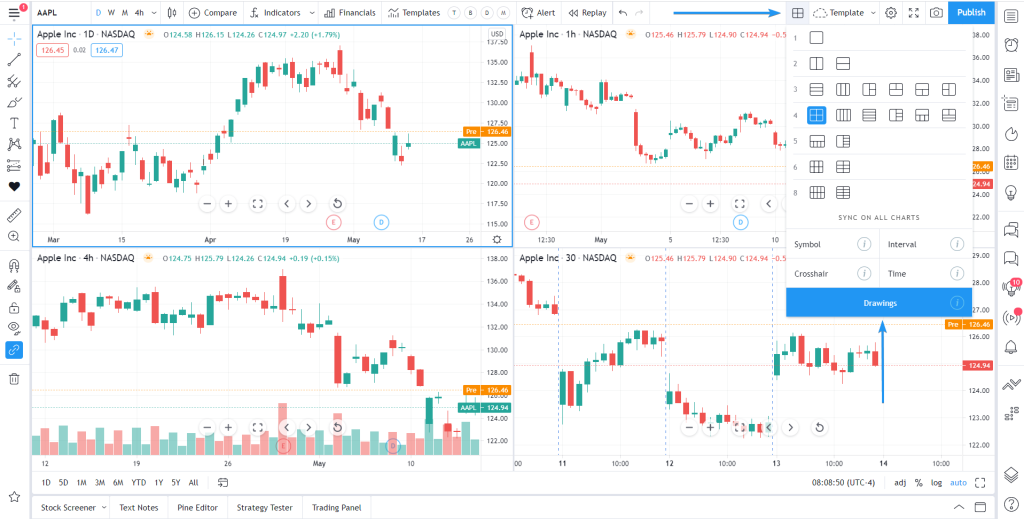 TradingView charts provide a lot of features for all kinds of traders. It is sleek, simple, and very responsive. When it comes to user experience, there is no other charting platform better than TradingView. All other charting websites on the internet seem like they were built in the 1990s and weren't updated since then. This modern look attracts new traders and makes trading a modern and satisfying experience.
Important Note: You can also do paper trading on TradingView without investing money. If you are a beginner, we recommend you to start your trading journey with paper trading & don't invest your hard-earned money. First, test your strategies by doing paper trading then only invest if your strategies are working & you are confident about your plans.
You can zoom in, zoom out, drag the charts and even draw on them in any way you like. It is very smooth and fast with the adjustments and it offers a very efficient and pleasing response. While some charting platforms offer only line charts and candlestick charts, TradingView has 12 different types of charts including Hekin Ashi, Renko, Point ad Figure, Hollow Candlesticks, Baseline, etc.
It also offers a long range of timeframe adjustments from 1 second to all the way up to 1 year. This benefits both scalping traders, day traders, and long-term investors. It is also very easy to go through multiple charts as all your saved charts are shown on the right side of the screen and you can switch between them with just a click. It is meticulously designed for the comfort of each and every trader.
One of the most useful tools on the chart is the Alerts tool where one can create alerts for when the price of a stock reaches a certain point, the platform would alert the user by sending notifications.
Drawing Tools on TradingView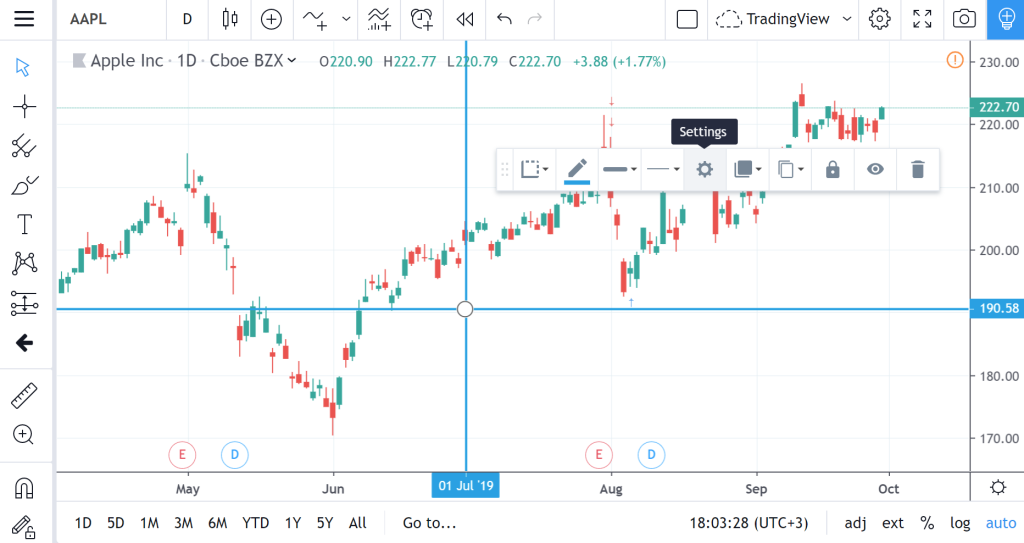 What differentiates TradingView from all other charting platforms is drawing tools on TradingView. Sometimes while trading, we need to mark on the chart to identify movement or look for support and resistance channels. That's why the platform allows you to draw a lot of tools on the chart from simple lines and pencil drawings to Fibonacci retracement lines and Cypher patterns.
It also has a tool that calculates your Risk management just by using the tool on your entry price and then selecting your stop loss and adjusting your Risk-Reward ratio. It also provides Text writing options, emoji stickers, trendlines, measuring tapes, etc. so that you can make notes and stickers while studying a chart. Given below are some of the drawing features provided by the TradingView charts. Even these are not all, but just a glimpse of all the tools.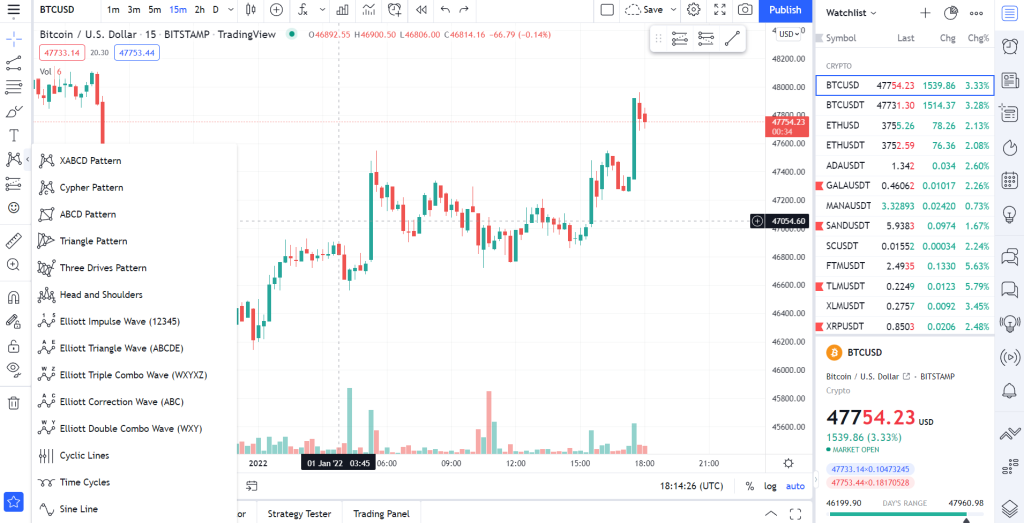 Indicators and Strategies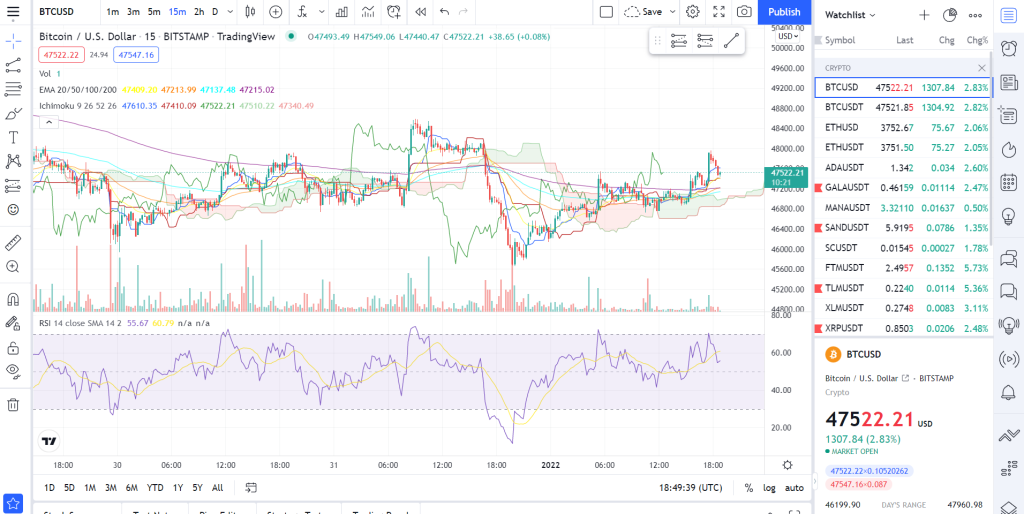 Indicators are used to study price actions and market performance. Strategies are created to help traders decide entry and exit points based on certain changes in price movement. These indicators and strategies are mathematical formulas applied to price changes and market volume. TradingView currently has more than 100 in-built indicators and more than 5000 indicators designed by the TradingView community. The basic purpose of these TradingView indicators is to help the traders in identifying buy and sell signals. Every indicator is customizable where the input values can be changed to adjust the trader's needs.
While there are hundreds of strategies in TradingView, the best thing about it is that users can create their own strategies and indicators to suit their needs. TradingView uses PineScript to code indicator and strategy scripts. Any trader can learn to write Pine scripts if they wish to learn it. The complete details on how the script works and how to write are available on TradingView itself and all of it is for free so that anyone can learn scriptwriting and use it for their comfortability.
The most popularly used TradingView strategies are:
Relative Strength Index (RSI)
Moving Average (MA)
Exponential Moving Average (EMA)
Stochastic Oscillator
Average True Range (ATR)
Ichimoku Cloud
Bollinger Bands, etc.
Community Contribution
As mentioned earlier, TradingView has a very strong community and they have contributed more than 5000 indicators on the platform. In the Indicators and Strategies section on the chart, the community-built Indicators are shown in a separate category with the names of their designers written alongside the indicator names. Apart from indicators, experts also provide their strategies in the community scripts section where one can see or use their strategies for trading. To check if the strategy really works, TradingView also has a strategy tester where the users can backtest the strategy on any chart and see the details on the returns, profits, and losses that would occur if the strategy would be used.
Apart from community scripts, TradingView has a separate communities section where people share their own ideas on various stocks, currencies, and markets. People share their studies of the market and trend analyses on the TradingView community where others and respond to it. TradingView Community also hosts live streams on the platform where creators come and share their views to a large trader audience.
TradingView Technicals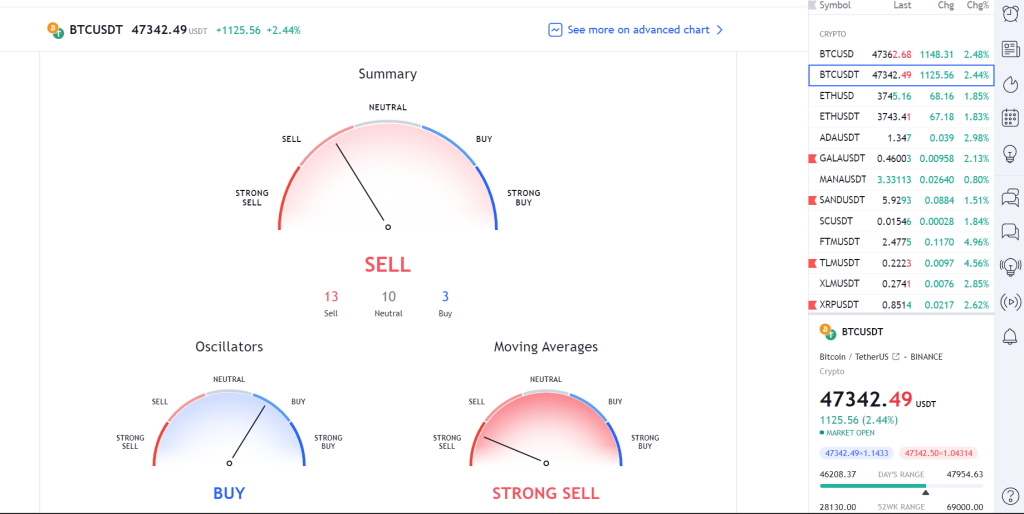 The other great feature on the TradingView platform is the Technicals section where all the technical aspects of a stock, currency, or cryptocurrency are given so that one can decide whether to invest or not. The technicals depend on Artificial Intelligence who studies the price movements, indicators, and various mathematical pivots. The AI uses multiple inputs and calculations to automatically do an extensive technical analysis for you. It is shown on an oscillating meter that indicates whether the investors should buy or sell at that moment. It also shows the values of various mathematical pivots, oscillators, and moving averages.
Screeners
TradingView Screener shows all the stocks and currencies listed on the TradingView platform in their respective categories. For example, you can open a stock screener and select any particular country, then all the stocks listed in that country's exchanges would be shown in a list.
You can change the order of the list on the basis of stock price, percentage change, volume, market cap, technical rating, and even their employee numbers. The same goes with cryptocurrencies, Forex currencies, etc. You can also select multiple stock exchanges at a time in a premium account to compare the stocks of various countries.
Conclusion
TradingView has innumerable features and is built to suit every type of trader with its super smooth and efficient user interface. It is definitely the best charting platform on the internet. It has all the advanced features a pro trader would need and also has a so simple interface that even a beginner would have no trouble understanding it. Experts said that TradingView is a platform that makes their tasks easy with advanced features like Pinescript.
With so many features and extensive data from all big markets from all around the world, it is also backed by a strong trader community which makes it even more perfect for traders as they can study, trade, and communicate with similar-minded people on the same platform.
But it is still not an error-free website. The only con of the platform is its trading panel where there are only limited stockbrokers to connect to so that one can trade directly from the TradingView platform itself and the users don't need to exit the website. While there are multiple brokers connected to the platform, it does not have any internationally used brokers, eg. Binance or KUcoin.
But as TradingView is a charting platform and not a trading platform, it definitely packs a lot more than any of its competitors and most of its features are for free.
Comparison
FAQs
Is TradingView good for beginners?
The interface of TradingView is very simple to understand and anyone with a basic knowledge of charts can easily use the platform.
Can I rely on TradingView's real-time stock data for day trading?
Yes, TradingView is the best website for day traders as it shows real-time data up to 1 second.
How do I backtest a trading strategy on TradingView?
When you have applied a strategy on the chart, you can go to the Strategy Tester section at the bottom of the screen where it will automatically backtest the strategy for you and display the output.