Trading is growing at a very impulsive rate and more and more people are getting into crypto trading. With such an increase in the number of traders, there are a lot of people searching for good software for technical trading.
Trading needs very extensive technical and fundamental analysis. Traders need to study and analyze each and every stock or crypto in detail to take trading decisions.
There are many options in the market that offer platforms for technical analysis and screening. They have their own advantages and disadvantages in different parts of technical analysis. In this comparison article, we will be comparing two of those platforms – TradingView vs MetaTrader 4 (MT4).
TradingView Overview
TradingView is one of the most used technical analysis and charting platforms in the world. It is a relatively new platform launched in 2011, but it has gained popularity only recently among the new traders.
The major reason behind its popularity is the immense number of features it offers to its users. It is a charting, screening, and technical analysis platform that offers a lot of tools including technical indicators, customizable charts, technical drawing tools, etc. And the best thing about it is that all of it is completely free. Though TradingView does have subscription plans, almost all of the features provided by it are free for all users.
It is also a preferred platform for most users due to its adaptive user interface and customization features. You can personalize the TradingView dashboard in any way you like. Its customizable and responsive modern interface is what makes TradingView a preferred choice for most new traders.
TradingView also has a great backtesting feature where you can create your own strategy and backtest it on historical data to get an idea of whether the strategy is profitable or not. TradingView is known for its international appeal as it caters to all markets including crypto, forex, and 52 stock exchanges.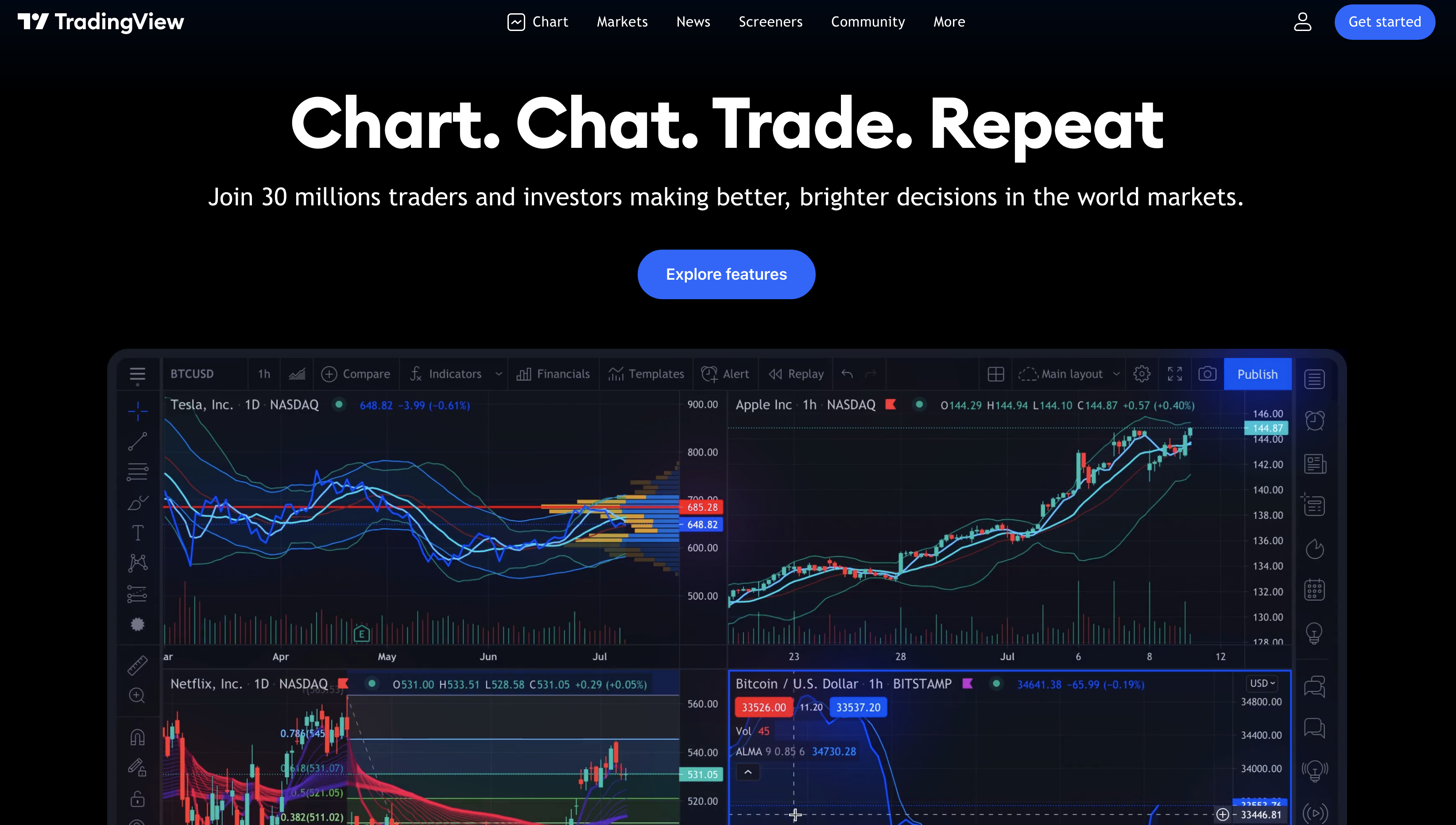 MetaTrader 4 (MT4) Overview
MetaTrader 4 or MT4 is one of the oldest technical analysis platforms in the world launched back in 2005. This also means that it has the advantage of the experience that newer platforms lack. MT4 specializes in the forex market and offers multiple automation and advanced services that facilitate forex trading.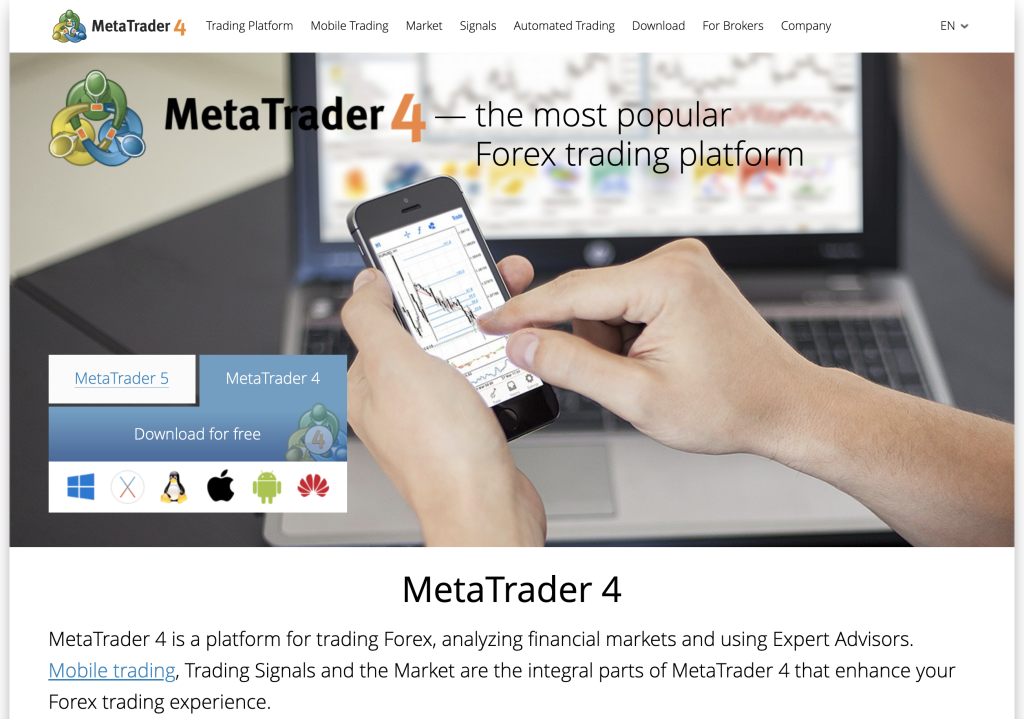 It is one of the best technical analysis platforms for foreign exchange traders. But as a technical analysis platform, it can also be used for analyzing cryptocurrencies. Meta Trader 4 also has a free demo account available where it provides most services for free except for live trading.
It is a downloadable software that can be downloaded on Windows, Mac, Linux, iPhone, Android, and also Huawei. It has also released an updated online software called the Meta Treader 5, but due to the earlier popularity of MT4, most earlier users have stuck with it, thus driving its popularity up. The platform's main specialty is helping users in automating trades that can be set using various indicators and strategies.
The only dissatisfaction users have with Meta Trader 4 is that it offers almost no direct customer service. Also, being such an old trading software, most users on the platform are experienced professional traders and the software is created to suit their needs, therefore it can be a learning slope for beginners in trading.
We have also covered the post on How to Use TradingView, check it out to learn.
Similarities of TradingView and MT4
TradingView and Meta Trader 4 are very different platforms with different points of strength. While Meta Trader 4 is old software that has years of experience of what traders need and how the market functions, TradingView comes in with a more modernistic approach to trading where Trading is not just another job where people earn money, but an experience where people can study, learn, trade and even communicate with similar minded people.
Meta Trader 4 specializes in not just Technical Analysis but also offers the option for live trading where you can set automated trades that will automatically set off when the conditions are met. TradingView has also partnered with multiple brokers to make trading simpler but it offers no automation services to its users. These are just some of the differences, let's look at them in detail below.
Charting platform
Both TradingView and Meta Trader 4 have great charting platforms and provide exceptional features on their charts. But one has to be better than the other and in this chase it is TradingView. Not only Meta Trader 4, but TradingView has the best charting system among all other charting platforms. This is mainly due to its responsive interface where you can scroll through charts, zoom in and zoom out smoothly without any hassle. It also offers multiple chart types like traditional candlesticks, line graphs, heikin ashi, hollow candles, etc. 
Meta Trader 4, on the other hand, is not as responsive and has very buggy old software. The biggest problem users face on MT4 is that when they draw a trendline on a chart, it shifts from its position when they scroll through the chart. This gives a very unreliable and troublesome experience. Also, Meta trader 4 is way too complex for new traders to use and can sometimes be very tiring to use it. TradingView has a very simple interface for its charts that is very easy to understand. 
Technical Analysis Tools
For any trader, technical analysis is very important to understand the price movement and make decisions for future investments. And Technical analysis is impossible without the right technical tools. These tools include technical indicators and drawing tools.
Technical indicators are applied on a price chart to show more comprehensive information of the price movement, momentum, trend, strength, etc., and these are then used to make accurate decisions on entry and exit trades. Examples of technical indicators are RSI, moving averages, MACD, Bollinger bands, etc. Drawing tools are simply tools that can be used to draw anything on the price chart. For example, trendlines, Fibonacci retracement, etc. are the most used drawing tools in technical trading.
For any technical analysis platform, the abundance of these tools is absolutely necessary. Even though Meta Trader 4 calls itself a technical analysis software, it lags behind in the race of similar software offering the best technical analysis tools. All the technical indicators offered by Meta Trader 4 are very basic and outdated. These indicators might have worked back in 2005, but now there are a lot of advanced technical indicators, most of which are available on TradingView.
TradingView is known for its indicators, It has more than 500 in-built indicators and also features thousands of indicators created by its users. TradingView is not only ahead in quantity but also quality. Every indicator is regularly updated on the platform based on how it is being used in the modern trading system. TradingView also offers a vast number of technical drawing tools that are used to draw various tools which can then be used to study the candlestick patterns and understand the market trend.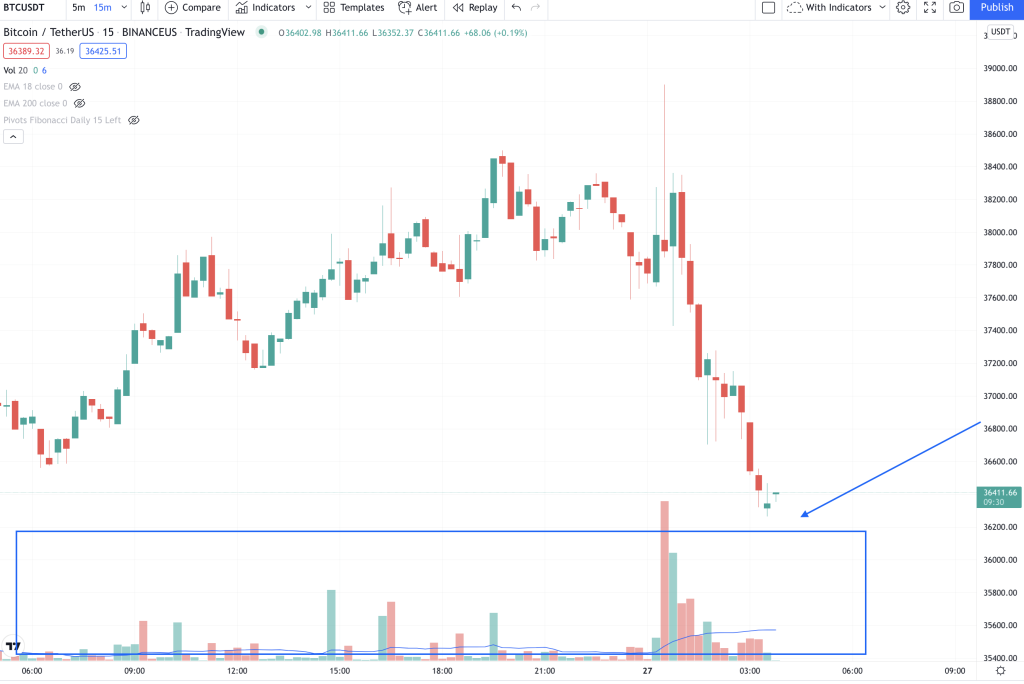 User Interface
The interface is very important for regular traders because they need to spend time and money on a platform. If the platform does not have an attractive look to it or feels buggy to use, then the trader might discontinue using it because it may be a reason for the loss.
Along with the look, the user interface must be very responsive to the user's inputs and also customizable so that they can adjust the platform according to their needs. These things make a platform more attractive for new users as they get to see something new and modern. And for professional traders, the interface should have enough customization options so that they can change the look of the platform as per their needs.
TradingView has one of the best user interfaces among all the trading platforms. It has a very simple, easy-to-use interface with a modernistic look. This makes it very appealing to those people who are about to start trading, particularly the newer generation. TradingView has the most advanced tools for technical analysis, yet it is all packed in the simplest interface. On the other hand, Meta Trader 4 has a very old-school interface. It feels like software that is still in the early 2000s. Meta trader 4 was launched in 2005 and hasn't received any major update ever. The software is also very buggy and has very few customization features.
Strategy and Backtesting
In order to make successful trades, a trading strategy is absolutely necessary. A good trading strategy limits the number of loss-making trades and increases the total profit and this is done by backtesting.
Applying a particular strategy to the historical data of any particular stock, crypto, or forex at all the possible openings and then analyzing the results & price action, chart patterns in the form of total profits and losses per trade, percent profitable, etc. is called backtesting.
Backtesting is a very lengthy process and would take hours if done manually. Therefore, almost all technical analysis platforms offer backtesting features. But the problem with the Meta Trader4 backtesting feature is that it is very bulky. You need to first enable the backtesting feature from settings and then download all the historical data separately for each stock. Even after all of that, you don't get a very detailed result on the backtesting.
TradingView has a great backtesting feature where not only you can use the in-built strategies, but also the strategies shared by other TradingView users, or even create your own strategy, which is relatively simpler than that of MT4. 
Community
TradingView has a very strong community that helps its platform in many ways. TradingView has created its own social media platform solely for traders where they can share their ideas, market insights, indicators, and even trading strategies, on the TradingView community page. This community support is enough to drive a lot of traffic to TradingView as the newcomers wish to study expert's insights on various stocks, crypto, forex, and other markets. This helps them in deciding where you should invest.
Meta Trader 4 severely lacks this community platform as most of its users are people of age 40-50 and they are not much into these spaces. It also has lost all appeal to the newcomer trading audience.
TradingView vs MT4: Pricing
Both TradingView and MetaTrader 4 offer free trading accounts to their customers. TradingView mainly charges for its multitasking features whereas Meta Trader charges for the live trading features on its platform.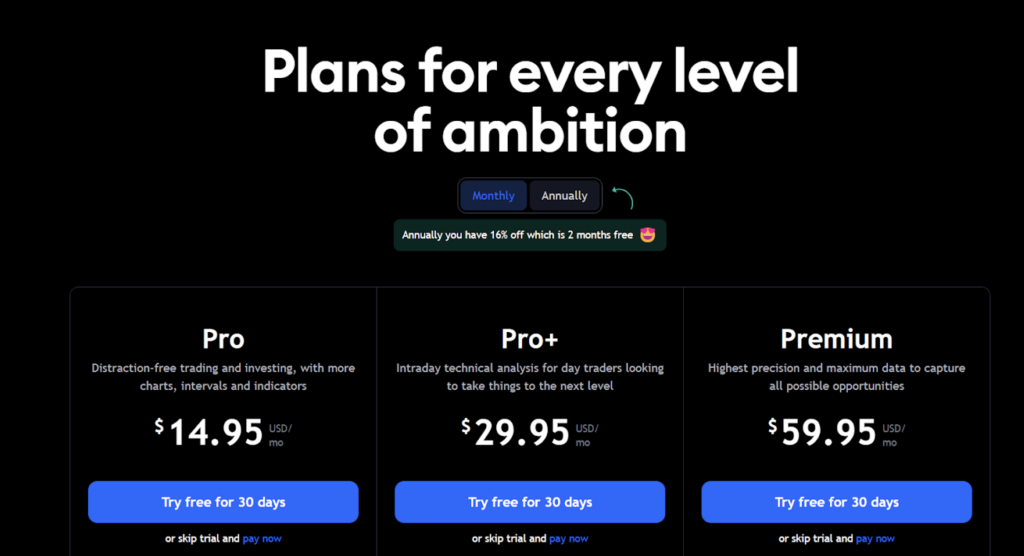 Tradingview has a subscription-based plan that starts with $0, and then $14.95/month ($155 per year) and goes up to $599 per year. The major difference between the plans is the multitasking feature. The bigger the plan you pick for, the more multitasking features you get. Apart from that, there are very minor advantages that each plan has over the other. Therefore, it is suggested that you should compare all the plans thoroughly before picking a subscription plan for yourself.
MT4 has a live trading option which is only for paid users who sign up to a broker account along with MT4. It has very complex and confusing for new users.