It's no news to anyone that cryptocurrencies are in boom and most of the people around the world have already shown their inclination towards them. So far, we also know that people like the whole concept of digital currency where the government has almost no say in it, but what's making it so hard for us to actually buy them?
New cryptocurrencies are emerging as each day goes by, where more than 6000 of them already exist. On top of that, if you lack knowledge about it, the scam traps are waiting to happen. So, then what's the solution to it? You ask. Coinmama, Let's jump right into the review.
Overview Of Coinmama
Coinmama is a cryptocurrency financial service company founded in 2013 by Asaph Schulman. It is a subsidiary of New Bit Ventures Ltd. registered in Slovakia. The Coinmama platform, however, is operated by Cmama Ltd. present in Dublin, Ireland.
Coinmama is a global platform providing its digital currency exchange services in around 188 countries and is trusted by over 3,100,000 people around the globe for the same. Thus, making Coinmama an organization that has a user base consisting of millions of satisfied investors. Needless to say, the organization has a global community.
It is known for being safe, secure while also providing speedy and global delivery of cryptocurrencies to its users.
It currently provides a total of ten types of different virtual currencies, some of them being, Bitcoin, Ethereum, Litecoin, Bitcoin Cash, Qtum, and a few more. They are also working on the sidelines to add a few newer ones too. 
Coinmama does not provide any cryptocurrency wallet and therefore users are required to already have one before buying any of the digital currency. However, Coinmama has partnered with ZenGo which is a keyless cryptocurrency wallet. One could try it out, if open to the suggestions.
Why Choose Coinmama?
The question must have come to your mind right, why Coinmama?
Well for starters, when it comes down to the exchange of cryptocurrency, from buying to selling, it is the one place to go.
Coinmama makes it very easy for its users to buy digital currencies as it offers various modes through which a transaction can be made. One can buy it using a credit card, debit card, bank transfer, or apple pay.
It provides a loyalty program to its users and gives them the opportunity to pay even less transactional fees than one would usually have to.

It is a secure and reliable platform that protects its user's virtual coins as well as personal data. Each and every individual that uses the Coinmama platform has to verify their identity in order to minimize unauthorized access to accounts, personal details, and theft of sensitive information.
The platform is globally operational with few countries as an exception whereas countries like Japan, Mexico, Brazil, and a few others can access it using third-party apps.
It does not provide any cryptocurrency wallet and therefore does not bound anyone to a specific choice. The entirety of which wallet to use is made by the individuals themselves, thus giving freedom to its user base on how they want to secure their coins and funds.
It offers various digital currencies for users to choose from and do the exchange in.
It gives its user a high spending limit through which one can buy as many coins as they wish but in accordance with their level of verification.
It provides speedy delivery of chosen cryptocurrencies in one's wallet as soon as the verification process of the payment and wallet is done. It takes up to 60 minutes for the coins to be sent.
It provides 24×7 customer support to help its clientele in case any issues continue to exist.
Coinmama User Platform
The platform has a pretty straight forward transactional flow system, meaning, the virtual currencies are bought and sold directly by the company itself.
It provides an in-built crypto calculator along with Bitcoin and Ethereum calculators which are updated automatically. The tool could be used by individuals for easy lookup of transactions they are willing to make, saving a lot of trouble and time.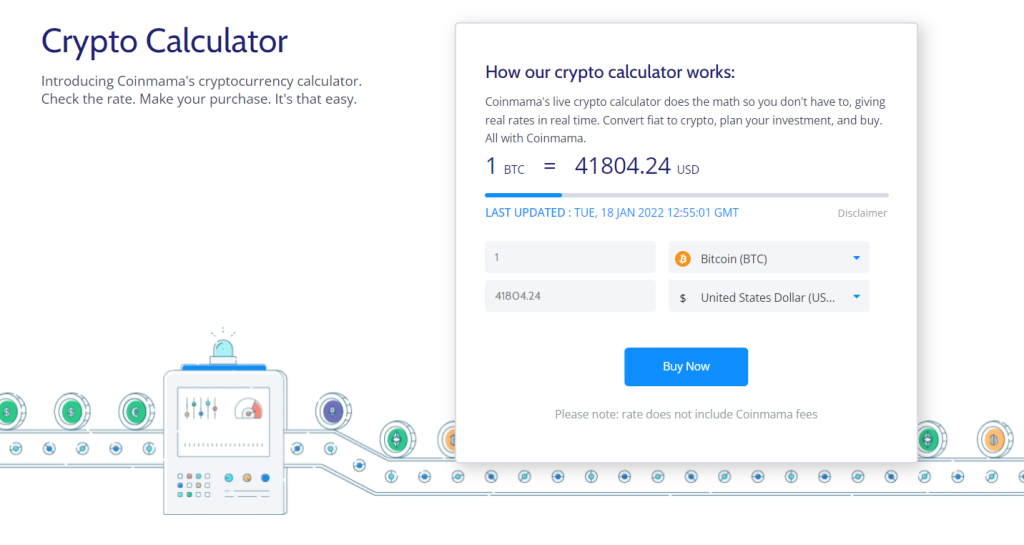 The site portal has minimalistic UI/UX which gives it a simple but clean look. It has a super easy interface making it great for users to explore through the platform and use it while also providing a hassle-free experience while dealing with crypto exchange.
You will get ultimate tutorials on various topics to guide and help beginners with their journey to being cryptocurrency enthusiasts.
Account Creation
The steps for creating an account on Coinmama are just like any other, go to the website Coinmama.com, click on the sign-up button. Completely fill out the registration form asking for your Email address, password, and country of residence.
After you are done with the registration process, you can log in to your account through your email address and password that you just set up.
Verification process
For verification purposes, Coinmama accepts a number of government documents as proof. Accepted proofs are listed below:
Scanned international (non-US) passport (both sides/double page)
A national ID card (both sides)
A driver's license (both sides)
Steps for verifying your account:
Login to your account.
Provide the personal information; your first name, last name, DOB and gender. Middle name is not mandatory.
Fill in the contact details, that is, country of residence, street address and phone number.
Upload the valid documents along with a picture of yourself holding the valid identification card you are opting for and a piece of paper bearing the words "Coinmama" and the current date (today's date) next to it.
Confirm the email address to proceed with the verification process.
Wait for a few minutes to hear the news of your account being successfully verified by Coinmama representatives.
Things to be kept in mind to avoid the delay in the verification process:
The document being used should be clearly visible along with its expiry date, including all the four corners.
High quality color image of the document should be used (300 dpi or higher)
Size of each document should not be bigger than 8 MB.
Time taken for verification process:
Level 1 verification takes around 10 minutes and after being verified you're good to make the transactions worth up to 15,000 USD. The level of verification is one of the factors that decide the transactional limit of an individual's account.
However, the level 2 and level 3 verification process can take up to 6 hours.
About account levels
Coinmama personal account limit varies depending upon your verification level, mode of payment used for transactions, and regulations. 
There are three levels of transactional limits, let's look into them a little.
Level 1
Limits the amount up to 15,000 USD per month.
Requires any valid national card, driver's license or an international non-US passport.
Level 2
Users have to have spent 2,400 USD on their Coinmama account as a prerequisite.
Limits the amount up to 50,000 USD per month.
Requires bank / credit card statement from past six months or utility bills that could be either electricity, cable, gas, water bill or property tax.
A short KYC questionnaire is to be filled.
Level 3
Users should be nearing 50,000 USD account limit as a prerequisite.
Limits the amount up to 100,000 USD.
Requires updated KYC questionnaire.
Transactional Fees and Loyalty Program: 
Since no rules and laws are regulated by the government on cryptocurrencies, Coinmama's fee rates are based on average rates listed by TradeBlock XBX + 2%. In addition to that, there is a commission fee of up to 3.90% on buying transactions and 0.9% on selling transactions.
For transactions done via debit/credit card, there is 5% of momentum fee.
For transactions made via SEPA bank, no additional charges are incurred.
For transactions done through SWIFT bank, a minimum fee of 20 GBP is charged on orders below 1000 USD and no additional fee on orders above that.
Loyalty programs allow users to make additional savings off Coinmama's commission fees. Depending upon your loyalty level, perks are provided. The more transactions you do, the more you save.
Payment Modes and Delivery Time
Coinmama provides a number of options through which an individual can successfully complete the transaction of either buying or selling cryptocurrency. The delivery of digital currency depends and changes according to the mode through which the payment is done.

Customer Support
Given below are some of the ways through which one can reach Coinmama's customer care services.
Email them through Coinmama's site.
Leave your message on phone number +1 (650) 600-9939 (California) and they'll reach out to you.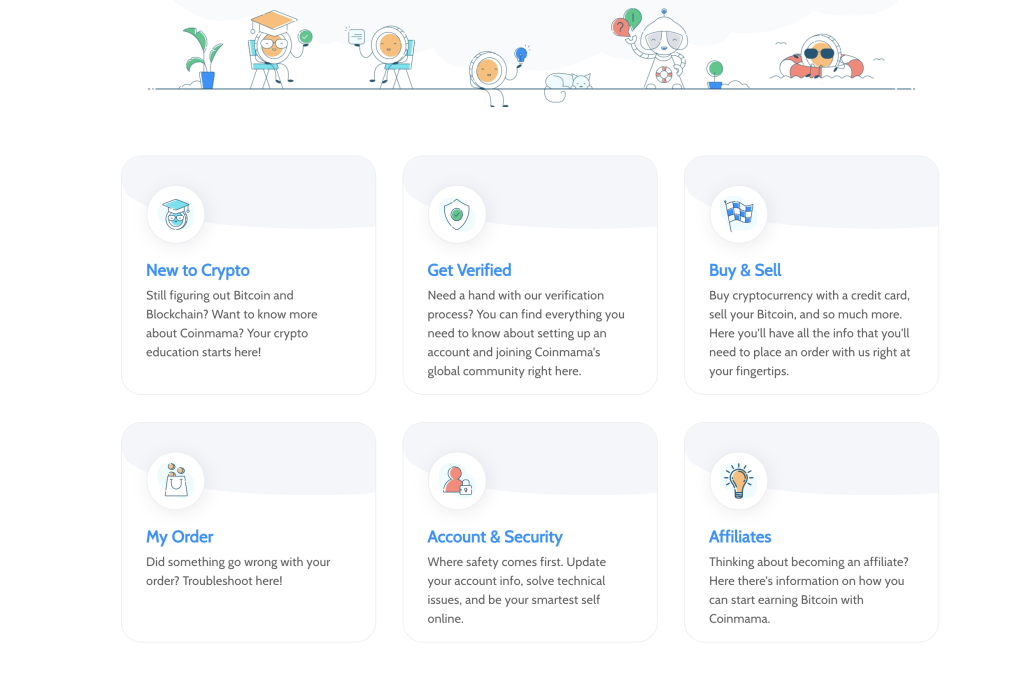 Pros and Cons of Coinmama
Pros
Trading platform: Coinmama has a pretty simple interface and transactional process. You just need to select the amount in USD or bitcoins while purchasing the digital currency. The site also sells bitcoins in fractions allowing users to purchase it for as low as 30 USD.
Transactional simplicity: Coinmama does not facilitate any transaction between sellers and buyers. All cryptocurrencies are sold from the company's own inventory as well as they buy it directly from the customers themselves.
Number of Cryptocurrencies: Coinmama currently provides a total of ten different types of virtual currencies, namely, Bitcoin, Ethereum, Litecoin, Bitcoin Cash, Dogecoin, Ripple, Ethereum Classic, Cardano, Tezos and EOS.
Safe and secure platform: Coinmama verifies user identity, authorize their accounts and then allow them to make transactions. It does not keep user information regarding digital currencies, transactional payments or their funds.
Cons
Online payment gateways like PayPal, Discover and American Express are not accepted and therefore cannot be used as a mode of payment.
Verification of documents and account may sometimes take a little longer than usual for level 2 and level 3 transactional limits.
Only Android app of Coinmama is available therefore could be a turn off for iOS users.
Conclusion
To sum it all up, Coinmama is a cryptocurrency broker, one place to go, for everyone out there wanting to buy or sell digital currencies in a simpler, easier, and secure way. It provides ample payment options as well as a number of digital currencies for users to choose from. Not to mention the customer support system that is ever ready to help the users if stuck on some problems.
Frequently Asked Questions
Q1. Does Coinmama share my personal information with anyone? 
Coinmama does not sell personal information. It only shares users' data with selected and trusted third-party service providers in connection to the services that are provided to you. 
Q2. Are my credit/debit card details saved on Coinmama? 
No, Coinmama does not save any of the user's transactional details. 
Q3. What currencies does Coinmama accept? 
The portal accepts all the currencies however the rates are displayed in USD, EUR, GBP, CAD, AUD, and JPY.