iFX EXPO Dubai 2022 B2B fintech conference was a huge hit as you'd expect it to be. If, however, you missed the opportunity of attending such an insightful event attended and addressed by some of the most powerful people in the fintech industry right now, don't worry this iFX EXPO Dubai review has got you covered.
In this iFX EXPO Review, I've in detail written about my own event experience along with other aspects of the conference such as venue details, sponsors, speakers, and their sessions, key takeaways and more.

iFX EXPO Dubai – Event Overview
iFX EXPO is an industry leading business to business conference conducted for the sole reason of fintech collaboration across the globe. The summit has been regularly organized for a history of more than a decade now. It provides a platform for executives representing various prominent firms across the world to connect, collaborate, learn and grow together.
Just like any other iFX EXPO event, iFX EXPO Dubai 2022 was a great way for people to connect and network with professionals from various industry fields. The event was attended by people from industries such as Technology & Liquidity, Payments & Banks, Digital Assets & Blockchain, Affiliates & IBs, Retail & Institutional Brokers, and Regulation & Compliance.

iFX EXPO Dubai – Venue
The iFX EXPO Dubai conference was held from 22 to 24 February 2022 at Za'abeel Hall 6, Dubai World Trade Center.
Since Dubai is considered as the new world mecca for business it was pretty obvious that organizers would choose an immensely immaculate place for the event to attract prominent business profiles and they pretty much nailed it. It was a high-profile conference attended by some of the most important people in the industries and needless to say the choice of the summit venue impressed everyone.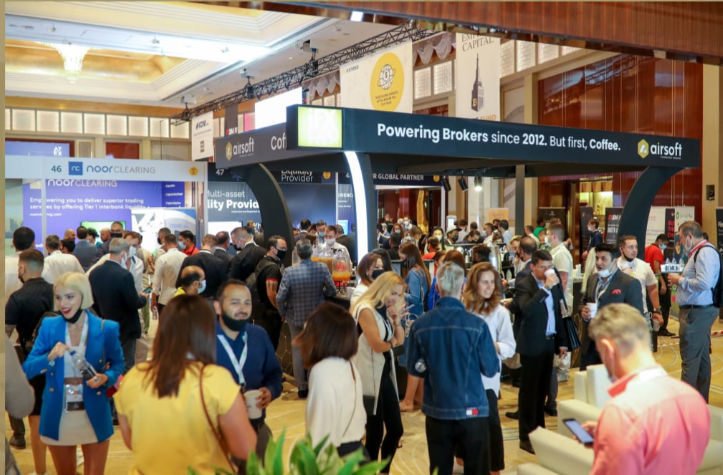 The place had a proper ventilation system, and food arrangements was perfectly lit, and did not feel congested or stuffy to be in. So, kudos to the organizing team for choosing such a picturesque place.
iFX EXPO Dubai – Event Agenda
Let's take you through the whole conference day by day starting from the 22 of February to the 24 of February.
22 February 2022 – The iFX EXPO event started with the Official Welcome Party giving all the attendees a chance to connect and mingle with each other. The exclusively arranged extravagant party took place at the Soho Garden DXB at the Meydan Grandstand. Industry pioneers along with other guests got to experience Dubai at its finest. It was truly an unparalleled experience for me.

23 February 2022 – The Speaker Hall and Idea Hub were jam-packed with people eager to consume insightful knowledge that was delivered to the masses by various industry experts, executives, and more. By the night, once all the sessions were over, all the badge holders were invited to another one of the electrifying parties. The social event was held at Soho Garden Palm Jumeirah, one of the most popular spots in Dubai with great skyline views.
24 February 2022 – The last day of the event continued with the speaker's sessions and networking opportunities. The expo came to an end at around 17:00 wrapping up the event successfully, making it a huge hit.
The F&B options were available for attendees based on the sponsored areas on the venue floor as well as in public areas along with the Dubai World Trade Centre as an option too.
iFX EXPO Dubai – Speakers and Sessions
The crowd of more than 40,000 attendees was addressed by various internationally renowned experts, giant CEOs, and more. The speakers shared their views and future predictions for advanced technologies, growth opportunities, digital assets, payments ecosystem, affiliates & digital marketing, social trading, and more. The details regarding some of the most notable speakers and their conversational topics are as follows.

1. The executive round table conference held on 23 February 2022 was a discussion with a panel consisting of Mohamad Ibrahim (Exness), Domluke Da Silva (DIFC), and Ingmar Mattus (Tickmill Group), Dáire Ferguson (AvaTrade), and Mohammad Isbeer (Equiti Capital). The session tackled the questions revolving around technological changes influencing the future of the industries, social factors influencing trading space, and more.
2. Arthur Azizov, B2Broker CEO & Founder, overtook the session to deliver highly insightful information regarding the history and future of StableCoins along with StableCoin payments.
3. Dominique El Khoury from ATFX discussed six major factors that are going to redefine the financial institutes in the future for good. He covered topics like the adoption of Blockchain technology, Big data, AI & automation, Renewable energy tech advances, de-globalization trend,s and more.

4. Michael Dean Nichols from Match-Trade Technologies talked about Convenience First: Adopt the GenZ-driven Trend to Retain More Traders. In his session, he discussed various aspects resulting in the outflow of the traders and how to prevent it from happening.
5. Economic Standpoint in 2022: The Good, The Bad & The Promising, this session was addressed by a panel of 5 members. It included Kaia-Reet Parv of CrediLinq.AI, Daniel Takieddine from BDSwiss, Farah Mourad from XTB MENA, Ahmed Allam of H.H The Ruler's Court, and George Kessarios of Exclusive Capital Prime. The panel delivered their opinions and presented their perspective related to factors that are shaping the economy.
6. Made-To-Measure: Getting the Right Fit in Marketing & Affiliation, the session was presented by Olga Andrienko, Abdelhadi Laabi, Anton Sokolov, and Shukhrat Yakubov. The expert panel discussed the strategies for brokers, IBs, and affiliates in 2022.

7. Human VS Machine: Trading Technology Today, in this session panelists discussed the best techniques and tools available in 2022 along with the obstacles.
iFX EXPO – Networking
As stated earlier, iFX EXPO Dubai was a great affair for networking with the best of the best from various industries. I personally got to make new connections with people from technology & liquidity, Affiliates, IBs, and more. Believe me, when I say, it is the best place to meet and connect with FX Brokers, regulatory, audit, legal, and compliance firms and get in with the industries like crypto, blockchain, customized payments solutions, and more.
iFX EXPO Dubai – Event Sponsors
The iFX EXPO was sponsored by some of the most successful and popular businesses of all time. A few of the sponsor's details are given below.

Exness – The official global partner of iFX EXPO Dubai, the platform enables you to trade across multiple financial markets and offers the most reliable pricing in the industry. Exness Group is a global multi-asset broker which has a community of more than 200,000 active clients. The platform has seen $2.105 trillion worth of trading volume in April 2022, $870 million client withdrawals in Q1 2022, and has earned $83.3 million worth of partner rewards.
MultiBank Group – One of the platinum sponsors of the event, MultiBank Group offers cutting edge trading platforms that provide high stability and reliability along with tightest pricing and liquidity.
ATFX – Elite Sponsor of the iFX EXPO Dubai, AFTX is primarily concerned with technology and service. The platform offers trading options in financial markets via the latest technologies in Forex, Commodities, Cryptocurrencies, Indices, and Shares.

FVP Trade – The regional sponsor of the event, FVP Trade is a globally regulated CFD Broker. The platform offers fast execution, advanced charting tools, competitive fixed & variable spreads, access to tier-1 banks, transparent pricing and more to their traders.
B2Broker – The diamond sponsor, B2Broker is a technology and liquidity provider. It is a white label solutions provider for brokerages and exchanges. The platform helps you build a financial business by connecting you to the markets and offering advanced cutting-edge technologies at affordable prices.
Noor Clearing – Also a diamond sponsor for the iFX EXPO conference, Noor Clearing offers liquidity & technology solutions to broaden your product spectrum and potential revenue streams. You have access to Tier 1 interbank liquidity pools through their proprietary technology to various institutional clients.
iFX EXPO – Event Exhibitors
With more than 1,750 exhibitors at iFX EXPO Dubai, the event was highly interactive for everyone. Some of the event exhibitors included the following; B2Broker, Exness, OneZero, Profit Center FX, Intercash, Utip, Trader Evolution, Tools For Brokers, Aron Groups Broker, Unlimint, NCM Investment, Nexo Prime, Vantage, Solid Payments, Certus Finance, The Kingdom Bank, Voiso, A Marketers, ATFX, Koalapays, Centroid Solutions, Avatrade, Panda Trading Systems, News Factory, Finance Magnates and more.

iFX EXPO Dubai – Event Experience Review
Summing up my personal experience at iFX EXPO Dubai, it was nothing short of perfect. Right from the venue selection to the well-organized summit schedule, security procedures, and food, and beverages availability, everything was on point.
The main reason for attending such a gala conference was obviously because of the expert sessions and the chance to meet new people from multiple different industries. The speaker sessions were very insightful and provided relevant information and helpful tips that should be considered when it comes to trading & business. I have gained a newfound perspective on how technologies are influencing the future of industries and trading space in general and what can we do to leverage that kind of information in our favor.
A piece of unsolicited advice I'd like to give is that everyone should once in their life attend the iFX EXPO summit. The event is everything more than you could ever fathom. Not to mention the exceptionally thrilling welcome and after-event parties at the prime spots of one of the most extravagant and finest cities in the world.
Missed iFX EXPO Dubai? Here's What You Can Do Next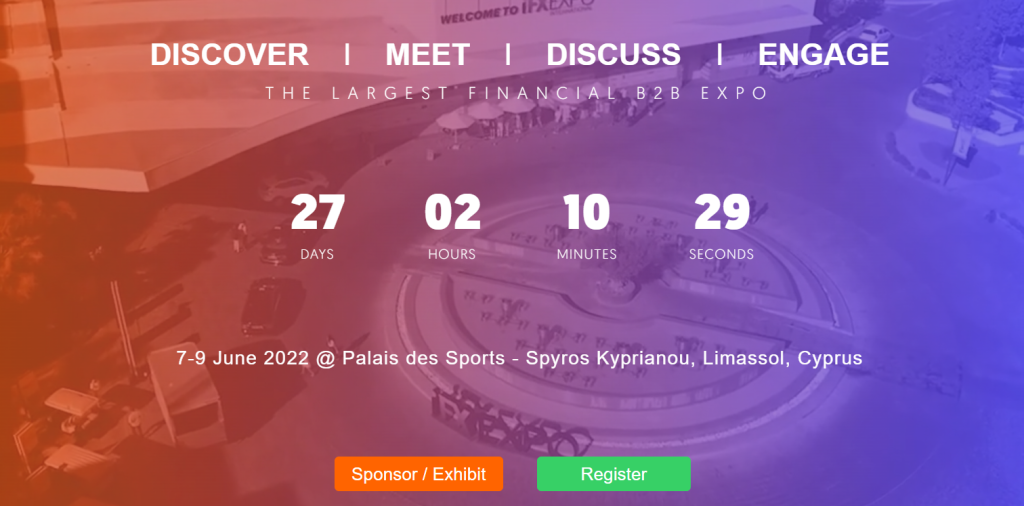 Missed the Dubai event but wanna know what you can do instead? The organizers, Ultimate Fintech, have already started the preparation of the next iFX EXPO International. The iFX EXPO will be held from 7th June 2022 to 9th June 2022. The allocated venue address is Palais des Sports, Spyros Kyprianou Athletic Center, Polemidia, Limassol 3080, Cyprus.
At iFX EXPO International 2022 you will be able to meet as well as engage with the top-level executives from the most prominent international firms. Give yourself the opportunity to discover, meet, discuss and engage with a relevant audience and gain invaluable knowledge to grow your business successfully.
Just like all the other iFX EXPO, you can expect to network with the best, receive the most insightful information and attend exquisite parties. You can leverage the benefit of sponsorship and booth opportunities available by registering yourself now.